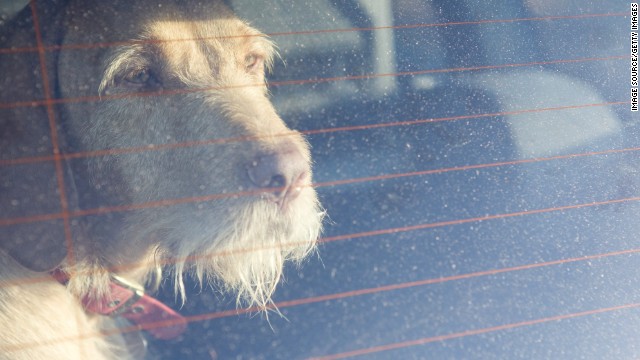 It takes just a few seconds for a parked car to get dangerously hot for your dog. How many seconds does it take for you to run that quick errand while your dog waits in the car?
Dogs can easily get dehydrated in the summer heat. If your dog's gums are not wet with saliva, they are dehydrated.
People cool their bodies off by sweating, but dogs don't sweat and can easily overheat. Overheating can quickly lead to a stroke for dogs.
Sidewalks, driveways and the beds of trucks bake all day in the summer sun. Dogs can severely their paws on these surfaces.
Many dog owners shave their long-haired dogs to help them cool off in the summer, but this actually makes it easier for them to get sunburned.
Fleas often cause allergic reactions on a dog's skin. If a dog swallows a flea, they can develop tapeworm.
All ticks, like the one pictured, can carry harmful bacteria. Deer ticks, which aren't pictured, can carry Lyme disease.
Like humans, dogs can have dangerous allergic reactions, including anaphylaxis, to stinging insects. Poisonous spider bites must be treated by a vet immediately.
Swimming is fun for some dogs, but dogs can exhaust themselves struggling to climb steps or pull themselves out of the pool.
Aside from the obvious danger of serious burns, cookouts can be treacherous for your dog. Eating foods they don't normally eat -- greasy burgers and BBQ sauce -- can wreak havoc on their digestive systems.
Do not underestimate your dog's anxiety about summer thunderstorms or fireworks. When left unattended, some dogs can injure themselves attempting to flee from the noise.
Save your dog from summer
Save your dog from summer
Save your dog from summer
Save your dog from summer
Save your dog from summer
Save your dog from summer
Save your dog from summer
Save your dog from summer
Save your dog from summer
Save your dog from summer
Save your dog from summer
STORY HIGHLIGHTS
What's fun in the sun for humans can be dangerous for dogs
Fleas, ticks, spiders and other stinging insects can send your dog to the vet
Dogs can suffer strokes if they overheat outside or in the car
Grilling out? Never feed your dog pork products, especially ham
(CNN) -- Summertime means fun in the sun, and dog owners often include their pets in outdoor activities like hiking, swimming, camping and running in the park or even on the beach.
As healthy as outdoor activities can be, they can pose unique dangers for our canine friends, said Kristina Knox, a veterinary technician at Cumberland Animal Clinic in Smyrna, Georgia. Here's what to look for in order to keep your dog happy and healthy as temperatures soar.
Hot sidewalks
If the sidewalk, parking lot or driveway where you're walking your dog is too hot for you to walk barefoot, it's too hot for your dog. They can burn their paws.
"When you feel the bottom of a dog's pad, especially when they're young, it feels like the skin on your foot," Knox said.
In suburban areas that aren't shaded by large buildings or trees, concrete and asphalt can bake in the hot summer sun. "People make a big mistake by putting their dog in the back of a truck in summer," Knox said.
Don't miss out on the conversation we're having at CNN Living.
Follow us on Twitter
and
Facebook
for the latest stories and tell us what's influencing your life.
Dogs can be stoic about pain. It can be difficult to tell that they've burned their feet, she said -- and it's hard to keep them off their feet while they're trying to heal.
Sunburn
A dog with sunburn will have many of the same indications as a person with sunburn: The skin is extremely red and sensitive to touch and feels hot. Sometimes, it can blister or scab. Dogs and cats with white fur are especially susceptible, Knox said.
Long-haired dogs who get "summer haircuts" are also at risk for sunburn, Knox said. "A lot of times, with the long hair, you shave them down really close. After 30 minutes in the sun or more, you're going to have problems."
One solution she recommends is to put sunscreen for infants (which does not include zinc) on your dog to protect them from those harmful rays. Just make sure they don't lick it, she said.
Hot cars and overheating
One of the biggest mistakes people make in summer is to underestimate how dangerous a hot car can be, Knox said.
When people get in a hot car, they're already cooler and can sweat to cool off more; dogs can't do that. Dogs can pant, and they sweat only through their ears and the bottoms of their feet.
"So when you leave a dog in a car, it takes only several seconds for that car to heat up," she said. "Even if you think, 'Oh, it's a little breezy outside; I'll just crack the windows; the dog will be fine,' that dog has no way to regulate his body temperature." The result, she said, can be stroke.
Overheated dogs appear dizzy, Knox said. Their footing is unsure, and they are disoriented. The bigger and longer their tongues are as they pant, the more likely they are to have heat exhaustion, she said. As with a dog in a hot car, if your dog displays these symptoms, they could have a stroke, Knox said. When in doubt, use a rectal thermometer to take their temperature.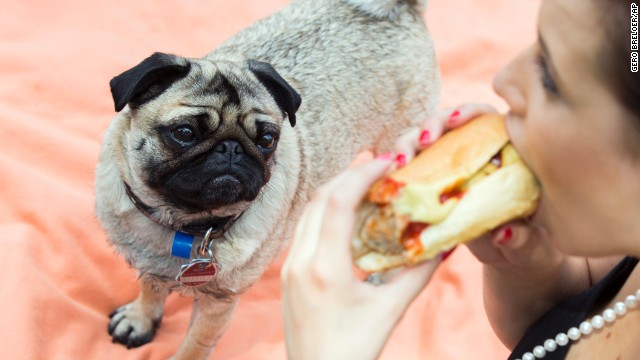 Here's a look at how our canine friends spent their summer, starting with Ole, who had his eyes on a hot dog rather than fellow dogs at a pug dog meeting in Berlin.
A pair swam at Takeno Beach in Toyooka, Japan.
Another cruised through San Diego in a Batmobile during Comic-Con International.
One had a chance to meet Charles, Prince of Wales.
One hot dog cooled down in a fountain in Berlin's Lustgarten.
This one showed off at the Cattaraugus County Fair in New York.
One herding dog worked a field with its master in the Swiss Alps.
Friends Stephanie, center, and Sandra, right, made the best of a flood in Elster, Germany, with Stephanie's dog Chewbacca.
A protester carries a dog on her back during an animal rights protest in Seoul.
From left, Remi, Riese, and Lexi share their owner's ice cream.
A dog dressed up for the Running of the Bulls festival in Pamplona, Spain, goes for a walk.
Isaiah, a pup from Browntown, Virginia, participated in the Rolling Thunder First Amendment Demonstration Run in Washington.
June Lunsford, 18 months, and her dog, Bella, discovered the beauty of sprinklers in the New Orleans heat.
A Pug named Hermann cooled off in a pool.
Baby Girl walked the Venice Beach boardwalk in California perched on the back of her owner.
One lucky Jack Russell terrier attended the annual Sandringham Flower Show in King's Lynn, England, and met Camilla, Duchess of Cornwall.
A poodle dressed up for the Fourth of July parade in Takoma Park, Maryland.
A Rottweiler caught tennis balls in Godewaersvelde, France.
Dogs with their owners participated in the dog race "Caorrida" in Sao Paulo.
Josie, a Chinese Crested, put on pearls for the World's Ugliest Dog contest.
A family of French sheepdogs relaxed together in Georgia.
A dog and its owner partied on the beach in Los Angeles.
Sheepdog Nelly took a nap with her owner in their cabin near Mals, Italy.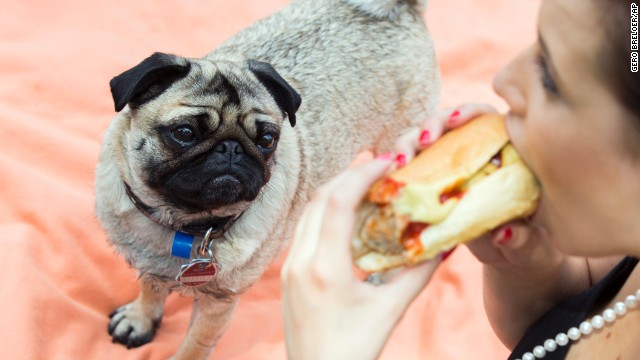 Photos: Dog days of summer
Dehydration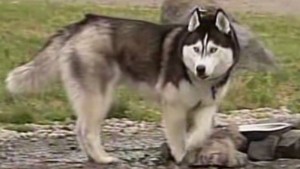 State's new problem: Stoned dogs
Make sure your dog has access to water in the summer, and don't leave them outside for long periods of time, she said.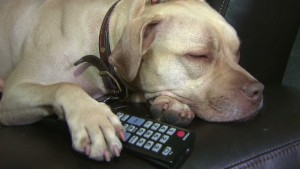 Next hit network: Dog TV
It's not easy to tell whether your dog is dehydrated, and it can be a symptom of other kinds of illnesses. "The thing you have to do is start swiping your dog's gums," Knox said. "Just lift up their lip and take one good swoop on their gums. It should feel nice and wet, slick to you." If the gums feel dry, tacky or sticky, your dog is already affected by dehydration, she said.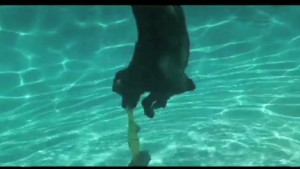 Bunny the lab can play fetch underwater!
Another way to check is to pull up the skin between their shoulder blades. If the skin falls back slowly, that's a sign of dehydration.
If you can see that your dog is dehydrated, it's time to head to the vet. They might hook your dog up to an IV for quicker hydration, and check for other problems.
Fleas and ticks
Dogs are mostly stricken with allergic reactions to flea bites. They are allergic to flea saliva, Knox said. A dog's histamine reaction to the bite can include itchy, inflamed skin and even hair loss. Or, as they chew an area of their body with fleas, they could ingest a live flea, resulting in tapeworms.
Ticks can carry harmful bacteria; deer ticks, which can carry Lyme disease, are especially hard to find on dogs because they are small and flat, not large and gorged with blood. The best thing to do, Knox said, is to focus on prevention.
Veterinarians can prescribe medications that combat fleas and ticks, as well as heartworms; Knox said they can be more effective than over-the-counter products such as flea and tick collars and topical treatments. Dogs owners in some parts of the country might need to use these year-round because consistently warm weather allows the flea population to survive, Knox said.
Stinging insects
Just as with humans, dogs can have dangerous reactions to stinging insects, Knox said. Their faces can swell, and they can get hives, throw up or have diarrhea. If their faces are swollen, their throats could be swollen as well, she said, which can lead to breathing problems. "Any time you see an animal having trouble after a sting, you need to have that looked at," she said.
Black widow and brown recluse spider bites can do the same damage to dogs as they do to humans. "If your dog has been bitten by something that's highly toxic, typically, they are inconsolable," she said. "They're snatching around; they're crying out; they're extremely pained by touch" and need to see a vet quickly.
Swimming
Not every dog is a natural swimmer. Although many dogs can paddle with grace, once it comes time to get out of the pool, they can get panicked. Their body momentum is not enough to pull them out of a pool, and of course, they don't have fingers to grab the edge, Knox said. "Absolutely, they will wear themselves out, and they will drown," she said.
Small dogs, in addition, are threatened by hypothermia in the pool. Remember that dogs need to cool off and warm up slowly, she said. It's difficult for the smaller dogs to regulate their body temperatures in a pool.
Pool chemicals are harmful to their GI tracts, so don't let them drink the water, Knox said. Just as dangerous is creek water, which can be full of single-cell organisms that can cause diarrhea.
Grilling
Don't be fooled by that sweet face begging for a snack while you man the grill. Many human foods can be dangerous for dogs.
"Dogs should not ever have any type of pork," which is linked to pancreatitis, she said, along with luncheon meats.
And while the burgers and BBQ are tasty for you, all that extra grease and sauce can wreak havoc on their digestion, Knox said. Not only can that piece of barbeque chicken cause diarrhea and possibly vomiting, she said, bones in the meat could splinter and pierce the dog's gut.
Storms and fireworks
Throughout summer, dogs are likely to hear a lot of fireworks and, in some parts of the country, a lot of thunder.
If an animal is anxious or scared by those loud noises, it's important to keep them in a safe place, like a crate. "We've had dogs try to go through windows and slice themselves up trying to get out because they've heard the fireworks. We've had dogs that have mangled the owner's house when they freaked out," Knox said.
Compression-type wraps like Thundershirts can help some animals with the anxiety that comes from loud noises, or vets can provide medication that might help.