STORY HIGHLIGHTS
Search warrant: Aaron Hernandez's fiancee and others have tried "to hide evidence"
Papers: Shayanna Jenkins carried something like "a lock box or safe" from house
Jenkins has not been charged in connection with Odin Lloyd's June death
Hernandez has pleaded not guilty to a murder charge in Lloyd's killing
(CNN) -- The investigation into the actions of former NFL tight end Aaron Hernandez, who is accused of killing friend Odin Lloyd, has turned to Hernandez's fiancee as law enforcement searches for the .45 caliber gun used in the slaying.
Lloyd's bullet-riddled body was found in a Massachusetts industrial park on June 17, Father's Day, about a mile from Hernandez's Massachusetts home. He was shot five times, and the gun has not been found.
Prosecutors have accused the former New England Patriot of orchestrating what they call Lloyd's execution-style slaying. Hernandez, 23, has pleaded not guilty to murder and is being held without bail.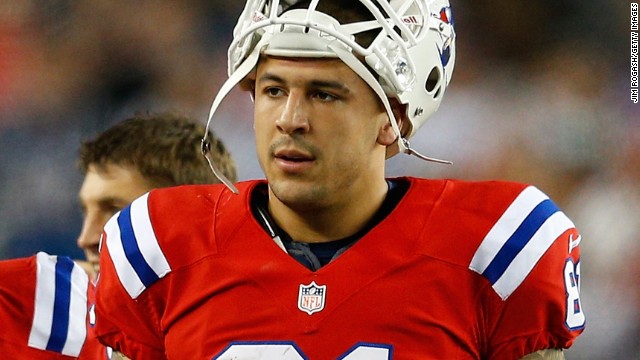 A Bristol County, Massachusetts, grand jury indicted former NFL player Aaron Hernandez on a first-degree murder charge, as well as five weapons charges, on Thursday, August 22. The case against Hernandez can now proceed to trial. In June, the former New England Patriot was charged with murder in the death of Odin Lloyd. Here's a look at other professional athletes who have been charged with murder. Some have been able to create new lives in the free world. Others are incarcerated.
Oscar "Bladerunner" Pistorius has been charged with the killing of his girlfriend, Reeva Steenkamp, who was found shot dead in his home on February 13. Pistorius was the first disabled person to compete in the able-bodied Olympics and ran for the South African team.
Rae Carruth, who was a wide receiver for the Carolina Panthers, became the first active NFL player ever charged with first-degree murder for the death of his pregnant girlfriend, Cherica Adams, in December 1999. Prosecutors said he arranged for her to be killed in a drive-by shooting. He was convicted for conspiring in her murder and is now in prison. The unborn child, a boy, survived.
Middleweight boxer Rubin Carter, known as "Hurricane" in the ring, served 18 years in prison for a triple homicide that took place in a bar in 1966. A federal judge overturned his sentence and that of his supposed accomplice, John Artis, in 1985, ruling that the conviction was based on "racial stereotypes, fears and prejudices."
Groundbreaking skateboarder Mark "Gator" Rogowski confessed to beating and raping Jessica Bergsten, then choking her to death and burying her in the desert in 1991. Bergstein was a friend of his former girlfriend, and Rogowski testified that he acted out of misplaced anger against his ex. Rogowski was denied parole in 2011 and will not be eligible for parole again until 2018.
Baltimore Ravens linebacker Ray Lewis and two others were charged with murder in 2000 after a fight in a popular Atlanta bar district left two men dead on the street. The murder charges against Lewis were dropped after he pleaded guilty to a misdemeanor charge of obstruction of justice and testified against his friends; they were later acquitted. Lewis announced his retirement before helping the Ravens win the Super Bowl in February 2013.
Bruno Souza, a former goalie for the Brazilian soccer club Flamengo, was arrested in August 2010 in the slaying of his ex-girlfriend, Eliza Samudio, who had disappeared two months before. Souza, his lover and his wife were among nine people charged with torturing and murdering Samudio, who had been trying to prove he had fathered her son. He is serving a 4½-year sentence for assaulting and kidnapping Samudio, and now faces a murder trial.
Although O.J. Simpson was found not guilty, the 1995 trial for the murder of his wife, Nicole Brown Simpson, and Ron Goldman has kept him a household name. O.J. Simpson played for the Buffalo Bills and San Francisco 49ers and was elected to the Pro Football Hall of Fame in 1985. In October 2008 Simpson was sentenced to 33 years in prison on multiple counts, including armed robbery and kidnapping, in connection with a robbery at a Las Vegas hotel in 2007.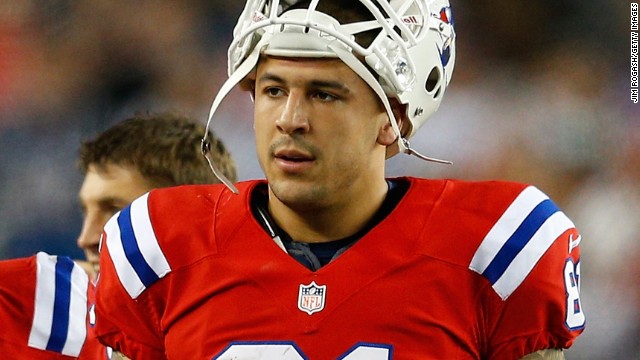 Photos: Athletes charged with murder
Search warrant affidavits obtained by CNN contain new details about fiancée Shayanna Jenkins. In them, authorities alleged that Hernandez, Jenkins, his cousin Tanya Singleton and Ernest Wallace "have all made overt attempts to hide evidence, render assistance for suspect to elude law enforcement, and to hinder and mislead this investigation."
Shayanna Jenkins has not been charged in connection with the investigation, and lawyers representing her fiancé, Hernandez, have not responded to requests for comment.
Official: Lake search didn't turn up weapon
Wallace has been charged with accessory after the fact to murder.
The documents indicate investigators became suspicious of Shayanna Jenkins after they spoke with her sister Shaneah Jenkins.
Shaneah Jenkins was Lloyd's girlfriend.
The court papers describe the following allegations:
The day after Lloyd's body was found, Shaneah Jenkins told authorities she was with her sister, Shayanna, and two uncles at Hernandez's home.
During that time, Shaneah Jenkins said she saw her sister go into the basement with an empty trash bag. Shayanna asked Shaneah to borrow her car and had a cell phone "communication" with Hernandez.
The women's uncle told Shayanna that "Mr. Hernandez wanted weapons taken out of the house" and told Shaneah that weapons "were discarded into 'the woods.'"
Did Hernandez store guns in a box after killing?
The documents go on to describe a mysterious, if not cryptic, text message obtained by investigators from Hernandez to his fiancée that allegedly read: "Go back in back of the screen in movie room when u (sic) get home an (sic) there is a box...jus (sic) in case u (sic) were looking for it!!! Member (sic) how you ruined the big tv Imao WAS JUST THINKIN bout that lol wink wink love u TTYL....K"
"TTYL" is common shorthand for "talk to you later."
According to the court papers, Jenkins allegedly answers: "ok-that was awful...Perfect tv...Love u."
About an hour later, a home surveillance video shows Jenkins leaving the house carrying something "rigid" and "consistent to a lock box or safe" placed inside a garbage bag and covered with clothing, according to the documents.
Police state Jenkins drove away and returned an hour later, but she was not carrying the "rigid" item back into the house.
Prosecutors have said no lock box was found in the home.
A search of a rented storage unit in Bristol, Connecticut, allegedly paid for by Hernandez, did not locate the weapon used to kill Lloyd, according to law enforcement officials.
Singleton, Hernandez' cousin, remained jailed on a contempt of court charge for failing to cooperate with a grand jury, according to two law enforcement sources.
Grand jury indictments are expected in the case as early as next week, officials have said.
Hernandez responds from jail to fan letter
CNN's Yon Pomrenze and Fred Schang contributed to this report.