STORY HIGHLIGHTS
"It was like a raging river, a black river," a Manitou Springs, Colorado, man says
The floodwaters there rushed through at a rate of up to 30 mph, a firefighter says
1 is dead, 2 are unaccounted for in Manitou Springs, officials say
Flood warnings and watches are in effect for states from Oregon to South Carolina
(CNN) -- Roads ripped to rubble by floodwaters up to 10 feet deep, rushing at speeds of up to 30 mph. Shattered homes near others still standing upright. One person dead, two others missing.
That's the harsh reality police, firefighters and residents were dealing with Saturday in Manitou Springs, a mountain community of about 5,000 people just west of Colorado Springs, after sudden, raging waters tore through the area.
Under mostly sunny skies, crews spent the day looking for the missing and combing through wreckage wrought by floods triggered by intense rain.
Locals such as Justin Blount, meanwhile, tried to make sense of what happened.
He was in a Manitou Springs cafe, working on its owner's computer, on Friday when water suddenly, perilously started flowing in front of the building. He and others -- one of them wheelchair-bound -- heard the water rushing below them as they finally got in an elevator and crept up to safety.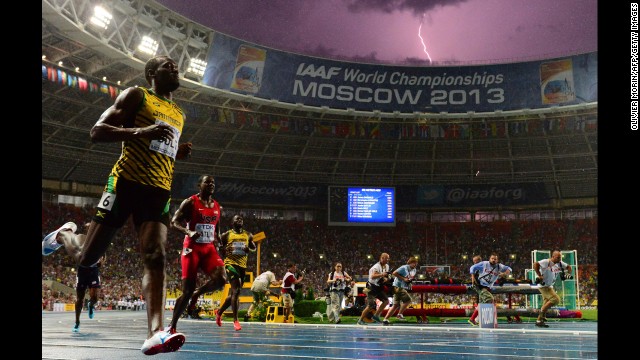 Jamaica's Usain Bolt wins the 100-meter final at the 2013 IAAF World Championships on August 11 as lightning flashes across the Moscow skies.
Afghan villagers check out damage inside their house in the Shakardara district of Kabul province on Sunday, August 11, after flash floods. More than 20 people have died in the area around the Afghan capital after heavy rainfall and flooding. Click through to see other images of weather around the world:
Rainy weather doesn't deter visitors to the Shwedagon Pagoda in Yangon, Myanmar, on August 11.
A man sits next to his house in a flooded street outside Khartoum, Sudan, on Saturday, August 10.
Hindu pilgrims sit on a partially submerged bench outside the Bade Hanuman Temple as water from the Ganges and Yamuna rivers recedes in Allahabad, India, on August 10.
Lightning strikes over San Pietro mountain in the French Mediterranean Island of Corsica on Friday, August 9.
A farmer checks his parched rice fields caused by a lingering drought in the Pixianling Village in southern China on August 9.
Children stay cool at a public water fountain at a shopping mall in Beijing on August 9.
Players for minor league baseball team the Batavia Muckdogs try to escape a flooded dugout on a bridge of chairs during a rainstorm Thursday, August 8. The unplayable field conditions led to the cancellation of the game in Batavia, New York.
A tour bus kicks up dust during a sunny day at Denali National Park in Alaska on August 8.
People cool off at a water park in Shanghai, China, on August 8 as temperatures soar above 100 degrees Fahrenheit.
Floodwaters surround Mitchell United Methodist Church at a levee in Hutchinson, Kansas, on August 8.
A man takes cover under a plastic sheet during a rain shower in New Delhi on August 8.
A giant panda lies next to a block of ice to cool off at the Wuhan Zoo in China's Hubei province on Wednesday, August 7, as temperatures soar above 100 degrees Fahrenheit.
A rainbow appears in the skies above a Hong Kong office building on August 7.
A street vendor steers clear of the hot sun under an inflatable boat in Zhitkovichi, Belarus, on August 7.
A woman uses a parasol to block the sun's rays at the Bund, a popular tourist spot in Shanghai, China, on August 7.
A person dangles from a power line before diving into the Ganges River in Allahabad, India, on Tuesday, August 6, after heavy monsoon rains.
A man takes a nap at a recreation area in Salt Springs, Florida, on August 6.
A boy jumps into the Zegrze Lake near Warsaw, Poland, on August 6 to cool off during a heatwave.
A deer enjoys a cooling bath in Aurach, Austria, on Monday, August 5.
A boy takes in the scenery at Malvarrosa Beach in Valencia, Spain, on the Mediterranean on Monday, August 5.
A boy carries a dog as he stands on the high ground of the Ravi River in Lahore, Pakistan, on August 5.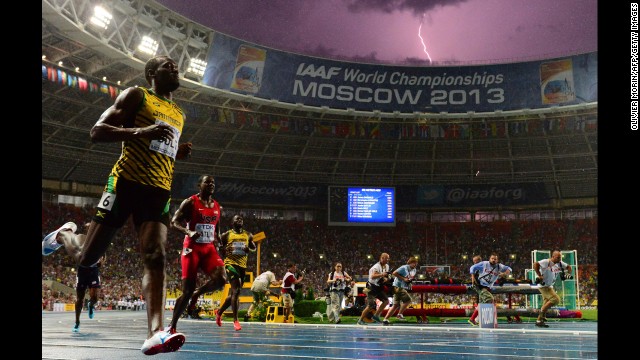 Photos: The week in weather
"It was like a raging river, a black river coming down," Blount told CNN affiliate KUSA, dry after his 2½ hour ordeal the day earlier. "... It was wild. I'm still in a little bit of shock."
His central Colorado town, at the foot of Pikes Peak, was one of several nationwide that have been impacted by wet weather and floodwaters in recent days.
Showers and thunderstorms were expected from the Pacific Northwest to the Deep South.
In addition to a pocket of Colorado, flash-flood warnings were in effect Saturday for parts of Washington and Oregon, as well as much of New Mexico. There were flood warnings -- which are issued when water levels in rivers and other waterways rise to precarious levels -- in Oklahoma, Kansas, Arkansas, Missouri and South Carolina.
Some communities bracing for wet weather were coping with the aftermath of earlier devastating floods. A flash flood watch was in effect through 9 p.m. (11 p.m. ET) in Manitou Springs, for instance, given the threat that could be caused by more heavy rains.
The dangers there are exacerbated by last year's mammoth Waldo Canyon wildfire, which -- as Lt. Steve Schopper of the Manitou Springs Fire Department explained -- made the soil saturated, unstable, "kind of waxy" and little help in curbing rushing waters.
"It's like liquid cement," Schopper told KUSA, noting that those caught up in the rocks, trees and other debris have little chance to escape. "... You're not swimming out of this. It will rip your clothes off."
Video of the mudslide showed cars sliding swiftly down an incline while others remained stranded in rushing, gray-colored water.
One man was found dead beneath "significant amounts of debris" left on Colorado Highway 24, the El Paso County Sheriff's Office said.
The search, meanwhile, continued for two others.
In Oklahoma, floodwaters swept away and killed a man who was trying to save his daughter from a stranded vehicle early Friday. Vincent Brown was attempting to rescue his daughter who had become stranded in high water in her vehicle, Oklahoma City Police spokeswoman Sgt. Jennifer Wardlow said.
Wardlow said Brown's daughter was wading toward her father. She turned to retrieve some items in her vehicle, and when she turned back around, he had been swept away by fast-moving floodwater that had rapidly appeared in Oklahoma City overnight.
In South Carolina, Logan Dale Evans was found dead in floodwater on his family property Wednesday night near the town of Central, Pickens County Coroner Kandy Kelley said.
Evans, 23, was found outside his vehicle, which ended up about a mile downstream, said Kelley, who added that Evans is believed to have drowned.
At least two people were reported killed in Missouri this week, including a driver who was caught in rapidly rising water in McDonald County on Thursday, said Gregg Sweeten, the county's emergency management director. The woman, thought to be in her 60s, had been trying to drive over a bridge when the water overwhelmed her vehicle, Sweeten said.
On Monday, Elijah Lee, 4, died after 6 inches of rain fell on Pulaski County, about 140 miles southwest of St. Louis. The boy was found in a vehicle swept up in floodwater that caught the community along Mitchell Creek off guard, said Sgt. Dan Crain, a Missouri Highway Patrol spokesman.
CNN's Melissa Lefevre and Emily Smith contributed to this report.