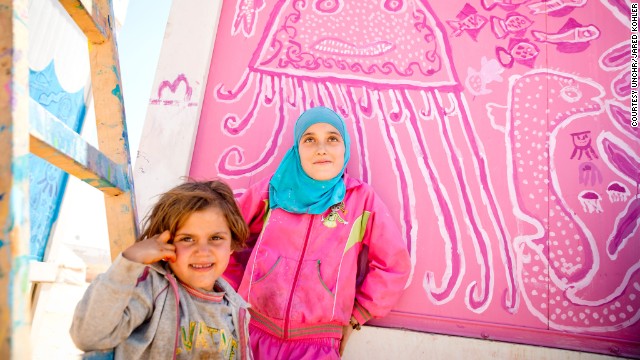 Two young Syrian girls at the Za'atari refugee camp in Jordan paint decorations on walls of the community bathrooms. "Doing this project helps us keep our minds off fasting," says 12 year old Sula (right), a refugee from a village outside Dara'a.
The sun sets over Za'atari in northern Jordan, where Syrian refugees pass one of the many makeshift mosques that have mushroomed in the sprawling refugee camp. It is home to around 145,000 people.
iftar, with her family in Za'atari refugee camp.
A young girl helps prepare the evening meal,
An elderly couple sits outside their caravan on a hot afternoon during Ramadan in Za'atari refugee camp in Jordan. The heat is challenging for the elderly, but many fast anyway.
Baby Saddam, held by his young mother, and his two brothers at Za'atari. His mother is still unsure if she is a widow or not.
Yahya arranges his freshly made qatayef, sweet pancakes traditionally served during the Islamic fasting month of Ramadan. He was a baker in his native Syria and now puts his skills to use in Za'atari, Jordan.
Mahasen, 44, (left) helps her daughter Lina make sambousek -- small, meat-filled pastries -- for their iftar meal at their home in Cairo, Egypt. "Ramadan in Syria was always at our house, now we are displaced and we don't know when we can go back," said Mahasan.
Syrian chef, Galal (center), prepares the evening iftar meal during Ramadan at the busy Bab Elhara Restaurant in Cairo. He fled to Egypt a month ago with his wife and two children. "I was away from Syria for eight years of my own free will, but now I'm away forcibly. As soon as things calm down, I will go back home," he said.
Ahmed, 48, (left) and his family share the Iftar meal during Ramadan in Cairo, Egypt. Ahmed spent four months in jail in Homs, Syria before fleeing with his wife and two children after their home was destroyed. "I feel like I'm in heaven here because I spent the last 3 Ramadan's under gunfire," he said.
Foddiye (left) and her husband currently host seven Syrian refugee families rent-free on their land in the Bekaa Valley in Lebanon. Here she picks vegetables from her garden for Iftar with Abou (right), a Syrian refugee.
Syrian refugee, Mona, 14, lives with her parents and five younger siblings in Beirut, Lebanon. Mona says that her family decided to flee Syria the day their neighbor was killed in front of their house. She and her extended family of over 40 people now live in two makeshift buildings in Beirut. The food they ate for iftar comes mostly from charity.
Syrian refugee Hussein, 33, and his wife, Nuhad, 27, and their two children now live in a small apartment in Lebanon. "I miss the atmosphere in Syria," said Hussein. "I miss the culture. I miss the Msahrji (the drummer who walks around the neighborhood and wakes people for Suhoor). I miss watching the Ramadan series on TV together."
Ramadan for Syrian refugees
Ramadan for Syrian refugees
Ramadan as a refugee
Fasting for faith
Life as a refugee during Ramadan
Ramadan for Syrian refugees
Ramadan for Syrian refugees
Iftar in Cairo
Iftar in Cairo
Help and health
Ramadan for Syrian refugees
Ramadan for Syrian refugees