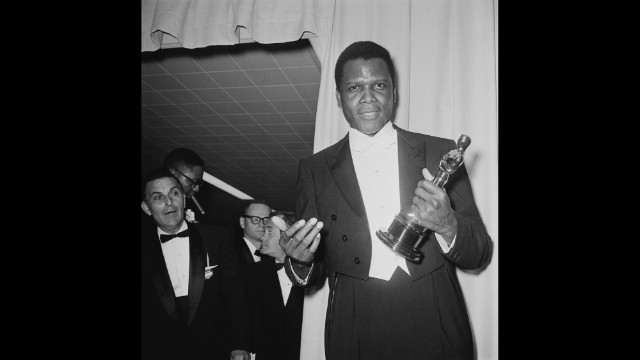 Fifty years ago Sunday, Sidney Poitier became the first black performer to win an Academy Award for best actor. Poitier, who won the Oscar for his performance in "Lilies of the Field," was one of the biggest box-office stars of the 1960s, and he remains a Hollywood legend at age 87. Here's a look back at his film career.
Poitier, who was born in Miami and raised in the Bahamas, first earned note for his performance in the 1955 film "Blackboard Jungle." He played Gregory Miller, an inner-city tough who harasses a teacher -- played by Glenn Ford, right -- but is far from the worst of the students. The film is also notable for popularizing the song "Rock Around the Clock."
Poitier was paired with Hollywood A-lister Tony Curtis in 1958's "The Defiant Ones." It's a story of two escaped prisoners, a black man and a white man, who are chained together and have to learn to respect and work with each other. Poitier was nominated for an Oscar, becoming the first black man to earn a best actor nod. The film was directed by Stanley Kramer, who was known for his message movies.
Otto Preminger helmed the 1959 movie version of "Porgy and Bess," the famed folk opera about the residents of Charleston, South Carolina's, fictional Catfish Row. Poitier played the disabled Porgy, who tries to free Bess from her abusive lover, Crown. The film's all-black cast and challenging subject matter -- a drug dealer, Sportin' Life, has a major role -- didn't appeal to audiences despite such classic songs as "Summertime" and "It Ain't Necessarily So," and the film received mixed reviews.
The Lorraine Hansberry play "A Raisin in the Sun" was turned into a 1961 movie with Poitier as Walter Younger, who's trying to raise a family on Chicago's South Side. When the family receives a financial windfall, Walter faces some difficult decisions. Louis Gossett Jr. made his film debut in the movie.
In the 1963 film "Lilies of the Field," Poitier -- seen here with Lilia Skala -- plays a workman who helps a group of East German nuns construct a chapel in the Arizona desert. Poitier's performance earned him an Oscar, a first for a black actor. Since then, three other black performers have won best actor: Denzel Washington, Jamie Foxx and Forest Whitaker.
In 1965's "A Patch of Blue," Elizabeth Hartman plays a blind woman who develops a romance with Poitier's character, an office worker. The interracial romance was tough stuff for the time, and a scene of Hartman and Poitier kissing was cut from the film's showings in the South.
Poitier's 1967 was one of the most dominant years ever enjoyed by an actor, with three successful and notable films. One of them, "To Sir, with Love," turned "Blackboard Jungle" on its head, this time with Poitier as a teacher of misfits in working-class England. The movie's theme, sung by Lulu, was the No. 1 song of 1967.
"In the Heat of the Night" paired Poitier, as Philadelphia detective Virgil Tibbs, with a Southern sheriff played by Rod Steiger. The two solve a murder in the Deep South. The 1967 film won best picture of the year. Poitier's Tibbs character appeared in two sequels: "They Call Me MISTER Tibbs" (1970), which references Poitier's most famous line in the original, and "The Organization" (1971).
Poitier plays an idealistic -- and idealized -- doctor in 1967's "Guess Who's Coming to Dinner." His character is planning to marry the daughter of upstanding San Franciscans played by Spencer Tracy and Katharine Hepburn -- if they approve of the union. The film was another huge hit.
Poitier's first film as a director was the 1972 Western "Buck and the Preacher," in which he co-stars with Harry Belafonte. The two men protect a wagon train of recently freed slaves in 1860s America.
Bill Cosby and Poitier teamed up in three successful 1970s films, the first of which was 1974's "Uptown Saturday Night." The two try to track down Poitier's character's stolen wallet, which contains a winning lottery ticket. Cosby and Poitler also starred in "Let's Do It Again" (1975) and "A Piece of the Action" (1977). All three films were directed by Poitier.
Poitier's most successful film as a director was 1980's "Stir Crazy," a box-office smash starring Richard Pryor and Gene Wilder as two men who get thrown in prison for a crime they didn't commit. The comedy made more than $100 million and was the third-highest-grossing film of the year.
Poitier has rarely acted in the last three decades. One of the few films he made was "Sneakers" (1992), in which he and Robert Redford co-star as members of a security firm. The cast also includes Dan Aykroyd, David Straithairn and River Phoenix.
Poitier played Nelson Mandela in the 1997 TV movie "Mandela and de Klerk," which is about the anti-apartheid movement in South Africa and the rise of Mandela, who was released from prison by F.W. de Klerk and later succeeds him as president. Michael Caine played de Klerk.
Sidney Poitier's prominent roles
Sidney Poitier's prominent roles
Sidney Poitier's prominent roles
Sidney Poitier's prominent roles
Sidney Poitier's prominent roles
Sidney Poitier's prominent roles
Sidney Poitier's prominent roles
Sidney Poitier's prominent roles
Sidney Poitier's prominent roles
Sidney Poitier's prominent roles
Sidney Poitier's prominent roles
Sidney Poitier's prominent roles
Sidney Poitier's prominent roles
Sidney Poitier's prominent roles
Sidney Poitier's prominent roles