(CNN) -- Here is a look at the life of Oprah Winfrey, host of the award-winning "The Oprah Winfrey Show."
Personal: Birth date: January 29, 1954
Birth place: Kosciusko, Mississippi
Birth name: Oprah Gail Winfrey
Father: Vernon Winfrey, a barber
Mother: Vernita Lee, a maid (parents never married)
Education: Tennessee State University, B.A., Speech and Performing Arts, 1976
Other Facts: At age 19, while still a sophomore in college, becomes the youngest and first African-American anchor for WTVF-TV in Nashville.
Stedman Graham has been her companion for many years.
Three Emmy Award nominations with one win.
17 Daytime Emmy Awards wins.
Since removing her name from competition in the Daytime Emmy Awards in 1999, "The Oprah Winfrey Show" has won Emmy awards in the technical categories only.
One Academy Award nomination with zero wins. Won one honorary award.
One Tony Award nomination with zero wins.
Timeline: 1976 - Becomes a news co-anchor at WJZ-TV in Baltimore, Maryland.
January 1984 - Becomes the anchor of "A.M. Chicago," which airs opposite Phil Donahue.
September 1985 - The show is renamed "The Oprah Winfrey Show."
1985-2011 - Host of "The Oprah Winfrey Show," the highest rated talk show in history.
1985 - Makes her film debut in "The Color Purple," for which she was nominated for a Best Supporting Actress Oscar.
November 8, 1986 - "The Oprah Winfrey Show" goes into national syndication.
1987, 1988, 1989, 1996, 1997 - Wins Emmy Award each of these years, Best Talk Show for "The Oprah Winfrey Show."
1988 - Forms her own production company, Harpo Inc. Harpo is Oprah spelled backwards.
1991, 1992, 1994, 1995 - Wins two Daytime Emmy Awards each of these years, Best Talk Show and Best Talk Show Host for "The Oprah Winfrey Show."
December 20, 1993 - President Clinton honors Oprah by signing into law the "Oprah Bill." This bill creates a national database that allows people to search for child abusers.
1993 - Wins two Daytime Emmy Awards, Best Talk Show Host for "The Oprah Winfrey Show" and Outstanding Children's Special, "ABC Afterschool Specials, Shades of a Single Protein."
1996 - Starts "Oprah's Book Club" on her show. The book club becomes very influential in the publishing world as selected books rise to the top of bestseller lists.
1997 - Starts Oprah's Angel Network, a charitable foundation.
1998 - Wins Emmy Award, Best Talk Show Host for "The Oprah Winfrey Show," tying with Rosie O'Donnell.
1998 - Produces the movie "Beloved."
1998 - Partners with Oxygen Media which plans to operate a 24-hour cable channel for women.
1999 - Withdraws her name for consideration in the Daytime Emmy Awards.
2000 - Winner of the Outstanding Made for Television Movie for "Oprah Winfrey Presents: Tuesdays with Morrie."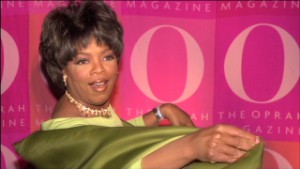 Oprah: Being a brand is difficult
April 2000 - Launches "O, The Oprah Magazine," and the Oxygen Network.
2002 - Wins the Bob Hope Humanitarian Award at the Primetime Emmys.
February 2003 - Becomes the first African-American woman on Forbes magazine's "World's Richest People" list, with a net worth of about $1 billion.
September 13, 2004 - Begins a new season of her talk show by giving each member of the audience a brand-new car.
September 26, 2005 - Winfrey announces that she is investing more than $1 million to bring the musical "The Color Purple" to Broadway in December 2005.
February 9, 2006 - XM Satellite Radio announces that it has signed a three year deal with Winfrey worth $55 million. "Oprah and Friends" begins broadcasting in September 2006.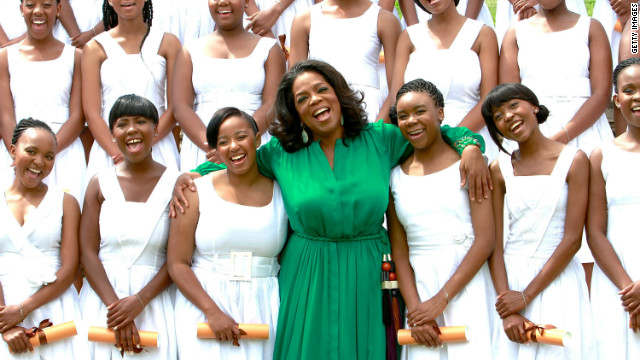 Oprah Winfrey flew to South Africa to attend the first graduation ceremony at her all-girls academy on January 14 2012.
The TV presenter set up the Oprah Winfrey Leadership Academy for Girls to provide world-class high school education to underprivileged girls.
Winfrey greets Graca Machel, the wife of former South African president Nelson Mandela, on her arrival at the inaugural graduation of the class of 2011.
Winfrey said she feels like a "proud momma" as the academy graduated its first class.
The 71 graduates are heading to prestigious universities in South Africa and the United States.
The students of the school are offered free tuition, accommodation, uniforms and meals and have access to its state-of-the-art facilities.
The walls of the classrooms in Winfrey's academy are plastered with posters that advocate the "You go, Girl!" attitude that Oprah is known for.
Winfrey opened the $40 million school on January 2 2007 in Henley-on-Klip near Johannesburg.
Singer Mariah Carey was among the celebrities attending the opening of the school in 2007.
The TV presenter takes the first HIV test at her all-girls academy on Janaury 6 2007.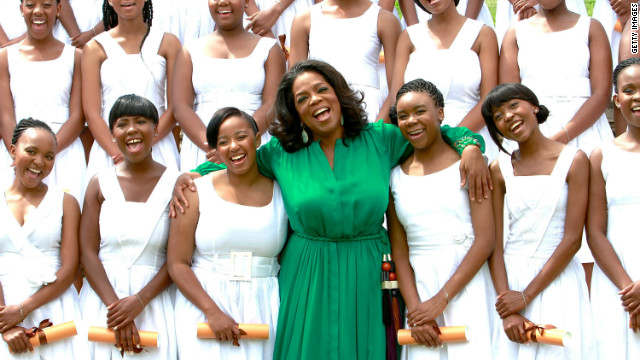 Oprah Winfrey Leadership Academy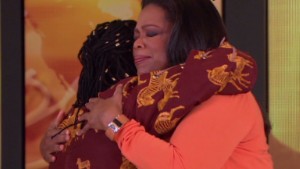 Trent: Oprah changed everything
January 2, 2007 - The Oprah Winfrey Leadership Academy for Girls opens in Henley-on-Klip, South Africa. The school houses 152 girls from deprived backgrounds and provides them with an education. Winfrey has reportedly spent $40 million dollars opening the school.
September 8, 2007 - Hosts a fundraiser for presidential hopeful Barack Obama at her California home.
October 2007 - NBC buys the Oxygen Network for $925 million.
January 15, 2008 - Winfrey and Discovery Communications announce that beginning in 2009 the Discovery Health Channel will be renamed OWN: The Oprah Winfrey Network.
November 20, 2009 - Announces on her show that she will discontinue her talk show on September 9, 2011. She will then move to California and launch OWN.
December 5, 2010 - Winfrey is honored at the Kennedy Center as part of the 33rd annual Kennedy Center Honors gala.
January 1, 2011 - "OWN" airs.
May 25, 2011 - The last "Oprah Winfrey Show" airs. There are no guests for this episode.
November 12, 2011 - Winfrey receives an honorary Oscar, the Jean Hersholt Humanitarian Award, from the Academy of Motion Picture Arts and Sciences.
January 1, 2012 - Winfrey's new show, "Oprah's Next Chapter", debuts on the OWN network.
March 2013 - Her net worth is estimated to be $2.8 billion, putting her at #503 on the Forbes Billionaires list, #168 for American billionaires. Her wealth makes her #151 of the Forbes 400 Richest People in America, and #2 of the World's Most Powerful Celebrities.
June 26, 2013 - Regains #1 spot for Forbes' World's Most Power Celebrities.
November 20, 2013 - Is awarded the Presidential Medal of Freedom by President Barack Obama.
March 2014 - Forbes, in its annual list of the world's billionaires, estimates Winfrey's net worth at $2.9 billion.