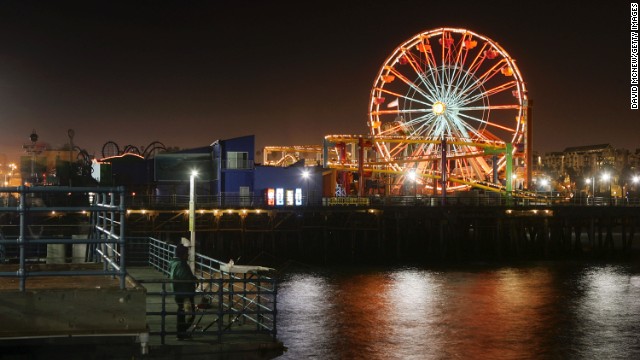 The Santa Monica Pier Ferris wheel is the first solar powered Ferris wheel in the world. With 160,000 energy efficient lights, nighttime rides feature lights illuminating the western end of Route 66.
The new 200-foot SkyView Atlanta Ferris Wheel boasts 42 climate-controlled observation cabins that each hold six people. It also has a VIP cabin equipped with leather interior and glass flooring. It's in the heart of downtown Atlanta across from Centennial Olympic Park.
The Big O stands tall in Tokyo Dome City entertainment and shopping complex. Tokyo's largest roller coaster, "Thunder Dolphin," runs directly through the centerless Ferris wheel and can reach speeds of around 80 mph.
Vienna, Austria, is home to one of the world's oldest Ferris wheels, built for a 1897 jubilee for an Austrian leader. It survived World War II with minor damage and now spins 15 of its 30 original carriages.
The Singapore Flyer stands tall at a height of 541 feet. Each car holds 28 people and takes 30 minutes to take in all the scenery. The wheel was assessed by feng shui experts and now spins clockwise.
Boosting a height of 443 feet, the London Eye offers riders views of the London Tower, Buckingham Palace and Big Ben. The viewing capsules sit on the outer rim of the wheel and offers a 360-degree panoramic view at the top of the ride. The ride's full rotation takes 30 minutes and carries more than 10,000 passengers a day.
The Cosmo Clock 21 holds the title of having the world's largest clock. The wheel has 60 carriages that hold 480 people and a full rotation is 15 minutes.
The Navy Pier has many family fun attractions, but the Ferris wheel is definitely a favorite. Carrying 240 people total in rotations of seven minutes, the wheel offers views of Chicago and Lake Michigan.
Everything is bigger in Texas! At 212 feet high, the Texas Star is the largest Ferris wheel in North America and holds 44 gondolas capable of holding six people in each one. Visitors can only catch a ride during the three-week Texas State Fair.
The Tianjin Eye, in its namesake city in northeastern China near Beijing, was built on a bridge across the Hai River. The wheel can hold 770 passengers in 48 capsules. Riders can get amazing views of the city and the cars on the highway below them during the 30-minute rotation.
The Star of Nanchang is an eyeful to visitors. The massive Ferris wheel has 60 capsules that fit six passengers each, and it offers incomparable views of the inland city that is set between Hong Kong to the south and Beijing to the north.
Pacific Wheel: Santa Monica, California
SkyView: Atlanta
Big O: Tokyo
Wiener Riesenrad: Vienna, Austria
Singapore Flyer: Singapore
The London Eye: London
Cosmo Clock 21: Yokohama, Japan
Navy Pier: Chicago
The Texas Star: Dallas
Tianjin Eye: Tiajin, China
The Star of Nanchang: Nanchang, China