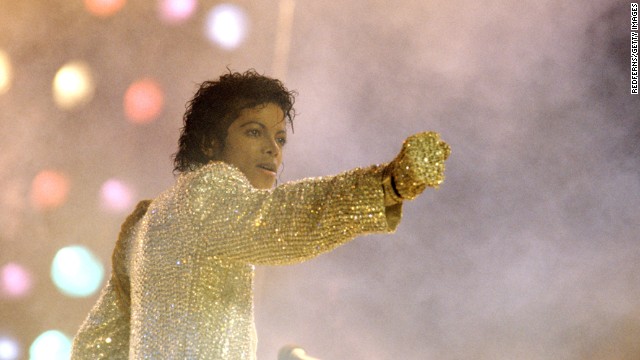 The death in 2009 of superstar Michael Jackson, who died of cardiac arrest at the age of 50, sent shockwaves around the world.
The Jackson 5 perform on a TV show circa 1969. From left, Tito Jackson, Marlon Jackson, Michael Jackson, Jackie Jackson and Jermaine Jackson.
Michael Jackson quickly became the stand out star of the Jackson 5. Here he performs onstage circa 1970.
Michael Jackson poses during a portrait session in Los Angeles in 1971.
Michael Jackson performs with The Jacksons in New Orleans on October 3, 1979.
Jackson achieved superstardom with his solo career in the 1980s. Here Jackson is shown on stage in Kansas in 1983.
Michael Jackson performs on stage circa 1990.
Jackson broke a world record during the Bad tour in 1988 when 504,000 people attending seven sold-out shows at Wembley Stadium in London.
Jackson perfoms in concert circa 1991 in New York City.
Known for his dance moves, Jackson is seen here jumping in the air while performing during the Dangerous tour in 1992.
Michael Jackson performs in Rotterdam, Netherlands.
Jackson performs with his brothers.
Jackson performs during the Bad tour at Wembley Stadium in London.
Jackson performs during the taping of "American Bandstand's 50th: A Celebration" in 2002.
Michael Jackson earned the Legend Award during the MTV Video Music Awards in Tokyo in 2006.
Jackson is seen in this handout photo provided by AEG Live on June 23, 2009, two days before his death, rehearsing at the Staples Center in Los Angeles.
Michael Jackson, King of Pop
Michael Jackson, King of Pop
Michael Jackson, King of Pop
Michael Jackson, King of Pop
Michael Jackson, King of Pop
Michael Jackson, King of Pop
Michael Jackson, King of Pop
Michael Jackson, King of Pop
Michael Jackson, King of Pop
Michael Jackson, King of Pop
Michael Jackson, King of Pop
Michael Jackson, King of Pop
Michael Jackson, King of Pop
Michael Jackson, King of Pop
Michael Jackson, King of Pop
Photos: Michael Jackson, King of Pop
STORY HIGHLIGHTS
Michael LePerruque traveled with Michael Jackson for three years a decade ago
Jackson would call his guard late at night with slurred speech, he says
"I think he was just lonely and wanted to have somebody to talk to," LePerruque says
Although he was called to testify by AEG Live, he spoke glowingly of Jackson
Los Angeles (CNN) -- Michael Jackson's former security chief testified that he worried at times that the singer might overdose on drugs, but he didn't think he was an addict.
Michael LePerruque, who traveled with the pop icon for three years a decade ago, returns to the stand Monday for more testimony in the wrongful death trial of Jackson's last concert promoter.
AEG Live called LePerruque as a witness in an effort to show jurors that Jackson was a secretive drug addict, making it impossible for its executives to know his life was in danger as he prepared for his comeback tour.
Michael Jackson's mother and three children are suing the promoter, contending the company is liable in his death because it negligently hired, retained or supervised Dr. Conrad Murray, the physician convicted of involuntary manslaughter in Jackson's death.
LePerruque, however, spoke glowingly of Jackson and after his first day of testimony last week he sought out Katherine Jackson to give his former boss's mother a hug.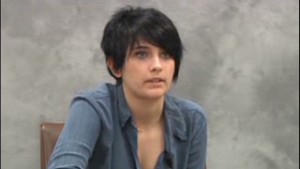 Paris Jackson's deposition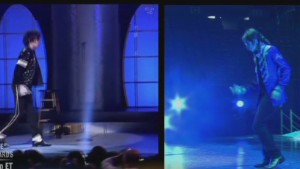 Compare Michael Jackson in 2001 to 2009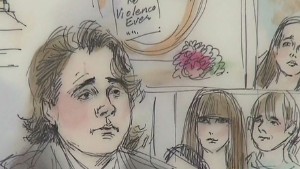 Prince Jackson testifies against AEG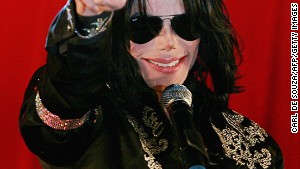 Doctor: Jackson had no REM sleep
He was hired as the chief of Jackson's travel security team after he retired from the Los Angeles County Sheriff's Department, where he served as a deputy for 22 years. Part of his training involved recognition of when someone was under the influence of drugs, he said.
Jackson estate denies allowing expert to help AEG Live
Jackson called him between 20 and 30 times from his hotel room "in the middle of the night," LePerruque testified. "His speech would be very slurred. There would be a lot of mumbling, and I wouldn't be able to comprehend what he was saying."
He would go to Jackson's room many of those nights to check to make sure he was alright, he said. He appeared to be intoxicated, he said. "I think he was just lonely and wanted to have somebody to talk to."
Under cross examination by Jackson lawyer Deborah Chang, LePerruque said Jackson's intoxication appeared to be consistent with someone drinking alcohol and taking sedatives to sleep.
Did he think he was addicted to drugs? "I wouldn't be able to say that he was addicted to those," he answered.
The security chief said he would sometimes notice empty wine bottles from the hotel room's minibar, but he never saw drugs. He also never witnessed Jackson take medications, he said.
He described a scary incident in 2001 when Jackson's children dialed 911 for help when they found their father passed out in the hallway of their suite at a Disney World hotel in Orlando, Florida.
Paris and Prince, then just 3 and 4 years old, were "crying, saying they couldn't wake up daddy," he testified. Jackson woke up after LePerruque performed mouth-to-mouth resuscitation and shook him, he said. Paramedics found no signs of a drug overdose, he said.
"It was my concern that, yes, he may overdose," LePerruque said.
LePerruque said he never confronted Jackson about his drug use because he "didn't want to put him on the defensive." To do so might have created a barrier, he said. "I wanted to be able to be close to him to monitor him to protect him."
The incidents of slurred speech and incoherent late night phone calls did not happen over the entire time LePerruque worked with Jackson, he said.
Bad news hurt Jackson's earning potential, witness says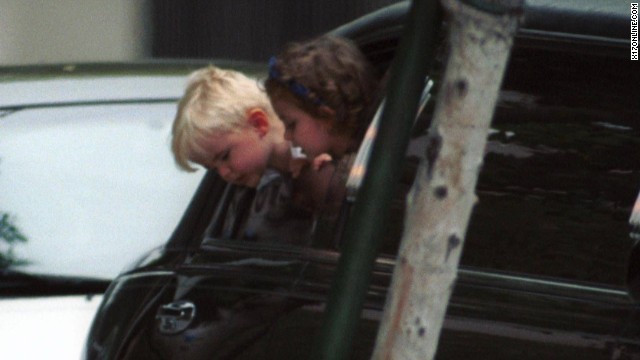 Michael Jackson, the King of Pop, died on June 25, 2009. Four years after their father's death, Jackson's children -- Prince, Paris and Prince II, aka Blanket -- have stepped into the spotlight to honor their father's memory and create careers and identities of their own. One of the world's first glimpses at the kids was when photographers caught them leaning out of a limousine in Los Angeles in 2000. Here are more moments growing up Jackson:
To protect their privacy in public, Jackson would cover his kids' faces with masks and other obscuring accessories. Here, under the gauzy veils, are Paris and Prince during a trip to the Berlin Zoo in 2002.
Michael Jackson with Prince (left), Paris (center), Prince II, aka Blanket (front), and real estate developer Mohamed Hadid in 2008.
Blanket is seen out in public five months after Jackson's death in 2009.
Paris, Prince and Blanket attend the memorial service for Michael Jackson at the Staples Center in Los Angeles on July 7, 2009. Paris paid tribute to her father by saying, "Ever since I was born, daddy has been the best father you could ever imagine ... I just want to say I love him so much."
Paris and Prince dressed as Michael to accept his Lifetime Achievement award at the Grammys in 2010.
In 2011, Paris, Michael's sister LaToya Jackson, Prince and Blanket donated 13 pieces of original art by MJ to Children's Hospital Los Angeles.
Paris plays football on a boys' team in 2011.
Prince, Blanket and Paris once again honor their father's fashion and legacy at the "Michael Forever Tribute Concert" in Wales in 2011.
The kids make a coffee run in 2011.
Paris and Prince step out in 2012.
Paris poses with Justin Bieber at the Michael Jackson hand and footprint ceremony at Grauman's Chinese Theatre in 2012. Bieber has called Jackson "an inspiration and an icon." (The famous landmark is now called TCL Chinese Theatre).
Prince, Blanket and Paris at Grauman's Chinese Theatre in 2012.
Blanket, Paris and Prince at the Los Angeles premiere of Michael Jackson "The Immortal" tour in 2012.
Prince and Paris show their father's hometown some love in 2012.
Paris and Prince speak with fans at a candlelight vigil held at Michael Jackson's childhood home in Gary, Indiana, in 2012.
LaToya Jackson and Michael's kids pose with the mayor of Gary, Indiana, Karen Freeman-Wilson, in 2012.
Prince, LaToya, Blanket, Monica Gabor and Paris attend a party for Mr. Pink drinks in 2012.
Paris sports a closely cropped hairdo while picking up coffee in May of this year. Just weeks later, the "sensitive 15-year-old" would be hospitalized for a suicide attempt.
Earlier this year, Prince kicked off an acting career by appearing on the TV show "90210." Just as he was back in regular kid mode, out for pizza with girlfriend Remi Alfalah and her family in Los Angeles, Paris was taken to the hospital.
Prince and Blanket are photographed for the first time since Paris was hospitalized, where she remains today.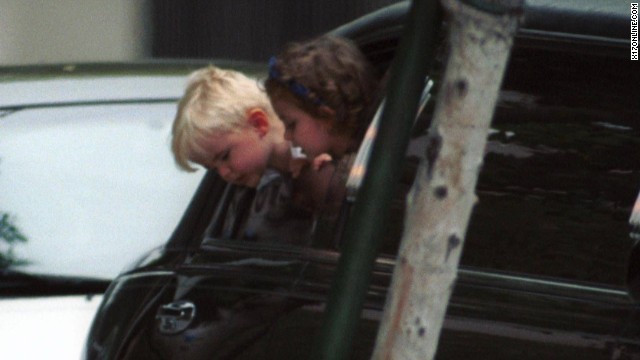 Michael Jackson's children in the spotlight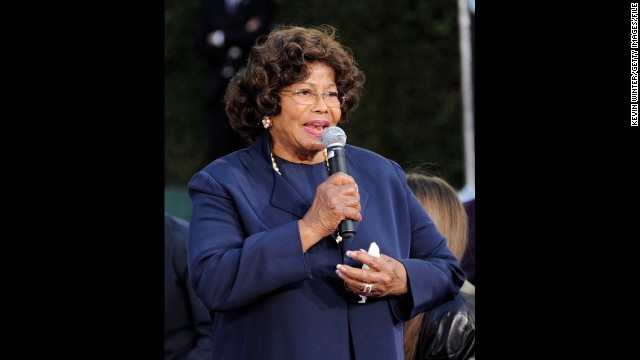 Katherine Jackson is the matriarch of the Jackson family. Here she attends the hand and footprint ceremony for son Michael at Grauman's Chinese Theatre in January 2012 in Los Angeles.
Joseph Walker "Joe" Jackson is the patriarch of the Jackson family. He's pictured at a March 2011 press conference in Madrid, Spain.
Maureen Reillette "Rebbie" Jackson is Joe and Katherine's oldest child. She scored a hit in the 1980s with the song "Centipede." She has three children: Stacee, Yashi and Austin "Auggie" Brown. Here she attends the world premiere of "Michael Jackson: The Life of an Icon" in London in November 2011.
Yashi Brown, Rebbie Jackson's second child, is a poet and advocate on mental health issues.
Rebbie Jackson's youngest, Austin "Auggie" Brown, is a musician. He's pictured at a December 2012 benefit in Hollywood.
Sigmund Esco "Jackie" Jackson, center, is the second of Joe and Katherine's children. He has two children with Enid Spann: Sigmund Esco "Siggy" Jackson Jr. and Brandi Jackson. Here he performs with brothers Tito, left, and Marlon Jackson in Los Angeles in July 2012.
Toriano Adaryll "Tito" Jackson, the third of the Jackson children, has three sons: Toriano Adaryll "Taj"Jackson Jr., Taryll Adren Jackson and Tito Joe "TJ" Jackson, who are members of the group 3T. Tito Jackson performs in Liverpool, England, in 2009.
Toriano Adaryll "Taj" Jackson Jr., Tito Jackson's oldest son, is part of the group 3T. Here he performs in Cardiff, Wales, in October 2011.
Taryll Adren Jackson, Tito Jackson's middle son, performs with his bothers in memory of his uncle, Michael, in 2011.
Tito Joe "TJ" Jackson performs in honor of his uncle, Michael.
Jermaine La Jaune Jackson is the fourth of Joe and Katherine's children. He has seven children. With Hazel Gordy, Jackson had three children: Jermaine Lu Juane Jr., Autumn Joy and Jaimy. He had two children with Margaret Maldonado: Jeremy and Jourdynn. His two youngest children, Jaffar and Jermajesty, were born to Alejandra Oaziaza. He has no children with his current wife, Halima Rashid. Jackson and Rashid are pictured at the Royal Festival Hall in London in October 2010.
La Toya Yvonne Jackson, the fifth of Joe and Katherine Jackson's children, attends the world premiere of "Dancing In Jaffa" at the Tribeca Film Festival in New York in April. She is one of the film's executive producers.
Marlon David Jackson was born a year before brother Michael Jackson. He has three children with Carol Parker: Valencia, Brittany and Marlon David Jr.
Pop superstar Michael Jackson, the most famous of Joe and Katherine's children, had three kids. He fathered his first two, Prince Michael Joseph Jackson Jr. and Paris Katherine Jackson, with Deborah Jeanne Rowe. His youngest, Prince Michael Joseph "Blanket" Jackson II, was born to an unidentified woman. The singer died in 2009.
Prince Michael Joseph Jackson Jr. attends a baseball game in August 2012 during a visit to his late father's hometown of Gary, Indiana.
Paris Jackson attends a party at the Regent Beverly Wilshire Hotel in Beverly Hills, California, in October 2012.
Prince Michael Joseph "Blanket" Jackson attends the Las Vegas premiere of "Michael Jackson: The Immortal World" by Cirque du Soleil in December 2011. He is Michael Jackson's youngest son.
Steven Randall "Randy" Jackson is the second-youngest of Joe and Katherine Jackson's children. He has four children: Steveanna, Genevieve, Donte and Steven Randall Jr. Alejandra Oaziaza is the mother of the latter three. She later married and had two children with Randy's brother Jermaine.
Genevieve Jackson, pictured in November 2011, is Randy Jackson's second child.
Janet Damita Jo Jackson is the youngest of Joe and Katherine Jackson's children. The pop star has no children. She was briefly married to singer James DeBarge before secretly marrying dancer Rene Elizondo in 1991. The couple divorced in 2000, and she married businessman Wissam Al Mana in 2012. She's pictured performing at the Sydney Opera House in 2011 in Australia.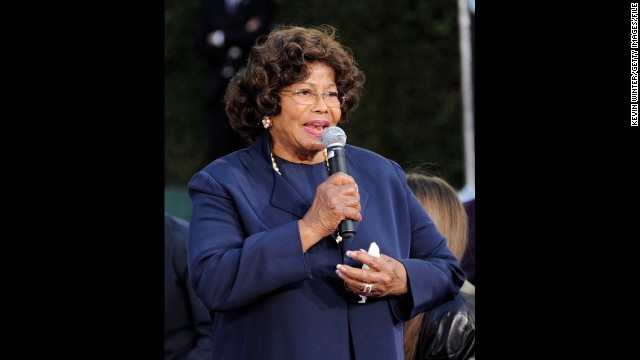 Photos: All in the Jackson family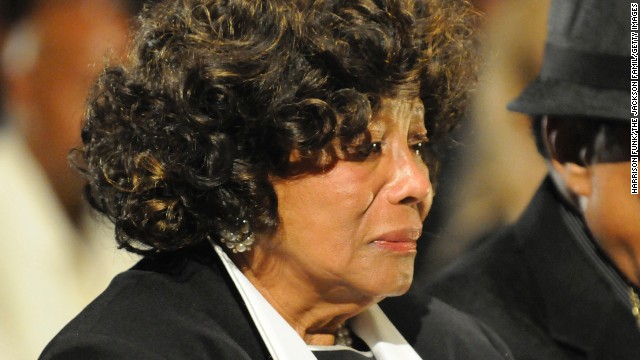 Katherine Jackson: Michael's mother, 82, was deposed for nine hours over three days by AEG Live lawyers. As the guardian of her son's three children, she is a plaintiff in the wrongful death lawsuit against the company that promoted Michael Jackson's comeback concerts.
Kenny Ortega: He was chosen by Michael Jackson and AEG Live to direct and choreograph the "This Is It" shows. Ortega, who choreographed for Jackson's "Dangerous" and "HIStory" tours, testified at Dr. Conrad Murray's criminal trial that "Jackson was frail" at a rehearsal days before his death.
Dr. Conrad Murray: He was Michael Jackson's personal physician in the two months before his death, giving him nightly infusions of the surgical anesthetic that the coroner ruled led to his death. Murray, who is appealing his involuntary manslaughter conviction, has sworn that he would invoke his Fifth Amendment protection from self-incrimination and refused to testify in the civil trial. There is a chance that Murray will be brought into court from jail to testify outside the presence of the jury to allow the judge to determine if he would be ordered to testify.
Joe Jackson: Michael's father, 84, is on the witness list for the trial and may testify. The Jackson family patriarch, who lives in Las Vegas separately from his wife, has suffered several ministrokes in the last year, which some close to him say have affected him.
Prince Jackson: Michael's oldest son is considered a key witness in the Jacksons' case against AEG Live, since he is expected to testify about what his father told him about the concert promoter in the last days of his life. Prince, who turned 16 in February, is becoming more independent -- he now has a driver's license and jobs.
Paris Jackson: Michael's daughter, who turned 15 on April 3, is on the list of witnesses and was questioned by AEG Live lawyers for several hours on March 21 about her father's death. Paris is an outspoken teen who often posts messages to her 1 million-plus Twitter followers.
Blanket Jackson: Although AEG Live asked the judge to order Blanket, 11, to sit for a deposition, and he is one of the four plaintiffs suing them, Michael's youngest son will not be a witness in the trial. His doctor submitted a note to the court saying it would be "medically detrimental" to the child.
Randy Phillips: He's president of AEG Live, the concert promoter that contracted with Michael Jackson for his "This Is It" comeback shows set to start in London in July 2009. The Jackson lawsuit says Phillips supervised Dr. Conrad Murray's treatment of Jackson in the weeks before his death, making the company liable for damages. E-mails between Phillips and other executives showed they were worried about Jackson's missed rehearsals and sought Murray's help getting him ready.
Kevin Boyle: The Los Angeles personal injury lawyer is leading the Jackson team of at least six attorneys in the wrongful death suit against AEG Live. One of his notable cases was a large settlement with Boeing on behalf of two soldiers injured when their helicopter malfunctioned and crashed in Iraq.
Perry Sanders, Jr.: Katherine Jackson's personal lawyer is helping steer the Jackson matriarch through her relations with her son's estate, probate court and the wrongful death suit. He is also known for representing the family of Biggie Smalls in their suit against the city of Los Angeles over the rapper's death investigation.
Marvin Putnam: He's the lead lawyer for AEG Live, defending against the wrongful death suit. The primary focus of his legal practice is "media in defense of their First Amendment rights," according to his official biography.
Philip Anschutz: The billionaire owner of AEG, parent company of AEG Live, is on the Jacksons' witness list. He is the force behind the effort to build a football stadium in downtown Los Angeles to lure a National Football League team to the city. He recently pulled his company off the market after trying to sell it for $8 billion.
Tim Leiweke: He was recently fired as AEG's president as Philip Anschutz announced he was taking a more active role in the company. The Jackson lawyers say Leiweke's e-mail exchanges with executives under him concerning Michael Jackson's health are important evidence in their case.
Paul Gongaware: The AEG Live co-CEO worked closely with Michael Jackson as he prepared for his comeback concerts. He testified at Dr. Conrad Murray's criminal trial that he contacted the physician and negotiated his hiring at the request of Jackson. AEG lawyers say it was Jackson who chose, hired and supervised Murray. Gongaware knew Jackson well, having been tour manager for the singer in previous years.
John Branca: He's one of two executors of Michael Jackson's estate. Branca was Jackson's lawyer until about seven years before his death. He said Jackson rehired him just weeks before he died.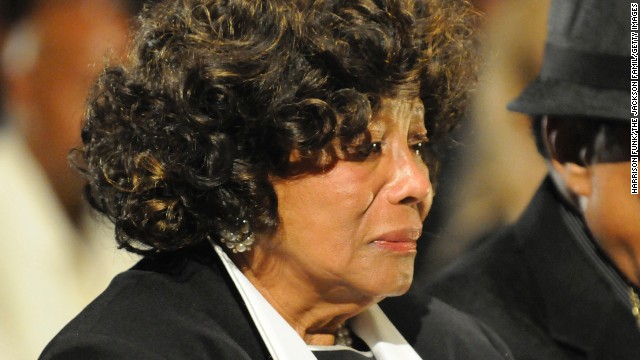 Who's who in Jackson trial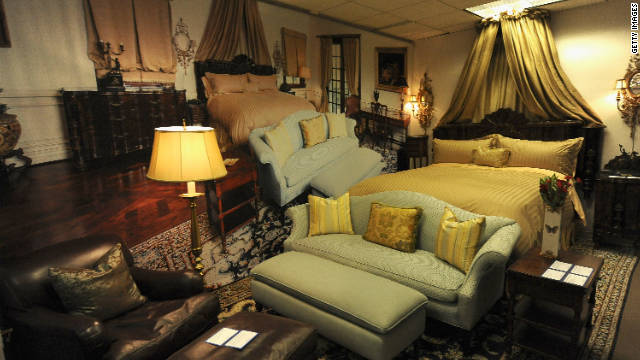 Furniture from Michael Jackson's last residence went under the hammer in Beverly Hills on Saturday. Many pieces are well-known due to crime scene photos shown in the trial of Michael Jackson's doctor.
The contents of 100 North Carolwood Drive, Jackson's last residence, were not owned by the pop singer, but their value may skyrocket due to the personal touches added by the pop icon and his children in the months before his death.
On sale is a Victorian revival style armoire from Jackson's master bedroom. On the mirror is a handwritten message: "Train, perfection March April Full out May."
A chalkboard left behind in Jackson's kitchen retains notes written by the singer's children. The note, attached to a 26-inch-tall ceramic rooster, reads "love Daddy/ I (heart) Daddy/ Smile it's for free."
The auction house's recreation of the bedroom where Jackson died. The nightstand seen next to the death bed in coroner's photos, bearing numerous bottles of sedatives and other drugs, is for sale. The "French occasional table" is listed for between $300 and $500.
The auction house backed away from selling the bed in which Jackson received the fatal dose of propofol after a personal request from the singer's mother, Katherine Jackson. A bed-sized memorial covered with love notes from Jackson fans has replaced the death bed.
This figurine by Dimitri Chiparus entitled "Five Dancers" was expected to fetch between $1,500 - $2,500.
This Christmas tree ornament, with a reference to Jackson's 1991 song "Heal the World", was on display at the Beverly Hills auction.
This set of Chippendale style chairs were expected to fetch between $800 - $1,200. The Regency style dining table was priced at $800 - $1,000.
This dresser included Victorian horn ink and desk set (center) and a pair of continental lidded horn vessels with silver mounted figural lids, both expected to bring in between $300 -$500. The Maitland-Smith Chippendale style partners desk upon which they items were situated was priced at $2,000 - $4,000.
Another featured item was this federal style secretary desk with highly figured polished wood. It was expected to bring in between $800 - $1,200.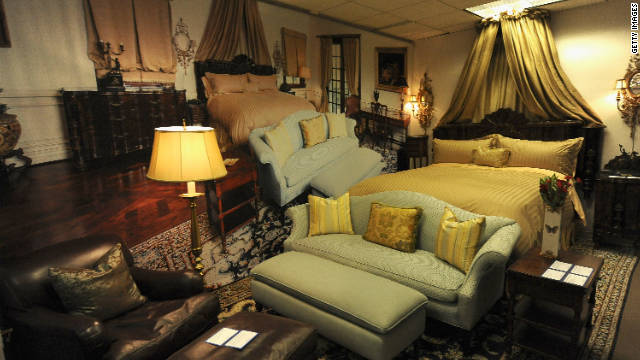 Photos: Michael Jackson auction
Jackson "fought very, very hard not to be on the prescription medications," LaPerruque testified.
He told of one conversation in which Jackson told him he was not going to use drugs again.
"Do I seem clear?" he said Jackson asked him. "I just want you to know that I'm going to stay this way, that I'm not going back to the way I was."
Their late night talks revealed to the guard that Jackson had trouble getting to sleep, a problem that would eventually lead to his death. He told him he couldn't sleep because his brain wouldn't stop creating music.
"He said that as an artist he always had a tune in his head, different melodies, and he wasn't able to stop it," La Perruque said. "It was always constant going through his brain.
The coroner ruled that Jackson died of an overdose of propofol, which Murray told investigators he was using to treat the singer's insomnia.
The incidents in which Jackson appeared to be under the influence of alcohol and drugs became more frequent after the broadcast of a documentary based on Martin Bashir's extensive interviews with him. LaPerruque said Jackson was "very devastated" by what he thought was the betrayal of trust he had with Bashir. Child molestation charges were filed in Santa Barbara County, California, after the broadcast.
LaPerruque said he never believed the criminal charges against Jackson were true. If he suspected he was molesting children he would be the first to slap handcuffs on him, he said.
"I came out in full support of him," LaPerruque said.
Jackson was acquitted on all charges after a trial.
LaParruque called Jackson "very down to earth," saying he was proud to have worked for him.
"There were times there were difficulties, but for the most part it was a pleasure working for him," he said.
He noted that one problem Jackson had was keeping up with his cell phones. He lost 27 of them, he said.
The wrongful death trial begins its 15th week in a Los Angeles courtroom Monday. The judge projected the trial will last until the middle of September.