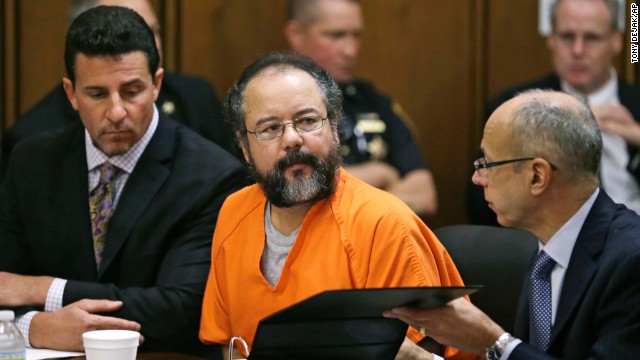 Ariel Castro listens during the sentencing phase of his trial on August 1 in Cleveland alongside defense attorneys Craig Weintraub, left, and Jaye Schlachet. Castro held three women captive for years inside his Ohio home until their escape in May 2013. He pleaded guilty to 937 counts, including murder and kidnapping. On September 4, Castro was found dead inside his prison cell in Orient, Ohio.
Former captive Michelle Knight, center, talks with reporters on August 7 outside convicted kidnapper Ariel Castro's house. Knight was on hand as workers began tearing down the structure.
A crane demolishes the Cleveland house of Castro on August 7. Plans call for the house to be torn down and the lot cleared in a single day.
Here is a view of the house where Castro held the three women captive. He forfeited the house as part of a plea deal with prosecutors that took the death penalty off the table in exchange for a life sentence, plus 1,000 years in prison.
Michelle Knight speaks during the sentencing phase for Ariel Castro on August 1 in Cleveland. "I will live on," Knight said in her statement to Castro. "You will die a little every day."
video released on YouTube
on July 8, thanking people for support and privacy. Berry, Gina DeJesus and Michelle Knight escaped from a Cleveland home on May 6, 2013, after being held captive for nearly a decade.
Amanda Berry vanished a few blocks from her Cleveland home on April 21, 2003. She was 16. She spoke in a
Georgina "Gina" DeJesus was last seen in Cleveland on April 2, 2004, on her way home from school. She was 14 when she went missing.
Knight was last seen on August 22, 2002, when she was 21.
FBI agents and other law enforcement officers stand outside Castro's home in Cleveland on May 9, 2013.
Castro hangs his head while talking with his public defender, Kathleen DeMetz, during his arraignment on May 9, 2013.
Ariel Castro was charged on May 8, 2013, with kidnapping the three women.
Investigators remove evidence from the house on Seymour Avenue in Cleveland where the three women were held.
An FBI forensics team meets outside the house where three women were held as they investigate the property.
Cleveland Deputy Chief of Police Ed Tomba, center, speaks at a news conference to address details of the developments.
FBI agents remove evidence from the house May 7, 2013.
A police officer stands in front of the broken front door of the house on May 7, 2013, where the kidnapped women escaped.
Neighbor Charles Ramsey talks to media as people congratulate him on helping the kidnapped women escape on May 6, 2013. He helped knock down the door after he heard screaming inside.
Kidnapped teens found decade later
Kidnapped teens found decade later
Kidnapped teens found decade later
Kidnapped teens found decade later
Photos: Kidnapped teens found decade later
Photos: Kidnapped teens found decade later
Photos: Kidnapped teens found decade later
Photos: Kidnapped teens found decade later
Kidnapped teens found decade later
Kidnapped teens found decade later
Kidnapped teens found decade later
Kidnapped teens found decade later
Kidnapped teens found decade later
Kidnapped teens found decade later
Kidnapped teens found decade later
Kidnapped teens found decade later
Kidnapped teens found decade later