A driveway turned kitchen garden
updated 1:08 PM EDT, Mon August 5, 2013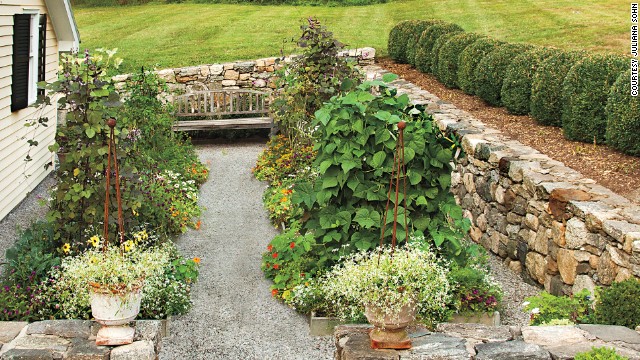 Low stone walls frame the entrance to the kitchen garden, which used to be a driveway. The garden is organized in a tidy grid; convenient paths around the beds make harvesting simple.
Steiner grows enough to supply her family -- husband David Michaelis and her two children and three stepchildren -- with enough produce through spring, summer, and fall. ("When everyone's home, that's a lot of lettuce," says Steiner.)
Steiner's landscape designer friend, Leslie Needham, left, helps her pick beans near the purple gomphrena.
Each vegetable bed shares space with flowers, including nasturtiums and zinnias. Steiner gave one of the beds to her 12-year-old stepdaughter to plan and tend herself.
Two years ago, Steiner added additional beds behind the garage for squashes, melons and more tomatoes.
The garden is bordered on one side by simple boxwood balls, which help define the space.
To save space, Steiner grows pickling cucumber vertically, on a wooden tuteur ("The orange color means they've overripened, but they still taste every bit as good," she says).
"When I pull up at the end of the day, I snip a few vegetables and walk into the house," Steiner says.
A driveway reinvented
A driveway reinvented
A driveway reinvented
A driveway reinvented
A driveway reinvented
A driveway reinvented
A driveway reinvented
A driveway reinvented
STORY HIGHLIGHTS
Decorative items add visual interest to a hardworking vegetable garden
Flowers such as marigolds can help deter pests from your plot
By planting strategically, you can maximize your space for flowers and vegetables
(CNN) -- When documentary producer Nancy Steiner moved into a new house in upstate New York a few years ago, she wanted a big vegetable garden for her family to enjoy.
But she did not see a spot for it. After she and a landscape-designer friend, Leslie Needham, walked around the property they finally stopped at the gravel driveway beside Steiner's detached garage. The answer was right in front of them.
Martha Stewart: 30 things everyone should know how to do
Wow, Needham recalls thinking, "this spot gets eight hours of sunlight a day, it's the right size and it's not being used."
Martha Stewart: 10 clever ways to save space in your kitchen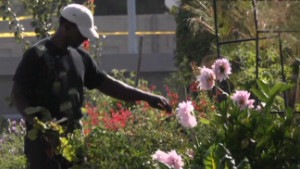 Gangsta gardener of South Central L.A.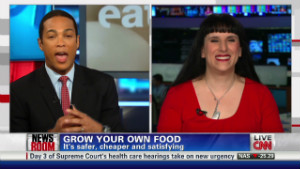 No excuses - this year you garden
Within a few weeks, they had erected six 5-by-7 foot raised beds on the space and filled them with organic soil. They left paths around each bed to allow for easy access and built a low stone wall at the entrance to help define the space.
Martha Stewart: Decorating with bright colors
"My goal was to create a neat, organized area and let Nancy take it from there," says Needham.
Flowers provide beauty and also serve a practical purpose: The marigolds help deter pests; the nasturtiums go into salads.
Martha Stewart: Staying organized with 18 steps
The nontraditional location has other advantages-- The raised beds allow Steiner to easily control the soul quality. And the plot's proximity to the garage keeps tools and supplies close.
"This is a working person's garden," says Steiner.
Martha Stewart: 19 tips for perfect laundry every time
It's so low maintenance, it practically calls for drive-through gardening.
Martha Stewart: Chemical free cleaning 101