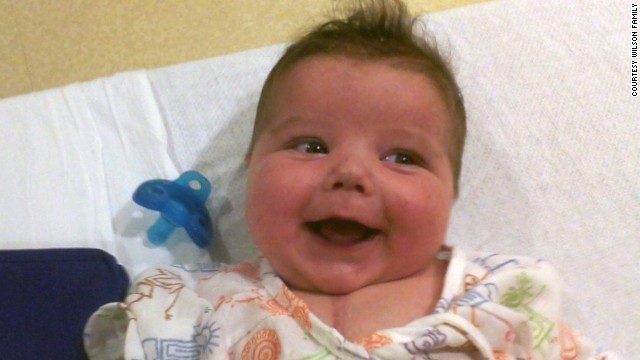 Connor Wilson was born February 13, 2012. He had his first surgery at Kentucky Children's Hospital a week later and a second surgery on May 11. On August 3, 2012, his heart stopped, but doctors got it beating again. "He never got better," says his mother, Nikki Crew.
Connor's parents say while they were in the hospital, they asked staff multiple times for information about survival rates, but never got answers.
Connor passed away on August 30, 2012. In October, Kentucky Children's stopped doing heart surgeries. Dr. Michael Karpf, executive vice president for health affairs at the University of Kentucky's health care system, said he put the pediatric heart surgery program on hold because the mortality rates weren't what he wanted them to be.
Waylon Rainey was born September 13, 2012, with a severe heart defect and underwent a 12-hour surgery at Kentucky Children's Hospital when he was a week old.
After surgery, Waylon's chest was so swollen it was left open for two weeks. For months, he suffered seizures and multiple brain bleeds, his parents say. Waylon's mother Tabitha Rainey says a cardiologist privately suggested that Waylon would do better at another hospital. He was transferred to the University of Michigan and survived after undergoing additional procedures.
Jaxon Russell was born September 26, 2012. On October 2, he had his first surgery at Kentucky Children's to fix a congenital heart defect.
Jaxon had a second surgery on February 5 at a different hospital. His parents say it lasted four hours longer than expected because of an infection and scar tissue from the first surgery. "The first surgery was botched," his father, Shannon, says.
The Russells are now raising awareness about congenital heart defects with their "
Rayshawn Lewis-Smith was born with congenital heart defects, requiring 10 surgeries at Kentucky Children's Hospital before he was 6 months old. Rayshawn's mother, Joequetta Lewis, created the Facebook page "Prayers for Rayshawn" to share the ups and downs of her "little warrior."
"As of 9:37 a.m. on 10/22/1012 Rayshawn Lewis-Smith gained his angel wings," says the Facebook page. "He had a very hard fight but he fought to the end."
The smallest patients
Connor Wilson
Connor Wilson
The smallest patients
Waylon Rainey
The smallest patients
Jaxon Russell
Jaxon Russell
Rayshawn Lewis-Smith
Rayshawn Lewis-Smith
STORY HIGHLIGHTS
Spokesman: U. of Kentucky hopes to resume cardiothoracic surgeries
Parents bothered by executive's statement about their ability to understand data
Commenter: Releasing data could have wider, negative effect
(CNN) -- It's a story that's hit many parents hard -- babies dying after complex heart surgeries; a hospital refusing to publish its mortality rates for these surgeries; a surgeon who went on paid leave and took a new job in Florida. CNN correspondent Elizabeth Cohen's recent report on Kentucky Children's Hospital has prompted passionate responses from both sides, including a Change.org petition.
In response to the CNN report, University of Kentucky spokesman Jay Blanton said in a statement:
"The pediatric cardiothoracic surgery program voluntarily decided to stop performing some procedures last fall and conduct a review of the program. The review is currently ongoing and is expected to be completed soon.
"Our goal and commitment is to always do what is in the best interest of our patients and we hope to resume performing these very complex, advanced pediatric cardiothoracic surgical procedures in the future and to ensure that we are providing the best care possible."
Babies die; hospital halts heart surgeries
Many readers took issue with hospital executive Dr. Michael Karpf's response to questions about making the hospital's mortality rates available. Karpf told CNN that "data is a complex issue" and he's not sure parents would understand statistics and rates.
After reading the story, Jenelle Walter, a mother whose son survived a congenital heart defect, wrote an open letter to Karpf on her blog, saying:
"What bothers me most is your inability to provide information to the people who need it most. We know that even the most skilled surgeons lose patients. We know that open heart surgery carries risks, and mortality is a reality that we face every day. Withholding information because you deem us, as parents, too ignorant to understand, is offensive."
CNN.com reader JDC shared this comment:
"For Kentucky Children's to say that parents won't understand the data means they (don't) value the input and intelligence of the parents they are dealing with."
Jessica Lewellen says she also sent a letter to Karpf, that reads in part:
"I, as a mother to a child with complex congenital heart defects, was very offended by your ridiculous comment that parents aren't sophisticated enough to understand data...This is my 'personal request' to you for ALL DATA! Because we as parents have EVERY right to know your hospitals success and mortality rates."
On "Heart Mamas," a private Facebook group for mothers of children with congenital heart defects, Rena Hartmann posted this statement:
"I am the mother of a child with a complex heart condition. I am also a nurse. I can 'understand sophisticated data' as you call it. And by the same token a parent that asks a question of your facility and staff should receive a direct answer. They don't need candy coated words, they need the truth.
Full disclosure sir is what the parents and children deserve. You have ruffled the feathers of many heart parents and we sir are not a group to be ruffled. We have seen death and fought against it with our children. Not much can scare us anymore."
Many agreed, saying that the hospital should release its pediatric heart surgery mortality rates. The Change.org petition has this goal as well.
"There is no valid reason not (to) impose mandatory reporting requirements on hospitals, compel them to provide full and complete statistics on all procedures including detailed information on outcomes," CNN reader Marcus Leon wrote. "Enough is enough, these people are being compensated with tax dollars, we have the right to know how effective the services they are providing are relative to their peers so we can make informed decisions on when, where and with whom we should seek treatment."
But some readers sided with the hospital, noting that publishing the mortality data could have a wider, negative effect.
"One real problem with publication of data is that most U.S. hospitals are very small -- their sample sizes are very small," CNN reader Paul Evans wrote. "If a hospital performs operations on patients that are higher risk on average, then their results would be adversely affected, and they could potentially look very bad. It could lead to the ridiculous situation where hospitals only perform operations on patients it guarantees will be a success, leaving higher risk patients no options."
And as several readers pointed out, these types of surgeries are extremely high risk.
"Let's not start finger-pointing doctors and hospitals for these unfortunate circumstances. Surgeries are risky for all ages of people," CNN reader Ruth Mak wrote.