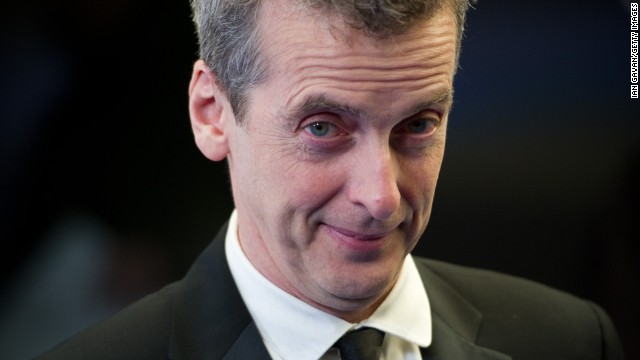 The BBC draws back the curtains to reveal who will be the next British actor to play the famed Doctor. He is Peter Capaldi, seen here attending the British Comedy Awards at the O2 Arena on January 22, 2011.
Clara (Jenna Coleman) and the current Doctor (Matt Smith) in season 33 of the popular show.
David Tennant, who played the Doctor from 2005-2009, arrives for the gala screening of the Doctor Who Christmas episode at the Science Museum on December 18, 2007 in London.
Christopher Eccleston, who played the ninth Doctor in 2005, arrives at the premiere of his film "Gone in 60 Seconds" in Los Angeles on June 5, 2000.
Paul McGann, who starred as the eighth Doctor in the 1996 movie "Doctor Who," arrives at the Institute of Contemporary Arts on August 15, 2002 in London.
Actor Sylvester McCoy, who played the seventh Doctor from 1989-1996, arrives for the world premiere of 'The Hobbit' movie in Courtenay Place in Wellington, New Zealand, on November 28, 2012.
Colin Baker, who played the sixth Doctor from 1984-1986, poses with Daleks on July 12, 2013 in York, northern England.
Peter Davison, the fifth Doctor from 1981-1984, poses in the TARDIS at BBC Television Centre, London, on April 15, 1981.
The fourth Doctor, played by Tom Baker from 1974-1981, standing alongside a Zygon, meets Sergeant Frank Ziegler, a guard at the American Embassy in Grosvenor Square, London in 1978.
The third Doctor, played by Jon Pertwee from 1970-1974, sits in the car park of BBC Television Centre, London, guarded by two Daleks in 1972.
Patrick Troughton, who played the second Doctor from 1966-1969, holds one of his own paintings outside his home in Teddington, London, on May 5, 1981.
William Hartnell (center) stars as the first Doctor (1963-1966) and is pictured alongside Dracula and Frankenstein's monster in "The Chase" on May 2, 1965.
Travel through time with Doctor Who
Travel through time with Doctor Who
Travel through time with Doctor Who
Travel through time with Doctor Who
Travel through time with Doctor Who
Travel through time with Doctor Who
Travel through time with Doctor Who
Travel through time with Doctor Who
Travel through time with Doctor Who
Travel through time with Doctor Who
Travel through time with Doctor Who
Travel through time with Doctor Who