Medal of Honor recipient urges U.S. to re-engage with North Korea
updated 3:03 AM EDT, Fri August 2, 2013
STORY HIGHLIGHTS
Captain Thomas Hudner hopes to find the remains of a friend shot down in Korean War
Leader Kim Jong Un is apparently moved by his story and ordered his military to help
U.S. governments have frozen search for bodies due to Pyongyang's nuclear ambitions
Hudner has written to U.S. Secretary of State John Kerry to resume recovery work
(CNN) -- Captain Thomas Hudner traveled to North Korea with hopes of finding the remains of an old friend shot down more 60 years ago during the Korean War. Instead, he returned home with an offer of talks for the U.S. government.
Leader Kim Jong Un is said to have been personally moved by Hudner's story and has ordered his military to do all they can to help find his comrade's remains. A surprising level of co-operation coming just months after Kim's regime made threats of a nuclear war with the United States.
North Korea: A sneak peek through the keyhole
December 4, 1950, Hudner was wingman to the U.S. Navy's first African-American pilot, Jesse Brown. Brown was shot down deep within enemy territory and was trapped in his cockpit. Hudner risked his life -- deliberately crash landing his own plane -- to try to rescue him. Brown died on the side of a mountain in the brutal Korean winter but Hudner made him a promise he'd be back for him.
Hudner did return to Korea but bad weather prevented him reaching the crash site. Despite his disappointment, Hudner says his 10 day visit has made him aspire to more. "Our mission is just a part of a grand overall mission of preventing nuclear war and other types of war that could set us back to where we were 63 years ago."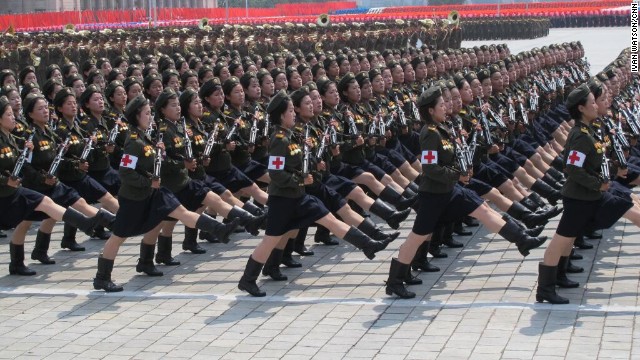 Nurses with guns goose-step through Kim Il Sung Square in Pyongyang, North Korea, during a mass military parade on Saturday, July 27. The parade was part of elaborate celebrations for the 60th anniversary of the end of the Korean War-- known in the country as "Victory Day." CNN's Ivan Watson was part of a Western media contingent allowed into North Korea to cover the occasion.
North Korea thanked Chinese veterans, who were dressed in a lighter green uniform, for fighting alongside its soldiers in the Korean War at a ceremony on July 27.
A stadium was packed full of North Korean veterans on Friday, July 26, to celebrate 60 years of "victory" since the signing of the armistice agreement that ended the Korean War fighting. There has never been a peace treaty, so the Korean War has technically never ended. The 38th parallel marked the division between North and South Korea in August 1945, at the end of WWII.
Themes of resistance, defiance against U.S. imperialism and self-sufficiency were highlighted at this performance in Pyongyang on July 26.
North Koreans participated in an Arirang "mass games" performance on Sunday, July 28, in Pyongyang.
A soldier stood guard at Kim Il Sung Square on Sunday July 28.
Brass statues of deceased North Korean rulers Kim Il Sung and his son Kim Jong Il loom large over Pyongyang.
CNN's Ivan Watson looked at carp with Pyongyang schoolchildren at the park in front of Kim Il Sung and Kim Jong Il's final resting place.
Schoolchildren paid their respects at Kumsusang Palace of the Sun, where Kim Il Sung and Kim Jong Il lie in state in glass coffins.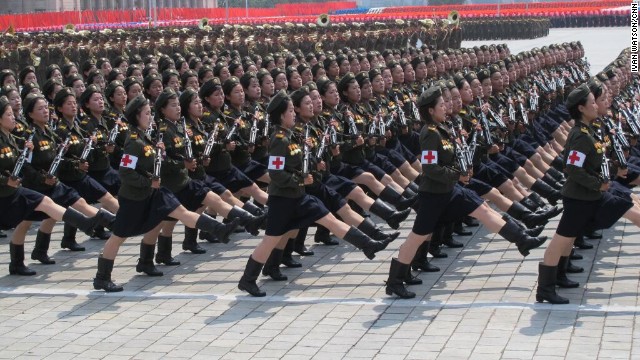 North Korea celebrates war 'victory'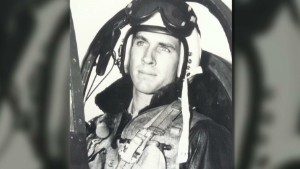 Korean War vet returns to North Korea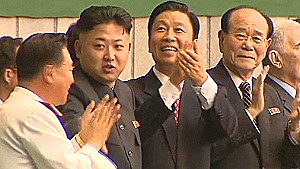 Watson: Kim Jong Un walked toward me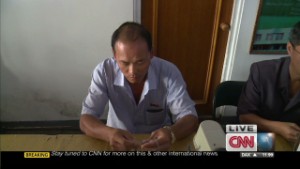 Shopping for electronics in North Korea
Hudner has sent a letter to U.S. Secretary of State John Kerry relaying North Korea's wish to resume the joint recovery work of U.S. remains that stalled in 2005. Around 8,000 Americans are still MIA in the country but consecutive U.S. governments have frozen the search for bodies due to Pyongyang's nuclear ambitions.
North Korea's Kim Jong Un honors country's war veterans
In his letter, Hudner said the officials of the Korean People's Army told him "they wish for this humanitarian mission to continue regardless of the larger political issues. These men are soldiers and professionals whom I have looked in the eyes and come to trust."
Hudner and fellow Korean War veterans were surprised by the level of respect and hospitality they received from officers of the Korean People's Army who were escorting them throughout their trip.
"Sometimes you get with groups of veterans of other nations," says Hudner, "and there's a guardedness that they have. They don't want to say too much, they don't want to get too close to you but these... they're very friendly. It's almost as if we're old allies getting together."
Hudner acknowledges his hopes of this trip contributing to better relations may be naive but is considering the invitation to return to North Korea in September. An advance team sent to the Chosin or Jangjin Reservoir by the KPA was stranded by the floods last week, but the KPA believes roads and helicopter landing pads can be repaired in a couple of months.
The KPA does insist though it wants a representative of the U.S. Joint P.O.W/M.I.A. Accounting Command (JPAC) to accompany any future expedition to search for Jesse Brown's remains. This would require a decision by the Obama administration to actively re-engage with North Korea.
State news: North Korea proposes high-level talks with U.S.