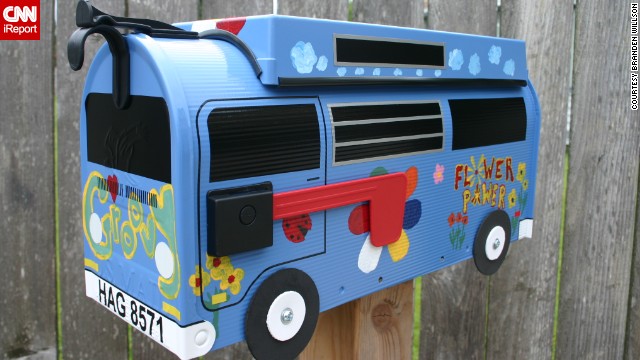 Branden Willson
designs custom mailboxes to look like vintage Volkswagen buses.
Tara O'Connor
a much-needed laugh one day in Cottage Grove, Minnesota. "After having a bad day, that was the best pick-me-up I could have asked for," she says.
This unusual mailbox gave
Ginny Clarke
took note of colorful mailboxes such as this one.
In her neighborhood on Oahu in Hawaii,
Ginny Clarke
spotted these Hawaiian-shirt-inspired mailboxes while wandering through a neighborhood on the island of Oahu.
This interesting mailbox
marks the dirt road that presumably leads to the legendary Area 51. Throughout the years, tourists and alien-seekers have decorated it with stickers, graffiti and even a green face.
Lia Ocampo's eye
; it's a mini replica of the larger house behind it.
This mailbox caught
these mailboxes
in Stockholm, Sweden.
As a professor of interior design, Nadya Kozinets was drawn to
Megan Smutak
snapped a pic of these smiling mailboxes outside an artist's gallery in Cuyahoga Falls, Ohio.
Juliana Romnes
spotted these mailboxes while driving through the artist's community of Madrid, New Mexico.
Paul Tamasi
spotted this hilariously tall mailbox on a road trip with his son along Route 2 in Maine.
Linda Glovach
smile when she passes its Glen Cove, New York, house.
This doggy mailbox always makes
Robert Frost's mailbox
at the famous poet's residence in Franconia, New Hampshire.
Marie Sager paid a visit to
doorside letter slot
, one she likes for its rustic appearance. Under Rep. Darrell Issa's proposal, the Postal Service would cease all individualized mailbox delivery.
Kathi Cordsen doesn't have a mailbox, but she does have a
Mailboxes: Creativity beyond the driveway
Mailboxes: Creativity beyond the driveway
Mailboxes: Creativity beyond the driveway
Mailboxes: Creativity beyond the driveway
Mailboxes: Creativity beyond the driveway
Mailboxes: Creativity beyond the driveway
Mailboxes: Creativity beyond the driveway
Mailboxes: Creativity beyond the driveway
Mailboxes: Creativity beyond the driveway
Mailboxes: Creativity beyond the driveway
Mailboxes: Creativity beyond the driveway
Mailboxes: Creativity beyond the driveway
Mailboxes: Creativity beyond the driveway