STORY HIGHLIGHTS
Mesut Ozil believes Cristiano Ronaldo can fire Real Madrid to glory
Ozil delighted Ronaldo is staying at the club
Germany international reveals new way of playing
Believes advice from Zinedine Zidane has helped him blossom
(CNN) -- Cristiano Ronaldo has consistently been linked with a move back to Manchester United -- but Real Madrid star Mesut Ozil insists his club must hold onto the player if it is to challenge at the very top.
Ronaldo, who left United for Real in a world record $130 million deal in 2009, has been the subject of much speculation in recent months.
The 28-year-old has scored 201 goals in 199 appearances for Real and club president Florentino Perez recently stated that he expected Ronaldo to finish his career in the Spanish capital.
Read: Can Real Madrid reign in Spain?
But the speculation refuses to disappear -- leaving Ozil hoping his Portuguese teammate stays put.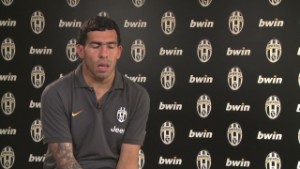 Carlos Tevez: Man City pressure too much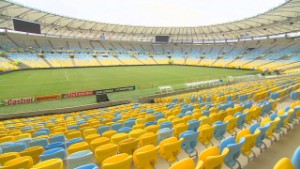 Tour Brazilian football's spiritual home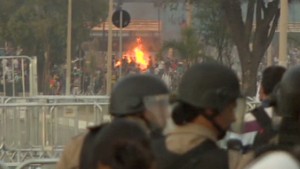 Football continues as Brazilians protest
"Cristiano Ronaldo is very important to the team, just look at all the goals he has scored in the past few seasons," he told CNN.
"He's a great person off the field. I hope he can stay here for a long time because he can help us win important titles."
Read: Should Ronaldo return to Man United?
The loss of Ronaldo would be a huge blow to a Real side hoping to snatch the league title back from Barcelona and win its first Champions League crown since 2002.
Real has lost out at the semifinal stage in each of the past three seasons with Borussia Dortmund the last team to put paid to the Spanish club's dream of a 10th triumph in the competition.
Read: Ancelotti moves to Real Madrid
"We have come very close to winning the Champions League in the past few years and that leaves a very bitter taste in the mouth," Ozil revealed.
"What we hope is that we can go further this season. I believe we are good enough to make the final.
"Real is the biggest club in the world and I feel privileged to have the opportunity play here.
"It's like a dream. It's true there's a great deal of pressure to win every game and every title but I actually enjoy that.
"I feel comfortable playing under pressure and thrive in those situations."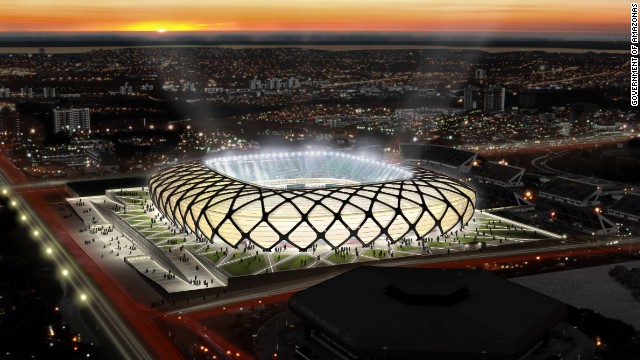 Arena da Amazonia - an artist's impression of what the stadium in Manaus will look like once complete.
Construction continues at the Arena da Amazonia in June 2013.
The exterior of the stadium that will host games for the 2014 World Cup.
Miguel Capobiango Neto, the man who is overseeing the World Cup preparations for the city of Manaus.
Manaus sits on the banks of the Rio Negro river, an important source of food and transportation.
A busy fish market in Manaus, a city that consumes more fish per person per year than the entire rest of Brazil, and includes fish from the Rio Negro and Amazon Rivers not found in any other part of the world.
The port outside the fish market. Ships come from surrounding river regions at all hours of the day and night, offloading tons of fish for sale.
Indigenous tribes still dot the Amazon rainforest surrounding the city of Manaus.
A hut belonging to indigenous tribe along the Rio Negro river.
Manaus' famous opera house, built in the late 1800s, stands out in the city skyline.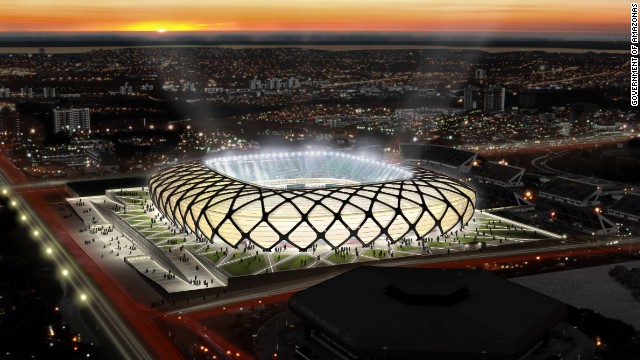 Manaus' World Cup temple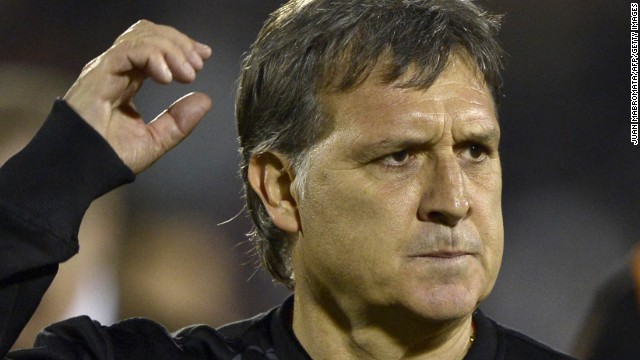 Gerardo Martino has signed a two-year deal at Barcelona after agreeing to replace former coach Tito Vilanova.
Barcelona's star player Lionel Messi is a huge admirer of fellow Argentine Martino. Both men hail from Rosario and Messi's father is a close friend of the new Barcelona manager.
Vilanova took over from Josep Guardiola as Barcelona coach in June 2012 but was forced to leave his post to continue his fight against throat cancer. Vilanova missed nearly three months of last season undergoing chemotherapy and radiotherapy.
Guardiola won 14 trophies with Barcelona between 2008 and 2012 before taking a sabbatical. Now in charge of Champions League winner Bayern Munich, Guardiola will face his former side in a friendly game at the Allianz Arena.
As well as Messi, Martino will be able to deploy the considerable talents of Brazilian star Neymar next season.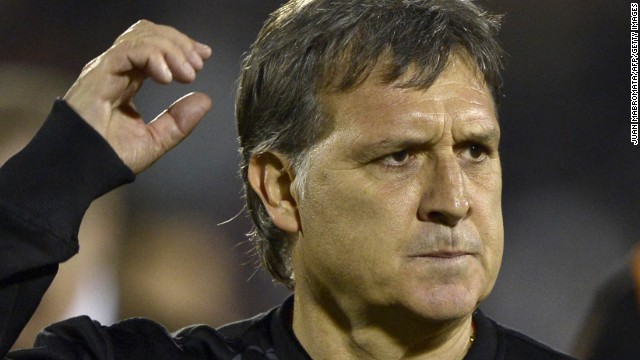 New man at Camp Nou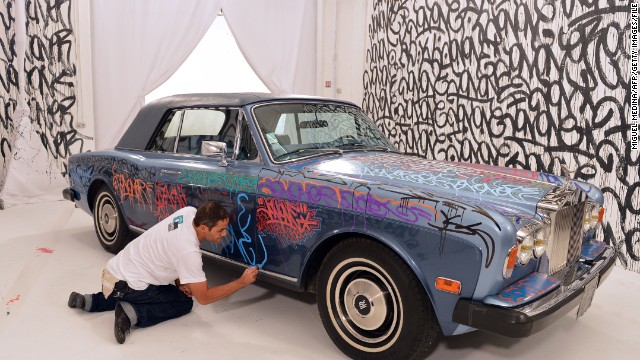 U.S. graffiti artist Jonone performs a painting on a Rolls Royce car owned by former Manchester United and France football player turned actor Eric Cantona during a television show.
Former Germany star and current U.S. coach Jurgen Klinsmann gets into his Volkswagen Beetle while surrounded by onlooking schoolchildren.
Former Chelsea star Nicolas Anelka prefers a rather more stylish approach with this Mercedes model.
Former Juventus and Italy star Alessandro Del Piero poses on the grid at the Australian Grand Prix Melbourne.
In 2009, Cristiano Ronaldo survived a high speed crash when his Ferrari collided with a barrier near Manchester Airport.
Real Madrid's deal with Audi means that each player in the squad drives a car provided through a lucrative sponsorship deal.
Former Palermo striker Fabrizio Miccoli poses near the Citroen DS3 which was designed for charity.
Germany coach Joachim Loew gets out of a Mercedes SLS AMG E-Cell in another sponsorship event.
Jose Mourinho drove an Audi during his time as manager of Real Madrid. The Portuguese coach, now at Chelsea, will have to revert to right-hand drive after moving to the United Kingdom.
Bayern Munich winger Arjen Robben takes part in a desert tour of Doha with his teammates.
Corinthians goalkeeper Cassio poses besides a Toyota Prius vehicle after he won the Most Valuable Player (MVP) prize during the awards ceremony of the Football Club World Cup in Yokohama.
David Beckham opted for a black Audi during his time at Paris Saint-Germain.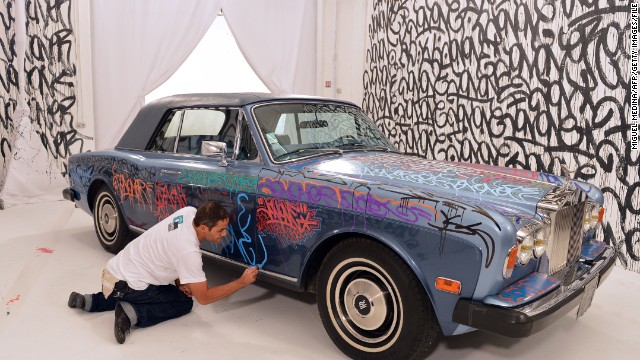 Football and life in the fast lane
Real has been busy in the transfer market ahead of the new season as it looks to challenge both at home and abroad.
It has already spent $35 million on talented playmaker Isco and $52 million on defensive midfielder Asier Illarramendi.
The club are also reportedly interested in signing Tottenham's Gareth Bale, despite Spurs' determination to hang onto the player.
Bale's pace and power lit up the English Premier League last season with the Welshman scoring 21 goals in 33 top-flight appearances.
Tottenham manager Andre Villas-Boas revealed Friday that the club is currently trying to negotiate a new contract with the player.
But Real are unlikely to be deterred with Bale exactly the type of player new coach Carlo Ancelotti could utilize as he attempts to increase the tempo of Real's play.
"Ancelotti has his own football philosophy," added Ozil of the man Perez chose to succeed Jose Mourinho.
"He wants us to play quicker than before. His system is different to what we're used to but that's why friendly games are important.
"We can get used to a new way of playing. We have quick attacking players so I believe we are equipped to adopt his system successfully."
Ozil will be hoping to guarantee his own place in Ancelotti's side and the 24-year-old has been taking advice from former Real legend Zinedine Zidane.
"Zidane was one of my idols when I was growing up so it was great to have a chance to meet him at Real Madrid," Ozil added.
"He has given me some advice but I'll keep that to myself.
"I really appreciate the support he has given me and what he has said to me since I have been here."