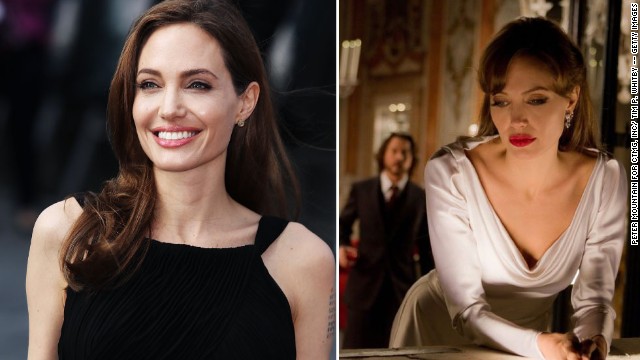 Angelina Jolie tops the 2013 Forbes list of highest-earning female actresses but much of her recent work has been behind the camera.
The youngest on this year's list at 22, Jennifer Lawrence is Tinseltown's golden girl at the moment. Forbes estimates she made $26 million last year.
Kristen Stewart was top of the list last year but with the "Twilight" films completed, Stewart's earnings of $22 million mean she has dropped to third.
The F.R.I.E.N.D.S alum has made a successful transition from TV to movies with her most recent hit as part of the ensemble cast of "Horrible Bosses" which grossed $11.5 million globally.
The latest "Spiderman" sweetheart Emma Stone, who played love interest Gwen Stacy in the new remake, is a new entry to the highest-paid actress list.
Anything Snow White-related was box office gold as Charlize Theron found when she co-starred in "Snow White and the Huntsman" as the wicked stepmother.
Sandra Bullock recently teamed up with funny lady Melissa McCarthy in "The Heat" about an FBI agent forced to partner with a Boston cop to catch a drug lord. The female-led action comedy has proven to be a big hit and since opening on June 28, has made $142.1 million worldwide.
The "Black Swan" star joined the cast of "Thor" to star as the Norse god's love interest Jane Foster in the 2011 blockbuster.
"Ted" which told the story of a foul-mouthed teddy bear that comes to life turned out to be a huge hit with cinema audiences last year.
Julia Roberts only made one film last year but the other Snow White remake, "Mirror Mirror" helped landed the well-known superstar on the recent Forbes list with earnings of $10 million.
1. Angelina Jolie
2. Jennifer Lawrence
3. Kristen Stewart
4. Jennifer Aniston
5. Emma Stone
6. Charlize Theron
7. Sandra Bullock
8. Natalie Portman
9. Mila Kunis
10. Julia Roberts
STORY HIGHLIGHTS
Angelina Jolie tops annual Forbes list despite a three-year hiatus from the big screen
Franchise roles prove to be the biggest box office successes
Compared with other entertainment industries, Hollywood pay is significantly less
Leading Women connects you to extraordinary women of our time -- remarkable professionals who have made it to the top in all areas of business, the arts, sport, culture, science and more.
(CNN) -- Angelina Jolie has beaten some of Tinseltown's best-known starlets to reclaim the top spot in Forbes' annual list of highest-paid actresses in Hollywood.
Despite her absence from the big screen since starring alongside Johnny Depp in 2010's "The Tourist", Forbes estimates Jolie earned a staggering $33 million over the last 12 months.
Since taking a break from the big screen, Jolie has turned her efforts to writing, producing and directing her first film "In the Land of Blood and Honey." along with the upcoming film "Unbroken." In 2011, she voiced the character of Tigress in "Kung Fu Panda 2," a box office hit generating $165.2 million worldwide, according to boxofficemojo.com.
Read: Why we love Angelina Jolie
Box office glory
Unsurprisingly, thanks to her Academy Award success in "Silver Linings Playbook," Hollywood's latest "It Girl" Jennifer Lawrence comes in second with $26 million. This year the 22-year-old will return to the very roles that thrust her into the spotlight as Katniss Everdeen in the second installment of the popular "Hunger Games" film adaptations and the "X-Men" prequels.
The CGI-filled blockbuster franchises continue to be a proven money maker. Kristen Stewart, who earned $22 million with the year ending June 2013, is known to teenagers across the globe as Bella Swan from the highly lucrative "Twilight Saga." But with the vampire love story now complete, Stewart has moved on to another female-led franchise and is set to reprise the titular role in "Snow White and the Huntsman 2" due for release in 2015.
Read: 10 fierce fictional heroines
Leading ladies
The "Snow White" effect also gave America's original sweetheart Julia Roberts a boost as she earned $10 million after starring in "Mirror Mirror," another adapted version of the classic German tale.
Meanwhile, new entry Emma Stone gave comic book inspired films a whirl by starring in the "Spiderman" reboot, which mostly accounted for her $16 million earnings over the last 12 months.
Other familiar stars to grace the top 10 list again include Jennifer Aniston, Sandra Bullock, Natalie Portman and Charlize Theron who were joined by the latest new addition Mila Kunis who snagged the ninth spot with $11 million thanks to her blockbuster comedy "Ted" and hit fantasy prequel "Oz the Great and Powerful."
Hollywood's gender pay gap
While Hollywood's leading ladies may earn an impressive salary at first glance, those figures are still far off from what their male counterparts take home.
Forbes recently announced "Iron Man" himself, Robert Downey Jr. earned more than double the amount of Jolie as the top-earning actor in Hollywood after raking in a whopping $75 million.
Downey was always going to have a good year after starring in Joss Whedon's comic book character compilation "The Avengers" -- the third highest-grossing film ever. Since "Iron Man 3" opened in May, the film grossed $1.2 billion globally making it one of the biggest box office hits of all-time.
Compare the highest-paid actresses of Hollywood to Forbes world's most powerful celebrities list, of which there are six women in the top 10, Jolie moves much further down to number 41. Compared with other entertainment industries, Hollywood pay packets are significantly less.
Take a look at the full Forbes list below.
Forbes' top 10 highest paid actresses of 2013
1. Angelina Jolie -- $33 million 2. Jennifer Lawrence -- $26 million 3. Kristen Stewart -- $22 million 4. Jennifer Aniston -- $20 million 5. Emma Stone -- $16 million 6. Charlize Theron -- $15 million 7. Sandra Bullock -- $14 million 8. Natalie Portman -- $14 million 9. Mila Kunis -- $11 million 10. Julia Roberts -- $10 million