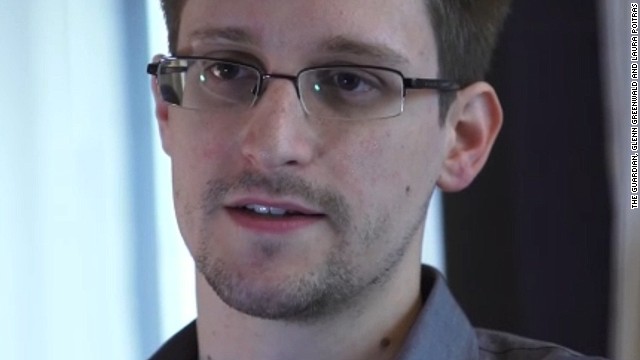 Former intelligence worker
Edward Snowden
revealed himself as the source of documents outlining a massive effort by the NSA to track cell phone calls and monitor the e-mail and Internet traffic of virtually all Americans. He says he just wanted the public to know what the government was doing. "Even if you're not doing anything wrong, you're being watched and recorded," he said. Snowden has been granted temporary asylum in Russia after initially fleeing to Hong Kong. He has been charged with three felony counts, including violations of the U.S. Espionage Act, over the leaks.
Daniel Ellsberg
leaked the 7,000-page Pentagon Papers in 1971. The top-secret documents revealed that senior American leaders, including three presidents, knew the Vietnam War was an unwinnable, tragic quagmire. Further, they showed that the government had lied to Congress and the public about the progress of the war. Ellsberg surrendered to authorities and was charged as a spy. During his trial, the court learned that President Richard Nixon's administration had embarked on a campaign to discredit Ellsberg, illegally wiretapping him and breaking into his psychiatrist's office. All charges against him were dropped. Since then he has lived a relatively quiet life as a respected author and lecturer.
Military analyst
Tuskegee syphilis experiment
to a reporter in 1972, which halted the 40-year study. His testimony at congressional hearings led to an overhaul of the Health, Education and Welfare rules concerning work with human subjects. A class-action lawsuit was settled out-of-court for $10 million, with the U.S. government promising free medical care to survivors and their families. Here, participants talk with a study coordinator.
Starting in 1932, the U.S. Public Health Service studied untreated syphilis in black men who thought they were getting free health care. The patients weren't told of their affliction or sufficiently treated. Peter Buxtun, who worked for the Public Health Service, relayed information about the
Mark Felt
revealed himself to be the whistle-blower "Deep Throat" in the Watergate scandal. He anonymously assisted Washington Post reporters Carl Bernstein and Bob Woodward with many of their stories about the Nixon administration's cover-up after the June 1972 break-in at the Democratic National Committee headquarters. The stories sparked a congressional investigation that eventually led to President Nixon's resignation in 1974. The Post won a Pulitzer Prize for its coverage. Felt was convicted on unrelated conspiracy charges in 1980 and eventually pardoned by President Ronald Reagan before slipping into obscurity for the next quarter-century. He died in 2008 at age 95.
In 2005, retired deputy FBI director
Mordechai Vanunu
, who worked as a technician at Israel's nuclear research facility, leaked information to a British newspaper and led nuclear arms analysts to conclude that Israel possessed a stockpile of nuclear weapons. Israel has neither confirmed nor denied its weapons program. An Israeli court convicted Vanunu in 1986 after Israeli intelligence agents captured him in Italy. He was sentenced to 18 years in prison. Since his release in 2004, he has been arrested on a number of occasions for violating terms of his parole.
Iran-Contra affair
. A secret operation carried out by an American military officer used proceeds from weapons sales to Iran to fund the anti-communist Contras in Nicaragua and attempted to secure the release of U.S. hostages held by Iran-backed Hezbollah in Lebanon. Mehdi Hashemi, an officer of Iran's Islamic Revolutionary Guards Corps, leaked evidence of the deal to a Lebanese newspaper in 1986. Reagan's closest aides maintain he did not fully know, and only reluctantly came to accept, the circumstances of the operation.
President Ronald Reagan addresses the media in 1987, months after the disclosure of the
Frederic Whitehurst
complained mostly in vain about practices at the FBI's world-renowned crime lab, where he worked. His efforts eventually led to a 1997 investigation that found lab agents produced inaccurate and scientifically flawed testimony in major cases, including the Oklahoma City and World Trade Center bombings. The Justice Department recommended major reforms but also criticized Whitehurst for "overstated and incendiary" allegations. He also faced disciplinary action for refusing to cooperate with an investigation into how some of his allegations were leaked to a magazine. After a yearlong paid suspension he left the bureau in 1998 with a settlement worth more than $1.16 million.
For 10 years,
Coleen Rowley
accused the bureau of hindering efforts to investigate a suspected terrorist that could have disrupted plans for the September 11, 2001, terror attacks. In 2002 she fired off a 13-page letter to FBI Director Robert Mueller and flew to Washington to hand-deliver copies to two members of the Senate Intelligence Committee and meet with committee staffers. The letter accused the bureau of deliberately undermining requests to look into
Zacarias Moussaoui
, the only person convicted in the United States of playing a role in the attacks. She testified in front of Congress and the 9/11 Commission about the FBI's mishandling of information. Rowley was selected as one of Time magazine's
People of the Year in 2002
, along with whistle-blowers Sherron Watkins of Enron and Cynthia Cooper of WorldCom.
FBI whistle-blower
Cynthia Cooper
and her team of auditors uncovered
massive fraud at WorldCom
in 2002. They found that the long-distance telephone provider had used $3.8 billion in questionable accounting entries to inflate earnings over the past five quarters. By the end of 2003, the total fraud was estimated to be $11 billion. The company filed for bankruptcy protection and five executives ended up in prison. Cooper started her own consulting firm and told her story in the book "Extraordinary Circumstances: The Journey of a Corporate Whistleblower."
Robert MacLean
anonymously tipped off an MSNBC reporter that because of budget concerns, the TSA was temporarily suspending missions that would require marshals to stay in hotels just days after they were briefed about a new "potential plot" to hijack U.S. airliners. The news caused an immediate uproar on Capitol Hill and the TSA retreated, withdrawing the scheduling cuts before they went into effect. MacLean was later investigated and fired for the unauthorized disclosure of "sensitive security information."
In 2003, federal air marshal
Joe Darby
is the whistle-blower behind the Abu Ghraib prison abuse scandal in Iraq. He says he asked Army Reserve Spc. Charles Graner Jr. for photos from their travels so he could share them with family. Instead, he was given photos of prisoner abuse. Darby eventually alerted the U.S. military command, triggering an investigation and global outrage when the scandal came to light in 2004. Graner was sentenced to 10 years in prison for his part in the abuse. He was released in 2011 after serving 6½ years of his sentence. The military and members of Darby's own family ostracized him, calling him a traitor. Eventually he and his wife had to enter protective custody.
The New York Times reported in 2005
that in the months after the September 11, 2001, attacks, President George W. Bush authorized the U.S. National Security Agency to eavesdrop without a court warrant on people in the United States, including American citizens, suspected of communicating with al Qaeda members overseas. The Bush administration staunchly defended the controversial surveillance program. Russ Tice, an NSA insider, came forward as one of the anonymous sources used by the Times. He said he was concerned about alleged abuses and a lack of oversight. Here, President Bush participates in a conversation about the Patriot Act in Buffalo, New York, in April 2004.
Army Pfc. Bradley Manning was convicted July 30 of stealing and disseminating 750,000 pages of classified documents and videos to WikiLeaks, and the counts against him included violations of the Espionage Act. He was found guilty of 20 of the 22 charges but acquitted of the most serious charge -- aiding the enemy. Manning is set to speak in his defense when he takes the stand during the sentencing phase of his court-martial on Wednesday, August 14. He could face up to 90 years in prison if the judge imposes the maximum sentence.
Notable leakers and whistle-blowers
Notable leakers and whistle-blowers
Notable leakers and whistle-blowers
Notable leakers and whistle-blowers
Notable leakers and whistle-blowers
Notable leakers and whistle-blowers
Notable leakers and whistle-blowers
Notable leakers and whistle-blowers
Notable leakers and whistle-blowers
Notable leakers and whistle-blowers
Notable leakers and whistle-blowers
Notable leakers and whistle-blowers
Notable leakers and whistle-blowers
Notable leakers and whistle-blowers
Notable leakers and whistle-blowers
STORY HIGHLIGHTS
NEW: NSA director repeats his statement that surveillance network thwarted 54 terror plots
Sen. Leahy: Classified details show phone records had little role in stopping terror attacks
The Director of National Intelligence releases details of surveillance programs
NEW: The latest Snowden leak details a broad Internet surveillance program
Washington (CNN) -- There is little evidence the U.S. government's sweeping collection of phone records, as revealed by admitted intelligence leaker Edward Snowden, has helped prevent terror attacks as national security officials have claimed, a top senator said on Wednesday.
Senate Judiciary Committee Chairman Patrick Leahy opened a hearing on the controversial National Security Agency (NSA) program applied under post 9/11 anti-terror legislation and approved by a secret court by questioning if it works or is needed.
"If this program is not effective, it has to end," the Vermont Democrat said of the phone record collection program under Section 215 of the Patriot Act.
He noted that classified details provided by the NSA on how the initiative had been used do not "reflect dozens or even several terrorist plots" that it helped prevent "let alone 54 as some have suggested."
Despite Leahy's complaint, NSA Director Gen. Keith Alexander later Wednesday repeated the figure of 54 terrorist events thwarted by the overall surveillance effort, of which the Section 215 program is one component.
"If we tell everyone exactly what we're doing, then the adversaries will know exactly how to get through our defenses," he told a conference in warning of the danger caused by Snowden's leaks.
Published reports have indicated the NSA received secret court approval to collect vast amounts of so-called metadata from telecommunications giant Verizon and leading Internet companies, including Microsoft, Apple, Google, Yahoo and Facebook.
NSA chief: Snooping is crucial to fighting terrorism
This includes "non-content" material -- phone numbers called, or e-mail addresses -- rather than the actual substance of the information, which would require a separate search warrant.
Senate Intelligence Chairman Dianne Feinstein said her panel was looking at potential changes to the surveillance programs, including a reduction in the five-year limit that the NSA currently can can hold gathered records.
Feinstein, a California Democrat, said the Senate also was considering a requirement for the NSA to expedite its review of information it collects under the Section 215 program and another one that gathers Internet use information from abroad.
"These are things that can be done to increase transparency, but not to stop the program," she said. "I believe, based on what I have seen and I read intelligence regularly, that we would place this nation in jeopardy if we eliminated these two programs."
Meanwhile, the Guardian in London published a report on an NSA program that it says mines Internet browsing history and other online data, some of it in real time.
The program called XKeyscore, which does not require any type of formal authorization, was detailed in documents leaked to the newspaper by Snowden, the Guardian said Wednesday.
Snowden's revelations have triggered new debate about national security and privacy interests, and about the secretive legal process that sets in motion surveillance.
With lawmakers sharpening scrutiny of how the law is applied and the House narrowly defeating an amendment to cut surveillance funding last week, the Obama administration is scrambling to demonstrate more transparency and regain congressional support.
Earlier this month, it declassified and publicized the NSA program's periodic renewal. On Wednesday, Director of National Intelligence James Clapper released other previously secret documents, including reports from the 2009 to 2011 period.
Report: FBI wanted to fly Snowden's father to Moscow
The Justice Department reports were aimed at helping Congress understand the surveillance as lawmakers debated renewing relevant parts of the Patriot Act.
"The National Security Agency's bulk collection programs provide important tools in the fight against terrorism, especially in identifying terrorist plots against the homeland," the 2011 report said. "These tools are also unique in that they can produce intelligence not otherwise available to NSA."
Snowden's father: My son loves his country
At Wednesday's hearing, Justice Department and security officials conceded the lack of direct causal links between the Section 215 phone record collection and thwarted attacks, but said the program was part of a crucial network for filling information gaps.
Opinion: We need transparency on domestic surveillance
They said the network of surveillance programs over the years helped thwart dozens of plots, including those targeting the stock exchange and the subway system in New York.
In another apparent bid to demonstrate transparency, the Obama administration now says terror defendants should be informed when the government plans to use as evidence any information from its secret collection of electronic records.
The change in legal interpretation this week suggests that criminal defendants subject to certain types of surveillance may be able to challenge the constitutionality of the NSA programs.
As recently as this spring, the administration had argued that such disclosure of information from a secret court order was not necessary, even if the information was used to track and capture a suspect.
The Supreme Court in its last term limited lawsuits against the government by plaintiffs who were unable to prove they were specific subjects of surveillance.
Those plaintiffs had complained of a "Catch 22" because the government refused to acknowledge any surveillance for national security reasons.
It was not clear if other pending terror prosecutions involving metadata evidence would adopt the new legal interpretation.
CNNMoney: NSA chief to hackers: If you don't like what we do, change it
But the latest efforts in transparency were clouded by the Guardian report on XKeyscore, which it said magnified statements by Snowden that he, as a contractor, could easily access an astonishingly broad menu of personal information on just about anyone.
Security officials had called Snowden's assertion untrue, and White House spokesman Jay Carney echoed that denial on Wednesday by saying allegations of "widespread, unchecked analyst access to NSA collection data are false."
Separately, the NSA said in a statement that its tools include stringent checks to limit what an analyst can do.
"Not every analyst can perform every function and no analyst can operate freely," the statement said.
At the Senate committee hearing, Leahy asked NSA Deputy Director John Inglis whether the agency has held anyone responsible for the Snowden leaks.
"How soon will we know who screwed up?" Leahy asked, contending that inadequate controls allowed the former NSA contractor to leak surveillance program documents to media outlets.
"I think that we'll know over weeks and months precisely what happened and who should then be hold accountable -- and we will hold them accountable," Inglis responded.
House rejects effort to curb NSA phone surveillance
Leahy was impatient with the answer and raised the issue in connection with former Army intelligence analyst Bradley Manning, who was convicted on Tuesday of leaking a trove of Iraq war battlefield reports, diplomatic cables and other information.
"We had a huge security breach, I think we'll all agree, committed by Edward Snowden. And a few years ago Bradley Manning downloaded hundreds of thousands of classified and sensitive documents -- passed them on to WikiLeaks," Leahy said. "Now, if two data breaches of this magnitude occurred in the private sector, somebody would have been held accountable by now."
Snowden has fled the country and remains in diplomatic limbo at the Moscow airport. The United States has charged him with espionage.
Opinion: NSA secrets kill our trust
CNN's Barbara Starr contributed to this report.