STORY HIGHLIGHTS
NEW: The situation is contained and an overnight evacuation order is lifted, the state says
The company says several of the 24 employees working at the time were injured
There were 53,000 20-pound cylinders of propane at the facility
The Blue Rhino facility refills propane tanks used in gas grills
(CNN) -- Equipment failure and human error likely caused propane tank cylinders to explode at a central Florida refilling plant late Monday, a fire official said Tuesday.
The blasts at the Blue Rhino plant in Tavares injured eight plant workers, said John Herrell of the Lake County Sheriff's Office.
The situation is now contained and an evacuation order issued overnight has been lifted, the Florida Division of Emergency Management said in a news release.
Residents nearby saw a pulsating glow in the sky. One Tavares resident, Norma Haygood, told CNN affiliate WESH it felt like "bombs going off."
The fire was out by 2 a.m., three hours after the explosions began, and authorities are investigating the cause, according to Tavares Fire Chief Richard Keith.
Keith, who lives a few miles away from the fire, said he "knew it was bad right off the bat."
"It truly sounded like a car hit our house," he said.
There had been earlier reports of 15 missing workers, but all 15 were found safe, Keith said. Some had fled the scene; some drove themselves to hospitals.
No residents were hurt, authorities said.
Texas fertilizer plant fell through 'patchwork' of safety rules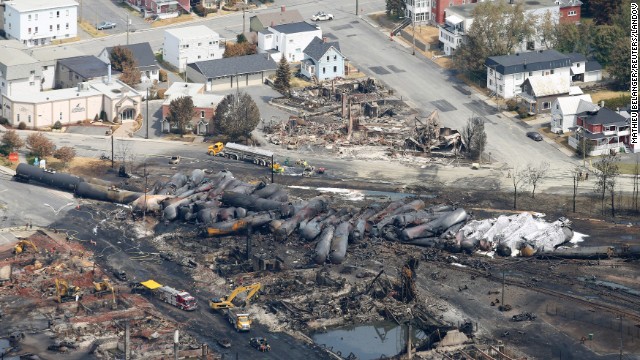 Deadly train derailment: At least 38 people were killed and 37 are still missing in the small town of Lac Megantic, Quebec, where a runaway train exploded in the downtown district on Saturday, July 6, 2013. Police suspect that some of the victims were vaporized in the explosion. Look back at some of the worst industrial disasters in modern history:
Louisiana chemical plant explosion: A June 13 explosion at a chemical plant in Louisiana killed one person and forced authorities to ask people as far as 2 miles away to stay inside to avoid exposure to potentially deadly fumes. At least 75 people were injured in the blast.
China poultry plant fire: A fire which broke out in a poultry plant in northeast China on June 3 killed at least 119 people and injured another 54.
Garment factory collapse: More than 1,000 people died in the May 10 collapse of the Rana Plaza building in Savar, Bangladesh, making it one of the world's worst industrial disasters.
West, Texas, fertilizer plant explosion: 35 people died in a massive explosion at a fertilizer plant in West, Texas, on April 17. Included among the dead were 10 first responders who were trying to put out a fire at the plant before the explosion.
Fukushima nuclear plant: In March 2011, a magnitude 9.0 earthquake caused a tsunami that killed nearly 16,000 people in northeast Japan and damaged backup generators at the Fukushima Daiichi nuclear plant. Though all three reactors were successfully shut down, the cooling systems failed causing a nuclear meltdown and radiation leaks. The disaster was the second worst nuclear accident in history.
Bhopal chemical leak: In December 1984, almost 4,000 people died in the immediate aftermath of the leak of methyl isocyanate from a chemical plant in Bhopal, India. More than 10,000 other deaths have been blamed on related illnesses, with adverse health effects reported in hundreds of thousands of survivors. Found guilty in 2010 of negligence over the disaster: Union Carbide India Limited, which was the now-defunct subsidiary of the U.S. chemical company; the subsidiary's head; and six of his colleagues.
Chernobyl: The initial death toll was 32, from the 1986 explosion in the core of a nuclear reactor at Chernobyl in Ukraine, then part of the Soviet Union. But the International Atomic Energy Agency estimates the total number of deaths from contamination will reach about 4,000. The disaster sent a cloud of radioactive fallout over hundreds of thousands of square miles of Russia, Belarus and Ukraine. The radioactive effects of the explosion were about 400 times more potent than the bomb dropped on Hiroshima during World War II.
Halifax Harbor explosion: In December 1917, the French ammunition ship Mont Blanc and the chartered Belgian steamer Imo collided in Halifax Harbor in Nova Scotia, causing a massive explosion. Officials put the death toll at 1,950.
Benxihu/Honkeiko Colliery explosion: Guinness World Records lists the April 26, 1942, coal dust explosion at the Benxihu/Honkeiko Colliery in Benxi, China, as the world's worst coal mining disaster. It says the blast at the facility killed 1,549 people.
Boston Molasses Disaster: In January 1919, a tank containing 2.3 million gallons of molasses ruptured in Boston, causing a 15-foot high wall of molasses to pummel houses and leave 21 people dead and 150 injured.
Triangle Shirtwaist Factory disaster: In March 1911, a fire broke out at a factory in Greenwich Village, New York, as employees were leaving for the day. Most of the exits were locked with chains and the fire escape had collapsed; 146 people died in the fire.
Courrieres mining disaster: On March 10, 1906, 1,099 people died and hundreds more were injured in an explosion at the Courrieres mine in northern France, according to the Encyclopaedia Britannica. The encyclopedia said smoke and toxic gas had been detected at the site days before the explosion but work had continued.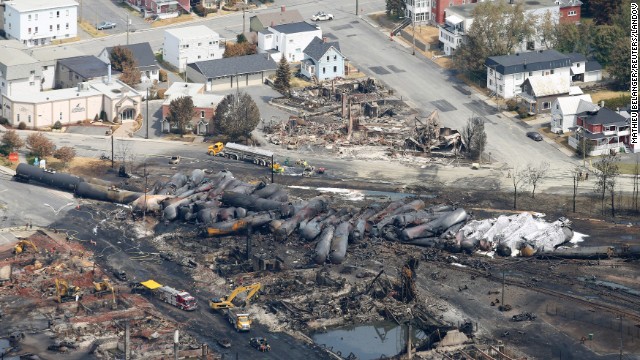 Photos: Industrial disasters through history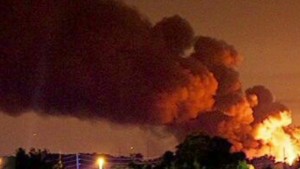 Series of explosions rock gas plant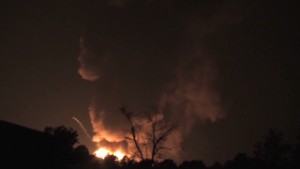 Propane explosion seen miles away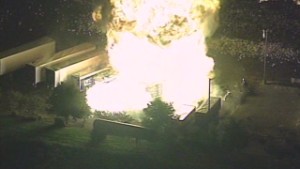 Explosion at propane facility
There were 53,000 20-pound cylinders of propane at the facility -- more than a million pounds in all, Herrell said.
Firefighters immediately set up a half-mile evacuation area around the plant. The nearest homes -- about 50 of them -- are about three-quarters of a mile away, Herrell said. And they began pouring water onto the facility.
Trucks parked at the plant went up in fireballs as the cylinders they were carrying exploded. The nighttime sky flickered in hues of orange.
"You could see the explosions from across the lake," said Ashley McCormick, a resident in nearby Mount Dora. "They were very intense."
1 killed, 8 injured in blast at Louisiana chemical plant
There were 24 employees at work at the time of the blasts, according to Scott Brockelmeyer, a spokesman for Ferrellgas, the parent company of Blue Rhino. He said the company is cooperating with investigators.
The incident was "as sobering as you can possibly imagine," he told CNN. "We're sending good vibes their way from all over the country."
The employees perform such tasks as refurbishing cylinders and loading them on pallets and vehicles. There were some management personnel on site as well, the spokesman said.
Brockelmeyer confirmed that several employees were injured and had been taken to hospitals.
The plant produces 2.3 million tanks annually, and serves all of Florida, southern Georgia and southern Alabama, he said. It opened in 2004.
Brockelmeyer would not speculate on the cause of the explosion and declined to comment on the fire chief's statement that equipment failure and human error likely caused the incident.
"The fact that there are no fatalities is a blessing," said John Drury, the city administrator of Tavares, a community of some 14,000 people about 30 miles northwest of Orlando. "This was a big deal, and a lot of people responded quickly."
Now, the focus shifts to what caused the blasts.
The Blue Rhino facility refills propane tanks used in gas grills. The company's tank exchange service allows customers to trade in an empty tank for a full one at retail locations.
The Occupational Safety and Health Administration fined Blue Rhino in 2011 over a "serious" safety violation involving tools and equipment. It is not clear whether safety violations had anything to do with the fire.
According to Brockelmeyer, the 2011 OSHA violation was due to an air nozzle at the facility that had a missing component. He did not give CNN any further information about the component or what it does.
Two dead in fireworks plant explosion near Montreal
CNN's Marlena Baldacci and Eliott C. McLaughlin contributed to this report.