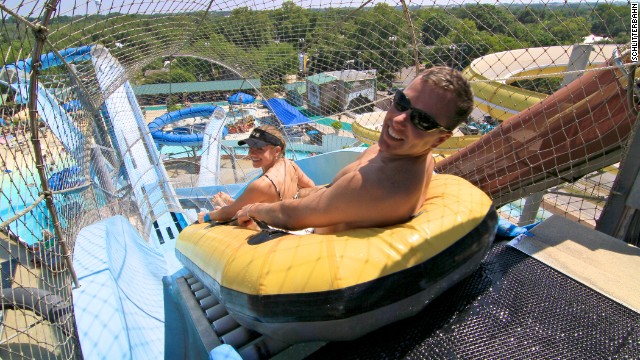 Millions of overheated Americans seek out cool relief at water parks every summer. The formula for success includes "bowl" thrill rides and uphill "water coasters." Not your style? Water parks offer something for everybody, says Martin Palicki, editor-in-chief of inPark magazine, an amusement park trade publication. "Everyone likes to float in a lazy river or go down a water slide or play in a wave pool," Palicki said. Click through the gallery to see photos from U.S. water parks with the highest attendance.
Schlitterbahn New Braunfels Waterpark, founded by the Henry family in 1979, sits along the Comal River in New Braunfels, Texas. Last year, this water park hosted a little over a million guests, the Themed Entertainment Association reported. As a salute to the family's German roots, the Henrys named their park Schlitterbahn, which loosely translated in German means "slippery road."
So-called bowl and funnel rides, like the Tornado at Georgia's Six Flags White Water, have become popular lately at many parks. From seven stories high, four riders on a raft plunge down into a tunnel that leads to a funnel measuring 60 feet in diameter. The riders spin down into a hole in the funnel's center.
The park's Typhoon Twister drops riders down a five-story plunge. They then circle a giant bowl measuring 67 feet and are deposited into a splash pool below. In 2012, 505,000 guests visited Six Flags White Water, according to the Themed Entertainment Association.
The Scorpion's Tail at Noah's Ark was North America's first looping water slide when it debuted in 2010, says Amy Muller, marketing director at the Wisconsin park. "Sometimes it's really hot out, and if you want to ride a roller coaster, sure, that's fun, but to be on a water ride that gives you as much of a thrill as being on a roller coaster -- why not?"
Noah's Ark, which opened 37 years ago, hosted 666,000 visitors in 2012, according to the Themed Entertainment Association, ranking it among North America's top 10.
Noah's Ark bills its snaky black and white Time Warp as "the world's largest bowl ride."
When visitors buy tickets to Zoombezi Bay water park in Powell, Ohio, they also get admission to one of the most famous zoos in the world: the Columbus Zoo and Aquarium, right next door.
Crocktail Creek and Anaconda Falls.
Some 389,000 visitors stopped by Zoombezi Bay in 2012, according to the Themed Entertainment Association. Park attractions sport names like Python Plunge,
Riding Wahoo Run at Adventure Island in Tampa, Florida, provides soaking wet thrills. Rafts carrying as many as five people shoot through a water flume at speeds exceeding 20 feet per second. They corkscrew through a half-enclosed tunnel into a splash pool. More than 650,000 people passed through Adventure Island's gates last year, according to the Themed Entertainment Association.
Disney World's Blizzard Beach offers a ski resort theme in the middle of sunny Florida. "A lot of American water parks are centered around a theme," Palicki said, "particularly the Disney parks." The trend now "is different types of slide experiences and less on making them themed," he says. Blizzard Beach, which drew 1.9 million visitors in 2012, offers a thrilling waterslide, raft rides, a wave pool and a play area for small children.
Another Disney World water park boasts 61 acres of attractions, according to Disney. Typhoon Lagoon topped the Themed Entertainment Association's North American attendance list in 2012 with 2.1 million visitors.
SeaWorld's Aquatica in Orlando, Florida, drew more than 1.5 million visitors last year, according to the Themed Entertainment Association. Thrill rides include the popular Dolphin Plunge and the "lightning-fast" Tassie's Twisters.
A highlight at SeaWorld's Water Country USA in Williamsburg, Virginia, is the Nitro Racer, where body surfers can enjoy a "six-lane highway full of slippery fun." Water Country hosted 748,000 guests in 2012, according to the Themed Entertainment Association.
Within Soak City Cedar Point's 18 acres in Sandusky, Ohio, sits a massive wave pool that holds a half-million gallons. The park boasts more than a dozen water slides. For the less-adventurous, Soak City includes two inner tube river rides.
Soak City also is home to Splash Zone, described by the park website as "a multistory interactive play area with more than 100 different wet and wild water gadgets." In 2012, 403,000 visitors passed through Soak City, according to the Themed Entertainment Association.
Splish Splash -- in the Long Island town of Calverton, New York -- debuted its Bootleggers Run water coaster this summer. So-called hydromagnetic technology allows four-man rafts to zip uphill as well as down. About 463,000 guests visited the park last year, according to the Themed Entertainment Association.
Splish Splash's Alien Invasion ride includes an "out-of-control spin resulting in disappearance," says the park website.
Federal Hill, Colorado, outside Denver, boasts one of the nation's top water parks. Hyland Hills Water World claims to be the first publicly owned water park in the U.S. Rides include the Lost River of the Pharaohs. Guests numbered 538,000 in 2012, according to the Themed Entertainment Association.
Raging Waters in San Dimas bills itself as California's largest water park. Its signature attraction is High Extreme -- which rises ten stories and drops riders about 600 feet down a flume. The Speed Slides ride pumps 2,000 gallons of water per minute down a chute eight stories high. "At that rate it's like filling a bathtub in 1 second," says marketing director Mary Papadopoulos. Some 480,000 visitors experienced Raging Waters last year. For Papadopoulos the surrounding landscape makes the park unique. "It's just an absolutely beautiful setting," she says. "You've got the mountains around you."
America's most popular water parks
Schlitterbahn: New Braunfels, Texas
Six Flags-White Water: Marietta, Georgia
Six Flags-White Water: Marietta, Georgia
Noah's Ark: Wisconsin Dells, Wisconsin
Noah's Ark: Wisconsin Dells, Wisconsin
Noah's Ark: Wisconsin Dells, Wisconsin
Zoombezi Bay: Powell, Ohio
Zoombezi Bay: Powell, Ohio
Adventure Island: Tampa, Florida
Blizzard Beach at Disney World: Orlando, Florida
Typhoon Lagoon at Disney World: Orlando, Florida
Aquatica: Orlando, Florida
Water Country USA: Williamsburg, Virginia
Soak City Cedar Point: Sandusky, Ohio
Soak City Cedar Point: Sandusky, Ohio
Splish Splash: Calverton, New York
Splish Splash: Calverton, New York
Hyland Hills Water World: Denver, Colorado
Raging Waters: San Dimas, California