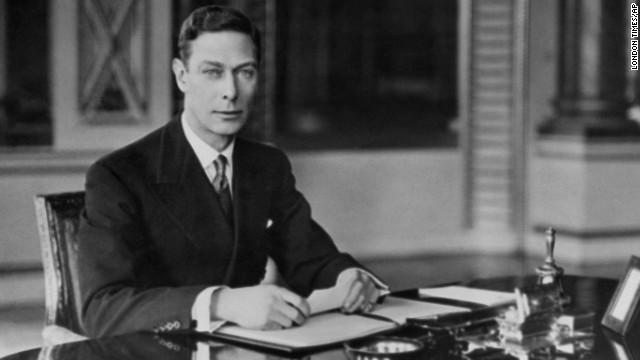 In choosing the name George Alexander Louis, Prince William and his wife have selected a name rich in British history. Six kings have been named George, including George VI, the queen's father, who ruled from 1936 to 1952.
Due to anti-German sentiments during World War I, King George V (r. 1910-1936), from the House of Saxe-Coburg and Gotha, adopted the name Windsor after Windsor Castle. George reigned during an epic change in world politics, seeing the rise of communism and socialism, and the formation of the Irish Republican Army in his own empire.
George IV (r. 1820-1830) served as Regent during his father's mental illness. George led a stylish and cultured lifestyle, acquiring many important works of art that are now in the Royal Collection and renovating Windsor Castle and Buckingham Palace. However, his extravagance was unpopular with his constituents and he died in seclusion at Windsor Castle at the age of 67.
Although King George III (r. 1760-1820) is most well known for his mental illness, he was quite the intellect in his earlier years. George owned an astronomy lab and was the first king to study science. He also founded the Royal Academy of Arts and had a collection of 65,000 books that were later given to the British Museum.
King George II (r. 1727-1760) was the last British sovereign to fight alongside his soldiers at the Battle of Dettingen in 1743. His empire prospered with successful global trade and the beginning of the Industrial Revolution.
Modern-day government began during the reign of King George I (r. 1714-1727). The power of the monarch dwindled as Sir Robert Walpole became Britain's first "prime minister."
All the King Georges
All the King Georges
All the King Georges
All the King Georges
All the King Georges
All the King Georges
STORY HIGHLIGHTS
Passing on a name from generation to generation is a popular royal family tradition
The Duke and Duchess of Cambridge have named their son George Alexander Louis
Prince George is the seventh in his family to bear the name
Some experts say to expect more baby Georges in the U.S. next year
(CNN) -- His name has been passed down for eight generations. It's steeped in tradition and family pride. Oh -- but he's not the royal baby. He's William John Kane VIII, a database specialist from Portland, Oregon.
Kane is used to laughs and incredulous looks when he mentions his name. But the random guy at a bar who sang his name to the tune of "I'm Henery the Eighth, I Am" stands out among the bad jokes.
"It was funny for the first half-hour, and then the more he drank the louder he got," said Kane, 38.
Despite the hecklers, Kane says he is proud of his name and the tradition it bears.
"I feel a modicum of responsibility, the pressure of carrying on this torch that has been passed to me, and passing it onto another generation," he said.
Tradition also played a large role in how Prince William and Catherine, Duchess of Cambridge, named their son, Prince George Alexander Louis. The royal baby shares a name with some impressive ancestors -- there have been six King Georges, the most recent the current queen's father.
The British royal family tends to pick traditional names, usually referencing monarchs of the past. It's expected of royalty, but what's the point of passing down a name when you're an average Joe?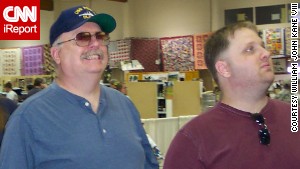 William John Kane VII and his son, William John VIII
George or Alexander?
Parents are often tempted to name their child after a family member or a childhood friend because of the positive connotations they have with a name, says UCLA psychology professor Albert Mehrabian.
But Mehrabian, who has studied how people perceive names, argues it's too personal of an approach. He tells parents to consider how an average person would respond to a name. He has crafted a system for rating a name's attractiveness based on whether people perceive someone with that name to be caring, loyal, humorous, adventurous, successful or to have other traits.
It's all based on what impression a name makes before you meet a person, he says.
Take George, for example. It's an "established name," Mehrabian said, but "there are names with a lot more positive connotations."
Don't miss out on the conversation we're having at CNN Living.
Follow us on Twitter
and
Facebook
for the latest stories and tell us what's influencing your life.
The name scores 36 on scale of one to 100. Alexander, on the other hand, gets a 92.
"Maybe at some point he'll be called Alexander," Mehrabian surmised of the young prince.
Prince George and other royalty are typically bestowed with a long string of names. Take his uncle, Prince Harry, whose real name is Prince Henry Charles Albert David. He doesn't go by his given name.
Related: See the royal family tree
Cases like these are exactly why Mehrabian reminds parents of the practical purpose of a name: It identifies a person.
"It kind of defeats the most fundamental function of naming when you name the child after the father, grandfather and great-grandfather," he said.
When names cause confusion
William John Kane VIII goes by two names. He's Will at work and John to family and friends. He switches seamlessly between "personas," but admits it can cause confusion for others.
Kane's double name almost cost him a diploma.
"Because I had William on the books and I went by John, half of my high school credits were in each name. I almost couldn't graduate because there were two records."
While that was a one-time mistake, Kane is frequently confused with his father, William John VII. It's caused some issues over the years, like getting partly blended credit reports and receiving an AARP card when he was 31. But there are some perks, he says, like the time he used his father's boarding pass so he could take his place at a wedding. Bonus: No ticket cancellation fees!
Despite the modern-day inconveniences of sharing a name, the father-son duo say that seeing the name repeated in the family tree helps them stay connected with the past.
"Every once in a while you might think about where you came from and we want to have a place to grab a glance at your past," said Kane's dad, who goes by Bill.
"I feel that I need keep the name unblemished in honor of those who have carried it before me," he said.
The younger Kane is proud of his name and says he would like to continue the tradition.
Open House: Share photos of your child's nursery
"In an era of parents naming their children Magnus, Lion, Breeze, Marlowe, Clover, Blue and North, I have to say that should I have a son of my own, I will undoubtedly campaign my future wife to bestow on him the mantle of William John the 9th."
Were you named after someone in your family? Share your story with CNN iReport.