Vandals splatter Lincoln Memorial with green paint
updated 12:47 PM EDT, Fri July 26, 2013
STORY HIGHLIGHTS
Paint is splattered on a leg and base of the 19-foot Abraham Lincoln statue, police say
The Lincoln Memorial is closed until the paint can be cleaned up
No timeframe of the closure is given
Washington (CNN) -- Officials are hopeful that the chamber containing the Lincoln statue at the Lincoln Memorial, which was vandalized overnight, can be reopened sometime Friday, National Park Service spokeswoman Carol Johnson told reporters.
The memorial's portico -- the columned area outside the chamber -- should be reopen before that, in the late morning, she said.
Workers are cleaning the paint that had been splashed onto part of the marble statue, she said.
Watch: Obama surprises visitors at the Lincoln Memorial
Vandals splashed green paint on the base of the statue overnight, prompting officials to temporarily close the marble fixture on Washington's National Mall, authorities said.
Police were alerted just before 1:30 a.m. and found paint splattered on the leg and base of the 19-foot-tall statue of Abraham Lincoln, U.S. Park Police Capt. Steven Booker told CNN on Friday. There were no discernible letters or markings.
The memorial will be closed until it is cleaned up, Booker said.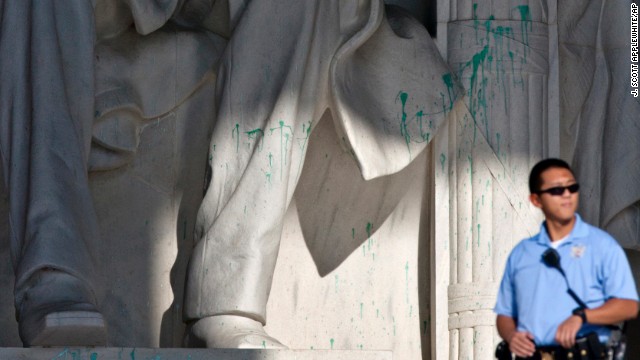 A U.S. Park Police officer stands guard next to the vandalized statue of Abraham Lincoln at the Lincoln Memorial in Washington on Friday, July 26. The memorial was closed to visitors after someone splattered green paint on the statue and the floor area.
Cranes lift blocks of marble to the top of the structure in 1914.
Workers install the statue of President Lincoln in 1920.
People skate on the frozen Potomac River in front of the memorial in this undated photo.
The Lincoln statue looms over visitors in 1962.
The Rev. Martin Luther King Jr. delivered his "I Have a Dream" speech from the steps of the memorial on August 28, 1963.
Anti-war protesters splash around in the Reflecting Pool during a rally against the Vietnam War in May 1970.
Planes fly over the memorial during the inauguration of George H.W. Bush in January 1989.
Marine One flies over the Reflecting Pool with President Bill Clinton on board in May 1999.
In August 2010, tourists pass the marker commemorating King's 1963 speech on the east steps of the Lincoln Memorial.
Algae forms on the water in the newly refurbished reflecting pool on September 22, 2012.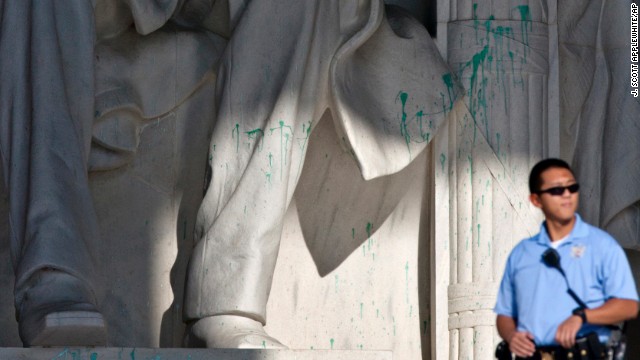 Photos: Lincoln Memorial through the years
The memorial, one of the more iconic features of Washington, honors the 16th U.S. president. The marble statue of a seated Lincoln resides in nearly 100-foot-high columned marble building facing the U.S. Capitol and the Washington Monument.
More than 6 million people visited the Lincoln Memorial in 2012, the National Park Service says.
Dedicated in 1922, it has been the site of a number of protests and gatherings, including the 1963 March on Washington, during which Martin Luther King Jr. gave his famous "I Have a Dream" speech from the steps of the memorial.
See also: Controversial MLK Memorial inscription to be removed
CNN's Diane Ruggiero and Jason Hanna contributed to this report.