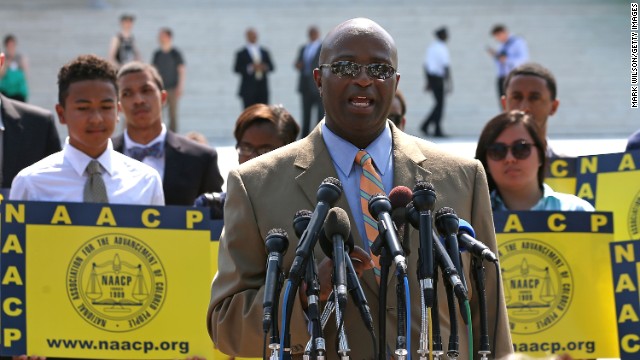 The Voting Rights Act is often called the crown jewel of the civil rights movement, yet many Americans do not know why or how it was passed. Pictured, NAACP Field Director Charles White speaks on the steps of the U.S. Supreme Court on Tuesday, June 25, after
the court limited use of a major part of the landmark Voting Rights Act of 1965,
in effect invalidating a key enforcement provision. Here are some key moments and characters in the voting rights saga.
Three young civil rights workers were murdered in 1964 in Mississippi while trying to register black voters. The infamous murders showed that segregationists were willing to kill to keep African-Americans from voting.
John Lewis, a young activist who later became a congressman of Georgia, heads to a fateful encounter on the Edmund Pettus Bridge in Selma, Alabama during a 1965 march. Lewis was brutally assaulted by state troopers during the "Bloody Sunday" march that made voting rights a national issue.
Marchers during the 1965 voting rights campaign in Selma, Alabama gather for a rally on March 26, 1965, a few weeks after "Bloody Sunday." Black residents were beaten, fired from their jobs and imprisoned trying to vote.
Viola Liuzzo, a Detroit housewife, was murdered while participating in the voting rights campaign in Selma, Alabama, in 1965. Her death outraged the nation and helped spur passage of the Voting Rights Act.
President Lyndon Johnson, pictured here discussing the act with the Rev. Martin Luther King Jr. in 1965, went on national television to call for passage of the Voting Rights Act. He ended his speech by saying, "And we shall overcome."
Rep. John Lewis speaks after bipartisan House and Senate officials met to voice support for reauthorizing the Voting Rights Act for an additional 25 years on May 2, 2006. From left, Senate Minority Leader Harry Reid, House Speaker Dennis Hastert, Senate Majority Leader Bill Frist and other officials listen during the media conference.
President George W. Bush signs reauthorization of the act on July 27, 2006. From left, Rep. John Conyers, D-Michigan, Rep. James Sensenbrenner, R-Wisconsin, House Minority Leader Nancy Pelosi, D-California, Sen. Harry Reid, D-Nevada, and Sen. Bill Frist, R-Tennessee, look on.
President Barack Obama marches with civil right veterans during a commemoration march in 2007.
A conservative judge called the Voting Rights Act a racial entitlement but supporters of the act say it is the crowning victory of the civil rights movement. Pictured, people gather for a post-march rally after crossing the Edmund Pettus Bridge on the "Bloody Sunday" anniversary, March 4, 2012.
Lawyers' Committee for Civil Rights Under Law Executive Director Barbara Arnwine speaks during a news conference to voice opposition to state photo ID voter laws with the Rev. Jesse Jackson and members of Congress at the U.S. Capitol July 13, 2011.
A supporter of the Voting Rights Act rallies in the South Carolina State House in Columbia on February 26, 2013, the day before oral hearings at the Supreme Court.
The Rev. Jesse Jackson, at the microphone, and the Rev. Al Sharpton, left, deliver remarks during a rally outside the U.S. Supreme Court on February 27, 2013, as the court prepared to hear oral arguments in Shelby County v. Holder, the legal challenge to Section 5 of the Voting Rights Act.
Supporters of the Voting Rights Act listen to speakers discussing the rulings outside the U.S. Supreme Court building on Tuesday, June 25.
The Voting Rights Act
The Voting Rights Act
The Voting Rights Act
The Voting Rights Act
The Voting Rights Act
The Voting Rights Act
The Voting Rights Act
The Voting Rights Act
The Voting Rights Act
The Voting Rights Act
The Voting Rights Act
The Voting Rights Act
The Voting Rights Act
The Voting Rights Act
STORY HIGHLIGHTS
NEW: Eric Holder says Justice Department will go after Texas voting law after high court ruling
Attorney general also has recently talked about race after George Zimmerman verdict
Some conservatives have accused Holder of "race baiting"
Obama has not backed away from Holder or his comments
Philadelphia (CNN) -- There is one thing to be said about Attorney General Eric Holder. He has a way with words that makes conservatives furious -- especially when he starts talking about race and the law.
There are many examples. Early in the Obama administration, Holder said that we are "a nation of cowards" when it comes to issues of race.
The conservative chattering class erupted.
Holder is at it again. He has fired up the right with his comments about the Trayvon Martin case, blaming "mistaken beliefs and stereotypes" for the shooting of the Florida teenager.
And now he is going after Texas' voting laws.
At the annual conference of the National Urban League in Philadelphia on Thursday, Holder renewed his attack on a recent Supreme Court ruling that gutted the Voting Rights Act of 1965.
"Despite the court's decision, I believe we must regard this setback not as a defeat but as a historic opportunity for Congress to restore, and even to strengthen, modern voting protections," Holder said.
Feds want Texas to clear voting-rights changes with them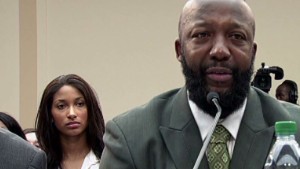 Trayvon's dad: I will define son's image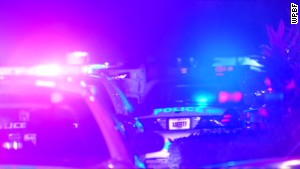 Does 'stand your ground' discriminate?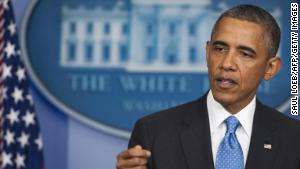 Obama speaks out on Zimmerman verdict
He then announced the Justice Department will "ask a federal court in Texas to subject the state of Texas ... to obtain 'pre-approval' from either the department or a federal court before implementing future voting changes," similar to a provision in the Voting Rights Act.
His remarks are the Justice Department's first significant response to last month's court ruling and seeks to address Texas' controversial redistricting law that Holder filed suit against in 2012.
Holder said the state had a "history of pervasive voting-related discrimination against racial minorities that the Supreme Court itself has recognized."
The attorney general previously has been accused by the conservative press of "abuse of power" and of "exploiting tragedies" by the National Rifle Association. Former U.S. Rep. Allen West attacked Holder for what he called "race-baiting" and "exploiting the law."
Civil rights organizations have called on Holder and the Justice Department to pursue federal charges against George Zimmerman after he was found not guilty in the Martin shooting.
Harvard Law School professor Charles Ogletree, who mentions Holder several times in his book about racial profiling, "The Presumption of Guilt," said the attorney general "has no fear or reticence to talk about race wherever he thinks it needs to be discussed and that leads to a host of reactions, usually negative, from people."
"I think he is being very straightforward, and some people take it as being provocative. He is very honest about his views about race and justice," Ogletree said.
Provocative, or not, Holder has attracted little public criticism for his language from the one person who matters most -- his boss, President Barack Obama. The relative silence has created speculation that Holder is saying things the country's first African-American president might like to say but cannot.
Jonathan Gould, an American University justice, law and society professor, said it's almost certain the White House approved Holder's recent remarks on race though Obama still had some deniability about them.
"Attorney General Eric Holder is speaking for the president, but there's enough distance for Obama to say it's not the view of the president."
Ogletree, who taught Obama in law school, said he isn't so sure.
"He certainly isn't speaking for President Obama; sometimes he is speaking before the president has a chance," Ogletree said.
Still, Holder is "saying some candid things about race that you don't expect the president to be able to say without being divisive. And I think Eric's view is that I'm an experienced lawyer, I'm a former judge, I'm a former prosecutor. ... I know all these areas, and I'm just going to be candid. He is older than President Obama, he's been around," Ogletree added.
Just the same, Matt Miller, former director of public affairs for the Justice Department, said Holder is "a proxy for attacking the president."
"In other words when Mr. Obama's political enemies go after Holder, they are taking a swipe at the White House as well, which makes Holder pretty useful to the administration. He's out there taking the heat on guns, voting rights and some other issues."
And in many ways, that is what the job of attorney general has become, said the former public affairs director. Anyone who holds the office is expected to take tremendous political heat.
"The Department of Justice and the attorney general deal with so many controversial issues that split the parties in half, and Holder, as the head of DOJ, has not shied away from fights that he believes in, that drives Republicans crazy," Miller said.