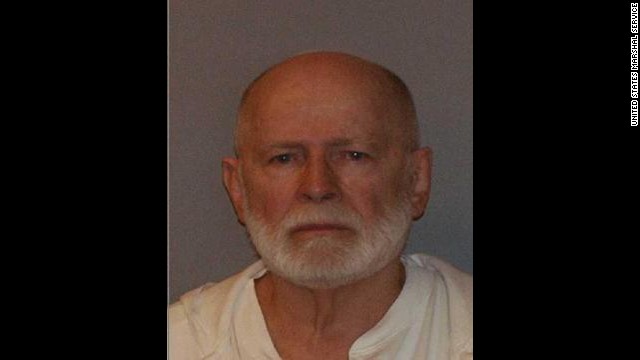 James "Whitey" Bulger, the former head of Boston's Winter Hill Gang, evaded police for 16 years before his 2011 arrest with girlfriend Catherine Greig in Santa Monica, California. After a lengthy trial, Bulger, seen here in his booking photo from June 23, 2011, was found guilty on 31 of 32 counts -- including involvement in 11 murders. On November 14, 2013, Bulger was given two life sentences plus five years. Here's a look at some of the people tied to Bulger's life of crime:
James "Whitey" Bulger, seen here in a 1984 FBI photo, spent nine years in federal prison before he climbed the ranks of the Winter Hill Gang -- the preeminent Irish-American crime syndicate in the Boston area -- in the early 1970s.
According to prosecutors, Bulger's crew learned that a bookie named Richard Castucci was cooperating with the government, and John Martorano was sent to kill him. Castucci was shot in the head in December 1976 and stuffed in a sleeping bag in the back of his car.
Steve "The Rifleman" Flemmi, left, and bookie Dick O'Brien in one of several surveillance photographs entered into evidence in the Bulger trial. Flemmi, Bulger's partner, would meet O'Brien to collect thousands of dollars in "rent" every month.
Bulger is accused of murdering Flemmi's stepdaughter, Deborah Hussey, in 1985 because she became a liability.
Flemmi met Debra Davis at a jewelry store, and the couple dated for more than seven years. In 1981, Bulger is said to have killed Davis because she knew that Flemmi was an informant.
Dr. Ann Marie Mires, a Massachusetts state forensic anthropologist, was brought in to Bulger's trial show photos of his alleged victims, including Debra Davis. Because Davis' body was put into bags, almost all of her remains were recovered. Even some of her hair was preserved.
Mug shots of Bulger in 1953, about a year after his honorable discharge from the U.S. Air Force.
Bulger was the godfather to John Martorano's first son. Martorano has admitted to 20 killings as part of Boston's Winter Hill Gang and was the government's star witness against Bulger.
In 2008, John Martorano, pictured here, testified against former FBI agent John Connolly, who was accused of leaking sensitive information about former gambling executive John Callahan. Martorano testified that he shot his friend Callahan on Bulger's orders in 1982.
John Callahan was an organized crime associate of the Winter Hill Gang and former president of World Jai Alai. Prosecutors allege Bulger ordered a hit on Callahan after he learned he would be cooperating with the feds on the high-profile murder of an Oklahoma businessman, Roger Wheeler.
Bulger is accused in the slaying of Wheeler, who was gunned down outside a country club in Oklahoma in 1981.
Joe Notorangeli was gunned down by the Winter Hill gang in 1973, according to Martorano.
A Florida appeals court vacated that conviction in May 2014
, citing a statute of limitations issue. Connolly remains incarcerated as prosecutors try to convince the appeals court to reverse its decision.
John Connolly was convicted of second-degree murder in the slaying of Callahan and received a 40-year sentence in 2009.
Former FBI supervisor John Morris testified at Bulger's trial that he provided information to Bulger in exchange for money and gifts. Here, Morris testifies during the John Connolly murder trial in Miami in 2008.
Bulger's girlfriend, Catherine Greig, was sentenced to eight years in federal prison in 2012 for identity fraud and helping the reputed mob boss avoid capture for 16 years.
J.W. Carney, Bulger's defense attorney, arrives at the U.S. Federal Courthouse for the start of Bulger's trial in Boston on Wednesday, June 12, 2013.
This undated surveillance photo released by the U.S. Attorney's Office in Boston shows Bulger, left, with his former right-hand man, Kevin Weeks. Weeks took the witness stand at Bulger's racketeering trial and described a double slaying, multiple extortions and drug dealing.
Bulger and Kevin Weeks walk around Castle Island on Boston Harbor.
Kevin Weeks leaves the courthouse in July 2013 after testifying in graphic detail about how Bulger killed Arthur "Bucky" Barrett, Joey McIntyre and Deborah Hussey.
The remains of Thomas King, former member of the Winter Hill Gang, were found in late 2000 and included these driving gloves, a bulletproof vest, a navy suit, and a claddagh ring. Martorano, one of Bulger's hitmen, testified that he himself had shot King in the back of the head.
Stephen Rakes, 59, was scheduled to be a witness for the prosecution before he was dropped from the list. His body was found July 17, 2013, in Lincoln, Massachusetts, west of Boston. Rakes' business associate has been charged with his murder. Authorities said Rakes' killing was unrelated to the Bulger case.
Trying to show a softer, lighter side of Bulger, his defense lawyers released numerous photos of their client during the 2013 trial. The tactic didn't work: Bulger will spend the rest of his life in prison.
Who's who in the James 'Whitey' Bulger case
Who's who in the James 'Whitey' Bulger case
Who's who in the James 'Whitey' Bulger case
Who's who in the James 'Whitey' Bulger case
Who's who in the James 'Whitey' Bulger case
Who's who in the James 'Whitey' Bulger case
Who's who in the James 'Whitey' Bulger case
Who's who in the James 'Whitey' Bulger case
Who's who in the James 'Whitey' Bulger case
Who's who in the James 'Whitey' Bulger case
Who's who in the James 'Whitey' Bulger case
Who's who in the James 'Whitey' Bulger case
Who's who in the James 'Whitey' Bulger case
Who's who in the James 'Whitey' Bulger case
Who's who in the James 'Whitey' Bulger case
Who's who in the James 'Whitey' Bulger case
Who's who in the James 'Whitey' Bulger case
Who's who in the James 'Whitey' Bulger case
Who's who in the James 'Whitey' Bulger case
Who's who in the James 'Whitey' Bulger case
Who's who in the James 'Whitey' Bulger case
Who's who in the James 'Whitey' Bulger case
Who's who in the James 'Whitey' Bulger case
STORY HIGHLIGHTS
Real-estate developer Richard Buccheri says "Whitey" Bulger put a gun to his head
He says it happened as part of a dispute about the placement of a fence
Buccheri: Bulger demanded $200,000, "threatening to kill me and my family"
Boston (CNN) -- Pounding his fist on the witness stand Thursday, real-estate developer Richard Buccheri, 73, described the day he came face-to-face with Boston's alleged Irish mob kingpin James "Whitey" Bulger.
Bulger is charged in the deaths of 19 people during some two decades. He also faces charges of extortion, racketeering and money laundering.
He had called Buccheri to a meeting to discuss the positioning of a fence on a property Bulger associate Kevin Weeks wanted to buy, Buccheri said.
He said they had barely sat down when Bulger banged on the table and told Buccheri, "You know Rich, sometimes you should just keep your mouth shut. You know Kevin Weeks is like a surrogate son."
Buccheri's opinion on the positioning of the fence was not favorable to Weeks.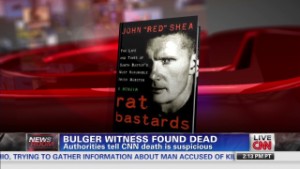 'The nail in Witey Bulger's coffin'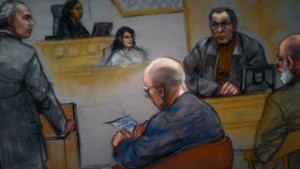 Flemmi: Bulger killed my girlfriend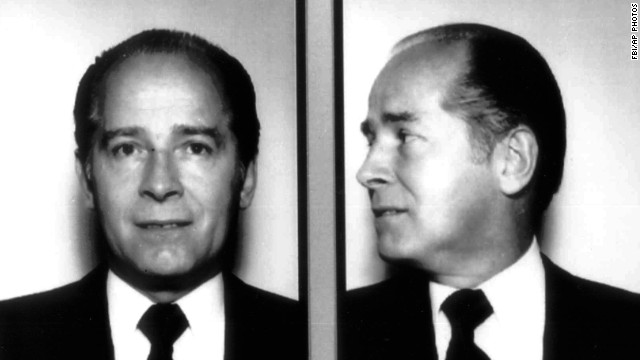 It's been called "the Hub of the Universe," and though Boston isn't at the center of American life the way it was when it received the nickname in the 1800s, it's still a place many American notables call home ... though, in some cases, Boston might wish they didn't. Take Whitey Bulger, for example. The gangster has been found guilty on 31 of 32 counts -- including involvement in 11 murders. His reputation was already well-established: He was the basis for Jack Nicholson's character in the Oscar-winning "The Departed."
Actor Ray Bolger, on the other hand, became best known for playing the Scarecrow in "The Wizard of Oz." He grew up in an Irish Catholic family in a Boston neighborhood called Dorchester and also went on to star in a number of Broadway musicals. He died in Los Angeles in 1987, five days after his 83rd birthday.
Mark Wahlberg, a member of "The Departed" cast, is also a proud son of the city. After rising to fame with Marky Mark and the Funky Bunch, he's become an in-demand actor, with performances in "Boogie Nights" (1997), "Three Kings" (1999), "The Italian Job" (2003) and "Ted" (2012). ("Ted" writer/director Seth MacFarlane, incidentally, is from Connecticut.)
Though Ben Affleck was born in California, his family moved to Cambridge, Massachusetts, when he was young -- and it was there he met Matt Damon, who lived a few blocks away. The two won Oscars for writing "Good Will Hunting." Affleck is now an Oscar-winning director as well, for "Argo," and Damon is one of Hollywood's biggest stars.
What list of Bostonians would be complete without a Kennedy? John F. Kennedy was born in Brookline, the son of mogul Joseph P. Kennedy and grandson of former Boston mayor John "Honey Fitz" Fitzgerald, and represented the area in Congress before becoming a senator and then the 35th president.
Kennedy's grandfather was succeeded as mayor by James Michael Curley, a colorful figure who served four terms in office -- and two stints in jail for corruption. He was wildly popular, especially among Irish-Americans, and almost certainly inspired the protagonist in the novel "The Last Hurrah."
OK, so Larry Bird is actually from French Lick, Indiana. Still, given his impact on the Boston Celtics -- a storied team built by a New Yorker (Red Auerbach) and spurred to greatness by a Louisiana-Californian (Bill Russell) -- Boston is proud to claim the Basketball Hall of Famer. Larry Legend won three NBA MVP awards, three championships, an Olympic gold medal and scored bucketloads of points.
Bartolomeo Vanzetti, left, and Nicola Sacco were the defendants in one of the most famous cases in U.S. history, convicted of a South Braintree murder more because of their anarchist beliefs than the evidence. Their execution, in 1927, spawned protests, demonstrations and riots around the world.
MIT grad and Polaroid employee Tom Scholz built a recording studio in his basement. He formed the band Boston and the recordings he made with fellow musicians -- including singer Brad Delp -- eventually became one of the most successful debut albums of all time, best known for the single "More Than a Feeling." Scholz has since gone on to invent the Rockman amplifier.
Former "Simpsons" writer and longtime talk-show host Conan O'Brien was born in Brookline and didn't even leave the area for college -- Harvard, of course. (Could there be something in the Charles River water? Jay Leno and Louis C.K. were also born and/or raised in the area.)
Dick Dale, the "King of the Surf Guitar," was actually born in Boston. He and his family moved to California when he was a teenager, though he incorporated his Lebanese heritage -- including music he heard at Boston-area festivals -- into his fast-paced style, heard on such cuts as "Let's Go Trippin'" and "Misirlou."
Ever wonder who the "Logan" is in Boston's airport? The name belongs to Edward L. Logan, a brigadier general, veterans advocate and politician who grew up in South Boston. A statue of him was unveiled at the airport when it was renamed in 1956.
New Kids on the Block was one of the heartthrob boy bands of the late '80s and early '90s. Jordan Knight, Jonathan Knight, Joey McIntyre, Donnie Wahlberg and Danny Wood all hail from the Boston area. The group came off a lengthy hiatus in 2008 and has issued two albums since then.
Led by Steven Tyler and guitarist Joe Perry, Aerosmith has been referred to as "The Bad Boys from Boston." When they got their start in the early 1970s, all five members shared a small apartment in the city. They went on to become one of the best-selling American rock bands, and in 2001 they were inducted into the Rock and Roll Hall of Fame.
Longtime TV journalist Barbara Walters was born in Boston. After five decades in broadcast news, Walters has no shortage of major accomplishments to be proud of, including being the first network evening news anchorwoman when she moved to ABC in 1976. Earlier this year she announced that she will retire from television in 2014.
Louis Farrakhan, leader of the Nation of Islam, was born in the Bronx but his family moved to the West Indian section of Roxbury, a Boston neighborhood, in the mid-1930s. He has been criticized for controversial and hateful rhetoric, but in 1999 he started preaching a message of racial and religious harmony. His new outlook was said to be the result of a near-death experience during treatments for prostate cancer.
Albert DeSalvo took responsibility for about a dozen murders when he confessed to being the Boston Strangler. He recanted his admissions and was never convicted of any of the killings before his death, but a recent lab test matched him to DNA evidence taken from the body of one of the victims. DeSalvo was stabbed to death in 1973 while serving a prison sentence for rape. He was born in Chelsea, Massachusetts, across the river from Boston.
Comedian Amy Poehler, a former SNL cast member and the star of the "Parks and Recreation," grew up in Burlington, Massachusetts. In a 2011 commencement speech at Harvard University, she joked: "I graduated from Boston College, which some call 'The Harvard of Boston.'"
Louis C.K. was born in Washington but moved to his father's native Mexico at age 1. When he was 7, his family relocated to suburban Boston. "I grew up in Boston and didn't get the accent, and one of the reasons is that I started in Spanish," he said in a recent issue of Rolling Stone. He is now a stand-up comedian and the writer, director, producer and star of the FX series "Louie."
Donna Summer, who helped define the disco genre of the 1970s, was raised in Boston's Mission Hill neighborhood. Her hits -- including "Hot Stuff," "Bad Girls," "Love to Love You Baby" and "She Works Hard for the Money" -- electrified dance floors and prompted her coronation as America's queen of disco. She died in 2012 at age 63.
"Star Trek" actor Leonard Nimoy grew up in the West End of Boston. Although he took drama classes at Boston College, he never completed his degree. But Nimoy became a household name when he took on the legendary role of the half-Vulcan, half-human Spock in the original "Star Trek" series (1966--1969) and a number of film and television sequels.
Sumner Redstone is the owner of National Amusements, Inc., the parent company of Viacom and CBS Corp. The media magnate was born in Boston and graduated from Harvard University. He has a star on the Hollywood Walk of Fame, and in March he was ranked number 267 on the Forbes 400 List of the World's Billionaires.
Jack Welch, former CEO of General Electric, was born in Peabody, Massachusetts, and resides in Boston. He stepped down as the chairmen and CEO of GE in 2001. The media nicknamed him "Neutron Jack" for his no-nonsense, take-no-prisoners approach to business. In 2007, he made a failed attempt -- with other investors -- to buy the Boston Globe.
John Adams, the second president of the United States, was born in the Massachusetts Bay Colony. A descendant of Plymouth Rock pilgrims, he was a Harvard-educated lawyer and public figure in Boston. He was a delegate to the First and Second Continental Congresses and served on the committee that drafted the Declaration of Independence.
Paul Revere was a silversmith from Boston's oldest residential neighborhood, the North End. He became famous for his role in the American Revolution. In 1775, he embarked on a "midnight ride" to Lexington, Massachusetts, where he informed Samuel Adams and John Hancock that the British were coming to arrest them. Henry Wadsworth Longfellow dramatized the ordeal with the poem "Paul Revere's Ride."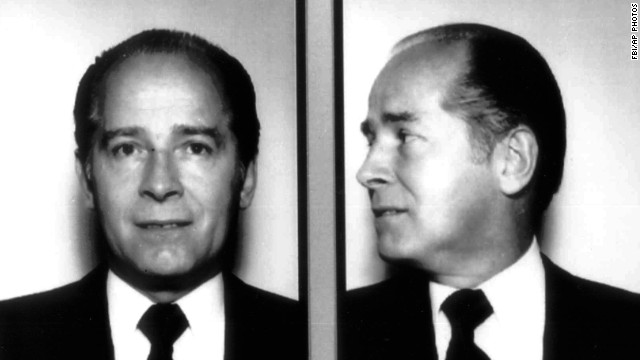 Photos: Boston's famous and infamous
Raising two fingers to his mouth to demonstrate, Buccheri said Bulger "takes a shotgun off the table and sticks it in my mouth. Then he took it out, punched me in the shoulder and said, 'Richard you're a stand-up guy. I'm not going to kill you."
But then, he said, Bulger "puts a 45 to my head" and demands $200,000 in 30 days, "threatening to kill me and my family."
Buccheri said he cut a check for the 200-grand, which Bulger's henchman, Steve Flemmi cashed days later. Buccheri said he had to give a Braintree bank teller verbal permission to cash the gargantuan check.
Flemmi finished up his six days of testimony Thursday. He described a decades-long journey that included extortion, meetings with FBI agents and slayings.
Flemmi testified he was by Bulger's side for most of it, saying both were FBI informants. He described hundreds of occasions when he and Bulger met with FBI agents.
The defense suggested Wednesday that Flemmi would say anything to sweeten his deal with prosecutors and possibly get out of prison, even though the government has never raised that as a possibility.
Flemmi was arrested in 1995, was found guilty and was sentenced in 2001 to 10 years in prison for extortion and money laundering. In 2003 he pleaded guilty to 10 murders and was sentenced to life in prison.
Bulger attorney Hank Brennan asked Flemmi whether he hoped to get out of prison one day, and Flemmi said, "I'm still alive. There's always hope."
Brennan also highlighted Flemmi's relatively comfortable living conditions. "It's like the Club Med of federal facilities," he said.
"You really think so?" Flemmi responded, apparently incredulous, about the undisclosed prison.
Brennan also asked about an apparent delicatessen on the premises serving salmon, steak, and smoked oysters.
Flemmi denied such a place exists, saying, "If I fed some of that food to my dog, he'd bite me." He then complained about the July Fourth prison meal saying disgustedly, "The hotdogs were burned. The hamburgers were burned."
Flemmi was spared the death penalty on the 10 murder charge after agreeing to testify against Bulger and his disgraced FBI informant handler, John Connolly.
Authorities say Connolly accepted thousands of dollars from Bulger and his crew in payoffs and, in turn, tipped them off to law enforcement activity. Connolly was convicted of federal and state crimes and is serving 40 years in Florida.
Under Flemmi's plea deal, the government allowed him to keep numerous properties including a home, at least four condos and a coin laundry.
Despite Connolly's conviction and Flemmi's testimony, Bulger's lawyers have argued in this trial that he was not an FBI informant.
Authorities say Connolly, who was raised in the same housing projects as Bulger, cut a deal with the alleged mob figure in 1975. Bulger would give information about the Italian mob -- the FBI's prime target -- while Bulger, authorities said, got names of rival gang members and other informants who had dirt on him. He is accused of killing those people.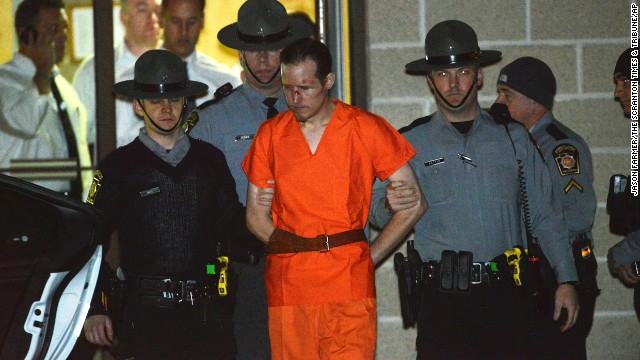 State troopers escort Eric Matthew Frein from the state police barracks in Blooming Grove, Pennsylvania, on Friday, October 31. Frein, who is accused of killing a Pennsylvania state trooper and wounding another, was found at an abandoned airport near Tannersville, Pennsylvania, authorities said. He had been on the run for nearly two months.
Edward Snowden, the man who leaked top-secret details about U.S. surveillance programs, has been charged with three felony counts, including violations of the U.S. Espionage Act. After living in a Moscow airport since June, he began his temporary asylum in Russia in August 2013. He had been hiding out in Hong Kong until WikiLeaks helped him move to Moscow. Snowden has said he is afraid he would not get a fair trial if he came back to the United States.
Convicted mob boss James "Whitey" Bulger spent more than a decade on the FBI's Most Wanted list before being arrested in June 2011 in Santa Monica, California. The jury in his federal racketeering trial found him guilty on 31 of 32 counts -- including involvement in 11 murders -- in August 2013.
Eric Toth, a former private school teacher and camp counselor, was on the FBI's "Ten Most Wanted" fugitives list when he was captured in Nicaragua in April 2013. The investigation into the suspected child predator began in June 2008 after pornographic images were found on a school camera that had allegedly been in his possession.
Boston Marathon bombing suspect Dzhokhar Tsarnaev was arrested in April 2013 after an overnight shootout with police that resulted in the death of his brother, Tamerlan Tsarnaev. A federal grand jury returned a 30-count indictment against Dzhokhar Tsarnaev, alleging he used a weapon of mass destruction.
Former Los Angeles police officer Christopher Dorner led police on a chase lasting days before he was tracked to a hideout in the San Bernardino Mountains. He took his own life in February 2013.
Ted Bundy raped and murdered dozens of women across the country in the 1970s. He escaped from prison twice before being captured during a traffic violation in 1978. He was executed in Florida in 1989.
The FBI is still searching for Abdul Rahman Yasin, a suspect in the February 26, 1993, World Trade Center bombing that killed six and injured more than 1,000 people in New York. Six other suspects were convicted in the attack.
Eric Robert Rudolph -- who was convicted of a string of bombings, including the 1996 Olympic Games in Atlanta -- eluded capture until 2003. He was arrested in Murphy, North Carolina, and is serving four consecutive life sentences plus 120 years.
Once a fixture on the FBI's Most Wanted list, al Qaeda leader Osama bin Laden was killed by U.S. Navy SEALs in an Abbottabad, Pakistan, compound on May 2, 2011.
Lovebird bandits Bonnie Parker and Clyde Barrow are believed to have committed 13 murders and several robberies and burglaries before they were ambushed and killed by police in 1934.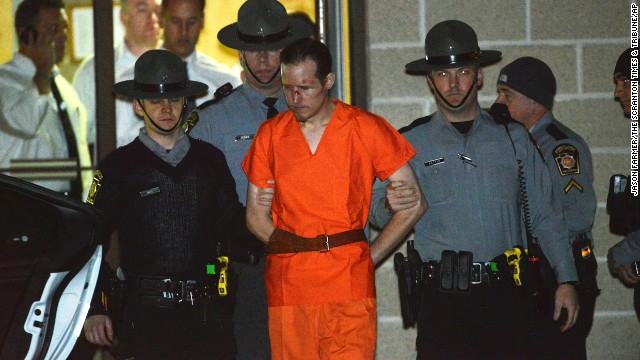 Photos: Famous manhunts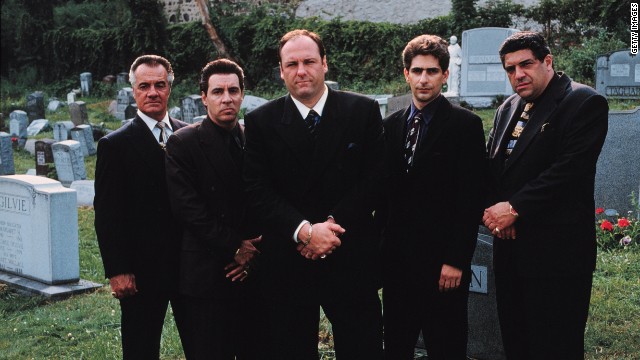 We are fascinated with mobsters and those affected by them, both in real life and on screen. "There's the reality of organized crime that nobody is in love with, and there's the mythologized version that everyone is in love with," said Ron Kuby, a lawyer who defended the late John Gotti. The cast of HBO's "The Sopranos," from left, Tony Sirico, Steve Van Zandt, James Gandolfini, Michael Imperioli and Vincent Pastore. Gandolfini died on June 19 from a heart attack at age 51.
James "Whitey" Bulger, the reputed former head of Boston's Winter Hill Gang, was convicted on Monday, August 12, of racketeering and 11 counts of murder.
Jimmy Hoffa was last seen outside the Machus Red Fox restaurant in suburban Detroit in 1975. He'd gone there to meet with reputed Detroit mob enforcer Anthony Giacalone and Anthony Provenzano, a New Jersey Teamsters boss, to settle a beef. There have been more than a dozen digs for Hoffa's remains since he vanished, most recently in a field near Detroit. Once again, authorities came up empty-handed.
New York Mafia chief John Gotti was known as the "Dapper Don" for his expensive suits and "Teflon Don" due to government charges failing to stick in three trials. He was later convicted of murder and racketeering. He died of cancer at age 61 in 2002 while serving a life sentence.
Marlon Brando plays the supreme don in "The Godfather" (1972), directed by Frances Ford Coppola and based on Mario Puzo's best-selling novel. Puzo stitched together slices of reality, weaving a tale so colorful that the FBI's wiretaps later captured real mobsters quoting from the book and subsequent movie.
Benjamin "Bugsy" Siegel, at center with two unidentified men, established crime syndicate-controlled gambling in Las Vegas.
From left, Ray Liotta, Robert De Niro, Paul Sorvino and Joe Pesci in the mob drama "Goodfellas" (1990).
In "Married to the Mob" (1988), Dean Stockwell plays a mob boss who courts Michelle Pfeiffer's character, who is trying to escape the Mafia life after her husband is killed.
Vinny "The Chin" Gigante, shown here in 1997 while on trial in New York. Before his conviction for murder conspiracy and labor racketeering, Gigante was famous for mumbling to himself while walking the streets of Manhattan in a bathrobe. In 2003, he pleaded guilty to obstruction of justice charges for false claims of mental illness.
Lorraine Bracco plays Tony Soprano's psychiatrist in "The Sopranos." She made a career out of mob dramas, also playing Henry Hill's wife in "Goodfellas."
Steve Buscemi plays Atlantic City mobster Nucky Thompson in HBO's "Boardwalk Empire."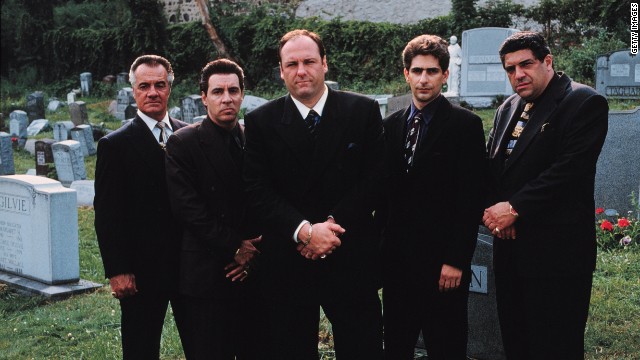 Photos: Our fascination with the mob
Without that FBI protection, prosecutors say, Bulger and Flemmi's reign of terror would not have been as successful or lasted as long as it did, from the early 1970s through the mid-1990s.
Bulger rose to the top of the notorious Winter Hill gang, prosecutors say, before he went into hiding for more than 16 years after the crooked FBI agent told him in December 1994 he was about to be indicted on federal racketeering charges.
He was captured in Santa Monica, California, two years ago, living under a false name with his girlfriend in an apartment in the oceanside city. The girlfriend, Catherine Greig, was sentenced to eight years in prison last summer for helping him evade capture.
At his arraignment in July 2011 he pleaded not guilty to the 19 murder charges and 13 other counts.
Through his lawyers, the 83-year-old defendant had argued he was given immunity by the FBI and a former prosecutor. The judge dismissed the claim, saying any purported immunity was not a defense against crimes Bulger faces.
Prosecutors plan to call two more witness Friday, and expect to rest their case on the 30th day of trial.
The defenses amended witness list, which was cut virtually in half to 32 witnesses last week, was whittled down to a potential 16 witnesses after Judge Denise Casper ruled some witnesses irrelevant and the defense withdrew a handful. The list is subject to further change.
Among those virtually certain to testify are four FBI agents who the defense says will testify Bulger was not an informant for FBI in Boston.
The government argued that Bulger is not "charged" with being an informant and the testimony could confuse jurors. But Casper said that, "given the centrality of the government's allegation of Bulger being an informant to all of the matters in this case, I think those are proper witnesses."
Also on the stand Thursday afternoon was bar owner Kevin O'Neil, one of the O's in "Triple O's Bar," an establishment that doubled as one of Bulger's many headquarters in the 1970s and '80s. O'Neil said he had Bulger on the payroll, but he was never an employee.
When prosecuting attorney Zachary Hafer asked why he was on the payroll, O'Neil responded, "He asked."
Hafer: "Why didn't you say 'No'"?
O'Neil: "I didn't think it was smart."
O'Neil testified that in Christmas of 1994 he got a call from Connolly, who said, "Get ahold of the kid because his friend has a problem."
In rapid-fire questioning, Hafer asked, The Kid?--"Kevin Weeks"; the friend?--"Jim Bulger"; the problem? --"I believe indictments."
O'Neil testified that he then saw Connolly talking to Weeks shortly after that call.
O'Neil said he never saw Bulger again after that day.
Prosecutors say Connolly tipped Bulger off to a 1995 indictment, causing Bulger to go on the run, landing himself on the FBI's top 10 most wanted list before being arrested in California.
Besides the slayings, Bulger is accused of using violence, force and threats to shake down South Boston's bookmakers, loan sharks and drug dealers. The Irish mob allegedly laundered its ill-gotten gains though liquor stores, bars and other property it owned in South Boston.
CNN's Gary Carter contributed to this report.