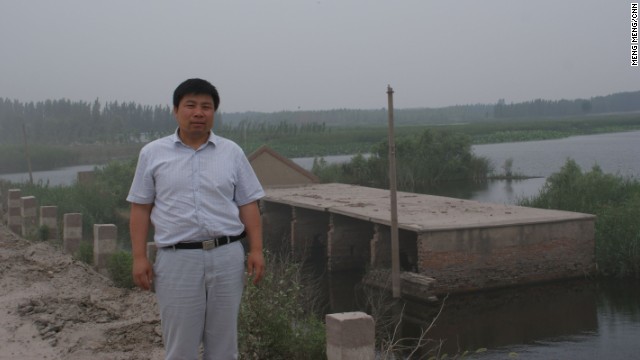 Xiao Guoqiang, a 50-year-old farmer stands before his sunken village in Jining, Shandong Province on June 26, 2013. Underground mining in this region is devouring 20 million square meters of land a year.
Huge cracks appeared on an abandoned elementary school of Xiao Guoqiang's village. In 2005, the local government transferred the entire population of this village of more than 3,000 farmers to a nearby town.
Bizarrely, one of the largest sinkholes in the area will actually be transformed into a water theme park next year.
Kong Guoqing cleans a fishing net near a sinkhole "lake." Kong's family have been farmers on the rich soil of northern China plain for five generations. He is the first one in the family to start a fishing business.
In a village called Xigu, a farmer, who prefers to remain anonymous, told CNN that she fears her land will soon disappear.
Many farmers complained about the dangers of working close to massive sinkholes.
Filled with water, many sinkholes have been made into resorts for city residents.
A local farmer turned his house on the edge of a sinkhole into a restaurant that offers fishing and homemade fish dishes.
Homes, lives disappeared
Homes, lives disappeared
Homes, lives disappeared
Homes, lives disappeared
Homes, lives disappeared
Homes, lives disappeared
Homes, lives disappeared
Living in China's city of sinkholes
STORY HIGHLIGHTS
When cracks appeared in Xiao's house he feared the worse
Xiao's hometown, Jining, is one of China's massive "coal cities"
He watched many of his neighbors' homes sink into the ground
Officials: Sinkholes devouring 20 million square meters of land here a year
Jining, China (CNN) -- Four months after he built a new, two-story brick house in his village in northern China's Shandong Province, Xiao Guoqiang was alarmed to find a huge crack on the living room wall.
Having seen homes in neighboring villages sink, Xiao realized his long-held fears were coming true.
"I knew the day was coming, but I didn't expect it to happen so soon," said Xiao, who has been forced to move from the land -- on which four generations of his family have lived -- as a consequence.
Xiao's hometown, Jining, is one of China's "coal cities," whose mineral wealth helps light up the night skies of the world's most energy-hungry country. The land here is honeycombed with coal mines, which can form massive sinkholes that leave thousands of homes uninhabitable every year.
Ten years ago, the area where Xiao lived was a vibrant farming community on the North China Plain. But sinkholes are devouring 20 million square meters (7.7 square miles) of land here a year, according to the Jining Land Resource Bureau, and have displaced an estimated 100,000 people, mostly farmers and their families, over the past decade.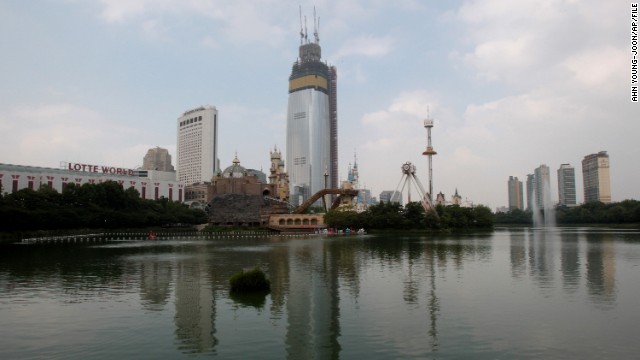 An increasing number of sinkholes have appeared in and around the neighborhood where the Lotte World Tower is being built in Seoul, South Korea. The first one was discovered in June and several others have appeared since then, according to local media reports, causing the construction of what would be Seoul's tallest building to come under scrutiny.
Eight Corvettes fell into a sinkhole that opened up beneath a section of the National Corvette Museum in Bowling Green, Kentucky, on February 12. The sinkhole was about 40 feet wide and 25-30 feet deep.
The rear portion of a residential home is consumed by a sinkhole November 14 in Dunedin, Florida.
A 60-foot-wide sinkhole formed underneath the Summer Bay Resort in Clermont, Florida, about 10 minutes from Walt Disney World, on August 11. One resort building collapsed, and another slowly sank.
A backhoe is swallowed by a sinkhole in Montreal, Quebec, Canada, on August 6. The driver of the backhoe was not injured.
A sinkhole killed a guard at a construction site in Shenzhen, China, on March 27. The sinkhole might have been caused by heavy rains and the collapsing of old water pipes running beneath the surface, the Shenzhen Special Zone Daily reported.
Workers watch the demolition of the house where a sinkhole opened three days before in Seffner, Florida, on March 3. Sinkholes caused by acidic groundwater corroding the limestone or carbonate rock underground are common in Florida, according to the Florida Department of Environmental Protection.
Buildings fell into a sinkhole near a subway construction site in Guangzhou, China, in January 2013. The hole measured about 1,000 square feet across and 30 feet deep and was without casualties, according to a state media report.
A basketball court in Ortley Beach, New Jersey, fell into a sinkhole caused by Superstorm Sandy in November 2012.
In July 2011, a man inspects a 40-foot-deep sinkhole that a family found after they heard a booming noise in their kitchen in Guatemala City, Guatemala.
Construction on a subway line caused a huge sinkhole to form in a road in Beijing in April 2011.
An aerial photo shows sinkholes created by the drying of the Dead Sea near Israel in 2011.
A utility worker examines the area around a sinkhole caused by a broken water main in Chevy Chase, Maryland, in December 2010.
Tropical Storm Agatha caused a sinkhole to open in Guatemala City in May 2010.
A fire truck protrudes from a sinkhole as Los Angeles Mayor Antonio Villaraigosa talks to reporters in September 2009.
A water main collapsed an entire block-long part of Ocean Park Boulevard in Santa Monica, California, in December 2002.
In Orlando, a sinkhole 150 feet wide and 60 feet deep swallowed trees, pipelines and a section of sidewalk near an apartment building in June 2002.
A 30-foot-deep sinkhole appeared in a busy street in a suburb east of downtown Los Angeles. A motorist drove into the hole but was rescued before a concrete slab fell onto the car.
"The Great Blue Hole" is the name of a massive underwater sinkhole off the coast of Belize. The deeper you go, the clearer the water becomes, revealing amazing stalactites and limestone.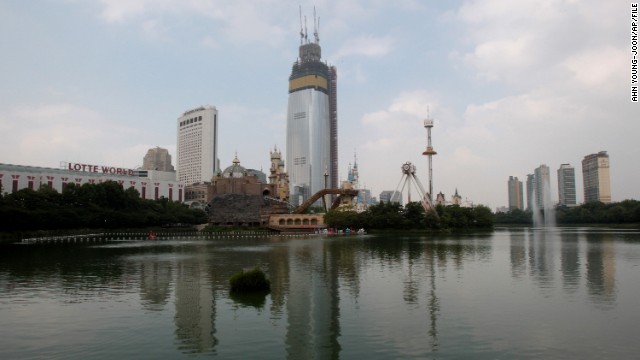 Photos: When the ground gives way
By 2090, the bureau predicts one third of the city -- an area as large as Los Angeles -- will fall into the earth, and an estimated 5 million people will have been forced out of the region by the problem.
Those figures worry government-affiliated sinkhole researcher Gu Mei, who said tensions over migration may lead to social unrest.
"Schools in some districts are overwhelmed with migrant students, while in other districts, classrooms are half empty," she told CNN.
Sinkholes: Common, costly and sometimes deadly
In this low-lying area, most sinkholes quickly fill with water. "I am afraid the city is turning into the Venice of the East," former mayor Li Guangsheng told the Qilu Weekly, a local newspaper, earlier this year.
When coal was discovered in the region in the 1960s, it proved a boon for the local economy. State-run miner YanKaung Group Ltd. grew from a local coal company to a multination-listed energy giant, employing about one of every two workers in town.
Meng Lingjun, a coal company employee, remembers the city as an underdeveloped backwater thirty years ago.
We are nothing without the coal company. All we can do is keep mining and fixing the sinkholes.
Meng Lingjun, mine employee
"When I was young, the town did not have a single factory, shopping mall or train station," he said. "Now we are one of the most affluent regions in North China."
But that prosperity has come at a price. Each day, Meng passes hundreds of sinkholes on his way to work. Like many urban residents, he believes it is too late for the city to withdraw from the lucrative coal business.
"We are nothing without the coal company," he said. "All we can do is keep mining and fixing the sinkholes."
In recent years, local officials tried several creative solutions for the sinkhole crisis, transforming the gaping holes into water theme parks, fishing ponds and lakes. One has been turned into a wetland park, a major spot for bird watching in the northern part of the city; another is now a fish breeding pond powered by solar panels.
But more than 50% of the subsided land remains abandoned, often polluted and emitting a pungent aroma. "The fund from central government for fixing sinkholes can barely cover expenses," government official Han Xizhong told CNN.
While China's Mine Subsidence Compensation Act gives clear guidance for how much a coal company should pay displaced residents for damages, it fails to take into account the problems that follow, Han said.
"The sinkhole issue is more complicated than removing a village and refilling the sinkholes," said another local official, who asked his name not be used because of the sensitive nature of the issue. "Many deep sinkholes have been sinking for over 10 years. You don't know the right time to treat them. Also communities removed from the subsidence area still need government support after moving to a new place."
But government-affiliated researcher Gu Mei claims the government has done a poor job addressing the problem.
"Local government would not consider filling sinkholes," Gu said. "Think about it. If you can easily turn a flooded subsidence into a water theme park, would you take pains to reclaim the land?"
Some farmers have attempted to fill the holes themselves -- only to find the cost is too high.
As I get older, my nostalgic feeling for the old village grows stronger. I try not to think about it, about the fact that it is a lake and the village only lives in my memory.
Xiao Guoqiang, resident
It costs at least US$15 per square meter to drain a hole and put in new soil. But according to Xiao Guoqiang, villagers only get compensated to the tune of US$5 per square meter from the coal company.
The Yankuang Group declined CNN requests for comment, citing the sensitivity of mining-induced farmland losses and migration issues.
For Xiao, the move to his new home has hit the family's dinner table as they can no longer raise their own pigs or grow their own vegetables.
"The pork price is rising and we cannot afford it. Having fresh vegetables and meat had never been a problem before because we grew and bred what we wanted to eat," Xiao said.
Another villager points out the lack of jobs in the new location.
"Our new home is 20 miles (32.1 kilometers) from the nearest town. It is hard for us find a decent job," said Kong Jian, who operates a street noodle stand.
"Young people flock to bigger cities, looking for factory jobs. Those who stayed are doing small businesses like operating noodle restaurants," Xiao said. "But for the next generation, nobody will know how to farm."
The 50-year old gets emotional when talking about his old village.
"As I get older, my nostalgic feeling for the old village grows stronger. I try not to think about it -- about the fact that it is a lake and the village only lives in my memory."