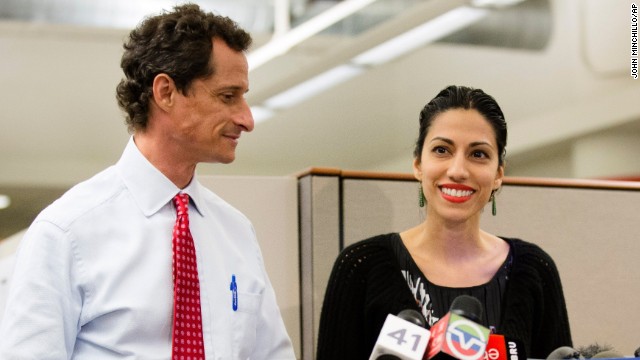 Anthony Weiner and his wife, Huma Abedin, hold a press conference on Tuesday, July 23, to address explicit online exchanges that were published by a gossip website.
Weiner said some of the exchanges happened after his resignation from the U.S. House in 2011.
Abedin appeared beside her husband and made brief remarks backing him. "What I want to say is I love him, I have forgiven him, I believe in him, and as I have said from the beginning, we are moving forward," said Abedin.
"This behavior is behind me. I've apologized to Huma and am grateful that she has worked through these issues with me and for her forgiveness," Weiner said.
"I made the decision that it was worth staying in this marriage," Abedin said. "That was a decision I made for me, for our son and for our family."
The press conference was held after chat messages purporting to be from Weiner were published on the website TheDirty.com. The post cited a "solid" source alleging Weiner engaged in lewd online conversations with her, and the site reproduced lengthy chats that were sexual in nature.
Abedin added at one point that her husband had made "horrible mistakes, both before he resigned from Congress, and after."
"While some things that have been posted today are true and some are not, there is no question that what I did was wrong," Weiner said.
Weiner said he would not be giving up his mayoral bid. "I'm sure many of my opponents would like me to drop out of the race."
Weiner addresses lewd exchanges
Weiner addresses lewd exchanges
Weiner addresses lewd exchanges
Weiner addresses lewd exchanges
Weiner addresses lewd exchanges
Weiner addresses lewd exchanges
Weiner addresses lewd exchanges
Weiner addresses lewd exchanges
Weiner addresses lewd exchanges
STORY HIGHLIGHTS
Huma Abedin stood by Anthony Weiner as he addressed new revelations of lewd behavior
Lisa Bloom: She has a right, but it's a craven political move, and it degrades her
She says we need to get rid of the wife-as-doormat visual; it is basically abusive
Bloom: Note to married male politicians who stray: Face the press alone
Editor's note: Lisa Bloom is an attorney, a legal analyst for Avvo.com and the author of "Think: Straight Talk for Women to Stay Smart in a Dumbed-Down World."
(CNN) -- Isn't it time to call the spectacle of the suffering political wife, standing by her man in the media glare as he admits to his latest sexual offense against her, what it really is: spousal abuse?
Huma Abedin has the right to make any decisions she wants about her life, just as a victim of domestic abuse has the right to return for more -- but we don't have to stand silently by and condone it.
On Tuesday, she read from a script about forgiving her husband, New York mayoral candidate Anthony Weiner, as he was forced to address allegations that he sent sexually explicit texts and photographs of his genitals to a woman he'd never met, a year after he'd resigned in shame for this very accusations in 2011 and publicly promised to stop. And after she'd given birth to their child, and after he'd presumably gone to whatever Twitter sexting rehab he found, and Lord knows what else.
Gallery: Politicians wives who've stood by their men, and those who haven't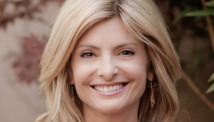 Lisa Bloom
Abedin, a top aide to Hillary Clinton, was reduced to the standing-by-her-man-at-the-news-conference archetype, a dated wife-as-doormat visual it's time to eliminate from our political theater.
Sure, she can keep him around if she wants to. But we don't have to bless their craven political move to stand together before the cameras to protect his career, nor do we have to play along as they both pretend that this is something other than more public degradation of her. That they are both consenting adults who participate in this behavior does not make it acceptable to the rest of us. (Simple test: Would you want your daughter in that tableau?)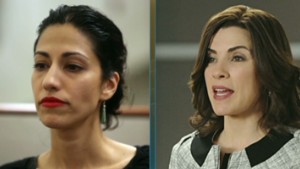 Did Weiner's wife do the right thing?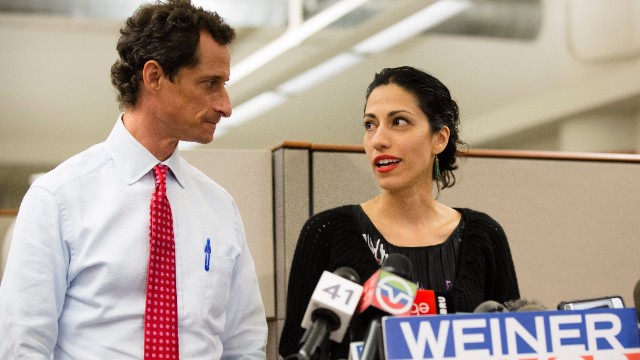 With his wife, Huma Abedin, by his side, New York mayoral candidate and former congressman Anthony Weiner confirms on July 23 that some of the sexually explicit online exchanges that were published by a gossip website happened after previous revelations forced him to resign from the U.S. House in 2011.
Former New York Gov. Eliot Spitzer, shown here with wife Silda Wall Spitzer, resigned in March 2008 after it was revealed that he had spent thousands of dollars on prostitutes.
Louisiana Sen. David Vitter, here with wife Wendy Baldwin Vitter, admitted in July 2007 his involvement in the "D.C. Madam" scandal after his phone number had been published in a list of phone records from a prostitution ring. Three years later he was re-elected to the U.S. Senate.
Former Idaho Sen. Larry Craig was arrested in June 2007 in a men's restroom at the Minneapolis-St. Paul International Airport on charges of lewd conduct, but later pled guilty to a misdemeanor charge of disorderly conduct. His wife, Suzanne Thompson, was at his side during the news conference in September 2007 when he announced his intention to resign. He later changed his mind and served out his term.
Former New Jersey Gov. Jim McGreevey, with his then-wife Dina Matos standing by, told a packed news conference in August 2004: "My truth is that I am a gay American" and that he had engaged in a consensual affair with his homeland security adviser, who had threatened to sue him for sexual harassment.
Hillary Clinton was with her husband, former President Bill Clinton, in January 1998 when he denied having "sexual relations with that woman, Miss Lewinsky." However, when he later admitted in August 1998 that the relationship with the intern was "not appropriate," she was not with him and later was chilly toward him during a walk to Marine One.
Elizabeth Edwards, the wife of former presidential candidate and ex-North Carolina Sen. John Edwards, was not with him when, in August 2008, he finally admitted to an affair with a campaign worker. Elizabeth Edwards, who was suffering from breast cancer, died in 2010.
After her husband, former South Carolina Gov. Mark Sanford, admitted to sneaking away to Argentina to be with his mistress in June 2009, Jenny Sanford moved out of the governor's mansion and later divorced him in 2010.
Former Nevada Sen. John Ensign was embroiled in allegations of an extramarital affair in 2007 and 2008, and his wife, Darlene, who initially stood with him when he announced he would not seek re-election, was not by his side as the drama unfolded. Hit with multiple investigations, Ensign resigned in 2011.
After initially standing by her husband, former California Gov. Arnold Schwarzenegger, through multiple allegations of sexual misconduct before and during his two terms as governor, Maria Shriver filed for divorce in 2011 after the governor admitted fathering a child with their longtime housekeeper.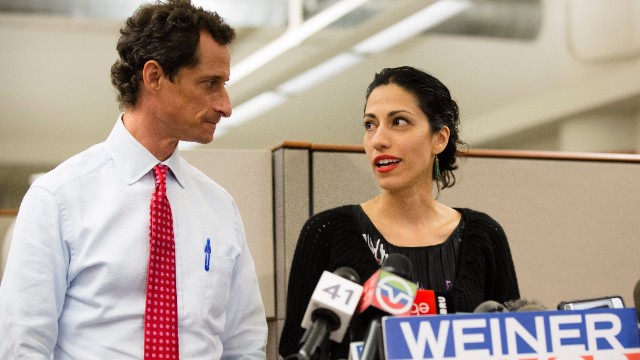 Wives who stood by their men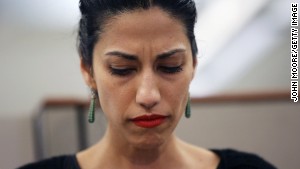 Who is Huma Abedin?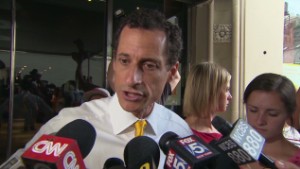 Weiner: Voters not interested in my past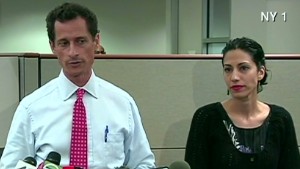 Weiner apologizes with wife at his side
Opinion: Why does Abedin put up with Weiner?
We have the right to say that we will not enable this anymore; we will not endorse it; we will not bless it just because it is her "choice." Instead, we will call a public figure's cheating on his wife, then bringing her to the mea culpa press conference, not only offensive to her but a slap in the face to women in the electorate.
It was bad enough when Harvard Law grad Silda Wall Spitzer stood mutely beside then-New York Gov. Eliot Spitzer as he confessed in 2008 to patronizing prostitutes. Or when former hospital executive Dina McGreevey stood silently next to her cheating husband, then-New Jersey Gov. Jim McGreevey, as he announced his resignation in 2004.
Some of us are trying to raise our girls to be more than voiceless partners sucking up their pride as their husbands trample over their dignity. Men like Weiner and Spitzer were well aware of the excruciating pain the disclosure of their thrill-seeking behavior would cause their wives while they were public figures, and they engaged in it anyway, via elaborate lies and artifices, eyes wide open. In the case of Anthony Weiner, a.k.a. Carlos Danger -- and maybe all of them -- that risk probably amped up the sexual excitement.
Here's the simple rule for male politicians: If you had your fun without her, man up and face the press corps without her. Ironically, each of these men calls himself a feminist. Respect for women begins at home, fellas.
Follow us on Twitter @CNNOpinion.
Join us on Facebook/CNNOpinion.
The opinons expressed in this commentary are solely those of Lisa Bloom.