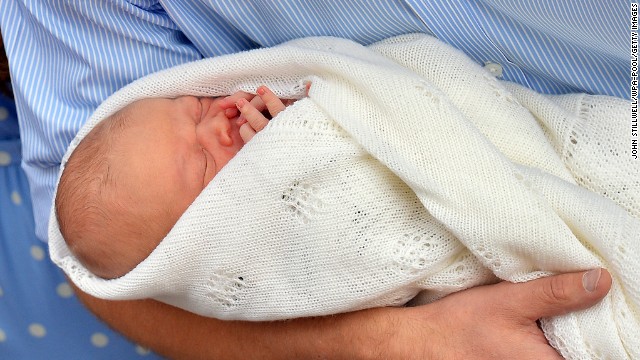 Little George Alexander Louis was wrapped in a simple blanket on his way home from the hospital, but he's sure to be sporting some pricy custom duds soon enough. Click through the gallery to see clothing of royal babies past, courtesy of the Museum of London's "A Royal Arrival" exhibit.
The Museum of London's "A Royal Arrival" exhibit showcases items that were worn by royal babies of the past to celebrate the birth of His Royal Highness Prince George of Cambridge. The exhibit is open, free of charge, until October 2013.
Timothy Long, Curator of Fashion and Decorative Arts, says: "Through exploring these objects belonging to former royal babies, we are not only able to bring to life a very personal family story, yet we are also able to connect the newest generation of the royal family to over 400 years of UK history." Here, Long delicately handles a linen undershirt (or vest as its known in Britain) with a crown embroidery worn by Prince George William Frederick, who later became King George III, in 1738. He reigned as King from 1760-1820, including during the American Revolution.
King George III, who reigned from 1760 to 1820, wore this lace mitten when he was only a little prince.
These shoes, from 1843, belonged to Princess Alice, the third child of Queen Victoria.
Princess Maud (her baby shoes shown here) was one of Queen Victoria's granddaughters. While British-born, she would later become Queen Consort of Norway.
"P. Wales" is inscribed in the interior of one of the baby booties worn by Prince Albert Edward, son of Queen Victoria. He later became King Edward VII and reigned from 1901 to 1910, after his mother's death.
This cream robe was worn by Prince Albert Edward, later King Edward VII.
A close-up of the three-feather insignia, the badge of the Prince of Wales, on the robe.
Timothy Long inspects King Edward VII's baby shoe. They might look small, but Prince George of Cambridge has big shoes to fill.
Clothes fit for a prince or princess
Clothes fit for a prince or princess
Clothes fit for a prince or princess
Clothes fit for a prince or princess
Clothes fit for a prince or princess
Clothes fit for a prince or princess
Clothes fit for a prince or princess
Clothes fit for a prince or princess
Clothes fit for a prince or princess
Clothes fit for a prince or princess