Afghan bomber on donkey kills 3 NATO-led soldiers
updated 11:58 AM EDT, Tue July 23, 2013
STORY HIGHLIGHTS
The incident occurred in Wardak province, in eastern Afghanistan
The bomber struck as forces were about to conduct an operation
The Taliban claimed responsibility for the strike
Kabul, Afghanistan (CNN) -- A suicide bomber clad as a farmer rode a donkey into a group of coalition and Afghan forces Tuesday and set off an explosion that killed three NATO-led soldiers and an interpreter, a provincial official said.
The incident, which occurred in eastern Afghanistan, in Wardak province, also injured four Afghan soldiers, according to Ataullah Khogyani, spokesman for Wardak's provincial governor.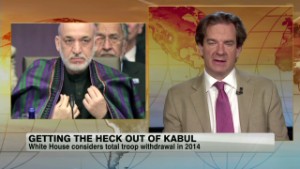 Will U.S. run for exit in Afghanistan?
The Taliban militant movement, in an e-mail, claimed responsibility.
Khogyani said NATO's International Security Assistance Force and Afghan National Army soldiers were about to conduct a military operation in the area of the Sayed Abad district.
ISAF reported that three service members died after a bombing but didn't give their nationalities, in line with its policy of deferring identification to the relevant nations.
12 Afghan police slain in suicide attack