Actress Amanda Bynes detained for mental health evaluation
updated 1:00 PM EDT, Wed July 24, 2013
STORY HIGHLIGHTS
NEW: The incident began with a call about a gas can burning in driveway, official says
Actress "involved in a disturbance in a residential neighborhood," official says
Amanda Bynes has had her share of legal problems lately
Los Angeles (CNN) -- Law officers in California detained troubled actress Amanda Bynes for a mental health evaluation Monday night, the Ventura County Sheriff's Office said Tuesday.
The 27-year-old actress was "involved in a disturbance in a residential neighborhood" in Thousand Oaks, a city about 40 miles west of Los Angeles, Sheriff's Capt. Don Aguilar said.
The incident began with an emergency call to the fire department that a gas can was burning in a residential driveway at about 8:30 p.m., Ventura County Fire Department Capt. Scott Dettorre said.
Bynes has had her share of legal problems lately. She faces three misdemeanor charges relating to an incident involving a bong allegedly tossed from her Manhattan apartment in May.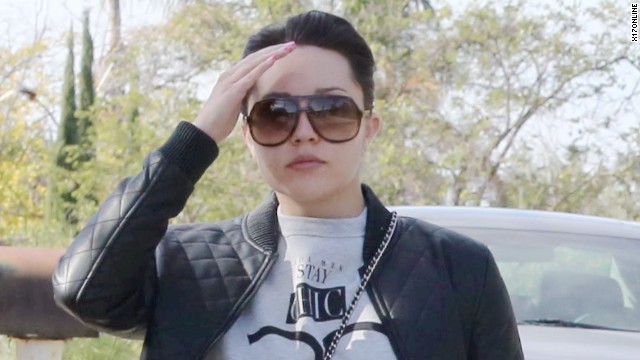 Amanda Bynes has been famous since landing a role on Nickelodeon's sketch comedy show "All That" at age 10. But in 2013 she was better known for legal trouble, tweeting brow-raising statements and photos, leading to speculation about her mental health. She was eventually hospitalized and released in December 2013.
Amanda Bynes became a superstar among the elementary-age crowd starting in 1996 as a member of the Nickelodeon show "All That," on which she memorably played a sweet young lady full of rage during the "Ask Ashley" skit.
By 1999, Bynes had become popular enough to host her own show. Nickelodeon put her at the center of the "All That" spinoff, "The Amanda Show."
By 2002, Bynes parted ways with her Nickelodeon shows and transitioned into movies. She starred in "Big Fat Liar" that year and followed it up with 2003's "What A Girl Wants."
Bynes landed not only a hit TV series with "What I Like About You," on which she starred with Jennie Garth from 2002 to 2006, but also reportedly a new boyfriend. Bynes and co-star Nick Zano reportedly began dating in 2003.
Between 2005 and 2007, Bynes steadily worked in film in addition to her TV sitcom. Seen here at the premiere of her 2005 animated movie "Robots," she also starred in "Love Wrecked" (2005) and a comedy with Channing Tatum, "She's The Man" (2006).
In 2007, Bynes starred in a summer hit with the remake of "Hairspray," which also featured John Travolta, Allison Janney (seen here), Zac Efron, Queen Latifah and Nikki Blonsky.
While working on movies like "Sydney White," Bynes' personal life also took the spotlight. She was briefly linked to athlete and reality star Doug Reinhardt, here at a Los Angeles Lakers game in December 2008.
Bynes hadn't yet announced that she was through with acting when she walked the red carpet at the 2009 MTV Video Music Awards. She saved that revelation for the following June, only to announce that she'd "un-retired" by July.
Sure enough, Bynes was still acting: Her comedy with Emma Stone, "Easy A," arrived in September 2010. It is, however, Bynes' last credited film.
In April 2012, Bynes shocked fans when she was arrested on suspicion of DUI after getting into a fender-bender with police not long after her 26th birthday. Within days, she was accused of hitting another driver and then driving off.
Bynes, seen here in April 2012, again made headlines that June when she asked President Barack Obama on Twitter to fire the officer who had arrested her. That August, she allegedly hit another vehicle, incurring a second hit-and-run charge.
By September, Bynes reportedly had her car impounded and was cited for driving on a suspended license. Despite her legal issues and other reports of oddball behavior -- like locking herself in a dressing room and taking off her top in spin class -- Bynes told People magazine at the time that she was "doing amazing" and had plans to move to New York to work on her fashion career.
In November 2012, Bynes, who became a regular celebrity snapped by paparazzi, announced that she's a 26-year-old retired multimillionaire.
Around that time, speculation about Bynes' state began to grow as she appeared to share photos from social media accounts that were credited to the star.
Early in 2013, Bynes generated plenty of press with a new look that included long blond hair and apparent cheek piercings. In March, she nearly brought down Twitter when she seemingly sent Drake a lewd tweet.
In April 2013, the same month that Bynes turned 27, the headlines about her behavior were popping up almost daily. The news typically revolved around her reported Twitter account, where self-portraits and unsettling statements were shared.
Between her tweets and her attention-grabbing appearances in NYC, it is easy to forget that Bynes also has legal issues. She was sentenced to three years of probation for her suspended license case in early May. On May 23, she was arrested in New York after allegedly tossing drug paraphernalia out of the window of her apartment.
Bynes and attorney Gerald Shargel arrive for a court appearance in New York on Tuesday, July 9. She was charged with reckless endangerment and attempting to tamper with physical evidence.
Bynes uses her dog to block her face from photographers while shopping in Chelsea on July 10 in New York City.
Upon her release from an inpatient treatment facility in December 2013, Bynes made her first public appearance on a walk with her parents. She'd spent four months under a psychiatric hold.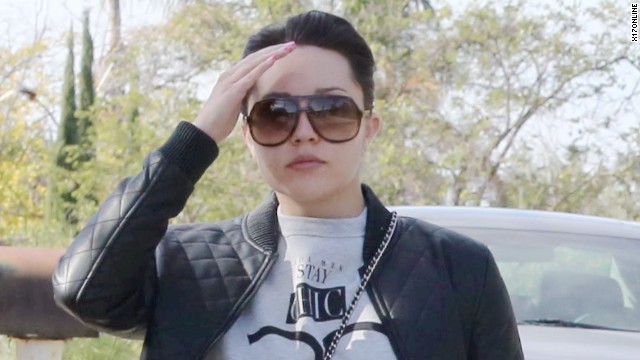 The evolution of Amanda Bynes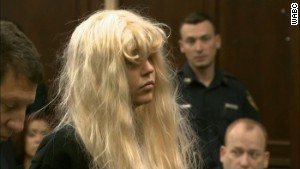 Hear 911 call about Amanda Bynes
Amanda Bynes in trouble, again
She also has a driving under the influence case pending in Southern California, while a pair of separate hit-and-run charges against her were dismissed last year. She was sentenced to three years' probation for driving on a suspended license in May.
A young teenager when she burst on the scene as the lead in Nickelodeon's "The Amanda Show," Bynes also starred alongside Jennie Garth in the sitcom "What I Like About You." She later scored roles in movies, including "Hairspray" and "Easy A."
Police knock down Bynes sex harassment claim
CNN's Carolyn Sung contributed to this report.