STORY HIGHLIGHTS
Huma Abedin was notably absent when Anthony Weiner admitted to 2011 scandal
She is now at her husband's side amid the latest sex chat revelations
Abedin, 36, says it's been a struggle, but she forgives him
She has worked with Hillary Clinton since 1996 and was a top State Department aide
(CNN) -- When former U.S. congressman Anthony Weiner admitted two years ago to sending explicit messages and photos to women online, his wife was notably absent, letting Weiner make his public mea culpa alone. But on Tuesday, Huma Abedin was front and center as Weiner confessed to having further explicit exchanges, even after the first scandal forced his resignation from Congress.
Abedin, 36, is no stranger to politics. She has worked for former Secretary of State Hillary Clinton for years and accompanied her husband on the campaign trail in his current bid for New York City mayor.
She had her first news conference on Tuesday, however, and she admitted to being nervous -- but it was her moment to defend her husband of three years and describe her struggle to forgive him.
Soul-searching Weiner seeks forgiveness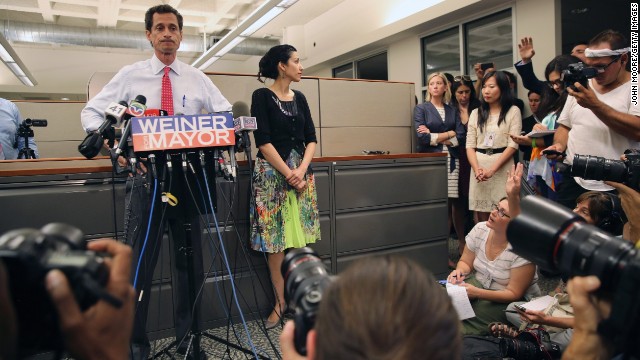 Huma Abedin stood beside her husband, Anthony Weiner, on Tuesday, July 23, as he once again addressed issues surrounding sending explicit messages over the Internet. At times she smiled, other times she appeared solemn, but her message was clear: She is standing by her husband. Abedin has worked for former Secretary of State Hillary Clinton for more than a decade, and while she's known for shying away from the spotlight, she can often be seen just offstage.
Abedin appears with Weiner on July 14 while he campaigns to become New York's mayor.
Abedin asks a coffee server to move out of the way as Clinton speaks during a roundtable discussion at the APEC Women and the Economy Summit on September 16, 2011, in San Francisco.
Abedin attends a White House dinner celebrating Ramadan in the State Dining Room of the White House on August 10, 2012.
Abedin delivers a note to Clinton on March 10, 2011, during a hearing of the House State, Foreign Operations and Related Programs Subcommittee. She started as a White House intern in 1996.
Abedin, Clinton's deputy chief of staff, helps prep Clinton with speech notes on July 19, 2010, before an interview on Pakistani TV in Islamabad.
Abedin and Weiner were married in a ceremony officiated by former President Bill Clinton in July 2010 after being introduced during the 2008 presidential campaign. Their marriage drew extra attention because Abedin is Muslim and Weiner is Jewish.
Abedin talks with Chief of Protocol Capricia Marshall outside the Oval Office during Prime Minister Manmohan Singh of India's state visit on November 24, 2009.
Abedin sits offstage as Clinton speaks on reinvigorating the United States' nonproliferation policy on October 21, 2009, at the Mayflower Hotel in Washington.
Clinton speaks with Abedin before chairing the Security Council Session on Women, Peace and Security on September 30, 2009. at U.N. headquarters in New York.
Abedin is by Clinton's side as she greets doctors and staff in San Juan Bautista Medical Center in Puerto Rico during Clinton's campaign for president on May 31, 2008.
Abedin, a campaign staffer at the time, talks with then-Sen. Clinton before a rally in Los Angeles on February 2, 2008.
Serving as Clinton's personal aide, Abedin accompanies Clinton on a trip from New York to Andrews Air Force Base in Maryland on May 6, 2000, to meet with President Bill Clinton.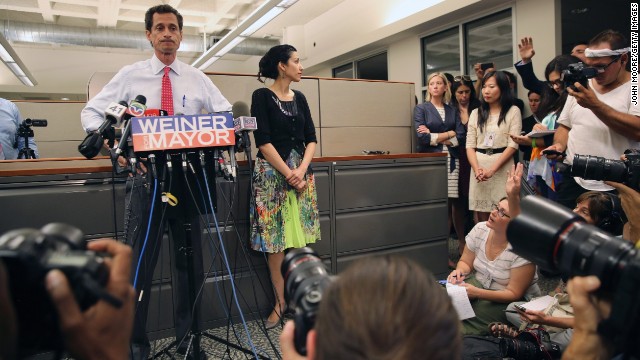 Photos: Who is Weiner's wife?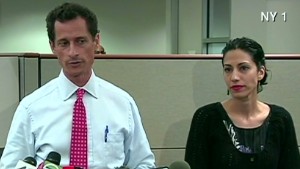 Weiner apologizes with wife at his side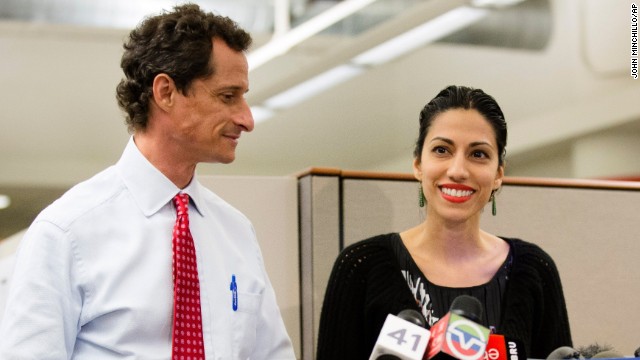 Anthony Weiner and his wife, Huma Abedin, hold a press conference on Tuesday, July 23, to address explicit online exchanges that were published by a gossip website.
Weiner said some of the exchanges happened after his resignation from the U.S. House in 2011.
Abedin appeared beside her husband and made brief remarks backing him. "What I want to say is I love him, I have forgiven him, I believe in him, and as I have said from the beginning, we are moving forward," said Abedin.
"This behavior is behind me. I've apologized to Huma and am grateful that she has worked through these issues with me and for her forgiveness," Weiner said.
"I made the decision that it was worth staying in this marriage," Abedin said. "That was a decision I made for me, for our son and for our family."
The press conference was held after chat messages purporting to be from Weiner were published on the website TheDirty.com. The post cited a "solid" source alleging Weiner engaged in lewd online conversations with her, and the site reproduced lengthy chats that were sexual in nature.
Abedin added at one point that her husband had made "horrible mistakes, both before he resigned from Congress, and after."
"While some things that have been posted today are true and some are not, there is no question that what I did was wrong," Weiner said.
Weiner said he would not be giving up his mayoral bid. "I'm sure many of my opponents would like me to drop out of the race."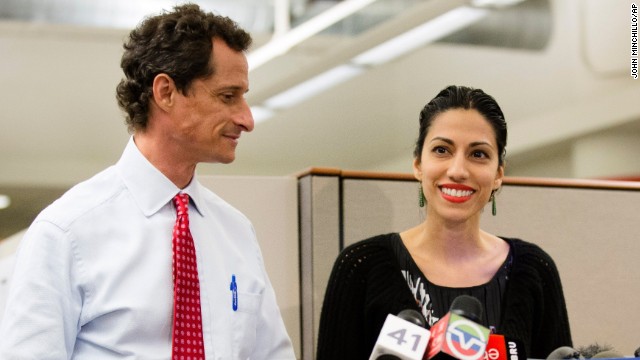 Photos: Weiner addresses lewd exchanges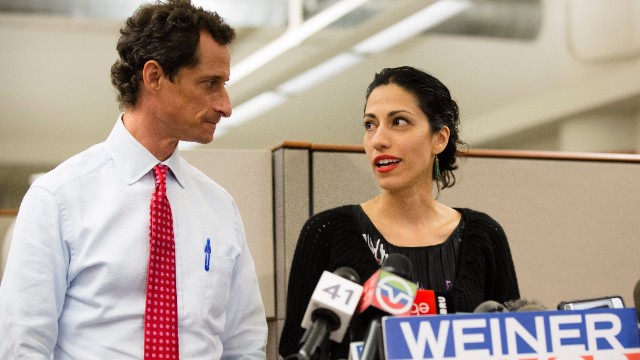 With his wife, Huma Abedin, by his side, New York mayoral candidate and former congressman Anthony Weiner confirms on July 23 that some of the sexually explicit online exchanges that were published by a gossip website happened after previous revelations forced him to resign from the U.S. House in 2011.
Former New York Gov. Eliot Spitzer, shown here with wife Silda Wall Spitzer, resigned in March 2008 after it was revealed that he had spent thousands of dollars on prostitutes.
Louisiana Sen. David Vitter, here with wife Wendy Baldwin Vitter, admitted in July 2007 his involvement in the "D.C. Madam" scandal after his phone number had been published in a list of phone records from a prostitution ring. Three years later he was re-elected to the U.S. Senate.
Former Idaho Sen. Larry Craig was arrested in June 2007 in a men's restroom at the Minneapolis-St. Paul International Airport on charges of lewd conduct, but later pled guilty to a misdemeanor charge of disorderly conduct. His wife, Suzanne Thompson, was at his side during the news conference in September 2007 when he announced his intention to resign. He later changed his mind and served out his term.
Former New Jersey Gov. Jim McGreevey, with his then-wife Dina Matos standing by, told a packed news conference in August 2004: "My truth is that I am a gay American" and that he had engaged in a consensual affair with his homeland security adviser, who had threatened to sue him for sexual harassment.
Hillary Clinton was with her husband, former President Bill Clinton, in January 1998 when he denied having "sexual relations with that woman, Miss Lewinsky." However, when he later admitted in August 1998 that the relationship with the intern was "not appropriate," she was not with him and later was chilly toward him during a walk to Marine One.
Elizabeth Edwards, the wife of former presidential candidate and ex-North Carolina Sen. John Edwards, was not with him when, in August 2008, he finally admitted to an affair with a campaign worker. Elizabeth Edwards, who was suffering from breast cancer, died in 2010.
After her husband, former South Carolina Gov. Mark Sanford, admitted to sneaking away to Argentina to be with his mistress in June 2009, Jenny Sanford moved out of the governor's mansion and later divorced him in 2010.
Former Nevada Sen. John Ensign was embroiled in allegations of an extramarital affair in 2007 and 2008, and his wife, Darlene, who initially stood with him when he announced he would not seek re-election, was not by his side as the drama unfolded. Hit with multiple investigations, Ensign resigned in 2011.
After initially standing by her husband, former California Gov. Arnold Schwarzenegger, through multiple allegations of sexual misconduct before and during his two terms as governor, Maria Shriver filed for divorce in 2011 after the governor admitted fathering a child with their longtime housekeeper.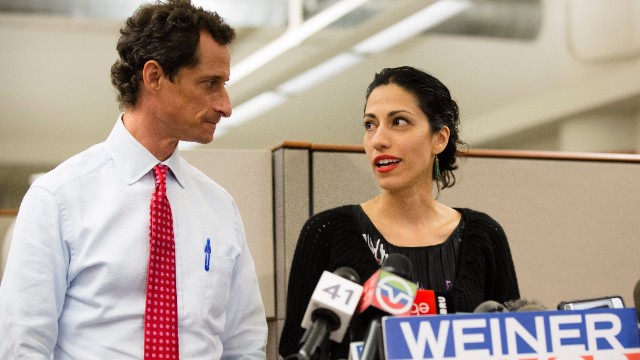 Wives who stood by their men
"It took a lot of work and a whole lot of therapy to get to a place where I could forgive Anthony," Abedin said. "It was not an easy choice in any way, but I made the decision that it was worth staying in this marriage."
Weiner admitted in June 2011 that he had sent sexually explicit messages and photos to women online. He apologized for initially claiming they weren't his and said he was seeking treatment, and he resigned from the U.S. House two weeks later.
The couple had a baby boy in December of that year.
On Tuesday, a gossip website published screen shots of sexual conversations that it said Weiner had had with a woman last summer, along with explicit photographs it claimed he had sent.
Opinion: Why does Huma Abedin put up with Weiner?
In his afternoon news conference, Weiner admitted that some of the online exchanges and photographs were his but said some were from before his resignation and some were after.
Abedin said Tuesday she knows her husband made "horrible mistakes" both before and after his resignation from Congress.
"We discussed all of this before he decided to run for mayor, so really what I want to say is, I love him, I have forgiven him, I believe in him, and as we have said from the beginning, we are moving forward," she said.
2011: Stop calling Huma Abedin a victim
From intern to State Department
Abedin began working for Clinton as a White House intern in 1996, eventually becoming the former first lady's traveling chief of staff -- or "body man" -- during her campaign for the 2008 Democratic presidential nomination.
When Clinton became secretary of state, Abedin served as a top aide to her. She remains a Clinton adviser.
Although she is described as a very private person, Abedin's intelligence, striking style, unusual background and ability "to make the trains run on time" brought her attention well before her July 2010 marriage to Weiner.
Vogue magazine profiled her in 2007, an unusual distinction for a campaign aide.
"Huma Abedin has the energy of a woman in her 20s, the confidence of a woman in her 30s, the experience of a woman in her 40s and the grace of a woman in her 50s," Clinton told Vogue. "She is timeless, her combination of poise, kindness, and intelligence are matchless, and I am lucky to have had her on my team for a decade now."
Abedin is the daughter of college professors. Her late father, an Islamic scholar, was from India and her mother, a sociologist, was from Pakistan. She was born in Kalamazoo, Michigan, but the family moved to Saudi Arabia when she was 2. She moved back to the United States to attend George Washington University.
She told Vogue that she decided at 15 that she wanted to be an international journalist, inspired by CNN correspondent Christiane Amanpour.
Congress, lewd photos and NYC's mayoral race: An Anthony Weiner timeline
Abedin's plans changed when the White House intern program assigned her to the first lady's office, not the press office as she had requested.
She's not been far from Clinton since then, friends say.
"I don't think you could say they are like mother and daughter," actress Mary Steenburgen and longtime friend of the Clintons told Vogue in 2007. "It's more like an older sister-younger sister relationship, but it's definitely familial."
Her efficiency, language abilities, attention to detail and remarkable ability to pack for long trips -- noted by the Vogue reporter -- make her invaluable to the globe-trotting Clinton.
"Huma does make the trains run on time," Clinton lawyer Bob Barnett told Vogue.
The Vogue story hinted in 2007 that she had dated actor John Cusack and cyclist Lance Armstrong. Abedin was introduced to Weiner during the 2008 congressional campaign.
Former President Bill Clinton officiated at their wedding. Their marriage drew extra attention because Abedin is Muslim and Weiner is Jewish.
Weiner rose through New York City politics as a young man unafraid of a fight and eager for media attention. Abedin, in contrast, is known for her diplomacy and privacy.
Read more: Weiner's wife: I forgive him
In her own words
As Weiner's latest scandal unfolded, Harper's Bazaar published excerpts of an article Abedin wrote for the magazine.
"Three years ago I was a single workaholic, traveling the globe with an amazing job at the U.S. State Department. I could not have imagined how much my life would change in three short years," Abedin wrote for the magazine's September issue.
"Today I'm married, with a feisty 20-month-old son, a full-time job, and a husband running for mayor of New York."
Abedin said she has long kept her personal life private, and no one is more surprised than she is to see herself out on the campaign trail.
"So why am I doing this? Because Anthony has always been a smart, caring, and dedicated person, and while he's the same public servant who wants what's best for the people he represents, he is now something else -- a better man," Abedin wrote.
"New Yorkers will have to decide for themselves whether or not to give him a second chance. I had to make that same decision for myself, for my son, for our family. And I know in my heart that I made the right one."
Has the road to political redemption gotten shorter?