Brand expert: Apple needs to 'step up or shut up'
updated 6:45 PM EDT, Tue July 23, 2013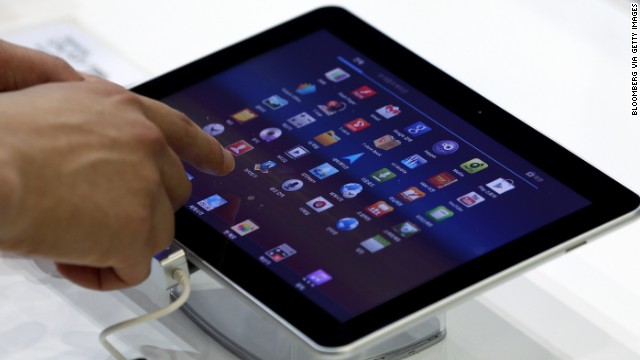 While the iPad still leads the way, the tablet-computer market has become a more diverse and competitive one in the past year or so. Users looking to upgrade from their smartphone screen, or get simpler than a laptop, have options that include Apple's offering, as well as new designs from Samsung, Google, Microsoft, Nokia, Asus and others.
The latest version of Apple's industry-leading tablet (they've sold 170 million) went on a serious weight-loss routine. It weighs in at only one pound, down from 1.4, and is 20% slimmer than its predecessor. It starts at $499. On Tuesday Apple also rolled out a new iPad Mini with a high-resolution (or "retina display" in Apple-speak) screen.
Nokia's first full-size tablet, the Lumia 2520, has a 10-inch display screen and runs a version of the Windows 8 operating system. It sells for $499, with 4G LTE and a 6.7-megapixel back-facing camera.
The second generation of Microsoft's tablet-laptop hybrid, the Surface 2, was rolled out for sale October 22. Starting at $449 for a 32GB model, the Surface got thinner and more powerful and added a high-definition screen. (It also got rid of the confusing "RT" at the end of its name). The souped-up Surface Pro 2 starts at $899.
Emerging as Apple's chief mobile rival, Samsung rolled out the third generation of its Galaxy Tabs earlier this year. The 10.1-inch version of the Galaxy Tab 3 starts at $359 and is the top-selling full-size tablet running Google's Android operating system.
There's a lot more competition now, but Amazon's Kindle Fire was the first tablet to dent iPad's dominance with its smaller size and lower price tag. The new 7-inch Kindle Fire HD costs $199, while a bigger, 8.9-inch Fire HD sells for $299.
Google wasn't the first company to make a tablet smaller than the iPad. But many reviewers think they've made the best mini model. The Nexus 7 is a relatively powerful device running Google's Android operating system and starts at an affordable $199.
They don't have broad name recognition, but Asus has quietly become the third-leading tablet seller (at least in the first few months of 2013). Asus has impressed critics with its Transformer tabs, which have filled the hybrid tablet/laptop slot more successfully than Microsoft's Surface. Its top-of-the-line Transformer Pad Infinity begins around $400.
The hottest and best-known tablets
iPad Air
Nokia Lumia 2520
Microsoft Surface 2
Samsung Galaxy Tab 3 10.1
Kindle Fire HD
Google Nexus 7
Asus Transformer Infinity
STORY HIGHLIGHTS
The Wall Street Journal reports that Apple is experimenting with iPhone screen sizes
California-based Apple's stock price has dropped 40% over the past 10 months
Gabay believes rivals, notably Korean-technology company, Samsung, are starting to gain ground
(CNN) -- It's time for Apple to "step up or shut up" when it comes to launching new products, according to brand expert Jonathan Gabay.
The Wall Street Journal reports that Apple is experimenting with iPhone screen sizes larger than the current four inches while also trying out larger iPads with a gigantic 13-inch display. The rumors, whether true or not, are "typical Apple" before a big earnings report, according to Gabay, who is an author and speaker on brands.
Following flat smartphone sales and no low-cost product on the market, shareholders are bracing themselves for a heavy drop in profits when the company reports fiscal third-quarter earnings on Tuesday.
The California-based tech giant has failed to launch any new products in the last three months and Gabay believes rivals, notably Korean-technology company Samsung, are starting to gain ground with models such as the Galaxy S4 providing a cheaper alternative.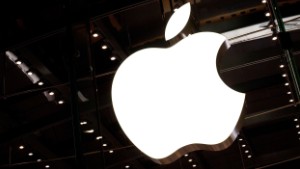 Apple profits fall but beat expectations
He told CNN: "I think that since the demise of [Steve] Jobs people have been concerned about what will happen to the Apple brand. People have been anticipating something that will show that Apple is still original."
Gabay said the pressure is mounting on Apple boss Tim Cook -- who took over as chief executive officer in 2011 following the death of Jobs, the company's founder -- to come up with a product that will inject life back into the company.
He added: "The pressure is definitely there. People are looking at price as well as technology, given the economic times we're in. That gives Apple a bit of an issue because they've always been high-end market."
"I think he [Cook] has done a great job organizing the company. But I think now people are saying 'time's up.'"
The company's problems have been well-documented over the last year. The company's stock price has dropped 40% over the past 10 months and in April Apple announced that earnings fell year-over-year for the first time since late 2003.
However, the company is still expected to post $35 billion in sales and $6.9 billion in profit. Apple is currently the sixth largest U.S. company measured by revenue, and its sales are expected to grow by 9% in 2013.