Report: Apple experimenting with bigger iPhone, iPad screens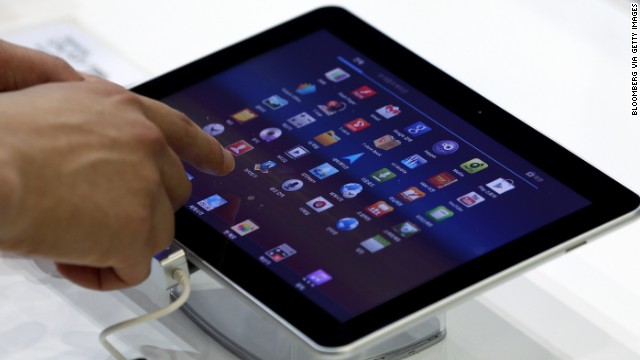 While the iPad still leads the way, the tablet-computer market has become a more diverse and competitive one in the past year or so. Users looking to upgrade from their smartphone screen, or get simpler than a laptop, have options that include Apple's offering, as well as new designs from Samsung, Google, Microsoft, Nokia, Asus and others.
The latest version of Apple's industry-leading tablet (they've sold 170 million) went on a serious weight-loss routine. It weighs in at only one pound, down from 1.4, and is 20% slimmer than its predecessor. It starts at $499. On Tuesday Apple also rolled out a new iPad Mini with a high-resolution (or "retina display" in Apple-speak) screen.
Nokia's first full-size tablet, the Lumia 2520, has a 10-inch display screen and runs a version of the Windows 8 operating system. It sells for $499, with 4G LTE and a 6.7-megapixel back-facing camera.
The second generation of Microsoft's tablet-laptop hybrid, the Surface 2, was rolled out for sale October 22. Starting at $449 for a 32GB model, the Surface got thinner and more powerful and added a high-definition screen. (It also got rid of the confusing "RT" at the end of its name). The souped-up Surface Pro 2 starts at $899.
Emerging as Apple's chief mobile rival, Samsung rolled out the third generation of its Galaxy Tabs earlier this year. The 10.1-inch version of the Galaxy Tab 3 starts at $359 and is the top-selling full-size tablet running Google's Android operating system.
There's a lot more competition now, but Amazon's Kindle Fire was the first tablet to dent iPad's dominance with its smaller size and lower price tag. The new 7-inch Kindle Fire HD costs $199, while a bigger, 8.9-inch Fire HD sells for $299.
Google wasn't the first company to make a tablet smaller than the iPad. But many reviewers think they've made the best mini model. The Nexus 7 is a relatively powerful device running Google's Android operating system and starts at an affordable $199.
They don't have broad name recognition, but Asus has quietly become the third-leading tablet seller (at least in the first few months of 2013). Asus has impressed critics with its Transformer tabs, which have filled the hybrid tablet/laptop slot more successfully than Microsoft's Surface. Its top-of-the-line Transformer Pad Infinity begins around $400.
The hottest and best-known tablets
iPad Air
Nokia Lumia 2520
Microsoft Surface 2
Samsung Galaxy Tab 3 10.1
Kindle Fire HD
Google Nexus 7
Asus Transformer Infinity
STORY HIGHLIGHTS
Report: Apple experimenting with bigger iPad, iPhone screens
Wall Street Journal says giant 13-inch display considered for iPad
Apple often experiments with products that never get released
(CNN) -- iPhone and iPad users looking with envy at the ever-ballooning screen sizes of Android devices shouldn't lose hope just yet.
The Wall Street Journal reports that Apple has been experimenting with iPhone screen sizes larger than the current four inches, echoing rumors from earlier this year that the company may be looking to supplement its current offerings.
The WSJ also says that Apple is experimenting with larger iPads, specifically a model with a gigantic 13-inch display. While a larger iPhone would be in line with current trends, the trend in tablets has been toward smaller screen sizes, not larger ones.
Read: Waterproof phones and tablets make a splash
In either case, those hoping for a bigger iPhone or lap-sized iPad shouldn't necessarily hold their breath.
Apple regularly tests out new screen sizes and even brand-new product lines without ever bringing them to market; those that do see the light of day can take their time emerging from Apple's labs.
The iPad mini itself was the subject of similar speculation in the months and years before it was finally released, and the iPhone 5's 4-inch screen was the subject of rumors that predate the 3.5-inch iPhone 4S.
Apple is expected to update both the iPad and the iPad mini later this year.
Speculation is that the larger tablet will go on the iPad mini diet, shedding some weight, thickness, and bezel width. The smaller tablet, on the other hand, may or may not receive a high-resolution Retina display -- these rumors have been known to change daily based on what the folks at Apple rumor sites see in their tea leaves each morning.
Both tablets were last refreshed in November 2012.
COPYRIGHT 2011 ARSTECHNICA.COM