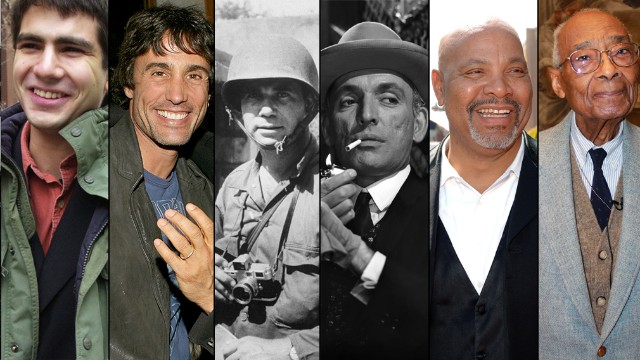 Click through to see people who passed away in 2013.
James Avery, who played Philip Banks on the TV show "The Fresh Prince of Bel-Air," died on December 31 at the age of 68, his publicist confirmed.
Life magazine photographer John Dominis died at his home in New York City on December 30, according to LIFE.com. He was 92.
Dr. John W.V. Cordice, the surgeon who operated on Martin Luther King Jr. after King was stabbed in Harlem in 1958, died on December 29 in Iowa. He was 95.
Joseph Ruskin, who acted in 25 films and 124 television shows, died of natural causes on December 28 in Santa Monica, California, according to SAG-AFTRA. Ruskin was 89.
Jeffrey Ian Pollack, left, who directed the popular 1990s films "Booty Call" and "Above the Rim" and produced "The Fresh Prince of Bel-Air," was found dead on December 23. He was 54. He's pictured with producer Benny Medina in 2007.
Ned Vizzini, author of "It's Kind of a Funny Story," died December 19 of blunt impact injuries to the head, torso and extremities. Vizzini committed suicide, according to the New York City medical examiner's office, though the office did not immediately say how. He was 32.
Al Goldstein, the foul-mouthed publisher of Screw magazine and a pornography pioneer who helped move raunch into mainstream American life, died December 19 in New York. He was 77.
Actor Daniel Escobar, who played a teacher in "Lizzie McGuire," died from complications of diabetes in Los Angeles on December 13, according to his agent. He was 49.
"Great Train Robber" Ronnie Biggs -- one of the most notorious British criminals of the 20th century -- has died, his publisher told CNN on December 18. He was 84.
Ray Price, the Nashville star whose trademark "shuffle" beat became a country music staple, died on December 16, his agent said. He was 87.
Oscar-winning actress Joan Fontaine died December 15, her longtime friend Noel Beutel said. She was 96.
Actor Peter O'Toole, best known for playing the title role in the 1962 film "Lawrence of Arabia," died on December 14. He was 81.
Tom Laughlin, the actor who wrote and starred in the "Billy Jack" films of the 1970s, died on December 12, his family confirmed. He was 82.
Jazz guitarist Jim Hall, who played with the jazz greats of the 20th century and influenced the younger ones, died December 10, his family said. He was 83.
Actress Eleanor Parker, nominated for three Oscars and known for her "Sound of Music" role, died on December 9, her family said. She was 91.
Nelson Mandela, the prisoner-turned-president who reconciled South Africa after the end of apartheid, died on December 5, according to the country's president, Jacob Zuma. Mandela was 95.
Bill Beckwith, co-host of HGTV's "Curb Appeal," died December 2 when his motorcycle collided with another vehicle in San Francisco. He was 38.
Paul Walker, a star of "The Fast & The Furious" movie franchise, died November 30 in a car crash. He was 40.
Paul F. Crouch, co-founder of the Trinity Broadcasting Network, died November 30 at age 79, according to his website and the network's Facebook page.
Comedian Jay Leggett, who produced a documentary about the joys of deer hunting, died of natural causes at the end of a deer hunt on November 23. He was 50.
Officer Pat Rogers, featured on the TNT reality show "Boston's Finest," apparently took his own life on November 19, a police source said.
Renowned psychic Sylvia Browne, a leader in the paranormal world who appeared regularly on television and radio and also wrote dozens of top-selling books, died November 20 in a northern California hospital, according to her website. She is pictured here with her granddaughter Angelia and son Christopher.
The eldest daughter of Walt Disney, Diane Disney Miller, died on November 19, according a statement from the museum dedicated to the legendary animated filmmaker. She was 79.
Nobel Prize-winning author Doris Lessing died at her London home on November 17, her publisher said. The British author was best known for "The Golden Notebook," which is considered by many critics to be one of the most important feminist novels ever written.
Celebrity chef Charlie Trotter, whose namesake restaurant in Chicago received a long list of culinary honors over its 25 years of service, died shortly after he was rushed from his home to a hospital on November 5. He was 54.
Lou Reed, who took rock 'n' roll into dark corners as a songwriter, vocalist and guitarist for the Velvet Underground and as a solo artist, died on October 27, his publicist said. He was 71.
Actress Marcia Wallace died on October 25, her agent said. Wallace voiced the character Edna Krabappel on "The Simpsons" and is known for playing receptionist Carol Kester on "The Bob Newhart Show." She was 70.
Basketball Hall of Famer Bill Sharman -- who won four NBA titles as a player, one as a head coach and five in his club's front office -- died October 25 in southern California, his former teams said. He was 87.
Tennessee Titans owner Bud Adams died of natural causes on October 21. He was 90. Adams, whose team started in Houston as the Houston Oilers, co-founded the American Football League, which eventually merged with the National Football League.
Lou Scheimer, a pioneer in Saturday morning television cartoons with hit shows such as "Superman," "Fat Albert" and "He-Man," died October 17 at 84, according to his biographer. Andy Mangels helped tell Scheimer's story in the book "Lou Scheimer: Creating the Filmation Generation."
"Bum" Phillips, the former NFL football coach who led the Houston Oilers to glory and struggled with the New Orleans Saints, died October 18 at age 90.
Rep. Bill Young of Florida, the longest-serving Republican member of the House, died on October 18 at age 82, his office's chief of staff said.
Former U.S. House Speaker Tom Foley, 84, died at his home in Washington, his wife, Heather, confirmed on October 18. An earlier version of this gallery contained a photo incorrectly identified as Tom Foley. CNN regrets this error.
Character actor Ed Lauter, who had small roles in movies and TV shows over four decades, died October 16 of mesothelioma, caused by asbestos exposure, his publicist said. He was 74.
Jazz vocalist Gloria Lynne, whose career included dozens of albums, died October 15 of a heart attack, her son said. She was 83.
Maxine Powell, who helped nurture the style of Motown artists such as Marvin Gaye and Diana Ross in the 1960s, died on October 14. The personal development coach for the legendary record label was 98.
"MasterChef" runner-up Joshua Marks died October 11 from a self-inflicted gunshot wound to his head. He was 26.
Pulitzer Prize-winning author Oscar Hijuelos died on October 12, his agent said. Hijuelos was the first Latino to win the prestigious award for fiction for his 1989 novel, "The Mambo Kings Play Songs of Love." He was 62.
Astronaut Scott Carpenter, the second American to orbit Earth, died on October 10, NASA said. He was 88.