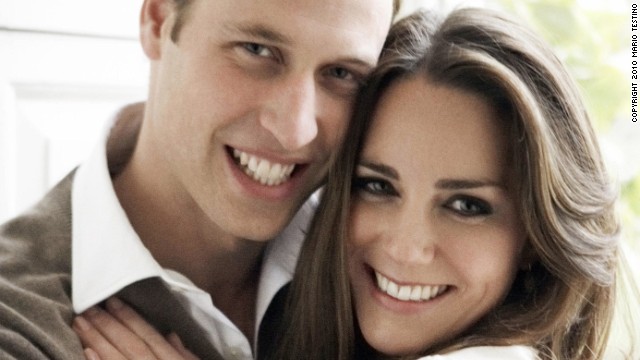 From the
announcement of their engagement
in 2010 to the
arrival of the royal baby
in 2013, the love affair between Prince William and the former Kate Middleton has enthralled millions.
The couple met at school and even shared a house with others while students. Here they are on the day of their graduation ceremony at the University of St. Andrews on June 23, 2005, in Scotland.
The pair cheered on the English rugby team during the RBS Six Nations Championship match between England and Italy at Twickenham on February 10, 2007, in London.
Middleton received the engagement ring that belonged to Prince William's late mother, Diana, Princess of Wales. The couple posed for photographers to mark their engagement in the State Rooms of St. James's Palace on November 16, 2010.
The pair returned to St. Andrews for a tour, accompanied by chancellor Sir Menzies Campbell, right, on February 25, 2011. They returned to their alma mater to launch a fundraising campaign for a new scholarship.
Their Royal Highnesses Prince William, Duke of Cambridge, and Catherine, Duchess of Cambridge, kiss on the balcony at Buckingham Palace after their wedding ceremony on April 29, 2011, in London.
After their wedding on April 29, 2011, the duke and duchess drive from Buckingham Palace to Clarence House in a vintage Aston Martin.
The newlyweds walk hand in hand from Buckingham Palace the day after their wedding to a waiting helicopter as they leave for a secret honeymoon location on April 30, 2011.
U.S. President Barack Obama and first lady Michelle Obama meet with the royal couple at Buckingham Palace on May 24, 2011.
You can feel the love as the happy couple attend a Snowbirds air show during Canada Day celebrations on July 1, 2011, in Ottawa.
During their visit to Canada, Catherine shovels soil as Prince William watches on July 2, 2011, during a tree-planting ceremony in Ottawa.
The newly married royal couple enjoyed their first joint overseas tour on July 7, 2011. Here the pair watch a rodeo demonstration at a government reception in Calgary, Alberta.
As part of their charity work, the couple attended a "healthy living cookery session" during a visit to Centrepoint's Camberwell Foyer on December 21, 2011, in London. The national charity provides housing and support to improve the lives of homeless young people.
Queen Elizabeth II, Prince William and Catherine on the balcony of Buckingham Palace during the finale of the Queen's Diamond Jubilee celebrations on June 5, 2012, in London.
Catherine and Prince William celebrate during track cycling events at the Olympic Games in London on August 2, 2012.
On September 18, 2012, the couple drank coconut milk from a tree planted 30 years before by Queen Elizabeth II in the South Pacific island nation of Tuvalu.
The couple attended a St. Patrick's Day parade by the 1st Battalion Irish Guards as they visit Aldershot Barracks on March 17, 2013, in Aldershot, England.
Prince Harry and the royal couple make magic on the set used to depict Diagon Alley in the Harry Potter films during the inauguration of Warner Bros. Studios Leavesden in London on April 26, 2013.
Prince William, Catherine and Prince Harry arrive for a service of celebration last month marking the 60th anniversary of the coronation of Elizabeth II at Westminster Abbey in London on June 4, 2013.
The Duke and Duchess of Cambridge depart St. Mary's Hospital in London with their newborn son on July 23, 2013. The boy was born at 4:24 p.m. a day earlier, weighing 8 pounds, 6 ounces.
The couple are pictured with their newborn boy, Prince George Alexander Louis of Cambridge. The new parents released two family photographs taken by Michael Middleton, Catherine's father.
The duke and duchess start the Ring O'Fire Anglesey Costal Ultra Marathon In Holyhead, Wales, on August 30, 2013. It was Kate's first public appearance since the birth of Prince George.
The royal couple attend the Tusk Conservation Awards at the Royal Society on September 12 in London. It is Catherine's first red carpet appearance since giving birth.
The royal family wave to the crowd before boarding a Royal Australian Air Force plane to Australia at Wellington Airport's military terminal April 16 in Wellington, New Zealand. The Duke and Duchess of Cambridge went on a three-week tour of Australia and New Zealand, the first official trip overseas with their then 8-month-old son.
second royal baby is on the way for the couple.
The couple's second child will become fourth in line to the British throne.
A photograph taken in London on Wednesday July 2, to mark Prince George's first birthday, shows the family during a visit to the Sensational Butterflies exhibition at the Natural History Museum in London. Buckingham Palace announced on Monday, September 8, that a
Will and Kate's royal love affair
Will and Kate's royal love affair
Will and Kate's royal love affair
Will and Kate's royal love affair
Will and Kate's royal love affair
Will and Kate's royal love affair
Will and Kate's royal love affair
Will and Kate's royal love affair
Will and Kate's royal love affair
Will and Kate's royal love affair
Will and Kate's royal love affair
Will and Kate's royal love affair
Will and Kate's royal love affair
Will and Kate's royal love affair
Will and Kate's royal love affair
Will and Kate's royal love affair
Will and Kate's royal love affair
Will and Kate's royal love affair
Will and Kate's royal love affair
Will and Kate's royal love affair
Photos: Will and Kate's royal love affair
Photos: Will and Kate's royal love affair
Will and Kate's royal love affair
Will and Kate's royal love affair