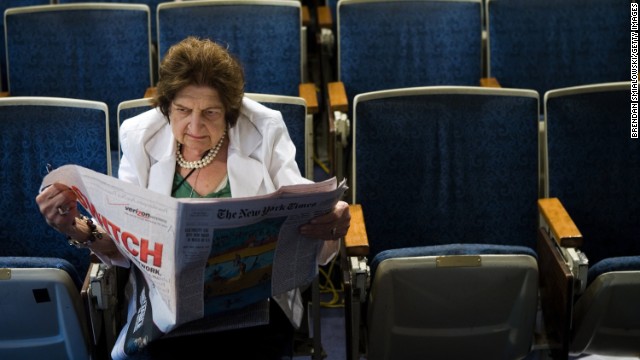 Pioneer journalist and former senior White House correspondent Helen Thomas died on July 20, after a long illness, sources told CNN. She was 92. Here, Thomas reads the newspaper in the White House press room on August 2, 2006.
Thomas asks President Barack Obama a question during a news conference at the White House on May 27, 2010.
Obama surprises Thomas with cupcakes to celebrate her birthday in the White House briefing room on August 4, 2009. Thomas and Obama share the same birthday.
Thomas listens during the White House daily briefing on November 12, 2008.
Thomas poses for photographers as she leaves the White House on October 16, 2007.
President George W. Bush shakes hands with Thomas on August 2, 2006, in Washington.
Thomas reads the names of journalists that died between 1812 and 1943 during a re-dedication ceremony to commemorate World Press Freedom Day at the Freedom Forum Journalists Memorial in Arlington, Virginia, on May 3, 2006.
Thomas gets out of a utility vehicle after catching a ride from the front gate to the briefing room at the White House on February 7, 2003.
President Bill Clinton and Thomas blow out candles during a surprise 75th birthday party for Thomas in the briefing room at the White House on August 4, 1995.
Thomas pauses during a television interview in front of the White House on May 12, 1992.
Thomas takes notes as President George H.W. Bush speaks with reporters in Washington on January 21, 1989.
Thomas questions President Ronald Reagan during a press conference at the White House on March 19,1987.
Journalists Ralph Harris, left, Sam Donaldson, Thomas and Bill Plante listen during a press briefing on Libya on March 25, 1986.
President Jimmy Carter and press secretary Jody Powell, right, chat with reporters, including Thomas, on Air Force One on October 20, 1979.
Thomas takes notes as President Gerald Ford speaks to reporters in Washington on September 30, 1976.
Thomas, right, walks behind President Richard Nixon and a large group in China on February 1, 1972.
Thomas speaks to President Lyndon B. Johnson during a news conference in the White House Oval Office on April 25, 1968.
Thomas, third right, takes notes as President John F. Kennedy speaks on the phone in the Oval Office on August 23, 1962.
Front row with Helen Thomas
Front row with Helen Thomas
Front row with Helen Thomas
Front row with Helen Thomas
Front row with Helen Thomas
Front row with Helen Thomas
Front row with Helen Thomas
Front row with Helen Thomas
Front row with Helen Thomas
Photos: Front row with Helen Thomas
Front row with Helen Thomas
Front row with Helen Thomas
Front row with Helen Thomas
Front row with Helen Thomas
Front row with Helen Thomas
Front row with Helen Thomas
Front row with Helen Thomas
Front row with Helen Thomas