Stove ashes probed for traces of stolen Picasso, Matisse, Monet works
updated 5:28 PM EDT, Fri July 19, 2013
STORY HIGHLIGHTS
Experts analyze ashes found in a stove to see if they are the remains of stolen artwork
Works by Matisse, Picasso and Monet were among paintings taken from a Dutch museum
Six people have been charged in Romania in connection with the theft last year
There are traces of pigments in the ashes from the stove of one of those charged, official says
(CNN) -- Ashes found in the stove of a Romanian home have become the focus of investigations into the theft of seven valuable paintings by artists including Picasso, Matisse and Monet -- amid fears they may have gone up in smoke.
Experts from Romania's National History Museum have been analyzing the ashes for traces of paint and other chemicals that would confirm whether the works stolen last year from a Dutch museum have been destroyed.
The ashes come from the stove of one of the people indicted in the case, Ernest Oberlander-Tarnoveanu, general director of Romania's National History Museum said Thursday.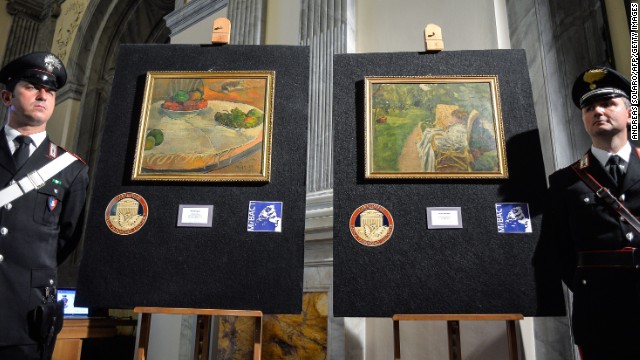 Italy's Culture Ministry unveils two paintings by the French artists Paul Gauguin and Pierre Bonnard on Tuesday, April 2. The paintings, worth millions of euros, were stolen from a family house in London in 1970, abandoned on a train and then later sold at a lost-property auction, where a factory worker paid 45,000 Italian lire for them -- roughly equivalent to 22 euros ($30).
A Renoir painting finished in the 1800s, loaned to a museum, reported stolen in 1951 and then bought at a flea market in 2010 has to be returned to the museum, a judge ruled January 10. The 5½-by-9-inch painting, titled "Landscape on the Banks of the Seine," was bought for $7 at a flea market by a Virginia woman. The estimated value is between $75,000 and $100,000.
Seven famous paintings were stolen from the Kunsthal Museum in Rotterdam, Netherlands, in 2012, including Claude Monet's "Charing Cross Bridge, London." The paintings, in oil and watercolor, include Pablo Picasso's "Harlequin Head," Henri Matisse's "Reading Girl in White and Yellow," Lucian Freud's "Woman with Eyes Closed" and Claude Monet's "Waterloo Bridge," seen here. Works by Gauguin and Meyer de Haan were also taken.
Eight months after Salvador Dali's "Cartel de Don Juan Tenorio" was stolen in a New York gallery, a Greek national was indicted on a grand larceny charge in 2013.
In 1473, Hans Memling's "The Last Judgment" was stolen by pirates and became the first documented art theft.
Adam Worth, the inspiration for Sir Arthur Conan Doyle's diabolical character Moriarty, stole "Georgiana, Duchess of Devonshire," painted by Thomas Gainsborough in 1876.
In 1911, Leonardo Da Vinci's "Mona Lisa" was stolen from the Louvre by an Italian who had been a handyman for the museum.
Among their many crimes, the Nazis plundered precious artworks as they gained power during World War II. "Adele Bloch-Bauer I," by Austrian artist Gustav Klimt, was confiscated from the owner when he fled from Austria.
Many works of art that were taken by the Nazis were never recovered. Others were returned after years of legal battles. "Christ Carrying the Cross," by Italian artist Girolamo de' Romani, was returned to his family in 2012.
"The Scream" was one of two Edvard Munch paintings that were stolen from the Munch Museum in Oslo, Norway, in 2004.
In 2007, Pablo Picasso's oil painting ''Portrait of Suzanne Bloch" was taken from the Sao Paulo Museum of Art. It was recovered two years later.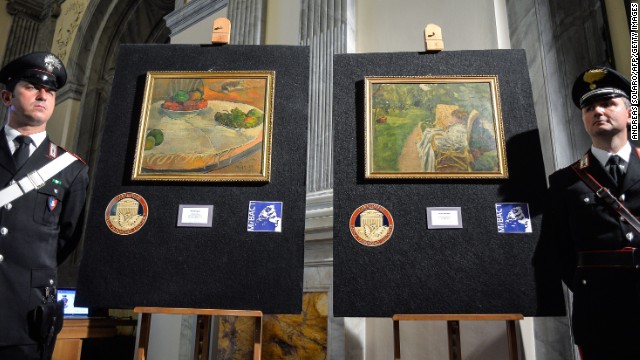 Photos: Notorious art heists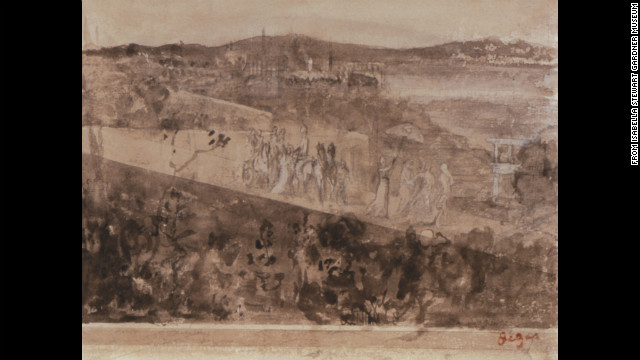 On March 18, 1990, a pair of thieves disguised as Boston police officers entered the Isabella Stewart Gardner Museum and stole 13 priceless works of art. Twelve of the 13 pieces stolen are included in this gallery. Here you see one of five "Gouache" drawings by Edgar Degas.
Upon entering, the intruders handcuffed the security guards, bound them with duct tape and left them in the basement, authorities said at the time. Pictured here is another of Degas' "Gouache" drawings.
In less than 90 minutes, the bandits went through the museum's Dutch Room on the second floor and stole three Rembrandts, including the Dutch artist's only seascape, "Storm on the Sea of Galilee," along with Vermeer's "The Concert," five Degas drawings and other items, according to the museum's website. Pictured here: a third of Degas' "Gouache" drawings.
Pictured here: a fourth of Degas' "Gouache" drawings.
The fifth of Degas' "Gouache" drawings.
"Landscape with an Obelisk" by Govaert Flinck
Finial in the form of an eagle, gilt metal (bronze), French
"A Lady and Gentleman in Black" by Rembrandt
"Self-Portrait" by Rembrandt
"The Storm on the Sea of Galilee," the only seasscape painted by Rembrandt.
Chinese bronze beaker or Ku, A Chinese, Shang Dynasty, 1200-1100 B.C.ancient bronze beaker.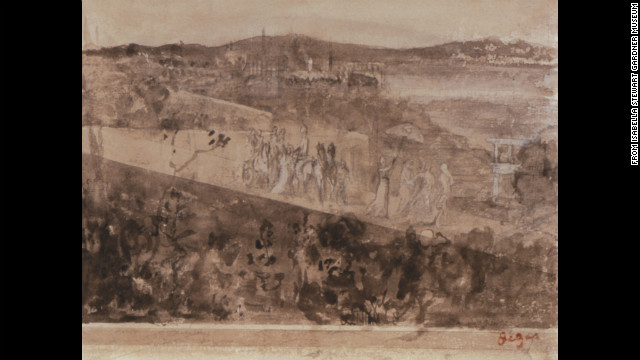 The search for stolen masterpieces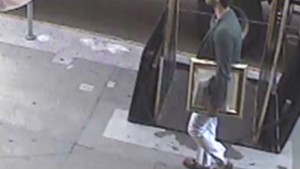 Thief gets away with $200,000 Picasso
"Works of art and paintings have been burned and there are traces of typical red, yellow and green pigments," he told CNN affiliate ProTV.
But it's not yet confirmed whether these traces are all that remains of the stolen artwork.
Six people have been charged by the Romanian public prosecutor's office in connection with the theft from the Kunsthal museum in the Dutch city of Rotterdam on the night of October 15 last year.
Three men, Radu Dogaru, Darie Eugen and Adrian Procop, are charged with robbery counts.
A woman, Olga Dogaru, is accused of complicity in the crime by transporting and hiding the stolen artwork, the prosecutor's office said.
Two other defendants are accused of helping the alleged thieves by trying to value or sell the paintings.
The paintings, in oil and watercolor, include Pablo Picasso's "Harlequin Head," Henri Matisse's "Reading Girl in White and Yellow," Claude Monet's Waterloo Bridge" and "Charing Cross Bridge," and "Woman with Eyes Closed" by Lucian Freud. Works by Gauguin and Meyer de Haan were also taken.
The loss resulting from the theft is estimated at €18 million, the prosecutor's office said.