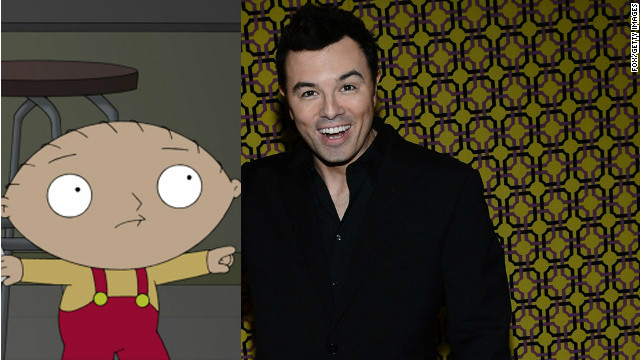 Between kicking off this past season of "Saturday Night Live" and hosting this year's Oscars, "Family Guy" creator Seth MacFarlane is everywhere. (His recent hit movie "Ted" didn't hurt either).
Tom Kenny, another veteran voice actor, hit the big time in 1999 with the role of "SpongeBob Squarepants," which remains one of the most popular cable series of all time. The Nickelodeon cartoon is still going strong.
H. Jon Benjamin has one of the most distinctive voices, going back to the low-budget series, "Home Movies." He has gone on to bigger things as the title characters in two critically-acclaimed shows, "Bob's Burgers" and "Archer."
Rob Paulsen has been not one, but two "Teenage Mutant Ninja Turtles." In the 1980s, he was Raphael, and he's now playing Donatello on the Nickelodeon series. He was also two of the main characters on that 1990s favorite, "Animaniacs." He played Pinky, also on the show "Pinky and the Brain," and Wakko Warner -- just ask him to sing the "Geography Song."
These guys are responsible for some of the most enduring animated characters on television today. From Fox to Comedy Central, "Futurama" - now in its final season - has kept audiences rolling. Meet, from left to right, Maurice LaMarche (Kif Kroker), Billy West (Fry, Professor Farnsworth, Dr. Zoidberg), and John DiMaggio (Bender).
Yuri Lowenthal, a veteran on English dubbing work for Japanese anime, is perhaps best known as "Ben 10." He also bears a striking resemblance to the popular Cartoon Network character. (Cartoon Network is a Time Warner company, as is CNN.)
Larry Kenney is the booming voice who got kids' imaginations going by exclaiming, "Thundercats, ho!" Yes, he was Lion-O on the original 1980s "Thundercats."
Nancy Cartwright has spent well over two decades as a 10-year-old boy. She is the voice that launched oodles of merchandise as Bart Simpson of the long-running "Simpsons."
Jim Cummings has been a denizen of the Hundred Acre Woods for almost a quarter century. He is the third actor to portray Winnie the Pooh in the various Disney films and cartoon series, following Sterling Holloway and Hal Smith. He is also the current voice of Tigger. On the Warner Bros. side of things, he has played the Tasmanian Devil for many years 1990s cartoon fans will remember him as Darkwing Duck.
Cree Summer may be recognizable for her role as Freddie on "A Different World," but her voice was already famous. She played Penny, the niece of "Inspector Gadget" as a teenager. Her unique voice could also be heard as Elmyra on "Tiny Toon Adventures."
Optimus Prime and Megatron, the yin and yang of the "Transformers" franchise, have sold millions of toys for nearly 30 years, not to mention those blockbuster movies. Peter Cullen, left, has been the instantly recognizable voice of Optimus for almost all of those years. Frank Welker -- a veteran of hundreds of voice roles -- recently returned to the part of Megatron on the animated series, "Transformers Prime," co-starring with his old friend Cullen.
Paige O'Hara and Robbie Benson led the cast of the first animated film ever nominated for Best Picture, "Beauty and the Beast." They have returned to their roles as Belle and the Beast in various Disney productions many times since.
The faces behind famous voices
The faces behind famous voices
The faces behind famous voices
The faces behind famous voices
The faces behind famous voices
The faces behind famous voices
The faces behind famous voices
The faces behind famous voices
The faces behind famous voices
The faces behind famous voices
The faces behind famous voices
The faces behind famous voices
STORY HIGHLIGHTS
Voice actors are treated as big celebrities at events like Comic-Con, but less so otherwise
The new documentary "I Know That Voice" sets out to acknowledge the work
John DiMaggio ('Futurama') laments the rise in big stars doing voices
Still, there's plenty of work to go around, DiMaggio says
(CNN) -- They are the famous voices. The actors whose names and faces you may not know -- but they're aiming to change that.
Every July, at San Diego Comic-Con, voice actors enjoy major celebrity status along with A-list stars who do on-camera acting. It's a welcome change for the never-seen actors who may usually go unnoticed.
Following CNN's 2012 interviews with several voice actors, John DiMaggio (best known as Bender on "Futurama" and Jake on "Adventure Time") had been finishing work on a documentary that sought to pay tribute to those unsung famous voices behind animated icons.
"I Know That Voice," is set to make a splash with a Comic-Con panel Thursday, and features interviews with multiple generations of voice-over artists including Tom Kenny (SpongeBob Squarepants) and 95-year-old June Foray (Rocky the Flying Squirrel).
CNN recently spoke with DiMaggio, and the film's director Lawrence Shapiro, as well as veteran voice actress Tara Strong from the new animated series "Teen Titans Go!" Strong is also known for her work on "Rugrats," "Powerpuff Girls," and "My Little Pony: Friendship is Magic."
("Adventure Time," "Powerpuff Girls" and "Teen Titans Go!" all air on Cartoon Network which, like CNN, is a subsidiary of Time Warner).
Comic Con 2013: What we can't wait to see
CNN: Where did the idea for this documentary originate?
John DiMaggio: Larry [Shapiro] and I were in Amsterdam for a thing we've been doing for a long time called "Jam in the 'Dam." We'd just been talking about stuff we wanted to do and Larry said we should do something about voiceover. "I Know That Voice" came from that.
Shapiro: You'd see people enjoy John on one level as an emcee, then he would bust out a voice like Bender and you'd see everyone's jaw drop.
DiMaggio: I got a bunch of people I work with on a regular basis to come talk to us. I owe a lot of people a lot of favors now, so I'm screwed.
I kind of wanted to make a valentine to the folks I work with, and give a little face-time to these folks who entertain so many people all of the time and don't really get credit.
It is a close-knit group of people, and it's a group of actors that really look out for each other. It's a competitive industry and these people are the least competitive and some of the most talented. It's just a really good group of people and that's what we wanted to show in the film.
Strong: We all know each other and we see each other wherever we go. It's usually the same 10 or 20 people on every show at a time. The nice thing about the voice acting community is there's this camaraderie, we know there's work for everyone. You don't get the same sort of cattiness that you'd get on camera. It's not about what you look like. I'm pretty amazed by voice actors every day.
CNN: How often do you get recognized?
DiMaggio: People are starting to recognize me at these conventions, but as soon as I walk away from the convention, people don't really know who I am, which is great because I love flying under the radar.
Strong: Anytime around the conventions, we're suddenly superstars.
DiMaggio: You get these more mainstream projects and suddenly you're walking down the street and someone says, "Hey man you do that voice!" That's a strange thing. I didn't get into this business to be famous; I got into this to work.
CNN: Do you ever breathe a sigh of relief when you see on-camera celebrities getting mobbed?
DiMaggio: Yeah, do I really want to have to invest in hand sanitizer? I'm good.
CNN: How easily can you call upon all of your various characters?
Strong: Once I create a character, they live up there in my head.
Some people say, "I want to get into voice acting because I have an interesting voice," but there's so much more to it than that, bringing characters to life through your acting abilities. I don't even know where they come from half the time, they're in there -- whenever it's time to play, they come out and they don't get mixed up.
CNN: What do you think of the rise of "name" actors getting involved in animated features after the success of "Aladdin," "Shrek" and "Madagascar?"
DiMaggio: That's a difficult call, from a producer's standpoint you want to bring in names just to create a buzz. Sure, but in the long run, kids don't really care who's doing the voice as long as it's good.
It's a constant dilemma that we in the trenches have to deal with all the time. They're starting to cast names a lot more in cartoons, because a lot of people are becoming hip to the job. "Really, I don't have to go to the makeup trailer and wait 10 hours to shoot one scene?" It's an interesting thing that names are coming out of the woodwork. But if you're a producer, if you want to make money, you gotta spend money, I suppose, in that vein. There's enough to go around I think.
Strong: I've been doing it for over 25 years and others doing it even longer. Sometimes they'll give millions of dollars to an on-camera celebrity who isn't as convincing as one of the voiceover greats. It's nice to see (voiceover actors) get more recognition, that's for sure.
Going to Comic-Con? Share your 15 second interviews