STORY HIGHLIGHTS
Harrison Ford appeared at Comic-Con to discuss his new film "Ender's Game"
The film is based on the award-winning 1985 novel by Orson Scott Card
Card has generated attention for his comments against same-sex marriage
Ford called his "Ender's Game" character "more complex" than "Star Wars" icon Han Solo
Editor's note: CNN.com is covering Comic-Con, the international gathering of geek and mainstream pop culture enthusiasts, through Sunday.
San Diego (CNN) -- For actor Harrison Ford, who is starring in a movie adaptation of Orson Scott Card's heralded and popular novel "Ender's Game," statements against same-sex marriage by the science-fiction author "are not an issue for me."
At a Comic-Con news conference on Thursday, Ford responded to concerns that Card's comments have overshadowed the production of the movie.
The author of the 1985 novel professed his opposition to same-sex marriage in 2009 when he joined he board of the National Organization for Marriage, which opposes same-sex unions.
Although Card released a statement declaring the same-sex marriage issue "moot" after last month's Supreme Court ruling striking down a key part of the Defense of Marriage Act, the film has continued to be plagued by controversy.
Ford told reporters that while he fundamentally disagrees with the author's stance, the film stands separate from the issue.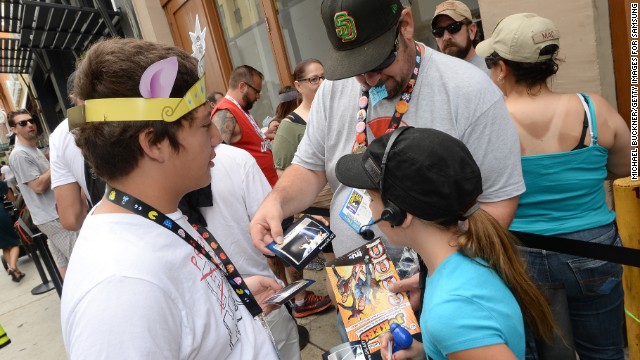 Attendees gather outside the Samsung Galaxy Experience on the final day of Comic-Con International in San Diego on Sunday, July 21. The convention is the largest comics and entertainment convention in North America and hosts celebrity panels, artist workshops, television and movie premieres as well as a trade show with booths from a variety of entertainment genres. See coverage of celebrity appearances at Comic-Con 2013.
A picture made using a long exposure shows people outside of the San Diego Convention Center on Saturday, July 20.
People gather around a dog dressed as Batman as it encounters a large, colorful creature on July 20.
A convention-goer dressed as Optimus Prime from the "Transformers" franchise walks outside of the convention center on July 20.
Gillian Owen, dressed as fictional comic book character Scarlet Witch, poses on a walkway during a photo shoot with another photographer on Day 4 of Comic-Con on July 20.
Barbers dressed as pirates shave customers at the Assassin's Creed IV Black Flag Jackdaw Ship on July 20.
Joy Donaldson, left, dressed as Wonder Woman, and Everleigh Reed as Supergirl, take a break outside of the convention on July 20.
Attendee Connor Sullivan, an artist and prop builder, dressed as a character inspired by the "My Little Pony" franchise during Comic-Con on Friday, July 19.
Beckham the dog enjoys the sights and sounds dressed in a Superman costume on July 19.
DanWill McCann chose to come to the convention dressed as a character from "Ghostbusters" on July 19.
Amanda King wears an Ice Queen costume on July 19.
An attendee in an elaborate costume makes his way through a crowd outside the San Diego Convention Center on July 19.
Fans dressed as "Star Wars" characters Princess Leia and Chewbacca walk down San Diego's 5th Avenue.
Three women dressed as characters from Cartoon Networks "Venture Bros." pose for a photo on July 19.
Attendee John Ash wears a Superman themed outfit as he attends the convention on July 19.
A zombie greets people as along 5th Avenue on July 19, in San Diego's Gaslamp Quarter during the convention.
Gabriel Rivera shows off a costume based on Ariel from Disney's "The Little Mermaid."
Fans play in Cartoon Network's "Regular Show" Regular Zone at The New Children's Museum on Thursday, July 18, during Comic-Con International in San Diego.
Actor, comedian and screenwriter Seth Green speaks with a fan at the "Robot Chicken" signing on July 18.
A fan dressed as Pops from Cartoon Network's "Regular Show" poses for a photo on July 18.
Attendees take part in Adult Swim's Fun House during Comic-Con on July 18.
Fans participate in Cartoon Network's "Regular Show" Regular Zone at The New Children's Museum on July 18.
The "Adventure Time" booth at Comic-Con International towers over crowds of guests on July 18.
Cosplayer Noel Victorio is dressed as Rorschach from the graphic novel "Watchmen" on July 18.
Myke Soler walks outside the San Diego Convention Center dressed as a "Star Wars" stormtrooper with his wife during Comic-Con International 2013 on Wednesday, July 17, in San Diego, California. Started in 1970, the event is estimated to bring well over 100,000 attendees.
Fans wait to walk through a giant display of Ice King character from "Adventure Time" at the Cartoon Network booth during the Preview Night event.
A zombie character poses at "The Walking Dead" booth.
The "Ender's Game" Experience Press Preview Night was sponsored by HGTV.
People wait in line outside the convention center hoping to get a volunteer pass.
Rachel Elsten, left, dressed in a Star Trek uniform and Chaka Cumberbatch, dressed as Wonder Woman, pose outside the convention center.
Debbie Moss dressed up as character "Jamie Jaren" from the 1980s animated TV series "Lazer Tag Academy" waits in line hoping to get a volunteer pass.
"The Walking Dead" Zombie Survival Machine is unveiled at the Future US Booth.
A person dressed as a character from "Thor: The Dark World" stands guard in front of a display for the movie.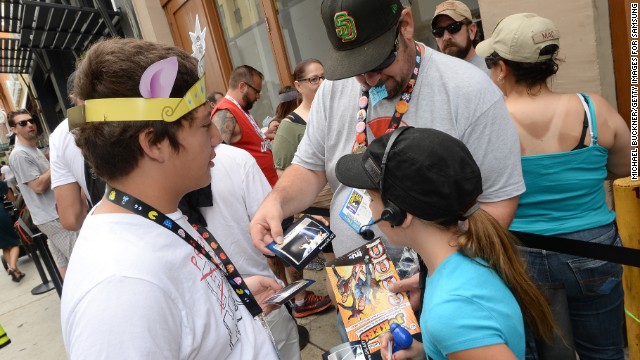 Photos: Sights from 2013 Comic-Con
"I think none of Mr. Card's concerns regarding the issues of gay marriage are part of the thematics of this film," Ford said. "He has written something that I think is of value to us all concerning moral responsibility. I think his views outside of those that we deal with in this film are not an issue for me to deal with and something I have really no opinion on.
Comic-Con: What we can't wait to see
"I am aware of his statements admitting that the question of gay marriage is a battle that he lost and he admits that he lost it. I think we all know that we've all won. That humanity has won. And I think that's the end of the story."
For Ford, "Ender's Game" addresses its own social and political concerns.
The film is set in the future, depicting a child military trained by the government to wage interplanetary war.
Ford plays Col. Hyrum Graff, a military commander who trains the titular character of Ender Wiggin, played by Asa Butterfield.
Even though the movie is set in a science fiction universe, Ford said he has found many contemporary comparisons to the moral concerns of the story.
"This movie is very prescient, and I think the novel was prescient in recognizing something that we now have as a reality in our lives, which is the ability to wage war at a distance," Ford said.
"So the morality of that military commander and the military command structure, the morality of a society which raises a military and wages war are the moral concerns of this film and something we are wrestling with daily.
"The issue of interplanetary warfare is the science fiction aspect of it, but what gives it such emotional tone and reality is that these are the concerns of our everyday lives.
"Drone warfare and the capacity that we have technologically is one part of the moral package. The other is the use of young people in the business of war, which has always historically been the case. Our youngest and fittest of our cultures have always been the ones who are first in line for warfare."
Share your mini-interviews from Comic-Con
Ford, who noted that it was particularly compelling to work with "talented young actors" such as Butterfield and Hailee Steinfeld, as well as Sir Ben Kingsley, was also asked whether he found any comparison between Col. Graff and his famed "Star Wars" character, Han Solo.
"Graff is a very complex character that's charged with an awesome responsibility," Ford said. "The complex moral issues are part of Graff's story. Ender doesn't really face so much the issues of morality until the end of the film until he knows what's happened to him.
"Graff is aware of his moral responsibilities all through his part of the story. I was just delighted to be involved in a film of such high ambition with such talented people. I think Graff is a much more complex character than Han Solo, which doesn't mean that I regret Han Solo."
"Ender's Game" is scheduled to be released in theaters on November 1. Summit, the film's studio, released a new viral clip from the film Wednesday in honor of its presence at Comic-Con, and they also premiered a trailer for the film at the fan panel that followed the news conference.