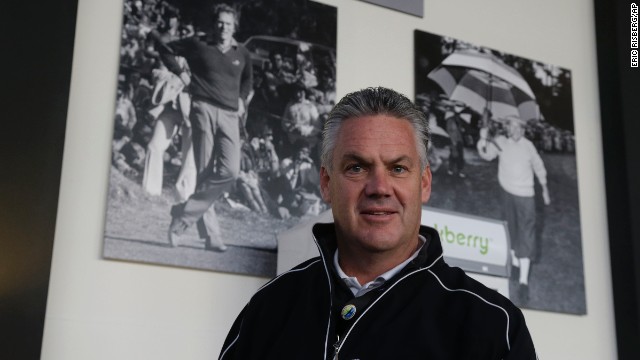 Clint Eastwood is clearly the man to have around in a crisis. The actor and filmmaker jumped to the rescue of Steve John, the AT&T Pebble Beach National Pro-Am director, after he began choking on a piece of cheese at a charity dinner on February 5. John is seen posing beneath photographs of Eastwood, left, and Bing Crosby two days later. It was another one of those rare moments when celebrities step out of their reality and into ours. Here are a few more:
After a successful online effort to make it happen,
Jon Bon Jovi walked Australian bride-to-be Branka Delic down the aisle before her wedding to Gonzalo Cladera at the Graceland Wedding Chapel in Las Vegas on October 12, 2013.
Despite being one of the biggest celebrities around, Tom Hanks has a reputation for being a man of the people. Case in point: The actor quietly reported to jury duty in Los Angeles before the case came to an abrupt end.
Dr. Mehmet Oz, left, and plumber David Justino assisted at the scene of a car accident when a woman was hit by a taxi in New York.
escape from their Jaguar
, which caught fire on the Ventura Freeway in Calabasas, California.
Dick Van Dyke, 87, and his wife, Arlene, were helped by good Samaritans to
Dave Matthews gave one of his fans the experience
of a lifetime when he hopped into the back of her car to catch a ride to his show after his bike broke down. The fan, Emily Kraus, has said how kind Matthews was, inviting her and her boyfriend to dinner and giving them front-row seats to the concert.
Jay-Z proved that he's not too famous for NYC's subway
when he took the train to a performance at Brooklyn's Barclays Center in 2012. The artist chatted with another artist, Ellen Grossman, along the way.
New York Post
that it was "one of the most inspiring speeches we've had."
Most celebrities will announce their presence months before they arrive anywhere, especially if it's an event that will bring them positive press. But when Tom Cruise gave a commencement speech to aspiring actors at Joanne Baron/D.W. Brown Studio in Santa Monica, California, on July 14, he showed up completely unannounced. One source told the
Craig Morgan jumped to the rescue
on June 9 when he saw a highway crash ahead of his bus in Humphreys County, Tennessee. Since Morgan is a trained EMT, he helped put out a small fire and get everyone involved to safety.
Country singer
John Malkovich came to a civilian's aid as well
. The actor was in Toronto when he rushed to the side of an older gentleman who'd fallen and had hit his head on a scaffolding pole. Malkovich kept the man and his wife calm until paramedics arrived, and made sure to apply pressure to the man's wound.
Not long before Craig Morgan's rescue work,
stayed by the side of a sick woman
who was lying on the ground and in need of care in June 2012. Lawrence remained put until paramedics arrived on the scene in Santa Monica, California.
Jennifer Lawrence, too, isn't too "Hollywood" to help out a stranger. The Oscar-winning actress
he stepped in to break up a fight
in the streets of New York City in August 2011. The next year,
he was also credited
with saving a woman from walking in front of a speeding car in the Big Apple.
Ryan Gosling made his fans swoon when
saved Malibu, California, resident Weston Masset
after his Ford Mustang flipped over. Armed with a crowbar and a fire extinguisher, Dempsey pulled the 17-year-old from the wreckage and waited with him until the paramedics arrived. He even called the kid's mother!
Patrick Dempsey came to a teen's rescue in April 2012. The "Grey's Anatomy" heartthrob
Hoffman worked quickly when he saw the 27-year-old man
"staggering and frothing at the mouth" before collapsing, according to the London Evening Standard. The actor called for help and made sure the man was on his back, staying with him until medical services arrived.
Dustin Hoffman was taking a walk through London's Hyde Park last year when he came to the rescue of a jogger who was having heart trouble.
Since her relocation to New York City, Katie Holmes has been seen out taking full advantage of the city that never sleeps. Aside from frequently strolling the streets of New York like a regular Joe, Holmes was also photographed
When stars get real
When stars get real
When stars get real
When stars get real
When stars get real
When stars get real
When stars get real
When stars get real
When stars get real
When stars get real
When stars get real
When stars get real
When stars get real
When stars get real
When stars get real
When stars get real