STORY HIGHLIGHTS
NEW: The IRS inspector general says liberal groups also were on target list
Committee Chairman Issa concedes there is no proof that IRS targeting was political
Issa is looking for a possible White House role in the targeting
Democratic Rep. Cummings says Issa is on a partisan witch hunt
Washington (CNN) -- The inspector general who reported Internal Revenue Service targeting of conservative groups said Thursday that he didn't have information until last week that the word "progressive" also was on a list of criteria for extra scrutiny of tax-exempt applications.
At a hearing of the House Oversight Committee, Treasury Inspector General for Tax Administration J. Russell George said the information that liberal groups also were probably targeted only came to him July 9.
His audit, released in May, cited criteria including "tea party" and other conservative-themed words or labels that were used to decide whether applicants for tax-exempt status should come under further review. Since then, an investigation by the panel turned up documents that showed IRS workers also were told to look for the liberal-themed label.
"They were not provided during our audit, even though similar documents that list quote 'tea party' unquote but not 'progressive' were," George said. "I am very disturbed that these documents were not provided to our auditors at the outset, and we are currently reviewing this issue."
The IRS targeting revealed by George's audit in May led to accusations by Republicans that the Obama administration could be using the tax agency's powers against political enemies. Democrats have rejected such allegations and insisted that liberal groups also were targeted.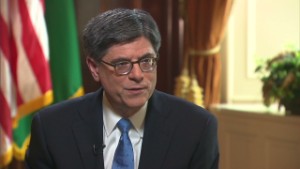 Jack Lew: IRS 'exercised bad judgment'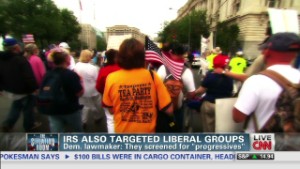 IRS also targeted liberal groups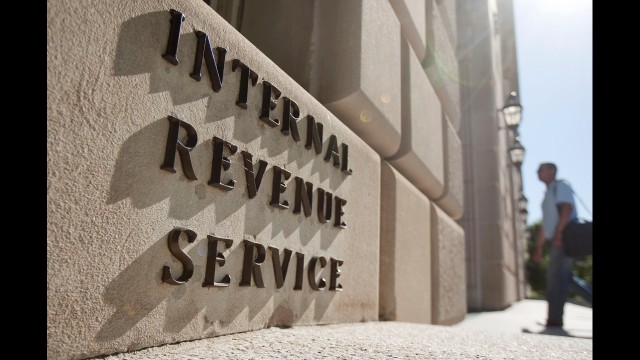 Officials in the Obama administration's Internal Revenue Service came under fire after revelations that workers in its Cincinnati office targeted for extra scrutiny tea party and conservative groups applying for 501(c)(4) tax-exempt status.
President Barack Obama and former Secretary of State Hillary Clinton came under intense scrutiny about the handling of the investigation of the attack on the U.S. Consulate in Benghazi, Libya, that led to the death of Ambassador Chris Stevens and three other embassy employees.
When President George W. Bush addressed the nation aboard the USS Abraham Lincoln in May of 2003, standing in front of a "Mission Accomplished" banner, few expected that the U.S. involvement in the deadly Iraq War would last for another eight years.
Former CIA covert agent Valerie Plame Wilson had her identity revealed by George W. Bush's Deputy Secretary of State Richard Armitage after her husband wrote a scathing op-ed in The New York Times.
President Bill Clinton was ultimately impeached by Congress after he lied under oath about an affair he had with White House intern Monica Lewinsky.
President George H. W. Bush pardoned former Defense Secretary Caspar W. Weinberger and five other officials who served under Ronald Reagan for their involvement in trading arms for hostages in Iran.
Senior officials working for President Ronald Reagan secretly arranged for the sale of military weapons to Iran with the hope that American hostages held there would be released and the proceeds could be used to fund the Contras fighting in a rebellion in Nicaragua -- a violation of the Boland Act that expressly prohibited U.S. funding of the rebels.
For 444 days -- ending in what would be the final year of his presidency -- President Jimmy Carter sought to gain the release of 52 Americans held hostage at the U.S. Embassy in Tehran, Iran.
In one of his first acts as president, Gerald Ford granted "a full, free and absolute pardon" to former President Richard Nixon for all crimes he may have committed while president, including his involvement in the Watergate scandal.
President Richard Nixon resigned his office after being implicated in a cover-up following a burglary at political offices in the Watergate building.
Spiro T. Agnew, who served as vice president under President Richard Nixon, resigned his position after being indicted for bribery charges, becoming the first U.S. vice president in history to resign under criminal charges.
The Pentagon Papers, a top-secret document that detailed U.S. decisions leading up to the Vietnam War, were leaked to The New York Times by military analyst Daniel Ellsberg. The Nixon administration obtained an injunction to stop their publication.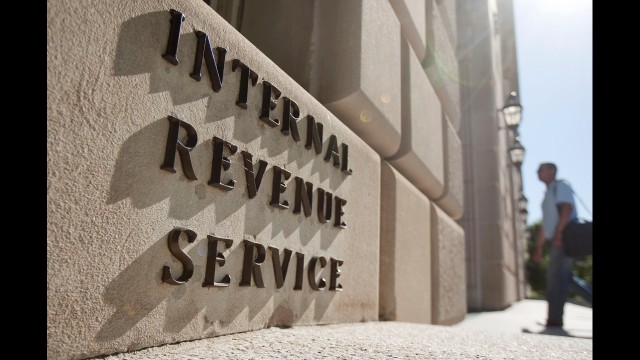 12 presidential scandals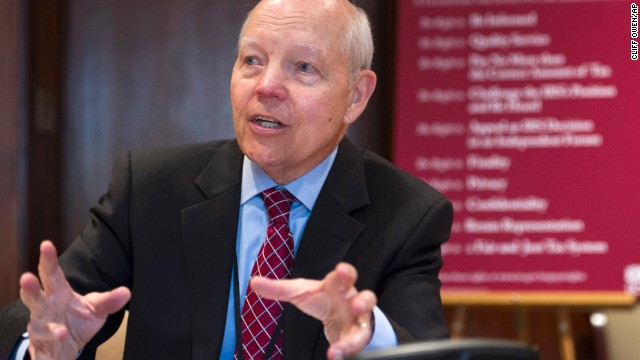 IRS Commissioner John Koskinen is facing tough questions about an unknown number of missing agency e-mails due to hard drive crashes. Republicans are especially interested in e-mails belonging to former IRS official Lois Lerner as lawmakers investigate the agency's targeting of conservative tax-exempt groups.
Lois Lerner is sworn in before testifying to the House Oversight and Government Reform Committee in May 2013. As the former IRS director of exempt organizations, Lerner headed the division involved in targeting conservative groups. She invoked her constitutional right against self-incrimination and refused to answer questions from the congressional committee.
Sens. Max Baucus, left, and Orrin Hatch, co-chairmen of the Senate Finance Committee, confer in Washington in May 2013, during a hearing regarding the targeting of conservative groups.
Former IRS Commissioner Douglas Shulman is sworn in prior to testifying before the Senate Finance Committee in May 2013. Shulman was at the helm of the IRS during most of the period that agents were targeting conservative groups. Shulman denied full awareness of what was happening at the time, saying subordinates failed to inform him of the details.
Rep. Darrell Issa, chairman of the House Oversight Committee, has held multiple hearings on the IRS controversy.
Steve Miller, former acting commissioner of the IRS, testifies before the House Ways and Means Committee in May 2013. The committee held a hearing to examine revelations that the IRS singled out for scrutiny conservative groups seeking tax-exempt status.
Rep. Dave Camp, chairman of the House Ways and Means Committee, is among the GOP members who have sought to depict the controversy as government gone wild, with the IRS abusing conservative groups and other political foes of the administration.
U.S. Attorney General Eric Holder testifies during a hearing of the House Judiciary Committee in May 2013. The day before, Holder announced a Justice Department investigation into any possible criminal wrongdoing by the IRS.
Former acting IRS Commissioner Daniel Werfel, left, testifies before the House Financial and General Government Subcommittee with Treasury Inspector General for Tax Administration J. Russell George, right, in June 2013.
Treasury Inspector General for Tax Administration J. Russell George is sworn in before testifying in Washington in May 2013. According to his report, the IRS developed and followed a faulty policy for determining whether applicants were engaged in political activities, which would disqualify the groups from receiving tax-exempt status.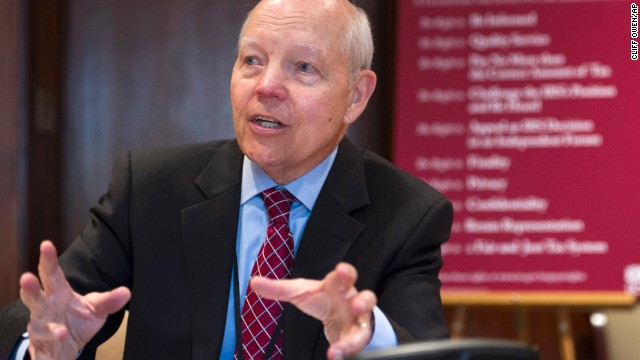 Photos: Key players in the IRS scandal
Last week, the top Democrat on the House committee questioned why George's audit had not included information on liberal groups being targeted. Thursday's hearing was the first time George issued a public response to the criticism by Rep. Elijah Cummings of Maryland.
"We just learned recently that name was being used by the Internal Revenue Service," George said of the term "progressive."
George's audit indicated that lax oversight at the IRS allowed for the singling out of some conservative groups starting in 2010 and continuing until last year.
In particular, the report said IRS workers in the tax-exempt unit used "Be on the Lookout" or BOLO lists of words such as "tea party" to assess what applicants came under extra scrutiny that delayed decisions for months and even years. However, it also said no evidence existed that the targeting was politically motivated.
George subsequently testified at previous hearings that he could not specifically identify whether any liberal groups were similarly targeted. However, Cummings said information made public last week showed that George, who was appointed in 2004 by GOP President George W. Bush, was aware that liberal groups also were targeted.
On Thursday, George and other officials in the inspector general's office said the audit focused on the BOLO list that included conservtive labels. George expressed frustration over how the issue has unfolded, at one point saying: "This is not a clean-cut matter. There's a lot going on here."
Earlier at Thursday's hearing, two career IRS employees shot down the central premise of committee Chairman Rep. Darrell Issa's argument that the agency's targeting scandal was politically motivated.
Asked repeatedly whether they knew of anyone at the IRS with political motives to obstruct applications for tax-exempt status by conservative groups, the pair told the panel "no."
Issa himself asked the question early on in the committee's third hearing on the issue, as did others from both parties amid bitter exchanges that focused attention on the political squabbling instead of the targeting cited by George's report.
Cummings challenged Issa on past comments suggesting that White House involvement in the targeting showed it was a weapon against political enemies of President Barack Obama.
"This is unsubstantiated nonsense," Cummings said, adding that it undermined the integrity of the committee.
For his part, Issa insisted that the testimony from IRS veterans Elizabeth Hofacre and Carter Hull established that IRS officials in Washington played a major role in the targeting. The problem was broader than the earlier claim by Democrats that it was limited to the agency's Cincinnati office that handles tax-exempt applications, Issa said.
"We can today debunk the accusation that Cincinnati was, in fact, the story and that it never went to Washington, which it clearly did," the California Republican said.
However, his case was deflated by the unwavering insistence by Hofacre and Hull that they were unaware of any political motivation in the targeting or any influence from outside the IRS on extra scrutiny that delayed responses to applications.
The hearing followed a series of accusatory memos and news releases by both sides as the IRS targeting issue descended further into a purely partisan spitting match.
Issa sent the IRS a letter Wednesday that made new demands for all communications on the matter between the tax agency, the Treasury Department and Obama's office since February 2010.
The letter, signed by Issa and other House Republicans, quoted excerpts of an interview with Hull that said the office of the IRS chief counsel -- who was appointed by Obama in 2009 -- played a role in scrutiny that delayed processing tax-exempt applications from some conservative groups.
"Its involvement and demands for information about political activity during the 2010 election cycle appears to have caused systematic delays in the processing of tea party applications," the GOP letter said.
In response, Cummings issued his own letter that accused Issa of dishonest intentions.
IRS interviews show no political bias, Democrats say
"Rather than describing the whole truth, your letter appears yet again to create a skewed account based on partial, incomplete, and cherry-picked information while disregarding key evidence that contradicts your political narrative," Cummings wrote.
A day earlier, Cummings released a memo that cited excerpts from committee interviews with 15 IRS workers that found no evidence of political bias or White House manipulation alleged by Republicans.
"Despite an extremely aggressive investigation involving thousands of documents and more than a dozen interviews of IRS employees, the overwhelming evidence before the committee reveals no political motivation or White House involvement in this process," said the memo written by the committee's Democratic staff.
Issa conceded in an opinion piece published Wednesday on the USA Today website that the two-month investigation has yet to find hard evidence of involvement in the targeting by anyone outside the IRS. He argued that the lack of proof does not mean the investigation should end.
"We candidly still don't have clear answers to many important questions and have yet to begin interviewing senior IRS officials," Issa wrote, saying "judgment should be withheld until all relevant witnesses are interviewed and all documents reviewed."
Dems highlight IRS targeting of other groups
In an editorial Thursday, USA Today questioned the value of the ongoing investigation.
"No political operatives from the Obama campaign or the White House have been linked to any of the IRS' activities," the editorial said. "What's more, it has become increasingly clear that confusion on the part of IRS employees, rather than a starkly political motive, was the primary cause of the delays."
At times during Thursday's hearing, Issa took a conciliatory stance, saying that any evidence of targeting -- whether of liberal or conservative groups -- should be investigated.
"If the facts are that people got abused for myriad reasons, we ought to know it," Issa said.
Both Issa and Cummings asked George to provide more information on groups targeted by the IRS, and the inspector general pledged to do so.
Cummings and other Democrats took aim Thursday at past statements by Issa and other Republicans, calling them blatantly political accusations with no basis in fact that went against the spirit of Issa's call at the start of Thursday's hearing to "reject, categorically, assumptions for which there is not evidence."
Rep. Gerald Connolly, a Virginia Democrat, called for Issa to retract his earlier comments that the targeting involved only conservative groups and was an effort to target Obama's political enemies.
Issa responded that tea party groups that came under extra scrutiny could be considered political enemies of the president and that he had yet to see hard evidence that liberal groups were targeted.
Conservative group takes IRS, top Obama officials to court
Republicans made a point Thursday of singling out White House spokesman Jay Carney for criticism, noting he previously said that the targeting involved rogue IRS employees in Cincinnati. Hofacre described herself as offended by the characterization of the issue as misdeeds at her level.
She and Hull said the delays in rendering final decisions on applications by conservative groups was because of a lack of guidance from superiors in Washington.
Under tax law and IRS regulations, groups that primarily engage in political activity are ineligible for tax-exempt status. The targeting occurred after the 2010 ruling by the Supreme Court that opened the political process to more private contributions from business and labor, leading to increased applications for tax-exempt status from groups involved in political activity.
In the memo Cummings made public Tuesday, IRS employees who identified themselves as Republicans, Democrats and independents said there was no political motivation or outside influence involved in the agency's handling of tax-exempt requests from groups with possible or likely political affiliations.
According to the memo, an IRS tax law specialist based in Washington who described herself as Republican said "no, not at all" when asked whether there was any evidence that the agency targeted Obama's political enemies.
"That's kind of laughable that people think that," the memo quoted the woman as saying.
Cummings and other Democrats complained Thursday that the other IRS employees who had been interviewed were not called as witnesses to the latest hearing.
'Angry' Obama announces IRS leader's ouster
CNN's Alan Silverleib contributed to this report.