STORY HIGHLIGHTS
Some columnists and others speak out in support of the Rolling Stone cover
Boston Mayor Thomas Menino urges the magazine to follow with stories on the survivors
"Music and terrorism don't mix!" one firm says
The image is one Tsarnaev himself posted online; it's been published widely before
New York (CNN) -- Accused Boston Marathon bomber Dzhokhar Tsarnaev's face on the cover of the latest Rolling Stone sparked a backlash against the magazine in social media and in boardrooms around the country.
"THE BOMBER," the cover reads. "How a popular, promising student was failed by his family, fell into radical Islam and became a monster."
The photo of a tousle-haired, thinly goateed Tsarnaev is one the suspect posted online himself and has been picked up by other outlets.
A groundswell of criticism objecting to its placement on Rolling Stone's cover emerged Wednesday on platforms such as Twitter and Facebook and among leaders in Boston, where the marathon bombings killed three people, wounded more than 200 and led to a frantic manhunt that left a police officer dead.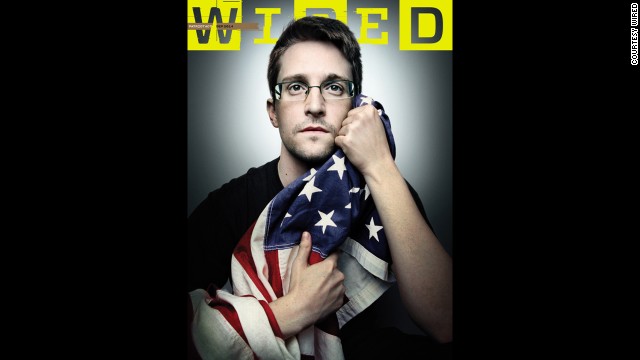 Wired magazine has published a cover photo of NSA leaker Edward Snowden holding the American flag in both of his hands, as if protecting it from the government. Click through the gallery to look at some other controversial magazine covers through the years:
The final season of "True Blood" premiered in June, and what better way to raise awareness than with a sexy magazine cover? Of course, it wasn't the first time the "True Blood" stars had stripped down.
From left, "True Blood" stars Alexander Skarsgard, Anna Paquin and Stephen Moyer appear naked on the September 2010 cover of Rolling Stone. Alan Ball, the creator of the hit HBO series, told the magazine: "To me, vampires are sex. I don't get a vampire story about abstinence." Fans were likely not taken aback by the nude threesome, but the cover had some people calling for it to be pulled from shelves.
Neil Patrick Harris decided to share his eight-pack with the world. The actor slimmed down for his role in the Broadway musical "Hedwig and the Angry Inch," and he displayed his hard work on the cover of Rolling Stone.
Paulina Gretzky's cover for the May issue of Golf Digest stirred controversy and left some LPGA pros feeling overlooked. The magazine explained that as the fiancee of PGA Tour pro Dustin Johnson, Gretzky is a major celebrity in the golf world and thereby qualifies the recognition of a cover story.
Bloomberg Businessweek's November 4 issue addressed the technical problems that riddled the HealthCare.gov website.
With hair covering a portion of her face, and a loose-fitting coat that reveals little skin, some critics said that Elle magazine's November cover of actress Melissa McCarthy was fat-shaming. In response, Elle posted a follow-up item on its website that read in part, "On all of our shoots, our stylists work with the stars to choose pieces they feel good in, and this is no different: Melissa loved this look, and is gorgeous on our cover."
New York City mayoral candidate Anthony Weiner found himself in hot water once again after admitting he had online relationships with three women after his 2011 resignation from Congress. The New Yorker magazine's cover in August 2013 depicted Weiner as King Kong, taking a photo with a cell phone atop the Empire State Building.
Rolling Stone magazine made headlines because of the photo of Boston Marathon bombing suspect Dzhokhar Tsarnaev on the cover of its July 19, 2013, issue. Three people died and more than 170 were injured in the explosions. The photograph originally was posted by Tsarnaev online and had previously circulated around the Internet. Public backlash was almost immediate. Rolling Stone defended itself, saying the cover story reflected its commitment to "serious and thoughtful coverage of the most important political and cultural issues of our day."
Time magazine's April 8, 2013, double cover drew controversy as the U.S. Supreme Court took up two cases centered on same-sex marriage laws.
Time magazine's May 21, 2012, cover caused a stir because of the female subject's mostly exposed breast and the age of her son.
Newsweek in May 2012 declared Barack Obama the "first gay president." The cover reflected the president's public support of same-sex marriage and came during his reelection campaign. Some media pundits and historians argued that James Buchanan was likely the first gay president.
A Bloomberg Businessweek cover in February 2012 addressed the merger between United and Continental airlines with one plane on top of the other and the headline "Let's Get It On." It was recognized by the American Society of Magazine Editors as the year's best cover among business and technology magazines.
The September 14, 2009, cover of Newsweek asked, "Is your baby racist?" Researchers at the University of Texas found that children as young as 6 months judge people based on the color of their skin. Among the story's critics were conservative radio talk show host Rush Limbaugh, who said: "Apparently being born white automatically makes you a racist -- which, to me, is just another example of what obsessive racists the leftists actually are."
The New Yorker's July 21, 2008, cover drew mostly outrage for its depiction of then-presidential candidate Barack Obama dressed like Osama bin Laden and Michelle Obama with an exaggerated Afro dressed in combat gear. The Obama campaign blasted the cover as "tasteless and insensitive," while the magazine said the cartoon was intended to satirize the "lies and misconceptions and distortions about the Obamas and their background and their politics" that were circulating four months before the election.
New York magazine featured Eliot Spitzer on its cover in March 2008, a month after he resigned as governor, with the word "brain" pointing to his crotch. Spitzer was stopped in his political tracks when his liaisons with high-paid escort Ashley Dupre surfaced, leading to his resignation. The magazine devoted three articles to dissecting his downfall.
The American Conservative portrayed Rudy Giuliani dressed in a uniform reminiscent of those worn by Hitler's SS on January 14, 2008, during the then-New York mayor's bid for the presidency. In a cover story, Glenn Greenwald wrote that Giuliani would be "an authoritarian president with the ultimate fantasy: the ability to wield more power than any other human being in the world, with the fewest real limits in modern American history." The cover was slammed by both conservative and liberal commentators.
In January 2007, Texas Monthly referenced an old issue of National Lampoon when they put an armed Dick Cheney on the cover with the headline: "If you don't buy this magazine, Dick Cheney will shoot you in the face." The then-vice president accidentally shot and wounded his friend while quail hunting in South Texas the previous year. The liberal news magazine was giving him its satirical "Bum Steer of the Year" award.
Some television networks pulled Ellen DeGeneres' show after Time released its April 17, 1997, cover revealing her sexual orientation.
The Economist's September 10, 1994, North American cover, which dealt with a surge in corporate mergers, raised eyebrows. "Camels do it, birds and bees do it, even companies do it: all over America, firms are falling in love and settling down together," Deputy Editor Emma Duncan wrote in an article about Economist covers that made news in and of themselves.
Time's June 27, 1994, cover featuring O.J. Simpson's mugshot was widely criticized because the image had been darkened compared with other magazine covers that had used the same image. The cover was viewed as racist because it portrayed Simpson as a darker-skinned man and gave him a more menacing demeanor. Time's managing editor at the time, James R. Gaines, released a statement saying that neither racial implications nor imputation of guilt were intended.
Janet Jackson was featured on the September 1993 cover of Rolling Stone with a pair of hands covering her breasts. The photograph came from a session Patrick Demarchelier shot while producing artwork for the cover of the sexually charged "Janet" album. "We had a choice of shooting her ourselves," Laurie Kratochvil, Rolling Stone's director of photography, told the Los Angeles Times. "But they offered us this and the image is very powerful." The provocative image shocked the world and established Jackson's status as a sex symbol.
In 1987, Newsweek caused a stir when it ran a cover of Vice President George H.W. Bush titled "Fighting the 'Wimp Factor." It was a year before the election that would promote Bush to the presidency, at a time when the country was debating his qualifications. The magazine reprised the "Wimp Factor" phrase in 2012, this time referring to GOP presidential nominee Mitt Romney.
A woman in a meat grinder was on the cover of Hustler in June 1978 alongside a quote from publisher Larry Flynt: "We will no longer hang women up like pieces of meat." It was his response to feminists' claim that women in pornography are treated like pieces of meat, and the gory cover led to more nationwide protests against the magazine.
In January 1973, the cover of humor magazine National Lampoon featured a dog with a revolver pointed at its head and the famous caption, "If You Don't Buy This Magazine, We'll Kill This Dog."
In October 1971, American model Darine Stern made history by becoming the first black woman to appear by herself on the cover of Playboy. It was considered controversial at a time when black women rarely graced the covers of major magazines. The iconic image went on to inspire Playboy's November 2009 cover that featured Marge Simpson as the magazine's first cartoon cover model.
Time magazine's April 8, 1966, cover, and a related article discussing the "death of God movement," drew immediate backlash.
The media played a large role in the American public's perception of the Vietnam War, and Life magazine's November 26, 1965, cover stirred the pot more by showing the "blunt reality of war."
Time declared Adolf Hitler its Man of the Year in the January 2, 1939, issue, just eight months before Germany's invasion of Poland triggered World War II. The issues for Time's Man of the Year, now known as Person of the Year, sometimes run into controversy, but the magazine has shown that its choice often is anything but an endorsement. In the case of Hitler, Time wrote that, among many other things, Hitler had "torn the Treaty of Versailles to shreds," and described the events leading up to the annexation of Czechoslovakia in 1938 as "ruthless" and "methodical."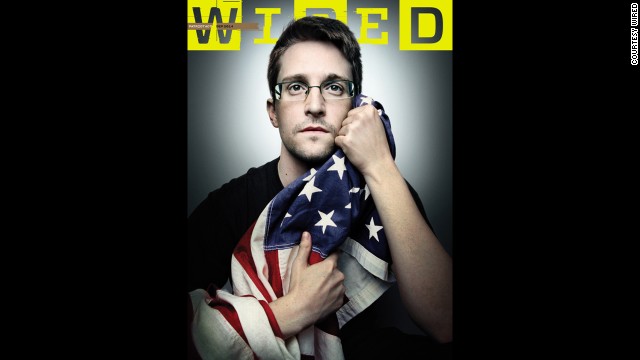 Controversial magazine covers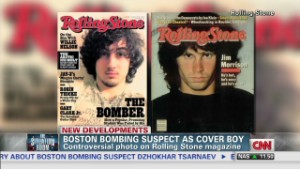 Retailers boycott Rolling Stone magazine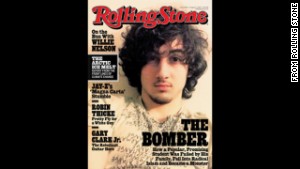 Rock star status for Boston suspect?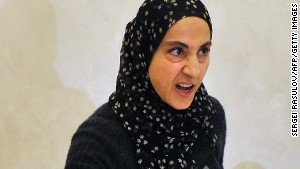 Tsarnaev's mother: 'My son is not guilty'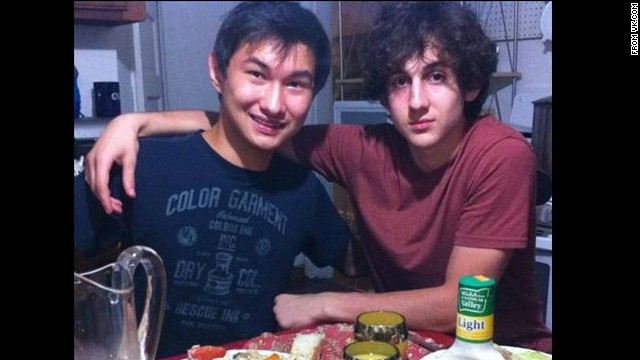 Dias Kadyrbayev, left, with Boston Marathon bombing suspect Dzhokhar Tsamaev in a picture taken from the social media site VK.com. Kadyrbayev is expected to plead guilty August 21 to charges in connection with removing a backpack and computer from Tsamaev's dorm room after the April 2013 bombing, according to a defense lawyer.
Bombing suspect Tamerlan Tsarnaev was killed during the shootout with police in Watertown, Massachusetts, on April 19, 2013. He is pictured here at the 2010 New England Golden Gloves.
Dzhokhar Tsarnaev was captured in a Boston suburb on April 19, 2013, after a manhunt that shut down the city. In July, he pleaded not guilty to killing four people and wounding more than 200.
From left, Azamat Tazhayakov and Dias Kadyrbayev went with Boston bombing suspect Dzhokhar Tsarnaev to Times Square in this photo taken from the social media site VK.com. A federal grand jury charged Tazhayakov and Kadyrbayev with obstructing justice and conspiracy to obstruct justice relating to the removal of a backpack from Tsarnaev's dorm room after the bombings. Tazhayakov was convicted of conspiracy and obstruction charges in July 2014. He faces up to 25 years in prison at his sentencing in October. He has filed an appeal.
Robel Phillipos, a U.S. citizen, was also arrested on May 1, 2013. He was charged with lying to federal agents about the bombing, according to court papers.
Phillipos, Tazhayakov and Kadyrbayev are accused of removing items from Tsarnaev's dorm room after the bombings on April 15, 2013. The items they took included a backpack containing fireworks that had been "opened and emptied of powder," according to the affidavit.
The FBI released photos and video on April 18, 2013, of two men identified as Suspect 1 and Suspect 2 in the deadly bombings at the Boston Marathon. They were later identified as Dzhokhar Tsarnaev, 19, and his brother Tamerlan Tsarnaev, 26.
Boston Police released surveillance images of Dzhokhar Tsarnaev at a convenience store on April 19, 2013.
The FBI tweeted this photo on April 19, 2013, and urged Watertown residents to stay indoors as they searched for the second suspect.
The FBI released photos and video on April 18, 2013, of two men it called suspects in the deadly bombings and pleaded for public help in identifying them. The men were photographed walking together near the finish line.
A man identified as Suspect 2 appeared in this photograph by bystander David Green, who took the photo after completing the Boston Marathon. Green submitted the photo to the FBI, he told Piers Morgan in an interview.
The man identified as Suspect 2 appears in a tighter crop of David Green's photo.
Authorities later identified Suspect 1 as Tamerlan Tsarnaev.
Suspect 2 was identified as Dzhokhar Tsarnaev.
Suspect 1 walks through the crowd.
Suspect 1 walks through the crowd.
Suspect 1 walks through the crowd.
Both suspects are seen walking through the crowd.
Suspect 2 walks through the crowd.
Suspect 2 walks through the crowd.
A photo released by the FBI highlights Suspect 2.
A photo released by the FBI highlights Suspect 2.
Suspect 2 walks through the crowd. See all photography related to the Boston bombings.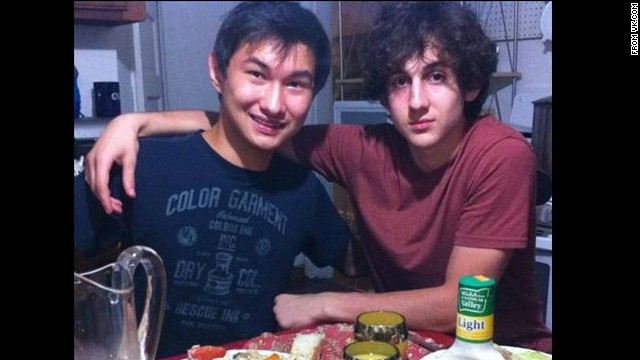 Photos: Suspects tied to Boston bombings
But some people defended the magazine's decision, saying it draws attention to the story of a young man who seemed an unlikely terrorist.
Ed Kelly, president of the Professional Fire Fighters of Massachusetts, called it "insulting." Using Tsarnaev's booking photo might have been one thing, but a photo that shows "the innocence of youth" gives the wrong message, Kelly told CNN.
"He gave up any innocence he had on April 15, when he took the life of an innocent child, two women and then went on to execute a police officer," Kelly said.
"What he did to a city, a country, we're never going to forgive him for it," Kelly said. "We're not going to cower from it. It disturbs us that our media chooses to celebrate it."
Three prominent New England-based businesses -- CVS pharmacies, Stop & Stop, and Tedeschi Food Shops -- heard the public outcry and announced they will not sell that edition, which will be on newsstands soon.
Rolling Stone's most controversial covers
"Music and terrorism don't mix!" the Tedeschi firm said on its Facebook page, which carries the cover image with a circle and a line crossed through it. One Facebook commenter said, "I'm done with Rolling Stone."
The 7-Eleven corporation said Thursday its nearly 1,700 company stores across the country won't sell the issue, and the corporation is encouraging its 5,900 franchise stores to follow suit, according to 7-Eleven spokeswoman Margaret Chabris. She said the convenience story chain will likely resume carrying Rolling Stone after the issue with Tsarnaev on the cover but "that hasn't been decided yet."
The Illinois-based drugstore chain Walgreens and Rite Aid, based in Pennsylvania, said they won't carry the issue, either.
And in a letter to Rolling Stone publisher Jann Wenner, Boston Mayor Thomas Menino urged the magazine to follow up with stories "on the brave and strong survivors" of the attacks and the doctors, nurses, friends and volunteers who helped them.
"The survivors of the Boston attacks deserve Rolling Stone cover stories, though I no longer feel that Rolling Stone deserves them," Menino wrote.
Did missed connections in murder case open door to Boston bombings?
Rolling Stone, critic defend cover
In a statement, the magazine said its thoughts were "always with" the bombing victims and their families.
"The cover story we are publishing this week falls within the traditions of journalism and Rolling Stone's long-standing commitment to serious and thoughtful coverage of the most important political and cultural issues of our day," it said. "The fact that Dzhokhar Tsarnaev is young, and in the same age group as many of our readers, makes it all the more important for us to examine the complexities of this issue and gain a more complete understanding of how a tragedy like this happens."
While primarily a music magazine, the journal also has forged a reputation for hard-hitting pieces on national affairs, politics and popular culture. For example, journalist Michael Hastings wrote a 2010 profile of Gen. Stanley McChrystal that led to the officer's abrupt retirement. In his profile, Hastings quoted McChrystal and his staff criticizing and mocking key administration officials.
Washington Post media critic Erik Wemple said Rolling Stone should be out defending its article, because it's "a pretty easy thing to defend."
"What you have here is a story about a guy who was very integrated and well-balanced, by all accounts, member of our society until something happened," Wemple said. "We don't know precisely what happened and that was the whole point of this Rolling Stone story -- to account for how he slid off the rails."
He called the companies that are pulling it from the racks "cowardly," noting that The New York Times used the same photo back in May. The photo doesn't glamorize Tsarnaev, he argued, but "humanizes" him for people "who want to see him as an animal from Day One."
"The facts are he wasn't an animal, at least to his peer group, for the longest time. They remember him as a dear friend," Wemple said. "That's a problem, because he was part of our society and he turned on it by all indications, or allegedly."
The article about the bombing suspect is a deeply researched account, the magazine said in a synopsis about the story, which it published online Wednesday afternoon. Among its revelations:
-- A public plea from his former wrestling coach may ultimately have convinced Tsarnaev to surrender when police surrounded the boat in which he was hiding.
-- In high school, Tsarnaev played down the fact that he was a Muslim. But he also took his religion seriously.
-- He once confided to a friend that he thought the September 11, 2001, terrorist attacks could be justified because of U.S. policies toward Muslim countries.
Parents of suspect share phone call with son
Slammed across social media
But Rhode Island-based CVS Caremark Corp. said its decision "is the right decision out of respect for the victims of the attack and their loved ones," company spokesman Michael DeAngelis told CNN.
Tedeschi Food Shops, based in Rockland, Massachusetts, said it supports the need to provide news but not "actions that serve to glorify the evil actions of anyone. With that being said, we will not be carrying this issue of Rolling Stone."
Stop & Shop, a chain of stores based in Quincy, Massachusetts, said it won't carry the latest issue "due to the public response and our customers feedback," spokeswoman Suzi Robinson said.
Richard "Dic" Donohue, a transit police officer injured in a shootout with the bombing suspects, also criticized the cover.
"The new cover of Rolling Stone has garnered much attention due to its sensationalized depiction of one of the alleged bombers. My family and I were personally affected by these individuals' actions. I cannot and do not condone the cover of the magazine," which is thoughtless at best, he said.
And the magazine's Facebook post of the cover image had received more than 16,000 comments by Wednesday evening.
"Oh look, Rolling Stone magazine is glamourizing terrorism. Awesome," Adrienne Graham commented on the magazine's Facebook page. "I will NOT be buying this issue, or any future issues."
Others expressed similar sentiments, and words such as "tasteless," "sickening" and "disgusting" flew around social media.
"What a slap in the face to the great city of Boston and the Marathon Bombing victims," commented Lindsey Williamson.
But on The New Yorker's website, a column by Ian Crouch speaks out against the rush to judgment and in favor of the magazine.
The "vitriol and closed-mindedness of the Web response to the Rolling Stone cover, before anyone had the chance to read the article itself, is an example of two of the ugly public outcomes of terrorism: hostility toward free expression, and to the collection and examination of factual evidence; and a kind of culture-wide self-censorship encouraged by tragedy, in which certain responses are deemed correct and anything else is dismissed as tasteless or out of bounds," he wrote.
The cover image was not engineered, he wrote. "What is so troubling about this image, and many of the others that have become available since April, is that Tsarnaev really does look like a rock star. In this way, the photograph on Rolling Stone is of a part with the often unexpected, and unsettling, portrait of Tsarnaev that has emerged over the past few months."
S.E. Cupp, who will co-host CNN's new "Crossfire" program, tweeted, "To me, seems @RollingStone isn't glamorizing terrorism, but proving that it can look innocent and young and attractive. Important lesson.
"I hope every young @RollingStone reader reads Tsarnaev story, realizes that radical Islam's here, can even infect a young Jim Morrison."
Tsarnaev supporters respond
The cover also brought out comments from the "Free Jahar" movement. (Dzhokhar is also spelled Jahar or Djahar.)
"#BoycottRollingStone calling Djahar a monster and stirring the pot even more shame on you! Innocent until PROVEN guilty," tweeted @Jahars_Tsarnaev.
Authorities accuse Tsarnaev and his brother Tamerlan of setting off a pair of bombs just seconds apart near the finish line of the packed Boston Marathon course on Boylston Street on April 15. Tamerlan was killed during the police pursuit three nights later; Dzhokhar was captured and charged with 30 federal counts stemming from the attack. He pleaded not guilty to the charges last week.
Woman gets new leg, and new life, after bombings
CNN's Sho Wills and Josh Levs contributed to this report.