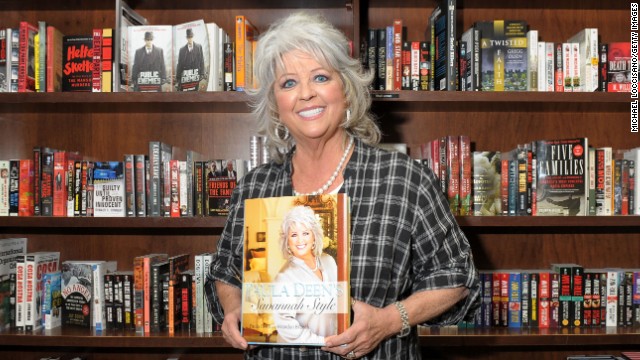 In the wake of the recent deposition in which Paula Deen admitted to using racially charged language, many sponsors and partners have re-evaluated their relationship with the embattled chef. Deen's 15th cookbook, "Paula Deen's New Testament: 250 Favorite Recipes, All Lightened Up," was set to release in October 2013. The book shot to the top of Amazon's pre-order list, but has now been
canceled by Ballantine Books
.
released a statement
saying in part: "I have had the pleasure of being allowed into so many homes across the country and meeting people who have shared with me the most touching and personal stories. ...This would not have been possible without the Food Network. Thank you again. Love and best dishes to all of ya'll."
Food Network was the first partner to drop Deen, announcing that after 11 years, it would not renew her contract when it expired at the end of the month. Deen had three shows on the network and
Smithfield Foods terminated its relationship with the TV chef
, saying: "Smithfield condemns the use of offensive and discriminatory language and behavior of any kind. ... Smithfield is determined to be an ethical food industry leader and it is important that our values and those of our spokespeople are properly aligned." Deen became a spokeswoman for Smithfield, the country's largest producer of pork products, in 2006.
came under fire from fans
when it was revealed that Deen had known of her own diabetes diagnosis while still promoting fatty, sugary recipes on air and in print. The company announced that it is suspending its relationship with Deen.
Deen was a paid spokeswoman for Novo Nordisk, the company that makes the diabetes drug Victoza. The relationship
Paula Deen's Kitchen
line of products, including cookware, bakeware and cookbooks. A spokesperson for the brand said: "Paula won't be appearing on any upcoming broadcasts, and we will phase out her product assortment on our online sales channels over the next few months."
QVC features the
Caesar's Entertainment Corporation, which operated four Paula Deen-branded restaurants at its casinos, announced that it is severing ties with the chef. Deen still maintains a flagship restaurant, The Lady & Sons, as well as Uncle Bubba's Oyster House (named for her brother Earl "Bubba" Hiers), both in Savannah, Georgia.
World's largest retailer Walmart cut ties with Deen, saying, "While we appreciate Paula's sincere apologies for statements she made in her past ... we have mutually decided that it is in the best interests of both parties to part ways at this time."
Sears Holding Corp., the parent company of both Sears and Kmart, said in a statement: "After careful consideration of all available information, we have made the decision to phase out all products tied to the brand. We will continue to evaluate the situation." Both stores carried cookware under the Deen brand.
stop carrying Paula Deen-branded
kitchen and cookware items and phase out existing inventory.
Home Depot and Target have both announced that they will
In 2008, B. Lloyd's nut company announced a multiyear partnership with Deen. The celebrity chef develops and promotes recipes for the brand.
Gobo Seafood sells Paula Deen Southern Dishes -- like Savannah crab cakes, seafood dip, seafood stews, crab stuffed seafood, fried shrimp, and catfish -- at grocery stores nationwide. The relationship began in 2009 and recipes are adapted from Deen's popular dishes at The Lady & Sons restaurant.
Y'all Come Inn
" on Tybee Island, near Savannah, Georgia. Perks include "VIP Guaranteed reservations" at Uncle Bubba's Oyster House and The Lady & Sons restaurant and a personalized Paula Deen cookbook.
Fans can enjoy a Paula Deen-themed vacation at the chef's beach house, the "
Fans can sail to the Caribbean on Celebrity Cruises' Reflection for a week-long jaunt with the embattled chef. Demand for Paula Deen Cruises has been so high, a second one has been added for 2014, according to Alice Travel, which hosts the venture.
Kaleen Rugs licensed a collection of Paula Deen Comfort Rugs, which debuted in 2008. The line has since been discontinued.
At the end of 2012, Serta discontinued its line of Paula Deen Home-branded mattresses.
For two seasons, Kraft Foods' "Real Women of Philadelphia" campaign employed Deen as the celebrity host of a contest for home cooks who shared cooking videos featuring the brand's signature cream cheese. Kraft has not worked with Deen since early 2012.
Paula Deen's empire
Paula Deen's empire
Paula Deen's empire
Paula Deen's empire
Paula Deen's empire
Paula Deen's empire
Paula Deen's empire
Paula Deen's empire
Paula Deen's empire
Paula Deen's empire
Paula Deen's empire
Paula Deen's empire
Paula Deen's empire
Paula Deen's empire
Paula Deen's empire
Paula Deen's empire
Paula Deen's empire
STORY HIGHLIGHTS
Fans are sending butter stick wrappers to Food Network and other companies that have dropped Paula Deen.
The Facebook page, "We Support Paula Deen" has more than 600,000 followers.
Fans are decorating butter wrappers and getting creative with boycott letters.
Fans say they support Deen and believe she should be forgiven for her mistakes.
(CNN) -- Some die-hard fans are getting all wrapped up in a campaign to defend Paula Deen.
They're sending cleaned and origami-folded butter wrappers to Food Network and other companies that dropped the popular chef and cookbook author in the wake of allegations of racism and sexual harassment. Deen later admitted to "of course" using the n-word. The wrappers are intended as signs of protest -- physical declarations of "we're sticking with Paula."
John Schmitt, a hotel night auditor in Indianapolis and the man behind the campaign, says he couldn't abide by the "betrayal" of Food Network, QVC and others. He felt he had to do something to express his disgust at the situation.
"She made a mistake 20 years ago," he says. "We all make mistakes. I've said things I regret."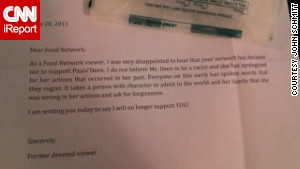 John Schmitt and other Paula Deen fans have been sending cleaned butter wrappers to companies that have dropped Deen. "Perhaps somebody somewhere in mailrooms is keeping track," Schmitt says.
First, he thought about mailing actual sticks of butter. Then he considered two things: the waste of butter (something true Deen fans could never forgive), and the physical ickiness of envelopes steeped in melted butter.
He opted for an empty wrapper on which he wrote in black block letters: "Where is Paula?" and began cooking up a plan.
Deen critics say credit is past due
Wrapping things up
Schmitt created the Facebook page, "We Support Paula Deen," on June 21 and announced the butter wrapper campaign the following week after Deen's now-famous interview with "Today" anchor Matt Lauer.
Deen fan page stats

Women: 82%
Men: 18%

Top five cities represented:
Atlanta; Houston; Jacksonville,
Florida; Savannah, Georgia;
Knoxville, Tennessee

Most popular age group:
35-44

Favorite Deen recipes: Ooey
Gooey Butter Cake, Three-
Ingredient Sour Cream Muffins
"People on the page are a lot like me," he says. "They support Paula and who she is as a person."
Schmitt and many others say they have sent wrappers to Food Network, the QVC, Wal-Mart, Ballantine Books and other companies that have dropped Deen. Food Network, QVC, Wal-Mart and Smithfield Foods declined to comment.
The idea for the butter wrapper campaign arose from Schmitt's desire to do something "tangible" as a show of support for Paula, something beyond Facebook posts.
Opinion: Half-baked apology is recipe for racial indigestion
Talking with iReporter Chris Ford inspired him to try something different.
"That's when I said, 'You know, this is actually perfect,'" Ford remembers. "'The butter itself is Paula, and these wrappers are void of butter just like these companies are void of Paula.' And [Schmitt] said, 'My God, that's it. That's our slogan.'"
Don't miss out on the conversation we're having at CNN Living.
Follow us on Twitter
and
Facebook
for the latest stories and tell us what's influencing your life.
The slogan that came out of it -- "A corporation without Paula Deen is like a butter wrapper without butter" -- inspired countless posters to pledge their own wrappers for Paula's benefit.
Soon the page was smothered in posts and comments from users, gushing over the cleverness of the campaign and pledging to send their own wrappers to the list of companies Schmitt had posted on the site.
"Perhaps somebody somewhere in mail rooms is keeping track," Schmitt says. "I would've loved to see their face for the first one. Like, 'Ew, is this butter?'"
Schmitt sent his in the first week of the campaign, but he hasn't received a formal response yet, just "canned answers" from Sears and Wal-Mart. He wasn't necessarily expecting one; the campaign, he says, is more intended for self-expression than for results.
Many, like Schmitt, say they weren't expecting personalized responses from Food Network, Smithfield's or any Deen-dropping company.
"I sent a butter wrapper knowing that the chuck-a-lucks down at the Food Network probably wouldn't even open it," wrote Liz Vannah, a supporter from Connecticut, in a Facebook message. "But I felt compelled to do something to show that this kind of railroading, for whatever hidden-agenda-ed reason it happened, is not looked kindly upon by the consuming public."
Comfort food, uncomfortable topics
Paula Love-fests
Schmitt says he's been a Paula Deen fan for years, mainly because it was something he shared with his late mother, Laura Schmitt. They both enjoyed watching the show and shared a deep belief in Deen's "goodness" -- a belief that has not been shaken, even following news of Deen's alleged racism.
"In a lot of ways, she reminds me of my mom -- this funny, gracious lady from a different era," he says. "My mom probably used that word and she wasn't a racist."
He points to Deen's work with the charitable Bag Lady Foundation and the sweet stories people have shared on the page as intrinsic signs of this goodness.
Joyce Dixon, a Deen fan from Claxton, Georgia, says Schmitt's page caught her eye because of its emphasis on personal stories. She joined as fan No. 102 and later became the volunteer manager of the site.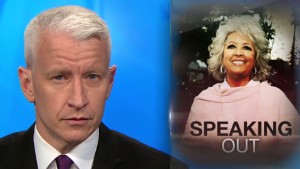 Paula Deen: 'I is what I is'
Dixon says she believes the page grew in popularity so quickly because people were attracted to the "lovey-doviness" of the stories, videos and photos shared by fans. Now, the page holds regular "Love-Fest" nights for followers to share their Deen stories.
Dixon has been a fan of Paula Deen since 1997, when she first visited Deen's Lady & Sons restaurant in Savannah, and there met Deen personally.
"She just had black hair with a bit of salt and pepper in it," Dixon remembers. "She wasn't a big personality or nothing. She was very involved with the customers."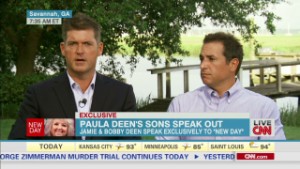 Deen brothers support Paula Deen
Dixon recalls how at the end of the meal, Deen took the time to sit down at their table to ask how Dixon and her friends had enjoyed themselves, even asking if there were any items they'd like to see on the menu.
"That's when she won me over: the one-on-one, the face time," Dixon says. "It's Business 101, and she's got it down."
Since then, Dixon says the characterization of Deen in the media is "so wrong."
"You know what? They're the ones that did this," Schmitt says, referring to the companies that dropped Deen. "People [visiting those pages] were angry and upset and saw something they could get behind."
Paula Deen: From the frying pan to the firestorm
Sticking with Paula
Deen supporters from the page argue this "punishment" has gone too far. They say Deen has become a scapegoat for media attention -- and Dixon says that is why she dedicates so many hours to a mere Facebook page. She wants to correct the public's perception of the former Food Network star.
"It wasn't about the n-word; it was about the extortion thing, about this one crazy employee," Dixon says. "My interest is in Paula's business. To me, it's about a self-made woman. You have to ask yourself, 'If she was a man, would this happen? If she was from the North would this happen?' And you know, I don't think it would."
Follow Julia Carpenter on Twitter and Google+ and keep up with CNN Living on Facebook.
Are you a current or former Paula Deen fan? Do you agree with how she's been treated by sponsors and the media? Weigh in with your comments below.