STORY HIGHLIGHTS
FIRST ON CNN: Juror B37 pushes for new laws
Zimmerman wanted to take the stand, a defense attorney says
Tom Joyner offers Rachel Jeantel a full ride to college
(CNN) -- The woman known as Juror B37 in the George Zimmerman trial released a statement exclusively to CNN Wednesday pushing for new laws.
"My prayers are with all those who have the influence and power to modify the laws that left me with no verdict option other than 'not guilty' in order to remain within the instructions. No other family should be forced to endure what the Martin family has endured," she wrote.
The juror, who was interviewed by CNN, said she will not grant other interviews and wants to get back to a normal life. "For reasons of my own, I needed to speak alone," she said.
She issued the statement after four other jurors said the opinions she expressed on "Anderson Cooper 360" were "her own, and not in any way representative" of all the jurors.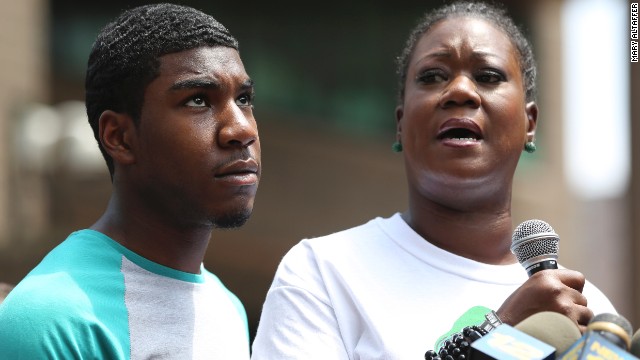 Sybrina Fulton, mother of Trayvon Martin, is joined by her son Jahvaris Fulton as she speaks to the crowd during a rally in New York City, Saturday, July 20. A jury in Florida acquitted Zimmerman of all charges related to the shooting death of Trayvon Martin. View photos of key moments from the trial.
Protesters attend a rally in support of Trayvon Martin, in New York on July 20. The Rev. Al Sharpton's National Action Network organized the "'Justice for Trayvon' 100 city vigil" which called supporters to gather in front of federal buildings around the country on July 20, as a continued protest against the George Zimmerman verdict.
The Rev. Al Sharpton speaks to the crowd during the rally in New York City on July 20.
Beyoncé, left, and Jay-Z, center, arrive at the rally in New York City on July 20.
Thousands of people gathered outside the Richard B. Russell Federal Building in downtown Atlanta as part of the network of vigils on July 20.
A chalk outline, a bag of Skittles, and a can of iced tea are seen during the vigil outside the E. Barrett Prettyman Federal Courthouse in Washington, D.C., on July 20.
Protesters march across the Brooklyn Bridge toward Brooklyn after attending the rally in Manhattan on July 20.
Tracy Martin, father of Trayvon Martin, poses for a photo with supporters wearing hoodies at the rally in Miami on July 20.
Protesters march through the streets of downtown Los Angeles, on Tuesday, July 16, during a demonstration of the George Zimmerman trial.
The Rev. Al Sharpton calls for a full federal investigation of the Martin killing, saying mere remarks by President Barack Obama and others weren't enough, outside the U.S. Justice Department in Washington on July 16.
A passenger takes a picture of protesters as he rides a city bus on July 16 in Los Angeles.
Protesters confront police officers on Monday, July 15, in Los Angeles.
Leon McCutchin participates in a candlelight vigil for Martin on July 15 in New York City.
A large group of demonstrators march through downtown Atlanta on July 15 during a protest of the acquittal of George Zimmerman.
Outside the Department of Justice in Washington on July 15, Rev. Anthony Evans, president of the National Black Church Initiative, leads a prayer during a demonstration asking for justice for Trayvon Martin.
Residents of Sanford, Florida, attend a prayer vigil to promote peace and unity in their city in the wake of the George Zimmerman trial on July 15.
About 500 demonstrators gather during a rally and march in support of Trayvon Martin on July 15 in Birmingham, Alabama.
A man argues with a police officer as supporters of Trayvon Martin march while blocking traffic in Union Square in New York on Sunday, July 14.
A man throws a trashcan during a protest in Oakland, California, on July 14.
People gather at a rally honoring Trayvon Martin at Union Square in New York on July 14.
Demonstrators march following a rally at the Torch of Freedom in downtown Miami on July 14.
Police hold positions on I-10 in Los Angeles. Protesters walked onto the freeway, stopping traffic, on July 14.
A protester shouts in the streets of New York on July 13.
A man in Los Angeles wears a shirt in support of Trayvon Martin on July 13.
Tanetta Foster cries in front of the courthouse on July 13 after hearing the verdict.
A Trayvon Martin supporter rallies outside the courthouse on July 13. After Martin's death, protesters started wearing hoodies in solidarity against racial profiling.
Demonstrators and members of the media gather outside of the courthouse on July 13. The jurors deliberated for more than 16 hours before delivering their verdict.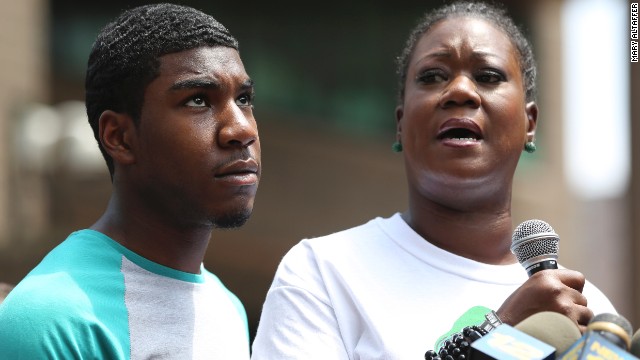 Photos: Reaction to Zimmerman verdict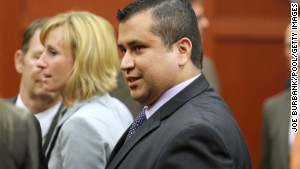 Juror explains how verdict was reached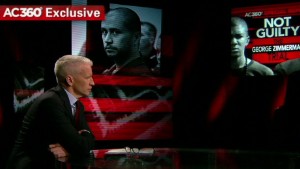 Juror: Zimmerman's actions justified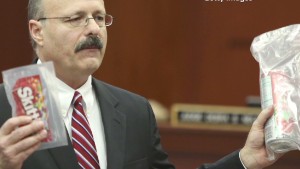 Juror: Skittles comparison 'ridiculous'
In her CNN interview, which aired in two parts Monday and Tuesday nights on "AC360," the juror said she believes Zimmerman didn't do anything unlawful and was "justified" in shooting 17-year-old Trayvon Martin.
The six-woman jury acquitted Zimmerman on Saturday night.
The juror said on "AC360" that she wanted to find Zimmerman guilty of "not using his senses," but added, "You can't charge him with anything because he didn't do anything unlawful."
Zimmerman "started the ball rolling" and could have avoided the situation by staying in his car, she said.
The neighborhood watch volunteer had called police about a suspicious person, and was advised by a 911 dispatcher not to pursue the person.
"But he wanted to do good. I think he had good in his heart, he just went overboard," the juror said.
Zimmerman's defense team argued that he shot Martin in an act of self-defense while being attacked.
Asked by CNN whether she thought Zimmerman was within his rights, the juror was unequivocal: "He was justified in shooting Trayvon Martin."
George Zimmerman was 'justified' in shooting Trayvon Martin, juror says
Nonetheless, Juror B37 said she cried before and after the verdict was read.
"I don't want people to think that we didn't think about this, and we didn't care about Trayvon Martin, because we did. We're very sad that it happened to him," she said.
To Martin's parents, the juror said she would tell them that she is terribly sorry for their loss.
"I feel bad that we can't give them the verdict that they wanted, but legally, we could not do that."
At one point, a literary agent said Juror B37 was planning to write a book about the trial, but she later decided not to.
The juror clarified that in her statement Wednesday, saying, "there was an agreement with a literary agent to explore the concept of a book which discussed the impact of sequestration on my perceptions of this serious case, while being compared to the perceptions of an attorney who was closely following the trial from outside the 'bubble.'
"The relationship with the agent ceased the moment I realized what had been occurring in the world during the weeks of my sequestration," she said.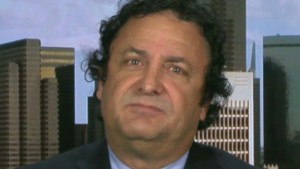 Jury expert: B37 had my highest rating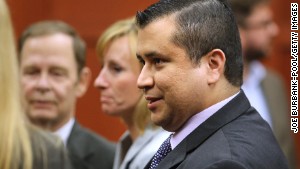 Was Zimmerman's jury motivated by race?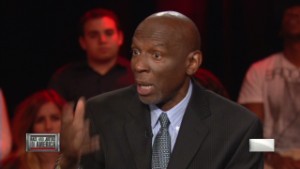 Martin case: What shall I tell my kids?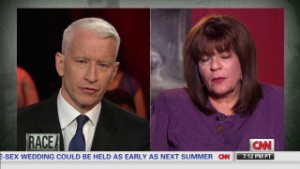 Corey: Juror selection due to seating
She added, "My prayers are with Trayvon's parents for their loss, as they have always been. I now wish for me and my family to recover from being selected for this jury and return to a normal life. God bless."
Free tuition for Rachel Jeantel
In another development related to the case, Tom Joyner, host of the nationally-syndicated "Tom Joyner Morning Show," offered to pay for Martin's friend, Rachel Jeantel, to attend a historically black college or university.
"Rachel, here's my offer to you: If you want to graduate from high school and go to an HBCU, even if it's not in Florida but especially Florida ... if you want to do that, I want to help you do that," Joyner said on his radio show Tuesday as he interviewed the young woman.
Jeantel, now 19, was on the phone with Martin moments before he was shot and was considered a key prosecution witness. But her two days of testimony were tense and combative at times, and at least one juror said she had difficulty understanding Jeantel.
"The reaction to her testimony was very troubling to me," Joyner told CNN's Piers Morgan. "People were criticizing her and her education and communication skills. And the way the lawyer was just beating her up on the stand just really moved me."
Jeantel, who said she might want to go into law enforcement, thanked Joyner.
Radio host offers Rachel Jeantel a full ride to college
Attorney: Zimmerman wanted to take the stand
Zimmerman wanted to testify at his trial, but his defense team cautioned against it, his attorney Mark O'Mara told HLN on Tuesday night.
"He wanted to tell that jury what he did, why he did it and what position that he was put in, why he had to react that way that he reacted," O'Mara said.
But putting a defendant on the stand "can do more harm than good," O'Mara said. And since the defense considered the state's case weak, the team chose not to take the risk.
"Had he not ever given statements, he would have testified without question. But with six statements already before the jury, courtesy of the state, there was just no reason to do anything else. ... I think if they had not put the statements in, that we would have had George testify."
Zimmerman is in hiding and "very worried," O'Mara said. "He is surprised that people didn't listen to the trial and understand that he did act in self-defense. I was a bit concerned or surprised because I would have thought that people would have listened more. But unfortunately, people who have made up their minds about this case one way or the other are not going to change their mind because of the facts. ... And unfortunately, it leads to more divide, rather than less, between us."
Holder mum on possible federal charges
The NAACP says more than 1 million people have signed an online petition demanding the government file federal civil rights charges against Zimmerman, but Attorney General Eric Holder hasn't said whether he will seek such charges.
In order to bring federal civil rights charges, the Justice Department would need to establish that a hate crime was committed -- a legal burden that Holder says would be a challenge to meet.
But Holder took aim at "stand your ground" laws like the one in Florida that have expanded the right to respond with deadly force if attacked outside one's home.
Those laws "try to fix something that was never broken" and "senselessly expand the concept of self-defense and sow dangerous conflict in our neighborhoods," he said in speech to the NAACP on Tuesday.
Holder repeated his pledge for a full investigation of Martin's death in the aftermath of Zimmerman's acquittal, saying the Justice Department "will continue to act in a manner that is consistent with the facts and the law. We will not be afraid."
Holder blasts 'stand your ground' after Zimmerman verdict
The Department of Justice opened an investigation into the Zimmerman case last year, and a statement from the agency n Sunday said it was ongoing and will now include evidence and testimony from the Florida trial.
Assistant Attorney General Tom Perez and other officials held a conference call Monday with civil rights leaders, a Justice Department official said Wednesday. Most of the participants were from Florida but national figures were also on the call; Holder was not.
The official said the call was fairly routine and was not meant to solicit tips for an investigation.
"Department officials had a listening session with members of the community who had expressed an interest in speaking with them," the official said.
"The speakers from the Civil Rights Division (of the Justice Department) welcomed participants to share their concerns or questions during the listening session and reiterated the department's statement from earlier this week on the open investigation and that nothing specific about the investigation would be shared until it is completed."
Stevie Wonder takes a stand
Musician Stevie Wonder says he will refuse to perform in Florida until the state repeals the "stand your ground" law.
"As a matter of fact, wherever I find that law exists, I will not perform in that state or in that part of the world," he told the audience at a Quebec concert Sunday night.
Florida is one of 22 states that have a version of the law, which permits the use of deadly force anywhere if a person not engaged in an unlawful activity is being attacked in a place he has a right to be and reasonably believes that his life and safety are in danger as a result of an overt act or perceived threat committed by someone else.
Stevie Wonder says he'll boycott 'stand your ground' states
Did race mean everything? Or nothing?
Opinions about the role race may or may not have played in Martin's death and Zimmerman's acquittal run the gamut.
Juror B37 said she didn't think Zimmerman racially profiled Martin and said the topic of race never came up during jury deliberations.
But Martin family attorney Ben Crump said a juror's relatability is key.
"I watched the interview ... and the biggest thing I took away from it -- she never ever saw Sybrina Fulton's child, Trayvon, as her child," Crump told CNN's Anderson Cooper on Tuesday night. "She never saw that that could have been her child."
"The conversation is evolving now because with this verdict, people are saying, 'Can people profile my child just walking home?'"
Criminal defense attorney Mark Geragos, who was not part of Zimmerman's legal team, said "race determines everything in the criminal justice system."
"Nobody thinks of themselves as a racist, and I'm not accusing anybody of being a racist. What I'm saying is race is the prism through which people see things," Geragos said.
"If you had a pretty white female as a victim that George Zimmerman had shot," the case would have been looked at differently, he said.
But Florida State Attorney Angela Corey has a different take.
"I speak as a prosecutor who's been doing this for 32 years, and I can tell you that when we analyze a case, it has nothing to do with the race of the defendant or the victim," she said.
Congressman: 'Get over it'
Rep. Andy Harris, R-Maryland, said those consumed by last week's verdict need to "get over it."
"You can't turn on any news program now without 90% of it taken up by the Zimmerman case," he said Tuesday in an interview with Washington radio station WMAL.
"You know, we missed the forest for the trees to a large extent with all the huge issues going on in the world," he continued, citing unrest in the Middle East.
"We're hung up on this one case where this one fellow was in fact found not guilty by a jury. That's the way the American law system works," Harris said. "Get over it."
GOP congressman on verdict: 'Get over it'
CNN's Tom Cohen, Ashley Killough, Kevin Liptak, Alan Duke and Kellie Keesee contributed to this report.
Watch Anderson Cooper 360° weeknights 8pm ET. For the latest from AC360° click here.