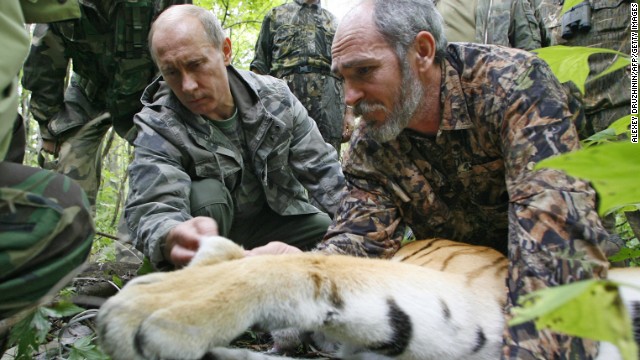 Assisted by a Russian scientist, Putin fixes a satellite transmitter to a tiger during his visit to the Ussuriysky forest reserve of the Russian Academy of Sciences in the Far East on August 31, 2008.
Russian President Vladimir Putin holds a Persian leopard cub at a breeding and rehabilitation center in the Black Sea resort of Sochi. Perhaps the most important vote in Russia's public selection of a new Olympic mascot was cast when Putin said he wanted a funky leopard to represent the 2014 Sochi Winter Games. Browse through for more photos of Putin trying his hand at different activities.
Putin skis at the Laura Cross Country and Biathlon Centre near Sochi on January 3.
Putin holds a pike he caught in the Siberian Tuva region of Russia on July 20, 2013.
Putin enjoys some fishing during his vacation to the Tuva region on July 20, 2013. For years, Russia's leader has cultivated a populist image in the Russian media.
Putin submerges on board Sea Explorer 5 bathyscaphe near the isle of Gogland in the Gulf of Finland on July 15, 2013.
Putin studies a crane during an experiment called Flight of Hope on September 5, 2012, in which he piloted a hang glider, aiming to lead the birds into flight. It's part of a project to save the rare species of crane.
Putin takes part in a training session for young ice hockey players before the "Golden Puck" youth tournament final in Moscow on April 15, 2011.
Putin rides a Harley-Davidson to an international biker convention in southern Ukraine on July 14, 2010.
The Russian president aims at a whale with an arbalest (crossbow) to take a piece of its skin for analysis at Olga Bay on August 25, 2010 .
A wetsuit-clad Putin embarks on a dive to an underwater archaeological site at Phanagoria on the Taman Peninsula on August 10, 2011.
Famed for his love of martial arts, Putin throws a competitor in a judo session at an athletics school in St. Petersburg on December 18, 2009.
Putin during his vacation in southern Siberia on August 3, 2009.
Putin swims the butterfly during his vacation outside the town of Kyzyl in southern Siberia on August 3, 2009.
Putin carries a hunting rifle in the Republic of Tuva on September 3, 2007.
A shirtless Putin fishing in the headwaters of the Yenisei River in the Republic of Tuva on August 13, 2007.
Putin in the cockpit of a Tupolev Tu-160 strategic bomber jet at a military airport on August 16, 2005, before his supersonic flight.
Cult of Putin
Cult of Putin
Cult of Putin
Cult of Putin
Cult of Putin
Cult of Putin
Cult of Putin
Cult of Putin
Cult of Putin
Cult of Putin
Cult of Putin
Cult of Putin
Cult of Putin
Photos: Cult of Putin
Cult of Putin
Cult of Putin
Cult of Putin