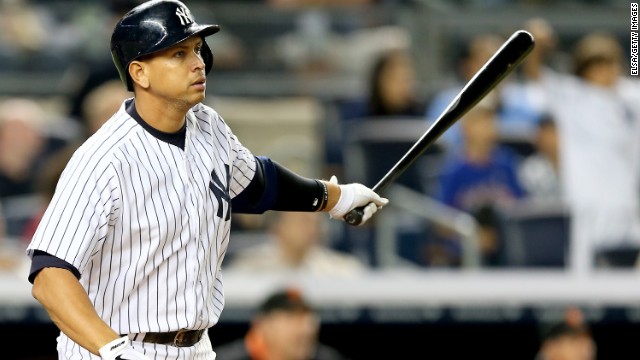 Alex Rodriguez is suspended for the 2014 regular and postseason over accusations of taking performance-enhancing drugs and having ties to the now-shuttered Biogenesis clinic in South Florida.
Barry Bonds is baseball's all-time home run leader, but some commentators say there should be an asterisk by his record. Though he's said he never knowingly used steroids, two San Francisco reporters wrote a book alleging he used performance-enhancing drugs. In 2007, he was indicted on charges of perjury and obstructing justice for allegedly lying to a grand jury investigating steroids and convicted of obstruction of justice. Here are some of Major League Baseball's biggest scandals:
Known as Rocket for his aggressive pitching style, Roger Clemens played pro ball for more than two decades, racking up seven Cy Young Awards. He left Major League Baseball under a cloud of steroid allegations, despite a court finding him not guilty of perjury in 2012 when he told Congress he never used the drugs.
After his former Texas Rangers teammate Jose Canseco accused him of using steroids, Rafael Palmeiro appeared before Congress in 2005 to deny the allegations. Later that year, he was suspended from baseball for testing positive for steroids. He maintains to this day he has never knowingly taken performance enhancers.
An Olympian and renowned long-ball hitter, Mark McGwire spent his entire career with the Oakland A's and St. Louis Cardinals, breaking the single-season home run record in 1998. In 2010, he admitted using steroids over the course of a decade but told Bob Costas in an interview he took them only for health reasons.
John Rocker's pitching career with the Atlanta Braves only lasted a few seasons because of his offensive comments about homosexuals, New Yorkers, Asian women and a black teammate in a Sports Illustrated article. Rocker faced large backlash and ultimately was cut by the Braves in 2001 and played for three other teams before calling it quits in 2003.
Cincinnati Reds owner Marge Schott faced lawsuits, fines from the MLB and suspensions during her career for her offhand comments and actions. Schott told ESPN in 1996 that "Hitler was good in the beginning, but he went too far." That comment drew a $25,000 fine and one-year suspension.
Former New York Yankees owner George Steinbrenner, center, was banned for life in 1990 for hiring a man to investigate Yankees outfielder Dave Winfield's background for any dirt. The ban was later reduced to a two-year suspension.
Cincinnati Reds switch-hitter Pete Rose was caught gambling on baseball games during the 1987 season. Fingerprints from betting slips and a handwriting expert's testimony ultimately led to Rose being banned from baseball.
Darryl Strawberry, right, was suspended multiple times throughout his career for cocaine possession and soliciting prostitutes. Strawberry released a book in which he claims that several players with the 1980s Mets committed the same offenses.
Pitcher Ferguson Jenkins was the first baseball player to be suspended for a drug-related offense. Ferguson was arrested in Toronto in 1980 for cocaine possession and promptly banned for life. However, the ban was lifted only a month later and he returned to the pitchers mound for the Chicago Cubs in 1982.
Gambler Arnold Rothstein was the financial backer accused of being behind the fixed 1919 World Series. Eight Chicago White Sox players were allegedly bribed to throw the game with money provided by Rothstein. He denied all allegations before a grand jury and was later exonerated of any wrongdoing. All eight players involved in the fix were banned for life.
Alex Rodriguez: Performance-enhancing drugs
Barry Bonds: Perjury indictment
Roger Clemens: Steroid allegations
Rafael Palmeiro: Steroid suspension
Mark McGwire: Steroids admission
John Rocker: Outrageous comments
Marge Schott: Hitler observation
George Steinbrenner: Dirty dealings
Pete Rose: Gambling on baseball
Darryl Strawberry: Cocaine, prostitutes
Ferguson Jenkins: First drug suspension
Chicago White Sox: The big fix
(CNN) -- Here's a look at the life of retired baseball player Barry Bonds, holder of Major League Baseball's all time home run record.
Personal: Birth date: July 24, 1964
Birth place: Riverside, California
Birth name: Barry Lamar Bonds
Father: Bobby Bonds, former major league baseball player and coach
Mother: Patricia (Howard) Bonds
Marriages: Elizabeth "Liz" (Watson) Bonds (January 10, 1998-2010, divorce); Susann "Sun" (Branco) Bonds (February 6, 1988-1995, divorce - annulled in 1997)
Children: with Elizabeth "Liz" (Watson) Bonds: Aisha Lynn, February 5, 1999; with Susann "Sun" (Branco) Bonds: Shikari, March 1991; Nikolai, December 18, 1989
Education: Attended Arizona State University, 1982-1985
Other Facts: Holds the major league baseball career home run record with 762.
Seven-time National League Most Valuable Player (a record) and 14-time All-Star.
Has broken multiple records in Major League Baseball including winning 12 Silver Slugger awards, most career walks, and most intentional walks.
Former MLB player Willie Mays is his godfather.
Named Player of the Decade (1990s) by The Sporting News.
Timeline: May 30, 1986 - Makes his Major League debut with the Pittsburgh Pirates.
1993 - First season with the San Francisco Giants.
1993 - Founds the Bonds Family Foundation, whose mission is to "encourage, promote and fund programs designed to improve the educational achievements, standard of living and quality of life conditions for African-American youth within the Bay Area community."
1994 - ESPY award for "Male Athlete of the Year."
1999 - Awarded the Philanthropist of the Year Award by the National Conference on Black Philanthropy.
2001 - Finishes the season with 73 home runs, a new MLB record.
2002 - Bonds carries the torch for the Winter Olympics in Salt Lake City, Utah.
December 4, 2003 - Bonds testifies to a grand jury that he had used a substance given to him by a trainer accused of distributing steroids, but that he (Bonds) did not know they were steroids.
July 4, 2004 - Becomes the all time leader in walks with 2,191.
September 17, 2004 - Hits his 700th home run.
November 15, 2004 - Is voted National League MVP for the seventh time, a record.
2005 - Bonds misses the entire 2005 MLB season recovering from knee surgery.
March 7, 2006 - The book, "Game of Shadows," alleges extensive steroid use by Barry Bonds beginning in 1998. Bonds denies the accusations.
March 24, 2006 - Bonds sues the authors of "Game of Shadows" to try to block them from making any money on the book, which his attorneys say is based on illegally obtained grand jury transcripts.
May 20, 2006 - Bonds hits his 714th home run, tying Babe Ruth for second place on the all time home run list.
May 28, 2006 - Bonds hits his 715th home run, passing Babe Ruth.
June 2, 2006 - Bonds requests and is granted dismissal of his lawsuit against the authors of the book, "Game of Shadows," as the authors have been subpoenaed to testify before by a federal grand jury regarding the 2003 BALCO court case documents they obtained.
September 23, 2006 - Bonds hits his 734th home run, beating Hank Aaron's National League home run record.
August 4, 2007 - Bonds hits his 755th home run, tying with Hank Aaron as the all time home run leader.
August 7, 2007 - Bonds hits his 756th home run, surpassing Hank Aaron as the all time home run leader.
September 21, 2007 - The San Francisco Giants announce they will not re-sign Bonds for the 2008 season.
November 15, 2007 - A federal jury indicts Bonds on perjury and obstruction of justice charges. The indictment is in connection to an investigation of the use of steroids in major league baseball.
December 7, 2007 - Bonds pleads not guilty to the charges of perjury and obstruction of justice and is released on $500,000 bond.
May 12, 2008 - Federal prosecutors file a superseding indictment against Bonds, charging him with 14 counts of lying to a grand jury and one count of obstruction when he denied knowingly using performance-enhancing drugs.
June 6, 2008 - Bonds is arraigned and pleads not guilty to all charges.
July 1, 2008 - Bonds 756th home run ball is received by the Hall of Fame with the addition of a carved asterisk from ball owner, Marc Ecko. Bonds is reported as saying he will not allow himself to be inducted if the asterisk ball is allowed to be put on display.
November 25, 2008 - A judge dismisses three of the perjury counts against Bonds.
January 21, 2011 - A federal judge announces that former teammates and retired baseball players will have to testify in Bond's upcoming perjury trial.
February 10, 2011 - Barry Bonds has the number of felony charges brought against him by federal prosecutors reduced from 11 to five.
March 21, 2011 - Bonds trial on perjury charges begins.
March 22, 2011 - Gary Anderson, Bonds' personal trainer, is found in civil contempt and taken into custody when he refuses to testify against Bonds.
April 13, 2011 - Bonds is convicted of one count of obstruction of justice. A mistrial is declared on three counts of perjury after jurors report they can't reach an agreement.
June 15, 2011 - Attorneys for Bonds file appeal motions to overturn his conviction, in U.S. District Court in San Francisco, California.
June 23, 2011 - U.S. District Court judge Susan Illston grants the prosecution's request to delay sentencing while they decide if they will retry Bonds on perjury charges.
August 26, 2011 - A judge rejects Bonds' bid to dismiss his conviction for obstruction of justice.
August 31, 2011 - Prosecutors decline to retry Bonds on perjury charges.
December 8, 2011 - Federal prosecutors recommend 15 months in prison for his obstruction of justice conviction.
December 16, 2011 - Bonds is sentenced to two years of probation and fined $4,000.
May 3, 2012 - Bonds files a brief with the Ninth U.S. Circuit Court of Appeals urging the court to overturn his obstruction of justice conviction.
February 13, 2013 - The Ninth U.S. Circuit Court of Appeals hears oral arguments in Bonds' case to overturn his obstruction of justice conviction
September 13, 2013 - The Ninth U.S. Circuit Court of Appeals upholds Bonds' conviction.
July 1, 2014 - The Ninth U.S. Circuit Court of Appeals issues an order to have Bonds' case reheard by a larger panel of judges.