Real Madrid named 'most valuable sports team'
updated 1:19 PM EDT, Mon July 15, 2013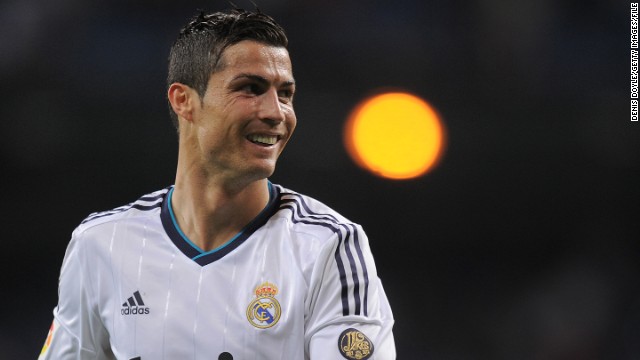 1. Real Madrid - $3.3 billion
2. Manchester United - $3.17 billion
3. Barcelona - $2.6 billion
4. New York Yankees - $2.3 billion
5. Dallas Cowboys - $2.1 billion
6. New England Patriots - $1.64 billion
7. Los Angeles Dodgers $1.62 billion
8. Washington Redskins - $1.6 billion
9. New York Giants - $1.47 billion
10. Arsenal - $1.33 billion
STORY HIGHLIGHTS
Forbes name Real Madrid the most valuable sports team in the world
The Spanish team has overtaken English club Manchester United
United sit second on the list, with Real's rivals Barcelona third
New York Yankees fourth on the list, Dallas Cowboys fifth
(CNN) -- Real Madrid have leapfrogged Manchester United as the most valuable sports team in the world, according to a list released by Forbes on Monday.
The nine-time European champions have risen to the top of the list, overtaking English Premier League team Manchester United, with the U.S. business magazine valuing Real at $3.3 billion.
Los Blancos' revenue of $650 million is the highest in sport, while the Spanish team's income of $134 million is second only to that of National Football League (NFL) franchise the Dallas Cowboys.
Read: Bayern the world's most valuable team?
Real's coffers have swelled thanks, in part, to a kit deal with German sports brand Adidas, worth $42 million per year, and a $39 million five-year sponsorship agreement with airline Emirates.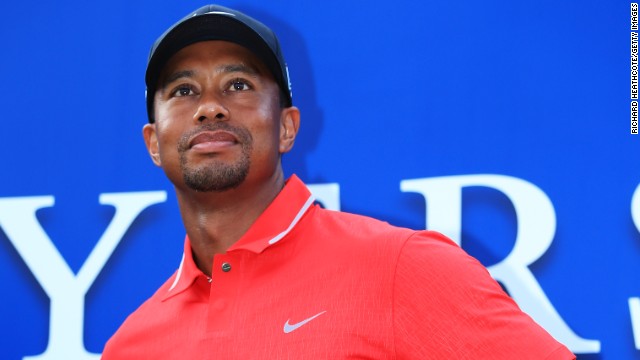 Golf's world No. 1 Tiger Woods has reclaimed his position as the world's highest-earning athlete, according to Forbes. The 14-time major winner picked up $13.1 million in salary/winnings in the 12 months to June 1, as well as $65 million from endorsements with companies such as Nike. Woods is thought to be close to resigning with the American sportswear giant.
The previous No. 1 Roger Federer pocketed $6.5 million from on-court success over the past 12 months. The tennis star's endorsements, which include deals with Nike, Rolex, Wilson and Credit Suisse, earned the 17-time grand slam winner $65 million.
Kobe Bryant of the Los Angeles Lakers is the highest-paid player in the NBA. His salary of $27.85 million is $7 million higher than any other player, and his jersey was the biggest seller overseas during the 2011-12 season.
Miami Heat's LeBron James is the toast of the NBA when it comes to endorsements, boasting deals with companies such as Nike, McDonald's, Coca Cola and Samsung earning him $42 million of his $59.8 million total.
Quarterback Drew Brees cashed in last July by signing a new five-year contract with the NFL's New Orleans Saints worth $100 million. Brees' new deal also came with a $37 million signing bonus.
Aaron Rodgers of the Green Bay Packers is the highest annual earner in the NFL. His five-year deal is worth $110 million.
Four-time major winner Phil Mickelson collected $44 million in endorsements over the last year, including deals with Callaway, Barclays and KPMG.
David Beckham recently called time on his playing career, but he is still the highest-earning footballer on the planet. The $5.2 million salary he received during his spell with Paris Saint-Germain, his final club, was donated to charity. The former England captain recently launched a clothing line with H & M.
Real Madrid's Cristiano Ronaldo earns half of his money from endorsements. This is thought to have prompted talks of a new contract with the Spanish club, with both parties unable to agree over Ronaldo's image rights. The Portuguese star currently splits his image rights 60-40, according to Forbes.
Barcelona star Lionel Messi is used to finishing top of the pile. But the four-time FIFA Ballon d'Or winner is the third-highest-earning footballer, with Adidas launching a signature line for the Argentine earlier this year.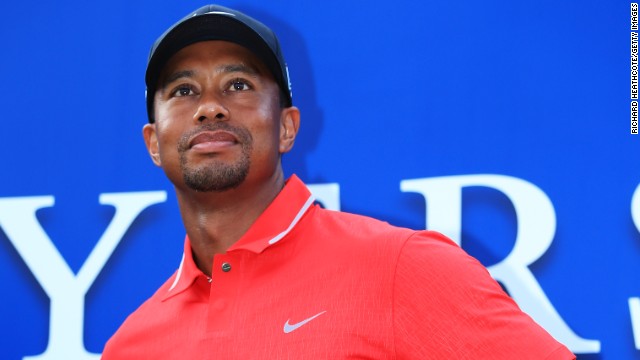 Tiger tops highest-paid athlete list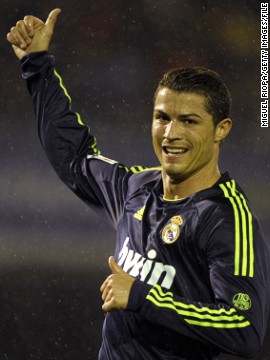 Real Madrid have usurped Manchester United as the world's most valuable soccer club according to Forbes. The Spanish giants, whose star player is Cristiano Ronaldo, increased their value by 76% over the past year to $3.3 billion.
Since Forbes started their study in 2004 this is the first time English Premier League club Manchester United have not appeared top. Despite bumper commercial deals with Chevrolet and Aon taking their value to $3.17bn they have to make do with second place.
Barcelona, who count arguably the world's best player Lionel Messi among their ranks, are third on the list, as they were in 2012. They almost doubled their value over the previous year -- the biggest rise out of any club in the top 20 -- to $2.6 billion.
Arsenal, who have qualified for the lucrative European Champions League for 15 successive seasons, remain fourth on Forbes' list. Led by Arsene Wenger, they have built up a substantial amount of cash reserves since their move to a new stadium. Their value stands at $1.32 billion.
German champions Bayern Munich, who are still on course for an historic treble, are fifth on the list with a value of $1.3 billion. Former Barcelona coach Pep Guardiola is joining the club at the end of the current season.
AC Milan are the only club in the top 10 to have gone down in value in the previous year but despite that their figure is put at £945 million.
Chelsea, owned by Russian billionaire Roman Abramovich, are seventh. Their value is $901 million and has gone up 18% in the past year. Their biggest name is striker Fernando Torres, who cost them $76 million from Liverpool in 2011.
On course for the title in Italy's Serie A, Juventus are valued at $694 million which puts them eighth on Forbes' countdown.
Big-spending Manchester City are ninth on the list with a value of $689 million. Since they were bought by Sheikh Mansour bin Zayed Al Nahyan, the new owner has spent an estimated $1.5 billion on the club. They won their first English top flight title for 44 years in 2012.
English club Liverpool, owned by John W. Henry's Fenway Group -- who also own the Boston Red Sox -- have a value of $651 million, which is up 5% on last year.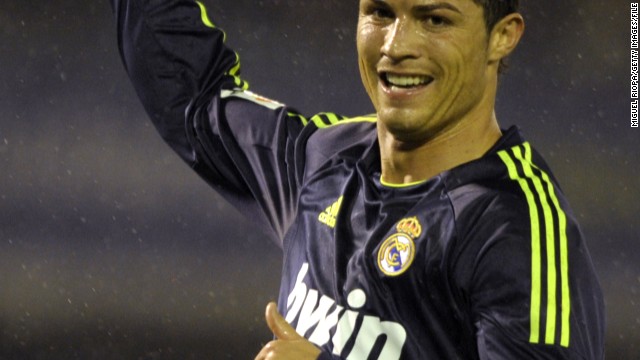 Real Madrid world's most valuable club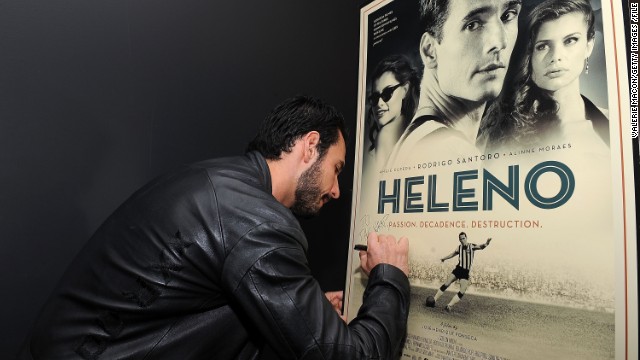 Actor Rodrigo Santoro signs a poster for the film "Heleno", in which he plays the mercurial striker. A destructive personality, together with illness and drug problems prevented Heleno from becoming one of Brazil's greatest ever players. But he helped pave the way for some of the world's greatest soccer icons...
Ask many Brazilians who is the greatest footballer of all time and their answer will be simple: "Pele." The striker won three World Cups with Brazil between 1958 and 1970 and is his country's leading goalscorer with 77 goals from 92 caps.
Most football fans would say Argentina's Diego Maradona is the only player who can rival Pele for the title of greatest ever. In Brazil, however, Garrincha is regarded as the only player who comes close to the great man. The tricky winger was a key part of Brazil's World Cup triumphs in 1958 and 1962. Sadly, Garrincha struggled with alcohol problems and died of liver cirrhosis aged 49.
After a Pele-inspired triumph in 1970, Brazil would wait 24 years before lifting the World Cup again. Although the 1980s was a barren decade in terms of trophies for Brazil, the team which the South Americans sent to the 1982 World Cup is heralded as one of the most entertaining in history. Central to its free-flowing, attacking style was Zico, a midfielder of considerable craft and guile who collected 72 caps between 1976 and 1988.
When Brazil finally won the World Cup for a fourth time in 1994 in the U.S., the team was derided by some for being too functional. In a team short of star quality, striker Romario was the shining light, scoring five goals as Brazil lifted the trophy thanks to a penalty-shootout victory over Italy.
Ronaldo watched on as Romario fired Brazil to victory in 1994, four years later he was the star man at France 1998. Brazil lost the final 3-0 to the hosts, with mystery surrounding their starting 11 as Ronaldo was left out of, then reinstated to, the team for the deciding match at the Stade de France. Ronaldo's redemption arrived in 2002, when he scored both goals as Brazil beat Germany 2-0 to lift the World Cup for a fifth time.
While Ronaldo was the star man in Japan and South Korea, he was ably supported by flamboyant playmaker Ronaldinho. Ronaldinho's performance in the World Cup earned him a move to Barcelona in 2003, where he went on to win the European Champions League in 2006. He was twice named FIFA World Player of the Year.
The latest Brazilian tipped for stardom is Neymar, who recently followed in Ronaldinho's footsteps by joining Barcelona. All eyes will be on the forward when Brazil host the World Cup in 2014. Neymar has made a good start to Brazil's Confederations Cup campaign, scoring two goals in two matches.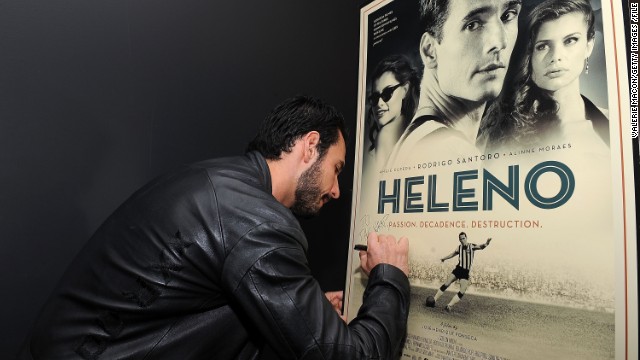 Brazil's greatest footballers
English champions United sit second on the list, with an estimated value of $3.17 billion. The Old Trafford team, owned by the American Glazer family, announced a seven-season shirt sponsorship agreement with Chevrolet in 2012 worth $559 million.
Real's archrivals Barcelona complete a top three dominated by football teams. The Spanish title winners are valued at $2.6 billion.
Read: Tiger Woods named highest-paid athlete
United's EPL rivals Arsenal are the only other soccer club to feature in the top 10, with the north London team sitting 10th on the list with an estimated value of $1.33 billion.
The remaining six spaces in the top 10 are taken by U.S. sports franchises.
Major League Baseball's New York Yankees are fourth on the list, valued at $2.3 billion, while NFL teams the Cowboys and the New England Patriots are fifth and sixth worth $2.1 billion and $1.64 billion respectively.
The average worth of the teams inside Forbes' top 50 has risen to $1.24 billion, an increase of 16% from 2012.
American football is the best represented sport on the list, with 30 of the NFL's 32 franchise included in the top 50.
Baseball and soccer both have seven teams on the list, while the NBA contributes three franchises.
Formula One team Ferrari, at 21, are the highest-ranked motorsport manufacturer.