Dr. Drew: Don't let Zimmerman case divide us
updated 11:46 PM EDT, Sat July 13, 2013
(CNN) -- Many aspects of the George Zimmerman trial have deeply affected me. It was so painful to watch Trayvon Martin's mother and father so visibly upset as they sat in court day after day hearing the details of their son's shooting death on February 26, 2012.
Was Zimmerman paranoid? Was he preoccupied about people coming into his neighborhood? Did he have deep-seated issues that, perhaps, most of us have not yet been made aware? Everyone certainly has strong opinions here, but I do think that both Martin and Zimmerman, in some way, felt threatened.
Now, whether or not you feel that justice was served today, there's no doubt this trial has sparked conversations about many different issues, including race relations and America's kids -- black kids, white kids, your kids -- and how they perceive these things.
And even if you don't believe that race played a role in this situation, understand that it is our own individual perspectives and experiences that have shaped our opinions about this case.
However, it's important to note that whenever the conversation does turn to race, people can become deeply divided -- and they don't have to be. And I say, let us learn from these discussions. I can only hope that they will bring us closer together.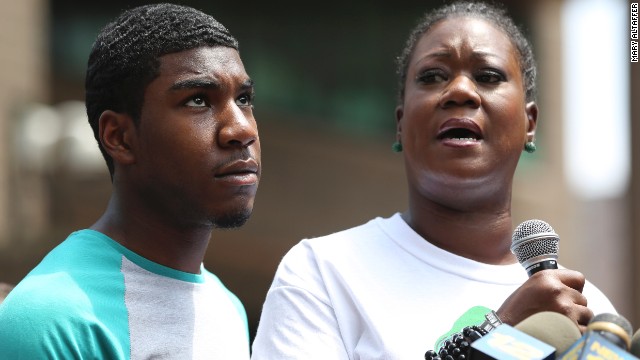 Sybrina Fulton, mother of Trayvon Martin, is joined by her son Jahvaris Fulton as she speaks to the crowd during a rally in New York City, Saturday, July 20. A jury in Florida acquitted Zimmerman of all charges related to the shooting death of Trayvon Martin. View photos of key moments from the trial.
Protesters attend a rally in support of Trayvon Martin, in New York on July 20. The Rev. Al Sharpton's National Action Network organized the "'Justice for Trayvon' 100 city vigil" which called supporters to gather in front of federal buildings around the country on July 20, as a continued protest against the George Zimmerman verdict.
The Rev. Al Sharpton speaks to the crowd during the rally in New York City on July 20.
Beyoncé, left, and Jay-Z, center, arrive at the rally in New York City on July 20.
Thousands of people gathered outside the Richard B. Russell Federal Building in downtown Atlanta as part of the network of vigils on July 20.
A chalk outline, a bag of Skittles, and a can of iced tea are seen during the vigil outside the E. Barrett Prettyman Federal Courthouse in Washington, D.C., on July 20.
Protesters march across the Brooklyn Bridge toward Brooklyn after attending the rally in Manhattan on July 20.
Tracy Martin, father of Trayvon Martin, poses for a photo with supporters wearing hoodies at the rally in Miami on July 20.
Protesters march through the streets of downtown Los Angeles, on Tuesday, July 16, during a demonstration of the George Zimmerman trial.
The Rev. Al Sharpton calls for a full federal investigation of the Martin killing, saying mere remarks by President Barack Obama and others weren't enough, outside the U.S. Justice Department in Washington on July 16.
A passenger takes a picture of protesters as he rides a city bus on July 16 in Los Angeles.
Protesters confront police officers on Monday, July 15, in Los Angeles.
Leon McCutchin participates in a candlelight vigil for Martin on July 15 in New York City.
A large group of demonstrators march through downtown Atlanta on July 15 during a protest of the acquittal of George Zimmerman.
Outside the Department of Justice in Washington on July 15, Rev. Anthony Evans, president of the National Black Church Initiative, leads a prayer during a demonstration asking for justice for Trayvon Martin.
Residents of Sanford, Florida, attend a prayer vigil to promote peace and unity in their city in the wake of the George Zimmerman trial on July 15.
About 500 demonstrators gather during a rally and march in support of Trayvon Martin on July 15 in Birmingham, Alabama.
A man argues with a police officer as supporters of Trayvon Martin march while blocking traffic in Union Square in New York on Sunday, July 14.
A man throws a trashcan during a protest in Oakland, California, on July 14.
People gather at a rally honoring Trayvon Martin at Union Square in New York on July 14.
Demonstrators march following a rally at the Torch of Freedom in downtown Miami on July 14.
Police hold positions on I-10 in Los Angeles. Protesters walked onto the freeway, stopping traffic, on July 14.
A protester shouts in the streets of New York on July 13.
A man in Los Angeles wears a shirt in support of Trayvon Martin on July 13.
Tanetta Foster cries in front of the courthouse on July 13 after hearing the verdict.
A Trayvon Martin supporter rallies outside the courthouse on July 13. After Martin's death, protesters started wearing hoodies in solidarity against racial profiling.
Demonstrators and members of the media gather outside of the courthouse on July 13. The jurors deliberated for more than 16 hours before delivering their verdict.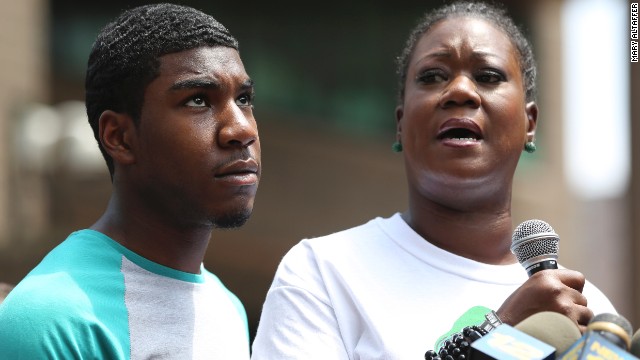 Photos: Reaction to Zimmerman verdict
Many young people have watched this trial -- and they develop racial biases and stereotypes much earlier than you think. If anything, at least we can increase awareness as a result of this case about a very subtle operation of judgment we all have within us.
A few nights ago, I brought up the social psychology principle of the "Fundamental Attribution Error." This is where we observe an individual's behavior and likely overestimate their personality that influences it and underestimate the contribution of the particular circumstance. And I think that's what is at the core of how we're all in this mess. Both Zimmerman and Martin made assessments of one another that may have been excessive based on their behavior that particular night.
Forget the hoodie for a moment. We all need to check how we make snap decisions that may be inaccurate about other people, particularly at times of intense stress. The 911 operator urged Zimmerman not to follow Martin. Remember, you're not always the professional. Something is probably going to go bad -- and in this case, it did.
So again, my hopes are that this story raises our consciousness and does not divide us. We really have to be more reflective and more aware of what we may have not given much thought to until now.