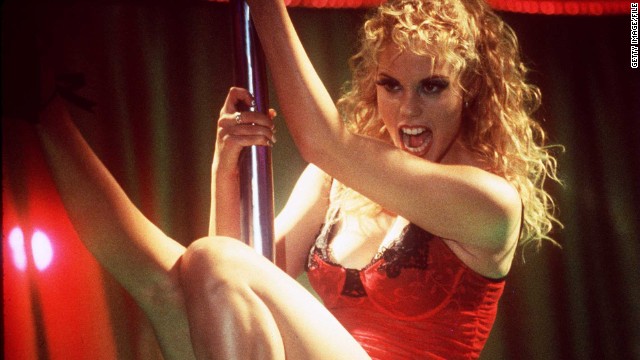 OK, we heard you. Readers definitely responded to our piece about
movies that bombed when first released but were later reconsidered
, and they came up with some of their own picks -- movies that you love to hate, such as 1995's "Showgirls." This little gem with Elizabeth Berkley "is one of those films that critics absolutely trashed when it came out. Now it's a cult classic," a commenter called Crockett pointed out. Some others that fit that category include:
Commenter IAmNotATroll submitted "Plan 9 From Outer Space." This sci-fi tale of aliens bringing back the dead did not appear to be of this world when first released in 1959. It took nearly three years before it even found a distributor,
"The Rocky Horror Picture Show" with Tim Curry, left, Barry Bostwick and Susan Sarandon did not draw large audiences when first released in 1975. Frequent midnight showings later helped make it a cult film, as commenter NeonBlaqk pointed out.
Variety critic was among those who panned
the sci-fi film in 1968. It wasn't much of a blockbuster then despite the hot poster of Jane Fonda in the title role. It has had an impact on pop culture though, including a character who inspired the name for the '80s pop band Duran Duran.
Commenter Daisy was spot on about including "Barbarella." A
One reader (sorry, you just listed yourself as Guest) asked, "How did they miss 'Encino Man'?" A caveman goes to high school? How could this 1992 flick with Pauly Shore, from left, Brendan Fraser and Sean Astin miss?
Angela Ott said, "Okay, someone has to say it. ... 'Howard the Duck!' " Even the creator of the comic that the film was based on didn't love it when this movie with Lea Thompson was released in 1986. But we dare you not to watch it when it comes on TV now.
a Razzie nomination
for "worst new star."
A reader named Steve said he was "surprised 'Cabin Boy' didn't make this list." The 1994 fantasy flick earned star Chris Elliott, second from right,
Commenter ghengisman said we "(f)orgot 'Battlefield Earth.' No one should ever make a movie out of a novel where the phrases 'Blown to bits' and 'Cut to pieces' alternate every two pages." It took John Travolta, right, years to live down this stinker from 2000.
A reader named DaMenace suggested the low-budget 1978 horror film "Attack of the Killer Tomatoes!" This one definitely is a saucy best-worst movie.
EyeKantSpeell suggested another low-budget film -- "Gawd nobody has yet to mention 'Killer Klowns From Outer Space' pure classic!" So we added this 1988 "masterpiece."
" 'Army of Darkness' ... enough said ... cult classic!" Thanks tarlcabot. The 1992 horror film with Bruce Campbell as a man transported back in time does now have its fans.
"Troll 2" was never supposed to be a blockbuster, but Crag Crumple said of the 1990 low-budget movie, "Watch it. WATCH IT."
The black comedy "Harold and Maude" starred Bud Cort as a young man obsessed with death who becomes involved with an elderly free spirit played by Ruth Gordon. Commenter Molly Duglar said of the 1971 film: "The critics hated it and it died at the box office. But due to a cult following, began making a profit in 1983."
Worst movies reconsidered: What we missed
Worst movies reconsidered: What we missed
Worst movies reconsidered: What we missed
Worst movies reconsidered: What we missed
Worst movies reconsidered: What we missed
Worst movies reconsidered: What we missed
Worst movies reconsidered: What we missed
Worst movies reconsidered: What we missed
Worst movies reconsidered: What we missed
Worst movies reconsidered: What we missed
Worst movies reconsidered: What we missed
Worst movies reconsidered: What we missed
Worst movies reconsidered: What we missed