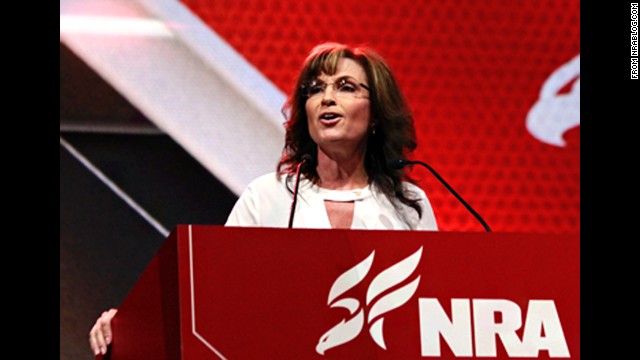 In this photo from the NRA's blog, Sarah Palin addresses the crowd at the 2014 National Rifle Association's annual meeting on Saturday, April 26. She shocked both liberal and conservative commentators when she said, "Well, if I were in charge, they would know that waterboarding is how we baptize terrorists."
In the middle of the Republican presidential primaries in February 2012, Palin told the Conservative Political Action Conference that the party needs a candidate who "can instinctively turn right," a dig at eventual GOP nominee Mitt Romney.
Palin stands in the rain in Anchorage in August 2006 as she campaigns for the Republican gubernatorial nomination. Palin defeated incumbent Frank Murkowski and former state legislator John Binkley win the race.
Gubernatorial candidate Sarah Palin stands beside then-Republican candidate for lieutenant governor Sean Parnell as they talk about their plan for a natural gas pipeline during a news conference in Anchorage. Parnell became governor when Palin stepped down in July 2009.
Sarah Palin holds her daughter Piper as she watches results on election night in November 2006. The former mayor of Wasilla became Alaska's first female governor.
Sarah Palin signs her oath of office document as Lt. Gov. Sean Parnell, left, and Superior Court Judge Niesje Steinkruger look on after her swearing-in ceremony in Fairbanks in December 2006.
Republican presidential candidate John McCain stands with newly announced running mate Sarah Palin in August 2008 in Dayton, Ohio. McCain made the Palin announcement the day after Barack Obama accepted the Democratic presidential nomination.
Sarah Palin's family, from left to right, son Track; daughter Bristol; Bristol's then-fiancee Levi Johnston; daughter Willow; daughter Piper; husband Todd and infant Trig, on stage after her speech to the Republican National Convention in September 2008.
Sarah Palin and her husband, Todd, leave City Hall after she voted in her hometown of Wasilla on Election Day in November 2008. The Palins then flew to Arizona to join presidential candidate John McCain.
Sarah Palin and her husband, Todd, join Republican presidential candidate Sen. John McCain and his wife Cindy as McCain concedes the presidential race to Democrat Barack Obama in November 2008.
The title of Palin's bestseller "Going Rogue" is a play off a remark a John McCain campaign staffer made to CNN about her straying from the McCain playbook.
Sarah Palin signs copies of her second book "American by Heart" at Dillon's Marketplace in Andover, Kansas, in November 2010.
Sarah Palin and Donald Trump walk toward a limo after leaving Trump Tower for a dinner meeting in the city in May 2011 during the Palin bus tour that fueled speculation she would run for president the next year. She didn't.
Sarah Palin was mobbed at the Iowa State Fair in Des Moines in August 2011, a familiar campaign stop for presidential hopefuls, during her "One Nation" bus tour.
Sarah Palin speaks during the Tea Party of America's "Restoring America" event in September 2011 in Iowa. Supporters had hoped that she would use the event to announce that she was running for president.
Sarah Palin drinks a "Big Gulp" soda during the Conservative Political Action Conference in March 2013 to mock New York Mayor Michael Bloomberg's push against large, sugary drinks.
Wearing a shirt that reads "Women hunt," Sarah Palin blasts President Barack Obama and gun control advocates for "exploiting" recent mass shootings as she speaks to the National Rifle Association Convention in Houston in May 2013.
Sarah Palin fires up a rally of veterans, their families and supporters at the World War II Memorial in Washington during the partial government shutdown in October 2013.
Sarah Palin: Gone rogue
Sarah Palin: Gone rogue
Sarah Palin: Gone rogue
Sarah Palin: Gone rogue
Sarah Palin: Gone rogue
Sarah Palin: Gone rogue
Sarah Palin: Gone rogue
Sarah Palin: Gone rogue
Sarah Palin: Gone rogue
Sarah Palin: Gone rogue
Sarah Palin: Gone rogue
Sarah Palin: Gone rogue
Sarah Palin: Gone rogue
Sarah Palin: Gone rogue
Sarah Palin: Gone rogue
Sarah Palin: Gone rogue
Sarah Palin: Gone rogue
Sarah Palin: Gone rogue
(CNN) -- Here's a look at the life of former Alaska Governor Sarah Palin.
Personal: Birth date: February 11, 1964
Birth place: Sandpoint, Idaho
Birth name: Sarah Louise Heath
Father: Charles Heath, a teacher
Mother: Sarah (Sheeran) Heath
Marriage: Todd Palin (August 29, 1988-present)
Children: Trig, April 18, 2008; Piper, March 19, 2001; Willow, July 5, 1994; Bristol, October 18, 1990; Track, April 20, 1989
Education: University of Idaho, B.S., 1987
Other Facts: First female governor of Alaska.
Was a runner-up in the 1984 Miss Alaska pageant.
Her fifth child, Trig, was born with Down syndrome.
Timeline: 1992-1996 - Wasilla city council.
1996-2002 - Mayor of Wasilla, Alaska.
2002 - Loses bid to become lieutenant governor.
2003-2004 - Serves on the Alaska Oil and Gas Conservation Commission.
November 7, 2006 - Is elected Governor of Alaska, defeating former two-term governor Tony Knowles (49% to 41%).
December 4, 2006-July 26, 2009 - Republican Governor of Alaska.
July 28, 2008 - Alaska state legislators vote to hire an investigator to determine if Palin fired former state Public Safety Commissioner Walt Monegan because he would not fire Palin's former brother-in-law, Mike Wooten, a state trooper.
August 6, 2008 - A former state employee files an ethics complaint against Palin accusing her of using her position to get a supporter of hers a government position.
August 29, 2008 - Named as John McCain's vice presidential running mate in the presidential election.
September 1, 2008 - Announces her 17-year-old daughter, Bristol, is five months pregnant, and the McCain campaign releases a statement that John McCain knew about the pregnancy when he selected her as his running mate.
September 3, 2008 - Accepts the Republican Party's nomination for vice president at the Republican National Convention.
October 10, 2008 - State investigator Stephen Branchflower releases a report saying that Palin abused her power as Alaska's governor and violated state ethics law by trying to get her ex-brother-in-law Mike Wooten fired from the state police.
October 18, 2008 - Appears on "Saturday Night Live" with Palin lookalike Tina Fey.
November 3, 2008 - Alaska's Personnel Board releases a report concluding that Palin did not violate ethics law when she tried to get ex-brother-in-law Mike Wooten fired from the state police.
November 4, 2008 - The McCain-Palin ticket is defeated in the presidential election by the Obama-Biden ticket.
January 27, 2009 - Launches a political action committee to raise money.
July 3, 2009 - Announces that she will be stepping down as governor of Alaska.
July 26, 2009 - Officially steps down as governor of Alaska. Lt. Gov. Sean Parnell becomes Governor.
November 2009 - Palin's memoir "Going Rogue: An American Life" is released.
January 2010 - Joins Fox News as a contributor.
February 6, 2010 - Delivers the keynote address at the first national Tea Party convention.
March 25, 2010 - Discovery Communications announces Sarah Palin will appear in an eight-part documentary series called, "Sarah Palin's Alaska" on the TLC network.
November 2010 - Palin's second book, "America by Heart: Reflections on Family, Faith and Flag," is released.
June 10, 2011 - The state of Alaska releases roughly 24,000 pages of emails from Palin's governorship, that had been requested in 2008 under the Freedom of Information Act.
October 5, 2011 - Announces she is will not run for president.
January 25, 2013 - Fox News confirms that Palin is no longer an analyst there.
June 13, 2013 - The Fox News Channel announces that Palin will rejoin the network as a contributor.
September 2013 - A newspaper publisher out of New Jersey sues Palin and her political action committee over copyright infringement due to the use of a photo of the World Trade Center site shortly after the September 11 attacks.
January 20, 2014 - In a Facebook post on Martin Luther King, Jr. Day, Palin sends message to President Barack Obama, "Mr. President, in honor of Martin Luther King, Jr. and all who commit to ending any racial divide, no more playing the race card."