STORY HIGHLIGHTS
On July 10, 1913, Death Valley recorded the hottest known temperature -- 134 degrees
It was thought for years that Libya held the record, but experts decided that recording was flawed
At least 140 people gathered Wednesday in Death Valley to celebrate the record-setting day
(CNN) -- The next time you're sweating and complaining that this summer is just too hot, consider this fun fact in weather world history: Exactly 100 years ago this week, Death Valley National Park set the hottest temperature ever recorded in the world -- 134 degrees Fahrenheit.
At least 140 people showed up to celebrate the anniversary and listen to weather experts discuss the record at Furnace Creek Visitor Center and Museum in the expanse of eastern California desert.
"I was really happy looking out in that auditorium as we spoke. There were a lot of weather tourists who are very interested in this," said Randy Cerveny, professor of geographical sciences at Arizona State University. He's with the World Meteorological Organization that made the determination that 134 was the world record.
Temperatures in Death Valley normally reach or exceed 100 degrees Fahrenheit from mid-May until early October, according to the National Weather Service. Yet tourists still visit the area during this time, and there's even one of the hardest foot races in the world staged there every summer called the Badwater Ultramarathon.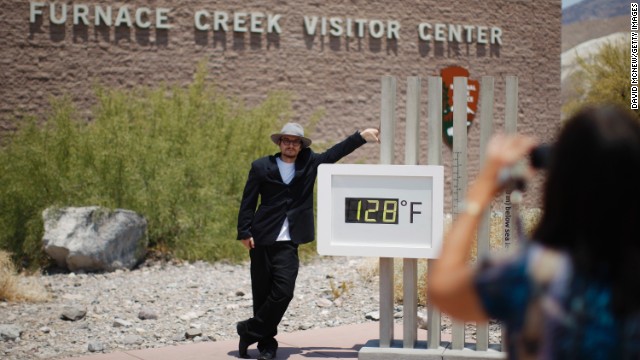 Kevin Martin of Corona, California, poses for a snapshot by an unofficial thermometer at the Furnace Creek Visitor Center in Death Valley National Park on Sunday, June 30. A record-setting and deadly heat wave has spread across the American West.
People walk through the "Devil's Golf Course" area of Death Valley, where temperatures were 116 degrees.
Mike Bouse shades himself with an umbrella as he floats in the water at Lake Mead near Boulder City, Nevada, on Saturday, June 29.
Michael Jackson impersonator Juan Carlos Gomez gulps down some water on Friday, June 28, during a break from posing for photos with tourists along the Las Vegas strip.
Steve Howard does a 30-mile training run in Death Valley National Park in California on June 28.
Maria Wieser of Italy takes a drink of water while sightseeing in Death Valley National Park in California on June 28.
Easton Martin, 10, stops to cool off with a misting fan in Las Vegas with his family on June 28.
David Reyes, left, and Shavaar Hanes take a break from posing for photos with tourists as the Mario Brothers along the Las Vegas Strip on June 28.
An elephant at Utah's Hogle Zoo in Salt Lake City get some relief from the heat on June 28.
Hollywood Boulevard in Los Angeles appears distorted in the heat wave on June 28.
Michael Hawks, a warranty supervisor for an air conditioning company, wipes his brow while inspecting a unit in Phoenix on June 28.
Alana Griego, 5, left, and Celeste Hidalgo, 7, cool off in the Pacific Ocean in Santa Monica, California, on June 28.
R.J. Hernandez, 8, of El Campo, Texas, is buried in sand as he tries to stay cool in Santa Monica on June 28.
Elvis impersonator Cristian Morales wipes sweat from his brow while posing for photos with tourists on the Las Vegas Strip on Thursday, June 27.
Bryson Hubbard, 7, walks down a path leading to a sea cliff as his mother Vanessa Singer waits for him on a hot day in Santa Cruz, California, on June 27.
A couple bikes along the oceanfront in Santa Cruz on June 27.
Ashawn Rabb, 5, runs through a fountain at the Red Ridge Park in Las Vegas on June 27.
Beach-goers enjoy the surf at Natural Bridges in Santa Cruz on June 27.
A surfer walks to the water at Natural Bridges in Santa Cruz on June 27.
Betty Lu Guapo, 4, cools off at the Los Angeles Fountain on June 27.
A Salt Lake City fireman pours water over the head of fireman Cary Turner after battling a house fire on Wednesday, June 26. Temperatures in Utah are approaching record highs.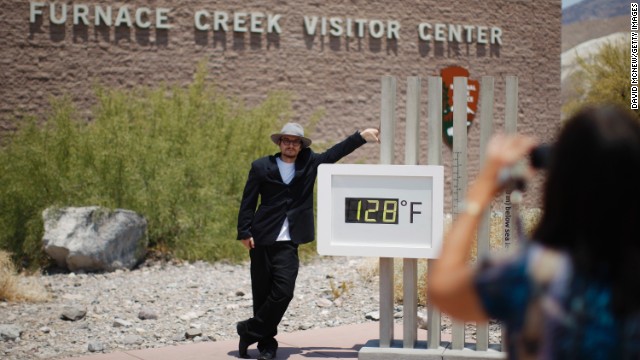 Photos: Heat wave hits the West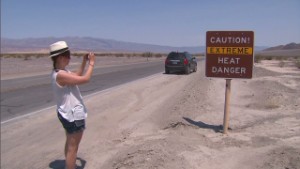 Heat beats down in Death Valley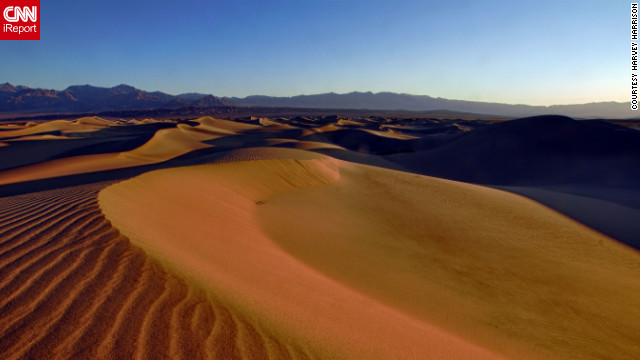 "I remember thinking at the time that this was like something from a movie set of a fictional distant planet," says Harvey Harrison, who shot this photo in California's Death Valley National Park.
Alex Ros thinks of southeastern Morocco between Tata and Tafraoute as one of Earth's hidden nooks: "As if the planet was a large living room, with furniture and areas that people regularly use, but far off in one of its corners, behind a large couch and side table with old coffee table books on it, underneath a rug that hasn't been moved for years, is a tiny pathway you had no idea was there."
"A heavy snow after midnight turned our backyard into deep space, with trees," writes Brent Larson. He stepped outside as it was snowing in Charlotte, North Carolina, "and was amazed by the sharp, cold silence, like life had just hit the reset button. I was trying to capture that feeling, but captured a surreal scene instead."
Jutka T. Emoke Barabas says the pristine beauty of the Arctic archipelago of Svalbard, in Norway, "captures my heart and soul every time I visit."
"It is such a great experience to see this frozen 'wonderland' of the glaciers, the snow covered ragged edged mountains, the blinding white or colorful icebergs which seem to have their very own life when a sun ray hits them," writes Jutka T. Emoke Barabas.
Sarah Reese snapped this shot of a stack of rocks while lying down in the salty dirt of the Etosha Pan, a flat saline desert in the middle of Namibia's Etosha National Park. "There are no other rocks near this small stack. It was really odd to see them in this otherwise empty space," she says. The rocks are a cairn, or a stack of stones used as a marker.
Kristi DeCourcy says the colors in the cinder cones of the Haleakala volcano remind her of images from Mars. She stood on the Kalahaku Overlook at Haleakala National Park in Maui to capture this image.
The view of Chile's Atacama Desert at sunset reminded Tim Benson of Mars, "with the red coloring of the stone and the vast isolation and absence of life. Very moving, very serene, it felt as though we had departed the world."
"Just returned from Iceland where the terrain can be lush and green with hundreds of waterfalls or barren and desolate with steam and smoke coming out of the ground," writes Stacey Schwartz. "It made me think I had landed on Mars."
John Vogel was on a minibus traveling between the city of Arequipa and Colca Canyon in Peru when he saw this odd landscape. "Looking at the photo now, it almost looks like two photos combined into one photo. That's how great I find the contrast between the dark rocky foreground and the bright blue sky with the snow-capped volcano."
Carol Locey was walking along the desolate beach a few years ago on Seabrook Island when she came to a rippling, muddy part of the beach that reminded her of what she imagined the surface of the moon would look like.
Kevin Kasmai captured this shot while traveling south from Cape Town toward the Cape of Good Hope. "The images of the clouds rushing down Table Mountain on a windy day in Cape Town and the views overlooking the Cape of Good Hope towards the southern ocean were unlike any I had seen before," he says.
Doug Simonton has captured various photographs of Iceland's unique landscape over the past two years. "It's hard not to see the ground boiling up steam and not think you're on another planet," he says.
"Iceland is a place of severe contrast. You have glaciers sitting next to volcanic hot spots, and sometimes you might not even know it," says Simonton.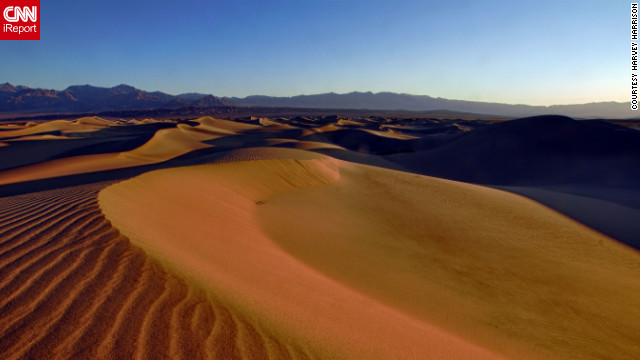 Otherworldly landscapes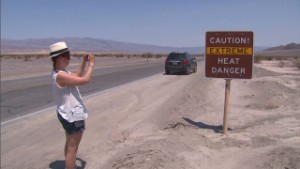 Avoiding heat stroke
When CNN spoke with Cerveny Wednesday night around 10:40 p.m. ET, the National Weather Service said that the temps would hover between 94 and 97 at Furnace Creek.
While Death Valley's July 10, 1913, recorded temperature now is considered the hottest ever, on September 13, 1922, a temperature reading of 136 degrees was recorded in El Azizia, Libya.
Though the Libya recording had been certified by the World Meteorological Organization as the hottest air temperature ever recorded, evidence about Libya's record later suggested that it was invalid.
Cerveny said that a member of the WMO had managed to obtain handwritten records that indicated there might have been a wrong recording taken.
An investigating committee including experts from Libya, Italy, Spain, Egypt, France, Morocco, Argentina, the United States and the United Kingdom looked into the matter between 2010 and 2011 and decided that El Azizia's recording was flawed for possibly several reasons, including problematic instrumentation and probably an inexperienced observer, according to Cerveny and the World Meteorological Organization.
On September 12, 2012, the WMO officially recertified the 134 reading at Death Valley as the all-time highest air temperature taken on the planet.
Though 134 degrees may seem incomprehensible, the U.S. southwest has been grappling in recent days with scorching temperatures. Nevada, California and Arizona were choked by extreme heat through the July Fourth holiday.
The Southwest heat wave made June the hottest month on record for Las Vegas, Death Valley, and Needles, California, the National Weather Service said.
Could Death Valley break its own record, CNN asked Cerveny.
"Oh, yes, we've been seeing so many records broken lately," he said, "and if that one is broken ... I wouldn't be surprised at all."
CNN's Chandler Friedman contributed to this report.