A bonus Jonas: Kevin Jonas 'excited, nervous' to be a dad
updated 6:46 AM EDT, Wed July 10, 2013
STORY HIGHLIGHTS
Kevin and Danielle Jonas say they are expecting a baby
The two have been married since 2009
It will be the first child for both
(CNN) -- Get ready for a bonus Jonas.
The oldest sibling of the pop trio, the Jonas Brothers, is going to be a dad.
In a few months, he'll be crooning lullabies at home and pop hits on the road.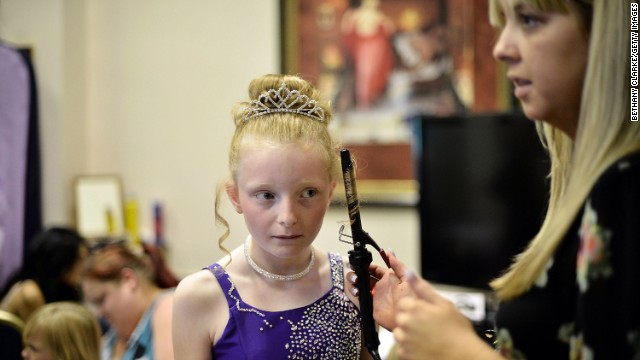 Whether it's soccer matches or beauty pageants like this one in Norwich, England, parents can become highly invested in their children's performance-based success. Click through the gallery to view stage parents and their famous offspring.
Shirley Temple celebrates her birthday in 1936 with her mother, Gertrude Temple. Her mother, recognizing her daughter's "it" factor, enrolled Shirley in dance classes at age 3. She landed her first film contract at the same age, and soon became one of the earliest and most successful child stars. The actress, now 85, went on to become a U.S. diplomat for the United Nations.
Khloe Kardashian Odom, Kylie Jenner, Kris Jenner, Kourtney Kardashian, Kim Kardashian and Kendall Jenner pose on the red carpet in 2011. The matriarch of the "Keeping Up with the Kardashians" clan manages the careers of her six children (her son, Rob Kardashian, is not pictured) and her "momagerial ways" are often a point of contention in their reality show.
Lindsay Lohan, seen here with her sister Ali Lohan and mother, Dina Lohan, has had her fair share of troubles -- both legal and parental -- since she burst onto the scene in the 1998 remake of "The Parent Trap." Her parents, Michael and Dina Lohan, signed her with Ford Models when she was 3 years old. Since then, she has had various headline-making disputes with both her parents, including a fight with her mom in 2012 that ultimately resulted in a call to the police.
Jermaine, Janet, Jackie, Tito and father Joe Jackson attend a Hollywood parade in 1977. Joe, the talent manager and father of 10, was often described as a strict disciplinarian and abuse allegations have come to light in recent years. "I'm glad I was tough, because look what I came out with. I came out with some kids that everybody loved all over the world. And they treated everybody right," Jackson told CNN's Piers Morgan in a recent interview.
Drew Barrymore hugs her mom, Jaid Barrymore, in 1991. Drew was 6 years old when she starred as Gertie in Steven Spielberg's "E.T." With early fame came misfortune: Drew had her first drink when she was 9 and went to rehab at 13. She was granted legal emancipation from her parents when she was 15, after citing her mother as a bad influence.
Macaulay Culkin and father Kit Culkin arrive at the 17th Annual People's Choice Awards in 1993. At 16, the "Home Alone" star filed for and won emancipation from his parents, accusing them of financial mismanagement.
Miley Cyrus and Billy Ray Cyrus perform "Ready, Set, Don't Go" during the 2008 CMT Music Awards. Miley became a tween sensation with her hit Disney Channel show "Hannah Montana," where her real dad starred alongside her as her fictional dad. Billy Ray has since opened up about the strain the family endured because of showbiz. "I hate to say it, but yes ... I'd take it back in a second," he told GQ in 2011.
Actress Elizabeth Taylor is seen with her mother, Sara Taylor, at the Savoy Hotel in 1982. Sara, a former stage actress herself, is often credited as the driving force behind Elizabeth's early career; she's also been criticized for being jealous of her daughter's silver screen success. "We're very much alike. We both had horrible childhoods. Well, working at the age of 9 is not a childhood," Elizabeth told CNN's Larry King of her friendship with Michael Jackson in 2006.
Singer Justin Bieber and his mother, Pattie Mallette, share a hug at the American Music Awards. Mallette released a book in 2012 titled "Nowhere but Up: The Story of Justin Bieber's Mom" that chronicled her rise from being a teen mom with drug and alcohol addiction.
Jessica and Ashlee Simpson pose with their parents, Joe and Tina Simpson. Joe, who became better known as "Papa Joe" to fans of Jessica's former reality show "Newlyweds," has managed both his daughters. Joe and Tina finalized their divorce in April 2013 after 34 years of marriage.
Brooke Shields attends a magazine party with her mother, Teri Shields, in 2007. Teri was blasted for allowing Brooke to play a child prostitute in the 1978 film "Pretty Baby" when she was 15 years old. Teri passed away in 2012 at age 79.
Nick, Joe and Kevin Jonas, better known as the Jonas Brothers, attend the 2009 Grammy Awards with their mother, Denise Jonas. Denise often makes guest appearances on Kevin's E! reality show "Married to Jonas."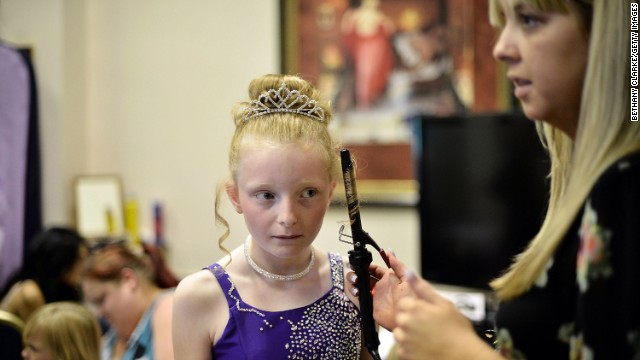 Photos: Famous stage parents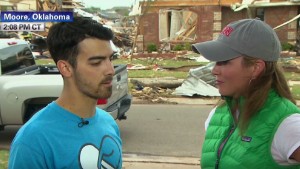 The Jonas Brothers help tornado victims
Kevin and Danielle Jonas shared their happy news on Twitter, lighting up the social media network with a frenzy of responses from fans and celebrities alike.
"So pumped for my mom to be @daniellejonas you are going to be an amazing mom and can't wait!!!!" the daddy-to-be tweeted.
His wife chimed in.
"I am so happy to tell everyone, it's been so hard keeping this news in !!!" she wrote.
Jonas also confirmed the announcement on E!, which airs their reality show, "Married to Jonas."
"It's been the most exciting thing in my life so far," he told the network. "I'm excited and I'm nervous."
Fans on social media joined in on the excitement with the hashtag, #babyjonas.
"Found out about #BabyJonas and I couldn't be more excited if I was having my own baby! Lol," Briana Gibson tweeted.
Danielle Jonas, 25, is a former hairdresser. She met the singer while both were on vacation with their families in the Bahamas.
Two years later, in 2009, they tied the knot in a fairytale wedding in New York, complete with snow and a castle.
Their reality show chronicles their marriage life, the singer's hectic tours as part of a rock band and his wife's transition into the limelight.
During the show, Jonas, 25, has expressed his desire to start a family, but his wife has said she is waiting for the right time. The couple has two other babies of the four-legged kind -- Teacup Yorkies Riley and Macy.
It will be the first child for both.
CNN's Henry Hanks contributed to this report